Comme vous le savez déjà il n'y aura pas de What's Indie Box en Avril, du coup je me suis dit que cela serait l'occasion de tester un nouvelle box (ou plusieurs LOL). Aujourd'hui je vous présente donc la Awesome Sauce Indie Box du mois de Mars, avec un thème qui me parle bien, Barbie (oui j'aime les poupées Barbie, le rose Barbie...). Quand j'ai vu le thème je m'attendais à plein de vernis roses, et en fait non, mais je l'ai commandée quand même pour tester de nouvelles marques.
As you already know there will be no What's Indie Box in April, so I thought that this would be the perfect time to try out a new box (or more than one LOL). Today I have the March Awesome Sauce Indie Box to show you, and it has a theme that speaks to me, Barbie (yes I like Barbie dolls, Barbie pink...). When I saw the theme I was expecting lots of pink polishes, and in fact not, but I ordered it anyway because I wanted to try new brands.
Je vais commencer par une superbe couleur, Ever After Polish Malibu Barbie, un vert d'eau crelly avec des flakies et des reflets roses. La couleur est incroyable, mais la formule manque vraiment d'opacité, j'ai posé 4 couches et vous pouvez encore voir le bord libre de mes ongles.
I will start with an awesome color, Ever After Polish Malibu Barbie, a pretty blue aqua crelly with pink specks and shimmer. The color is amazing but the formula really lacks opacity, I used 4 coats and you can still see the free edge of my nails.
Le vernis suivant Anonymous Laquer Bridezilla est un joli blanc perle/irisé. Un classique, mais un joli classic. La formule est assez bonne, mais est un peu patchy, j'ai du poser utiliser 3 couches pour un résultat uniforme.
Next is Anonymous Lacquer Bridezilla, a nice pearly/shimmery white. A classic but a pretty one. The formula is pretty good but is a bit patchy so I had to use 3 coats for a uniform result.
Mon préféré de cette box c'est Lavish Polish Let's Go Party, un vernis lavande avec des reflets dorés, des micro-paillettes argent et or et une touche de reflets holo. La formule est parfaite, opaque en presque une seule couche avec une application facile.
My favorite of this box is Lavish Polish Let's Go Party, an amazing lavender with a gold shimmer, silver and gold micro glitter and a touch of holo. The formula is amazing, opaque in almost one coat with an easy application.
Le seul vernis rose de cette box c'est Cupcake Polish Barbie Girl. Il vraiment très rose (Yeah!) et vraiment tres holographique. La formule est facile à appliquer et très opaque, je ne suis jamais déçue par Cupcake Polish.
The only pink polish in this box is Cupcake Polish Barbie Girl. It is really pink (Yeah!) and really very holographic. The formula is easy to apply and very opaque, I am never disappointed by Cupcake Polish.
Et pour finir le vernis que j'aime le moins dans cette box c'est Vapid Lacquer Demolition Barbie. C'est un vernis noir avec des flakies duochromes. Il est trop foncé à mon goût, et en plus je déteste ces bouteilles carrées (je préférais les anciennes bouteilles rondes).
And finally the varnish I like the least in this box is Vapid Lacquer Demolition Barbie. It is a black varnish with duochromes flakies. It's too dark for my taste, and in addition I hate those square bottles (I preferred the old round bottles).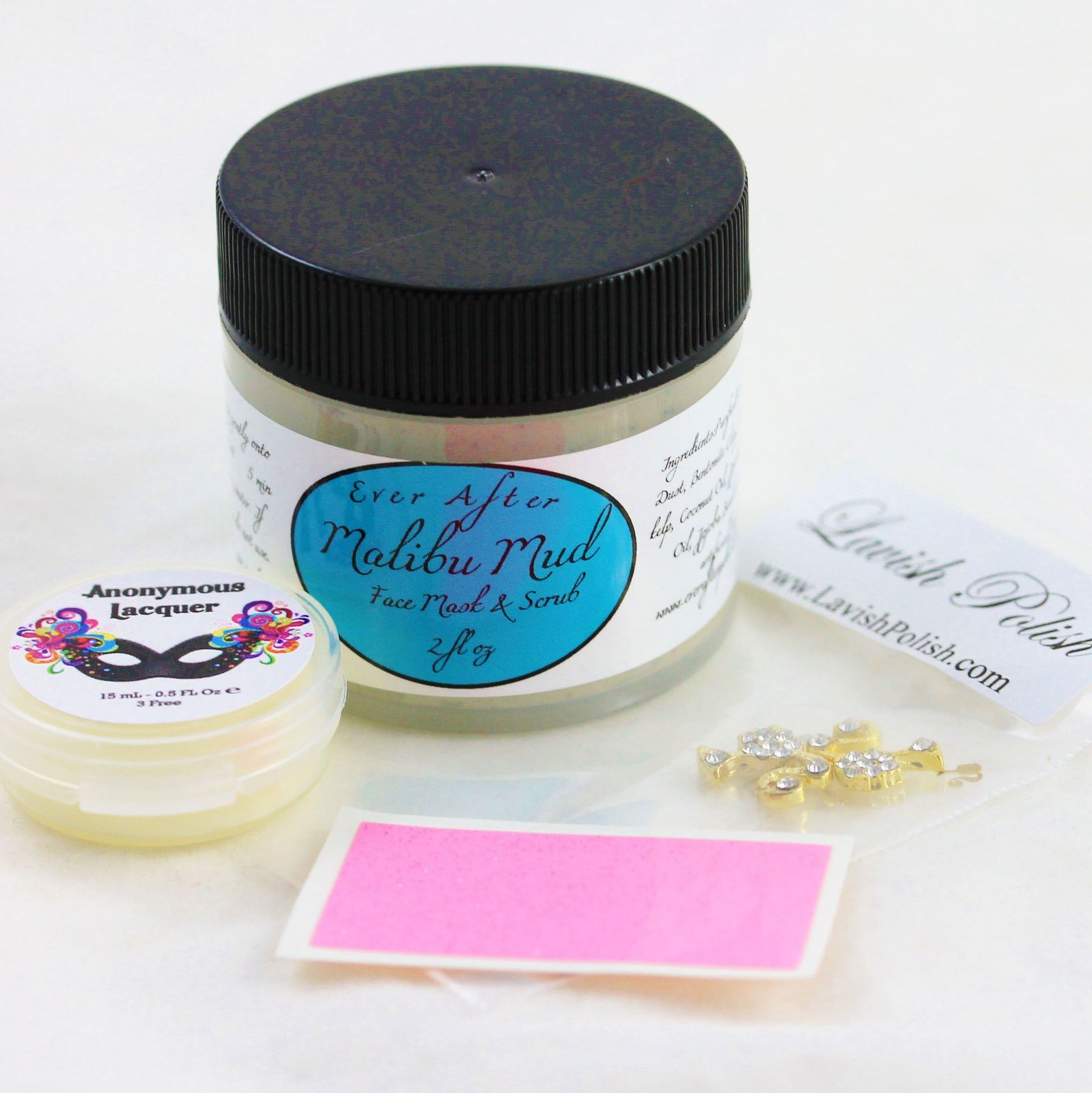 Ever After Malibu Mud face mask/scrub, Anonymous Lacquer mini lotion bar, Lavish Polish Barbie nails charms and Lou it Yourself Barbie vinyls
Il n'y avait pas que des vernis dans cette box, il y avait également quelques extras, un masque et exfoliant pour le visage, une mini lotion en barre, des nails charms Barbie et stickers vinyls Barbie. Je trouve ces extras super sympas !
There was not only varnishes in this box, there were also a few extras, A face mask / scrub, a mini lotion bar, some Barbie nails charms and vinyls. I think these extras are super cool!