Bon clairement ce mois-ci ça a été l'hémorragie financière côté shopping de vernis. Je ne m'en cache pas j'ai beaucoup dépensé, mais c'est en général ce qui arrive avec les collection de printemps (ooohhh pastels) et d'été (ooohhh Fluos) qui m'attirent beaucoup plus que les collections d'hiver at d'automne. je vais probablement devoir faire un peu attention le mois prochain, mais ce n'est pas gagné j'ai déjà pas mal de restock en vue !
So clearly this month it was the financial hemorrhage regarding polish shopping. I will not hide it, I spent a lot of money, but that's usually what happens this time of the year with the new spring (ooohhh pastels) and summer (ooohhh Neons) coming out, which attract me much more than winter and fall collections. I'll probably have to be careful next month, but it is going to be though I already have a lot of restocks in sight!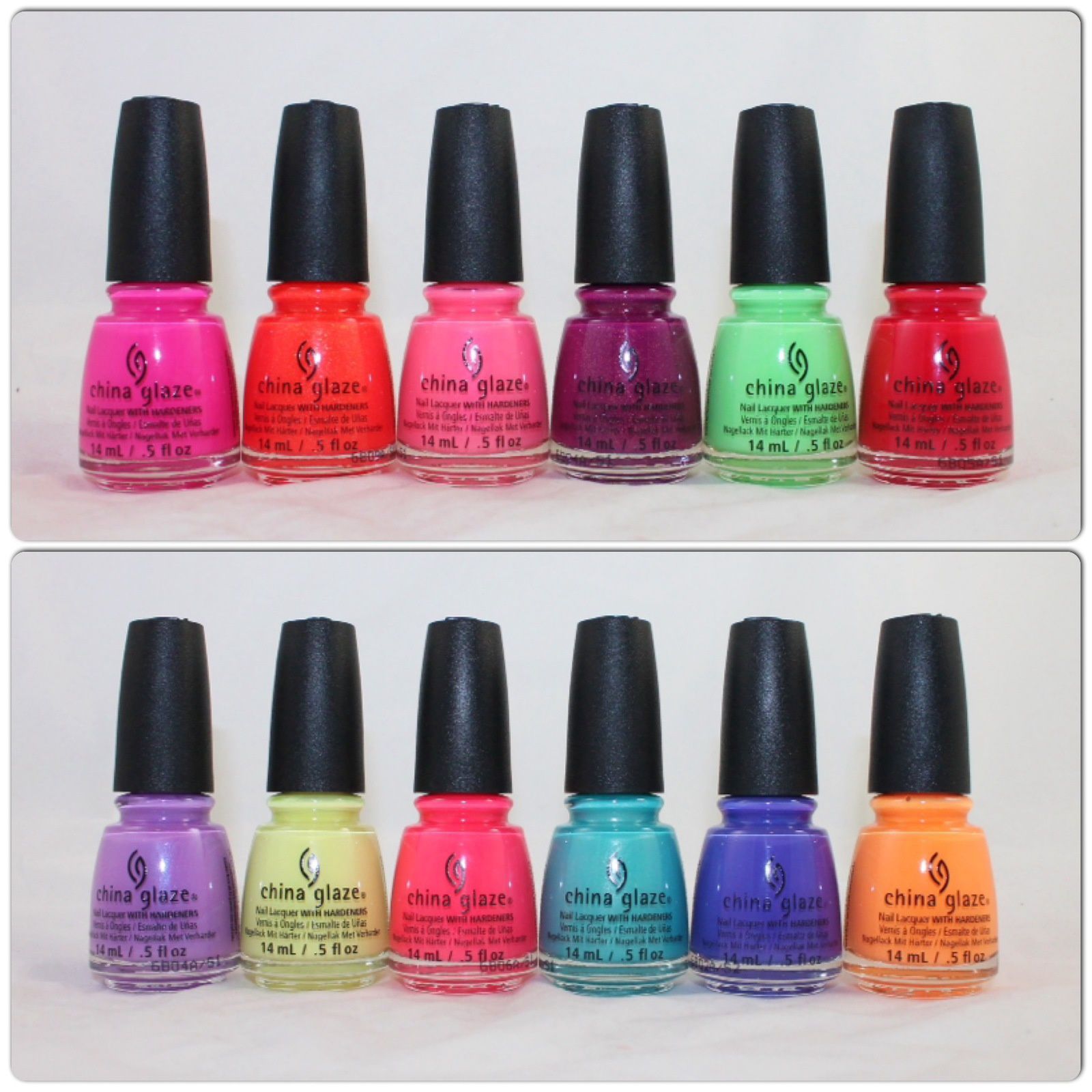 China Glaze Summer 2016 Lite Brites: I'll Pink to That, Papa Don't Peach, Lip Smackin' Good, We Got the Beet, Lime fater Lime, Hot Flash, Let's Jam, Whip it Good, Bite Me, What I Like About Blue, I Got a Blue Attitude, None of Your Risky Business
Alors je vais commencer par la nouvelle collection d'été de China Glaze que j'ai acheté sur HB Beauty Bar. Cela faisait longtemps que je n'avais pas acheté une collection complète de China Glaze. En général les collection d'été de China Glaze sont très fluos et j'essaye de résister, mais cette année je les trouvais tous beaux !
So I'll start with the new China Glaze summer collection I bought on HB Beauty Bar. It had been a long time since I bought a whole collection from China Glaze. Typically the summer collections from China Glaze are very neon and I try to resist, but this year I though they were all so beautiful I just had to have the whole set!
Sinful Colors Kylie Jenner Collection: Miss Majesty, Slay Grey, Koko-Nuts, Kovet, Kommando, Karamel, Butter Kup, Kitty Pink, V.I.Peach, Kool as Kukumber, Purple Kraze, Magik Touch, Kold Kash, Konstellation.
Ensuite j'ai également complètement craqué sur 14 vernis de la nouvelle collection Kylie Jenner de Sinful Colors. Il y a en fait plusieurs collections différentes (King Kelly, Trend Matters Angel, Trend Matters Satin... et probablement d'autres, apparement au total il y a 4 collections, je n'en ai trouvé que 3 pour le moment). Ce sont des couleurs basiques mais avec une touche de shimmer, ou de reflets à tomber, c'est dur de résister surtout pour moins de $3 (et en sachant que la formule des Sinful Colors est super).
Then I also completely fell for 14 polishes of the new Kylie Jenner collection by Sinful Colors. There are actually several different collections (King Kelly, Trend Matters Angel, Trend Matters Satin ... and probably others, apparently in total there are 4 collections, I have found 3 for now). These colors are basic but with a twist, a touch of shimmer, or reflection to die for, it's hard to resist especially for less than $3 (and knowing that Sinful Colors formula is on point).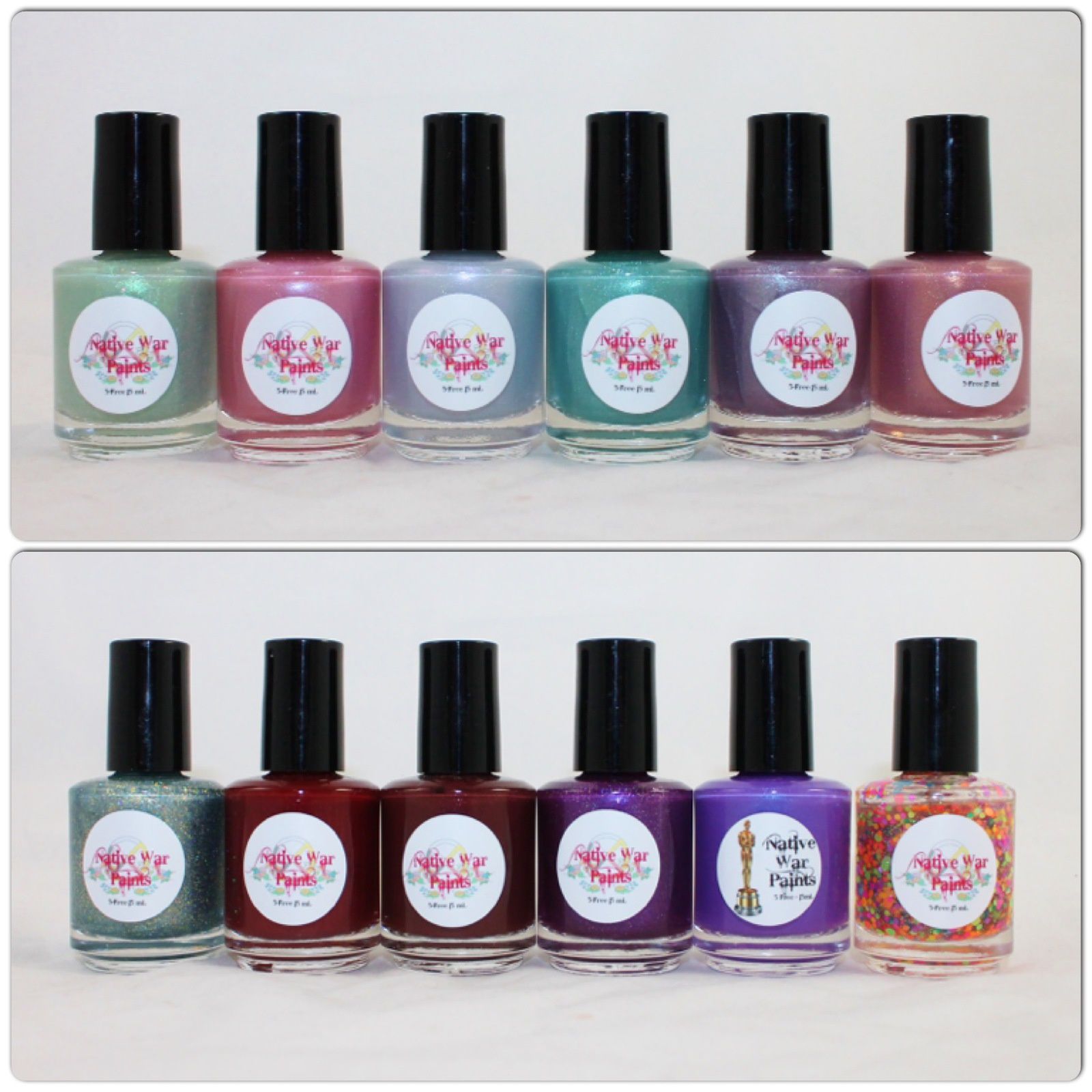 Native War Paints: Three Good Fairies, True Love Kiss, Dancing in the Clouds, Once Upon a Dream, Mistress of all Evil, Briar Rose, Blue Eyes of the Enchanted Unicorn, You Oughta Know, Love Stinks, 366 Days, Who Are You Wearing, Get Clover Yourself.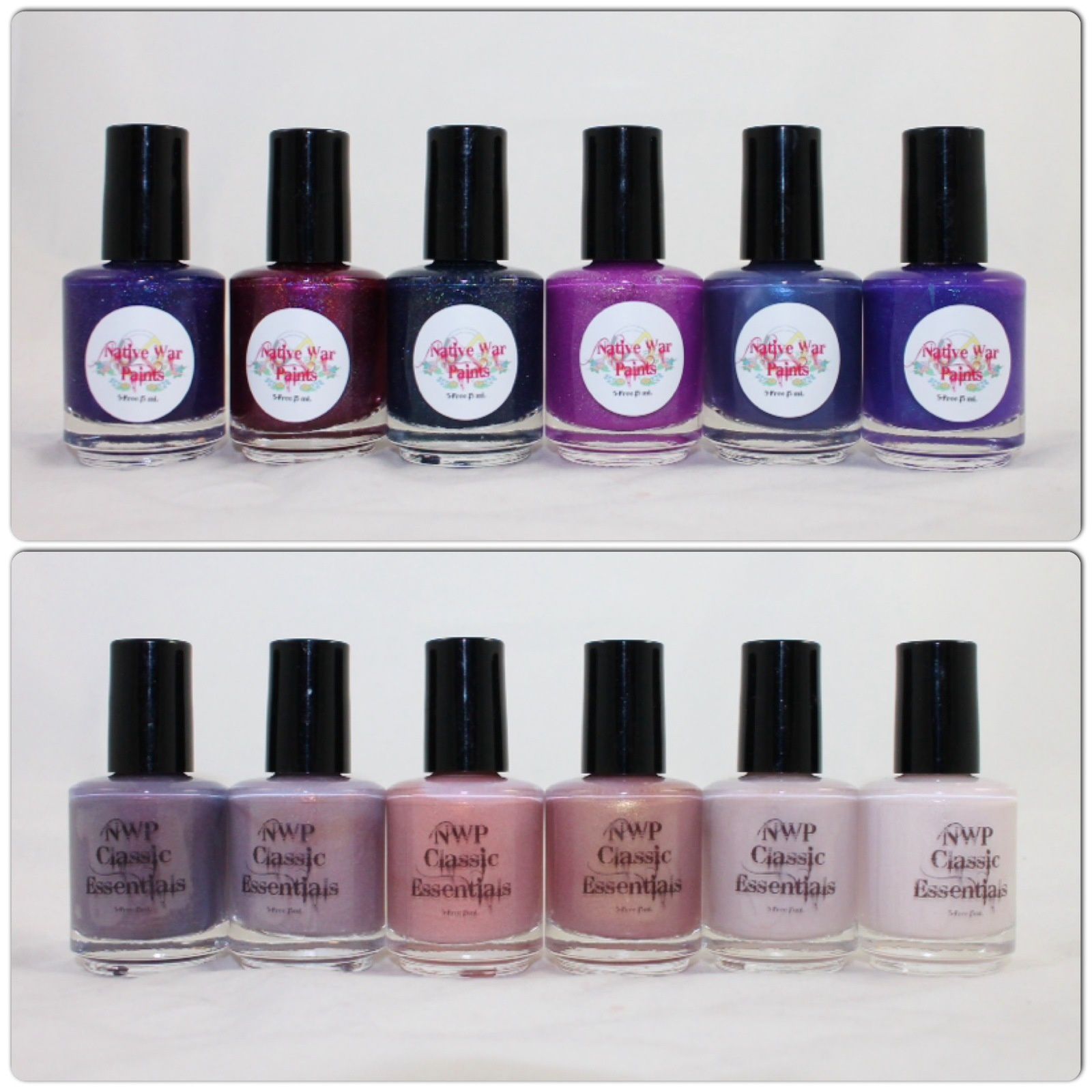 Native War Paints: Shot by Cupid's Crossbow, I'm Dating a Daredevil, Officer handsome, Temper Tantrum, I Do as I Please, Mine!!!, Nude Nikki, Stripped Stephanie, Exposed Eleanor, Naked Natalie, Birthday Suite Bethany, Au Naturel Abby.
Pour continuer dans les gros achats compulsifs, j'ai commander 24 nouveaux Native War Paints ce mois-ci, oui 24 ! Le Terrible Twos Trio, la collection Nude essentials, le Walking Heartthrobs Trio, la collection Once Upon a Dream et j'en passe, je suis devenue une grand accro de cett marque. Les couleurs sont fantastiques (principalement des shimmer, ce que j'aime le plus), le formule parfaite, et ils ne sont vraiment pas cher du tout.
To continue with large compulsive hauls, I ordered 24 new Native War Paints this month, yes 24! The Terrible Twos Trio, The Nudes Collection, The Walking Heartthrobs, Once Upon a Dream Collection and so on, I became a huge fan of this brand. The colors are fantastic (mostly shimmer, my favorites), the formula is perfect, and they are really cheap.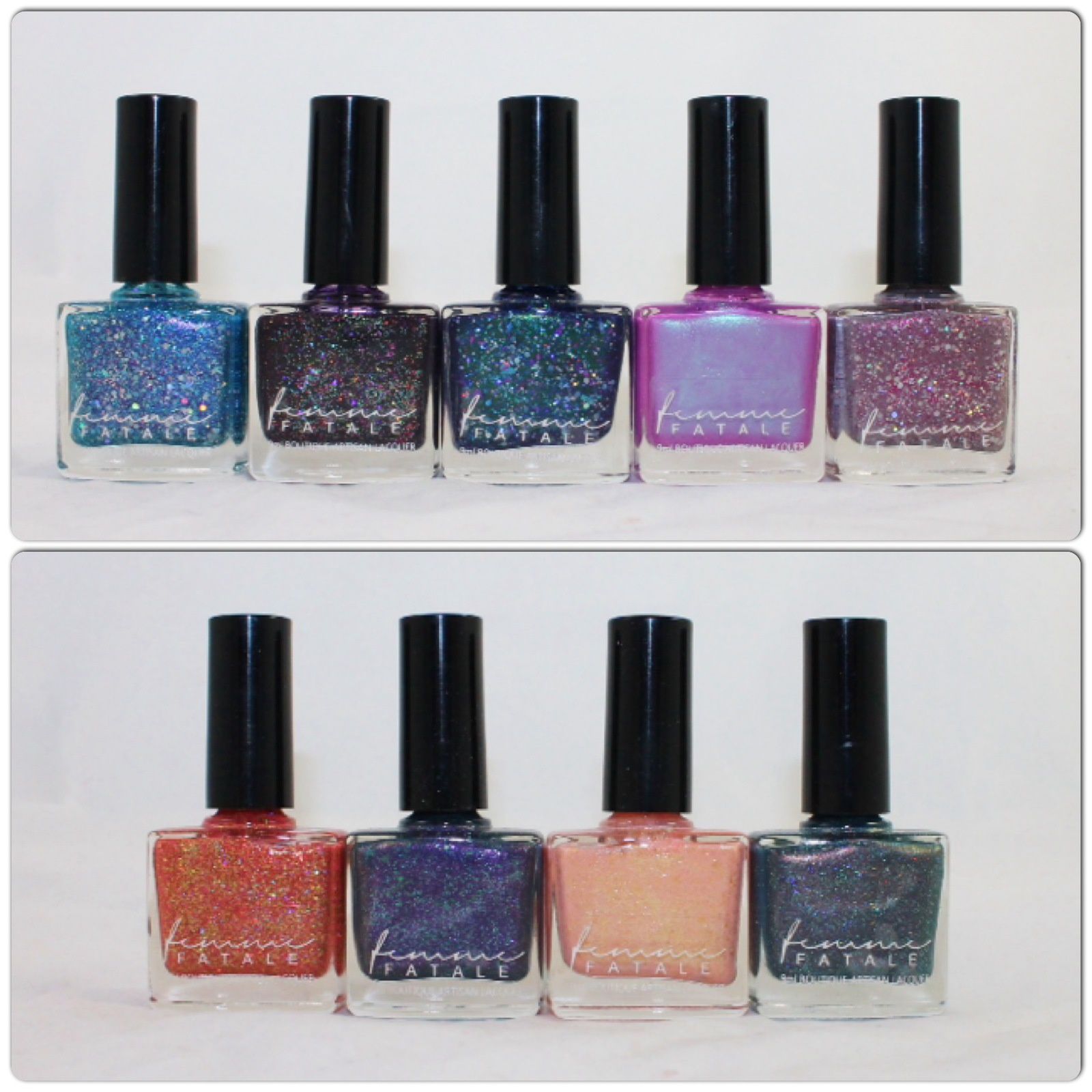 Femme Fatale Cosmetics: Glass Carnival, Sideshow Sparkler, Glacier Nether, Dreamscape, Solar Storm, Sunset Dreams of Ice Cream, Dust of Nibiru, Sunspring, Stargazing on Saturn.
J'ai aussi passé quelques commande de Femme Fatale chez Beauty So Fly et Beautometry pour completer ma collection avec des vernis exclusifs et des COMT (Color Of The Month) que je ne possédais pas encore. Et le ce soir (ou demain suivant ou vous vivez) la nouvelle collection duochromes/shimmer Enchanted Fable va être en vente avec 22 nouveaux vernis, et je vais acheter les 22, parce que cette collection est à tomber. C'est mon porte feuille qui va être content.
I also spent some bucks to buy some Femme Fatale on Beauty So Fly and Beautometry to complete my collection with exclusives and COMT (Color Of The Month) that I did not have yet. And tonight (or tomorrow depending where you live) the new duochromes/shimmer Enchanted Fable collection will be released with 22 new shaded, and I'll be buying them all, because this collection is to die for. My wallet will not be happy.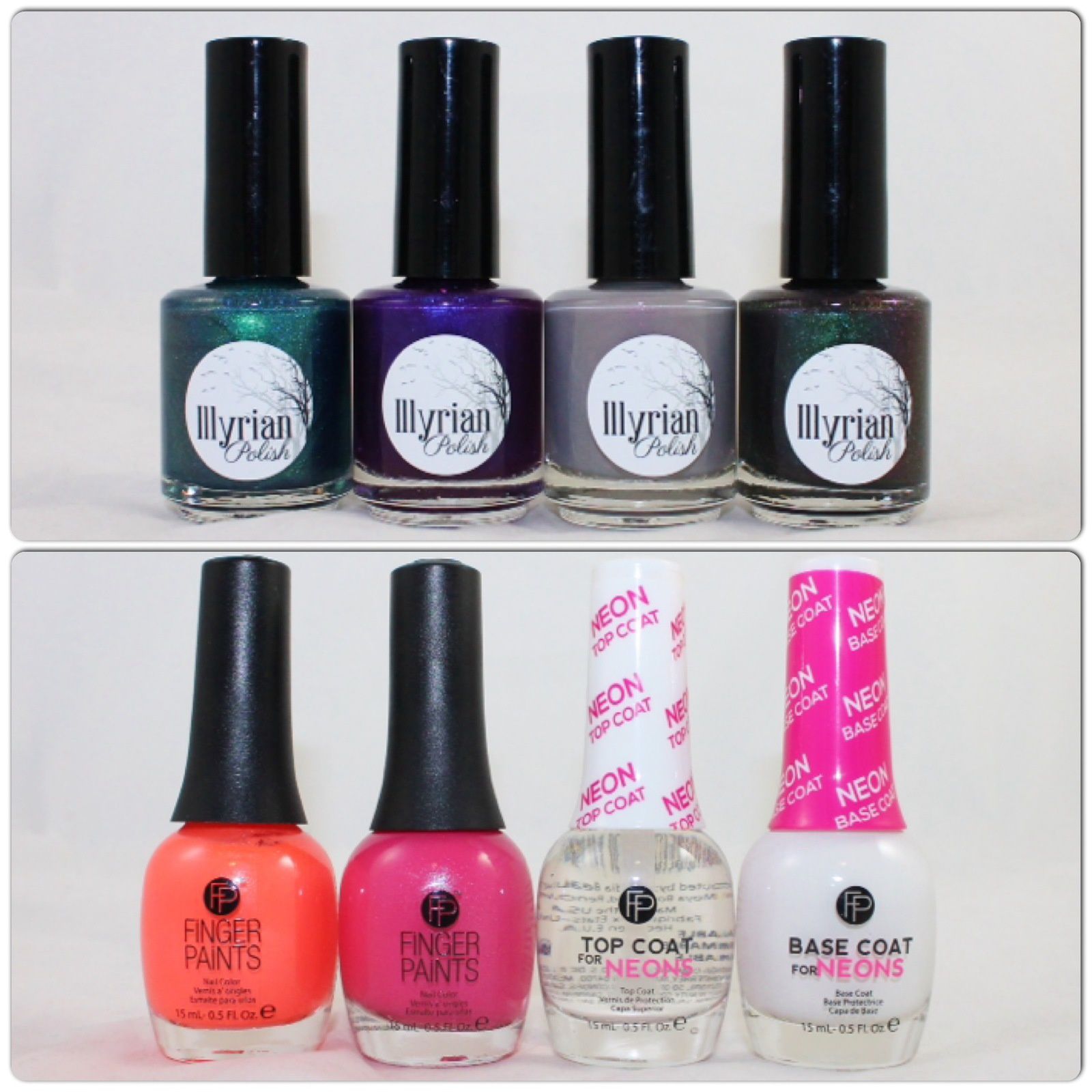 Illyrian Polish: Sorcerer, Bioluminescent, You Know Nothing Jon Snow, Mirkwood. Finger Paints Clay on Words, A-Cry-Lic Girl, Top & Base Coat for Neons.
Alors j'ai aussi recemment découvert la marque Indie Illyrian Polish, et bien que là vous ne voyez que 4 vernis, j'ai passé d'autre commandes depuis (pas encore recues) parce que je sens que je vais devenir une grand fan de cette marque également ! J'ai aussi passé une commande chez Sally beauty car je voulais vraiment le Clay on Words de Finger Paints, et j'ai ajouté 2 autre Finger Paints (A-Cry-lic Girl et le base coat) pour avoir le Top coat gratuit (oui il y avait une offre et je me suis dit que ça serait sympa de tester Top & Base Coat specialement pour vernis fluos, mais en fait la base c'est juste un vernis blanc et le top coat fait rétrécir le vernis donc bof).
So I also recently discovered the Indie brand Illyrian Polish, and while there you only see 4 polish, I ordered more since (not yet received) because I feel I'm becoming a big fan of this brand as well! I also placed an order with Sally beauty because I really wanted the Clay on Words by Finger Paints, and I added another 2 Finger Paints (A-Cry-lic Girl and the base coat) to get a free top coat (yes there there was an offer and I thought it would be nice to try Top & base Coat specifically for neons, but in fact the base is just a white polish and top coat shrinks polish so blah).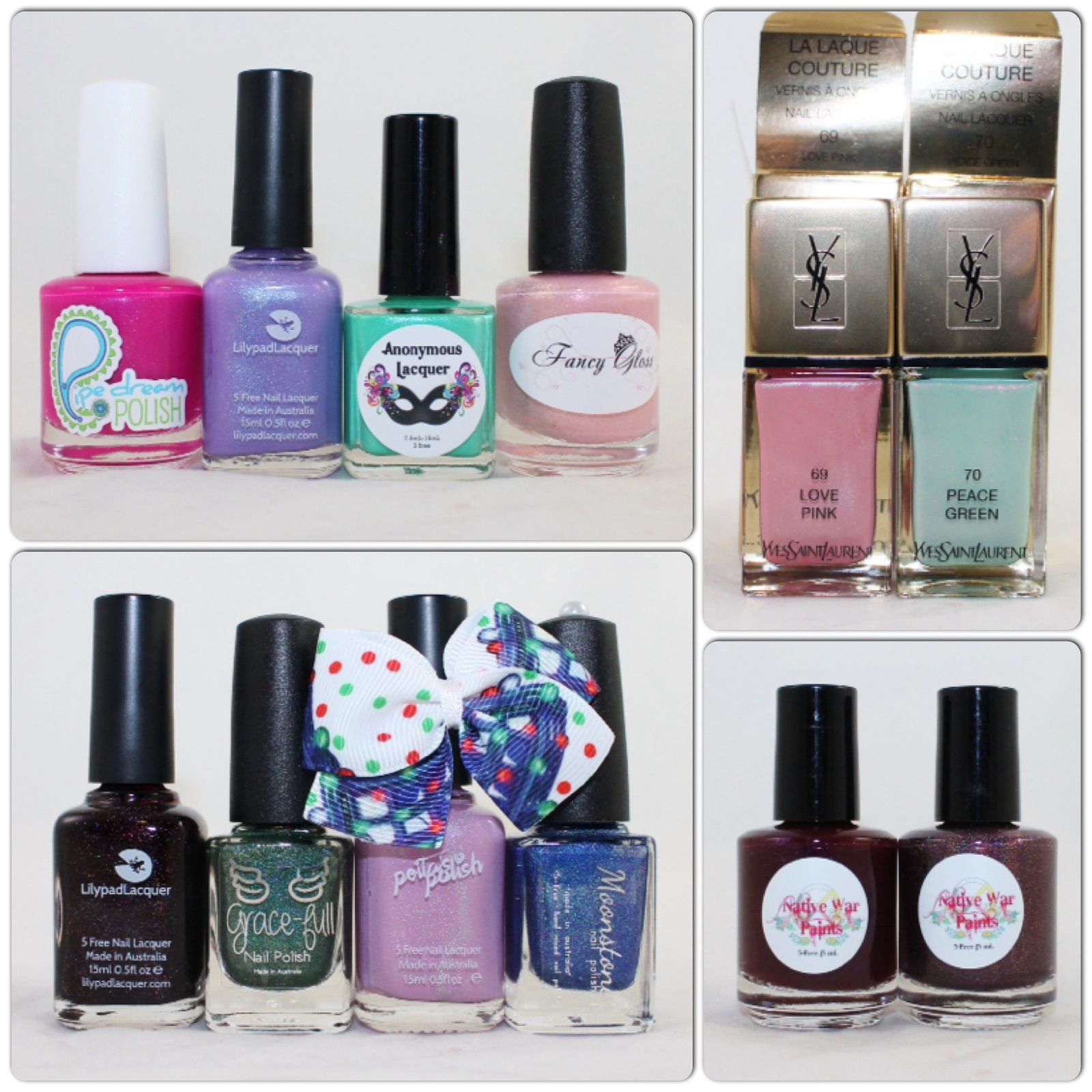 Pipe Dream Polish Impromptu Polish #3. Lilypad Lacquer Magic in the Air. Anonymous Lacquer Vernal Time. Fancy Gloss My Little Princess. YSL Love Pink & Peace Green. What's Indie Box March 2016. Native War Paints Beware & Betrayal.
Et enfin les plus petits achats avec des vernis trouvé dans des blog sale (Lilypad Lacquer Magic in the Air, Anonymous Lacquer Vernal Time) ou acheté individuellement (Pipe Dream Polish Impromptu Polish #3, Fancy Gloss My Little Princess), mais aussi 2 vernis cadeau pour mon anniversaire par mes parents (les 2 YSL), la dernière What's Indie Box (celle de mars, Doctor Who, et à partir de maintenant la WIB sera composée de 4 vernis seulement, on pourra aussi voir les vernis avant la fin des pre-order,ce qui est plutôt cool). J'ai aussi reçu à la dernière minute ces 2 autre vernis Native War Paints qui étaient en fait un Duo Mystère.
And finally the smaller purchases with some polish found in blog sales (Lilypad Lacquer Magic in the Air, Anonymous Lacquer Vernal Time) or purchased individually (Pipe Dream Polish Impromptu Polish # 3, Fancy Gloss My Little Princess), but also 2 polishes gifted for my birthday by my parents (the 2 YSL), the latest What's Indie Box (the March one, Doctor Who, and from now on the WIB will consist of 4 polish only, and you will also be able to see the varnishes before the end of pre-order, which is pretty cool). I also received at the last minute that 2 other Native War Paints which were in fact a Mystery Duo.