C'est la deuxième fois en moins de 3 mois que je reçois une VoxBox d'Influenster. Et cette dernière est particulièrement excitante puisqu'il s'agit de rouge à lèvres Bite Beauty. Je suis une collectionneuse de rouge à lèvres (j'en possède pas loin de 250, sans compter les gloss et baumes), et un peu comme pour les vernis, ils me faut toutes les couleurs possibles et imaginables. Bref j'aime Bite Beauty, car bien que leur rouges à lèvres soient chers, la qualité est exquise, les couleurs pigmentées, profondes et cremeuses. Alors quand j'ai appris que Bite Beauty sortait une nouvelle collection aux parfums de d'agrumes, et que j'allais recevoir 3 rouges à lèvres de cette collection à tester, j'étais au anges !
This is the second time in less than three months I receive a VoxBox from Influenster. And this one is particularly exciting because it is lipsticks from Bite Beauty. I am a lipstick junkie (I own almost 250 so far, not including gloss and balms), and much like nail polish I need every single color imaginable. In short I love Bite Beauty, because although their lipsticks are expensive, the quality is exquisite, the colors pigmented, bold and super creamy. So when I learned that Bite Beauty was releasing a new collection with citrus flavor, and that I would receive 3 lipsticks from this collection to try, I was in heaven!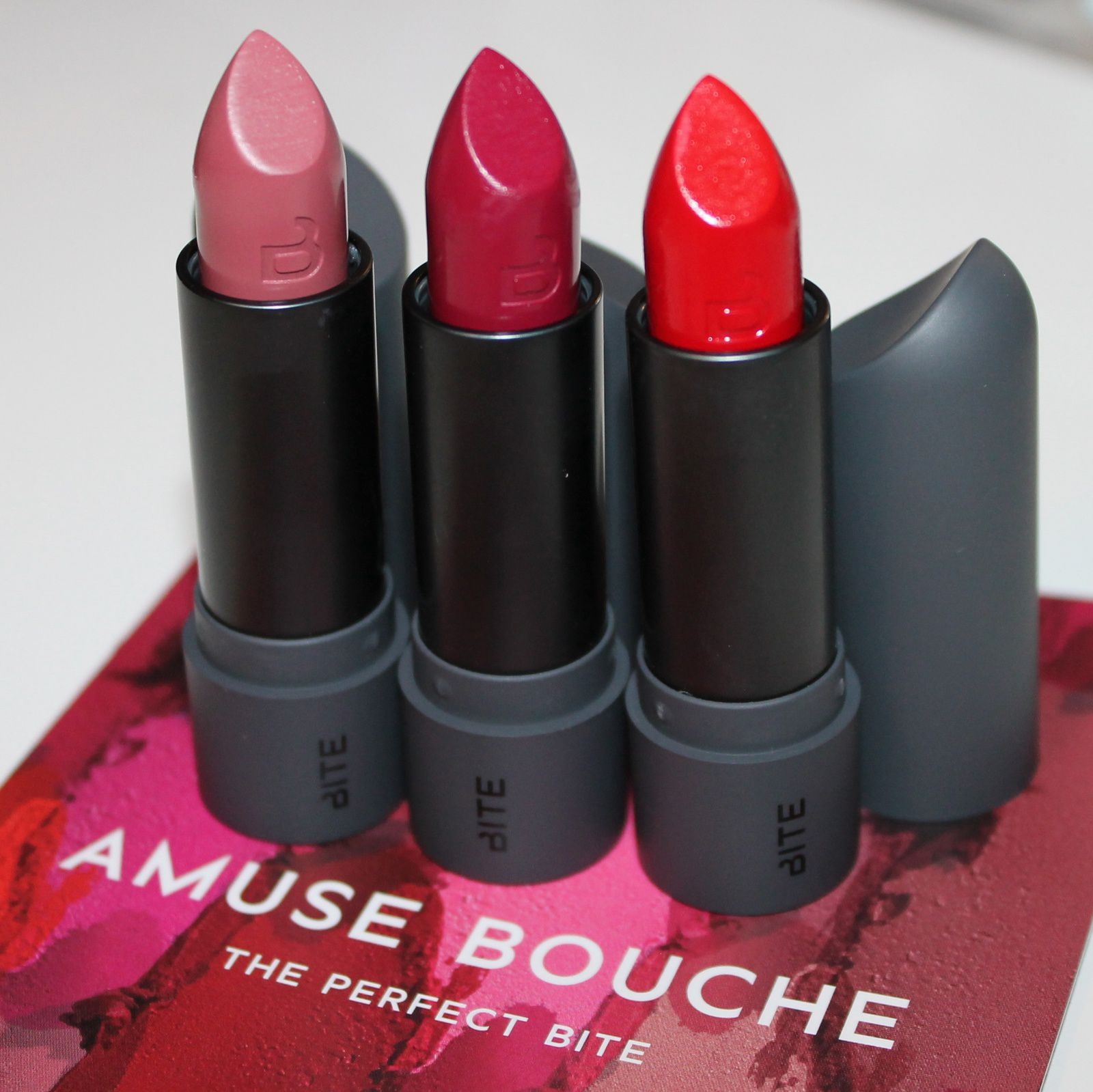 Bite Beauty Amuse Bouche Lipstick in Pepper (Dusty Rose), Beetroot (Bold Berry) & Gazpacho (True Blue-Red).
Cette nouvelle collection s'appelle Amuse Bouche car elle est supposée mettre l'eau à la bouche avec son parfum d'agrumes En fait c'est un mélange de plusieurs agrumes, je dirais orange, pamplemousse et une pointe de citron. L'odeur est assez forte mais pas déplaisante du tout (sauf si vous détestez les agrumes) mais ne dure pas trop longtemps une fois le rouge à lèvre posé. Il y a également un peut goût d'agrume qui comme l'odeur se dissipe assez rapidement. En ce qui concerne la couleur, ces rouges à lèvres sont très pigmenté, intenses et la formule est très crèmeuse. Le fini est plutôt satiné, la tenue est fantastique, bien qu'ils transfèrent la couleur reste très intense toute la journée sans avoir besoin de réappliquer même après avoir manger (bon après si votre déjeuner c'est un hamburger ou un sandwitch vous aurez surement besoin d'une retouche). Au final je suis très impressionnée par ces rouges à lèvres, mais je dois avouer je n'en attendais pas moins de la part de Bite Beauty !
This new collection is called Amuse Bouche because it is supposed to be water-watering with its citrus flavor. In fact it is a mixture of several citrus, I would say orange, grapefruit and a hint of lemon. The smell is quite strong but not unpleasant at all (unless you hate citrus) but it does not last long once applied. There is also a citrus taste which, like the smell, dissipates fairly quickly. Regarding the colors, these lipsticks are highly pigmented, intense, and the formula is very creamy. The finish is rather satin, the wear is fantastic, although they transfer the color stays very intense all day without having to reapply even after eating (unless your lunch is a hamburger or a sandwich, then you will probably need to touch-up). In the end I am very impressed with these lipsticks but I must admit I expected no less from Bite Beauty!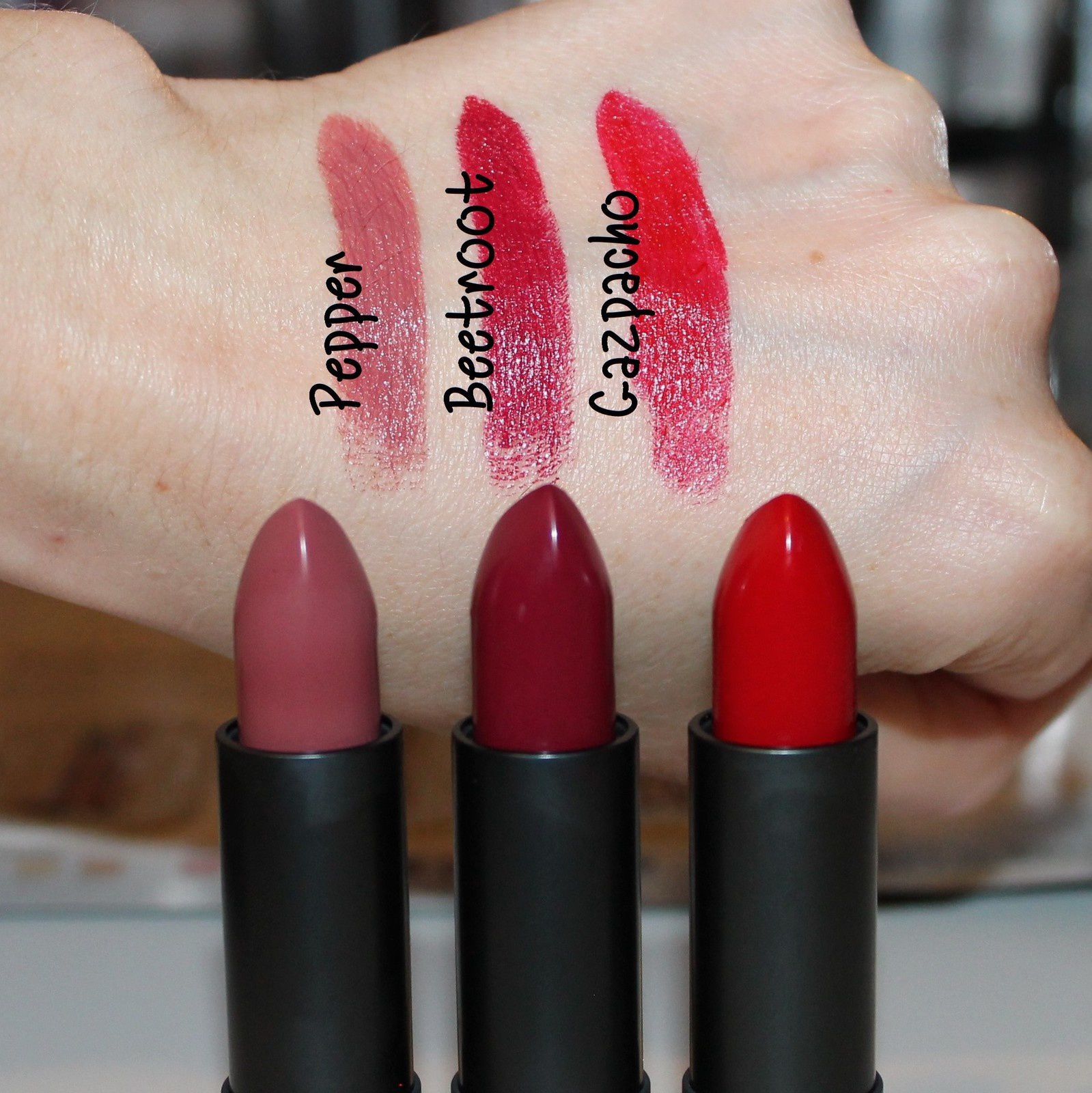 Bite Beauty Amuse Bouche Lipstick in Pepper (Dusty Rose), Beetroot (Bold Berry) & Gazpacho (True Blue-Red), just one swipe on the back of my hand.
Sephora: Bite Beauty : Amuse Bouche Lipstick : lipstick
A collection of high-impact lipsticks in dimensional shades that have been handcrafted to deliver extreme moisture, soft texture, and creamy wear.
In the event of a planned or unexpected disruption in the facilities or services usually used by people with disabilities, Bite Beauty will post a notice of disruption at the public entrances to the