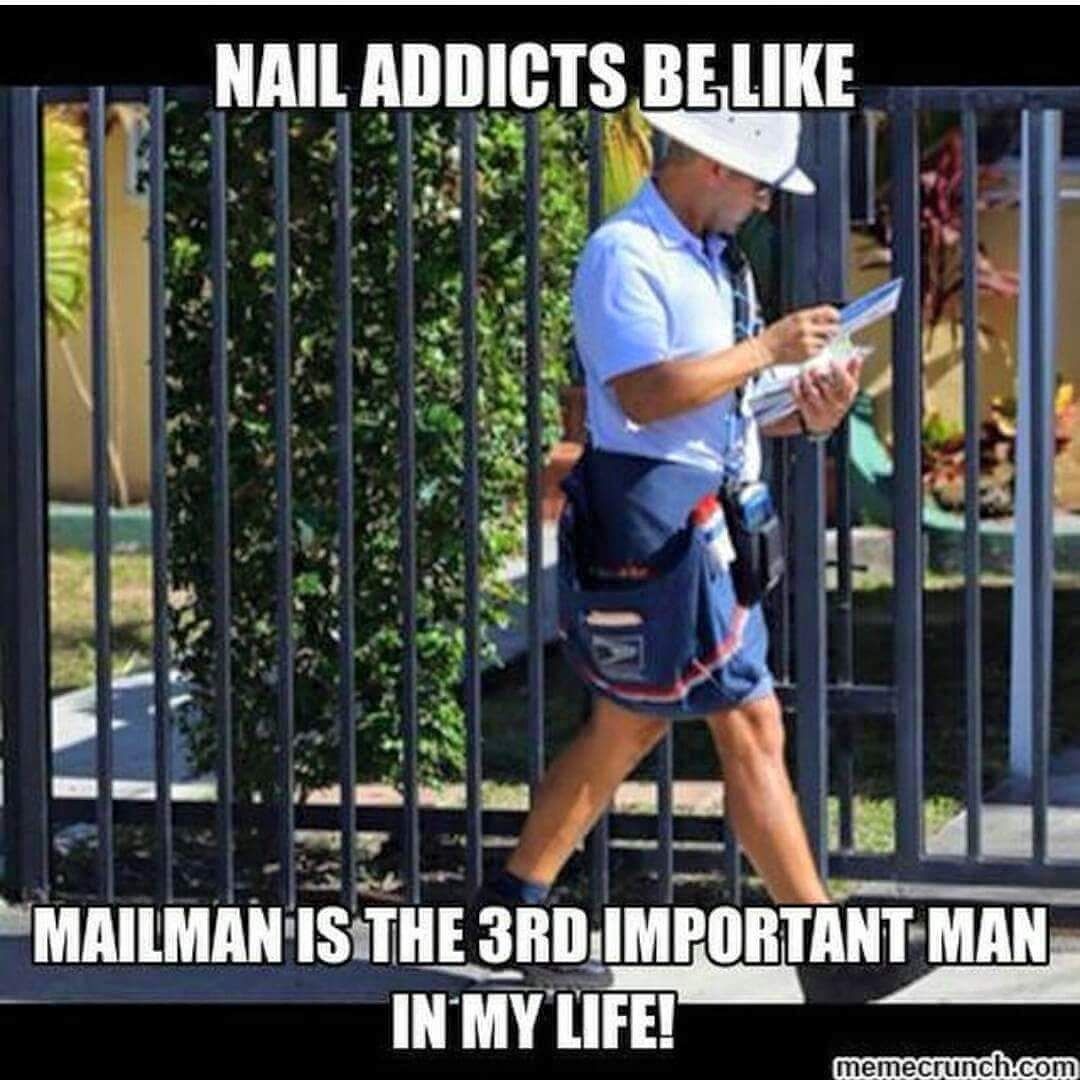 Malgré un début d'année 2016 assez chaotique, j'ai quand même trouvé le temps de faire un peu de shopping. Ce n'est pas grand choses (LOL) mais ça me fait toujours plaisir de recevoir de nouveaux vernis (et je viens d'investir dans mon 5eme Helmer, LOL again). Bref pour bien commencé l'année, de jolies couleurs bien vives mais aussi un peu de pastel et de douceur.
Despite a rather chaotic start for the new year 2016, I still found time to do some shopping. It's not a lot (LOL) but it is always makes me happy to receive new varnishes (and I just invest in my 5th Helmer, LOL again). So to start the year well, some bright colors but also some pastel for sweetness.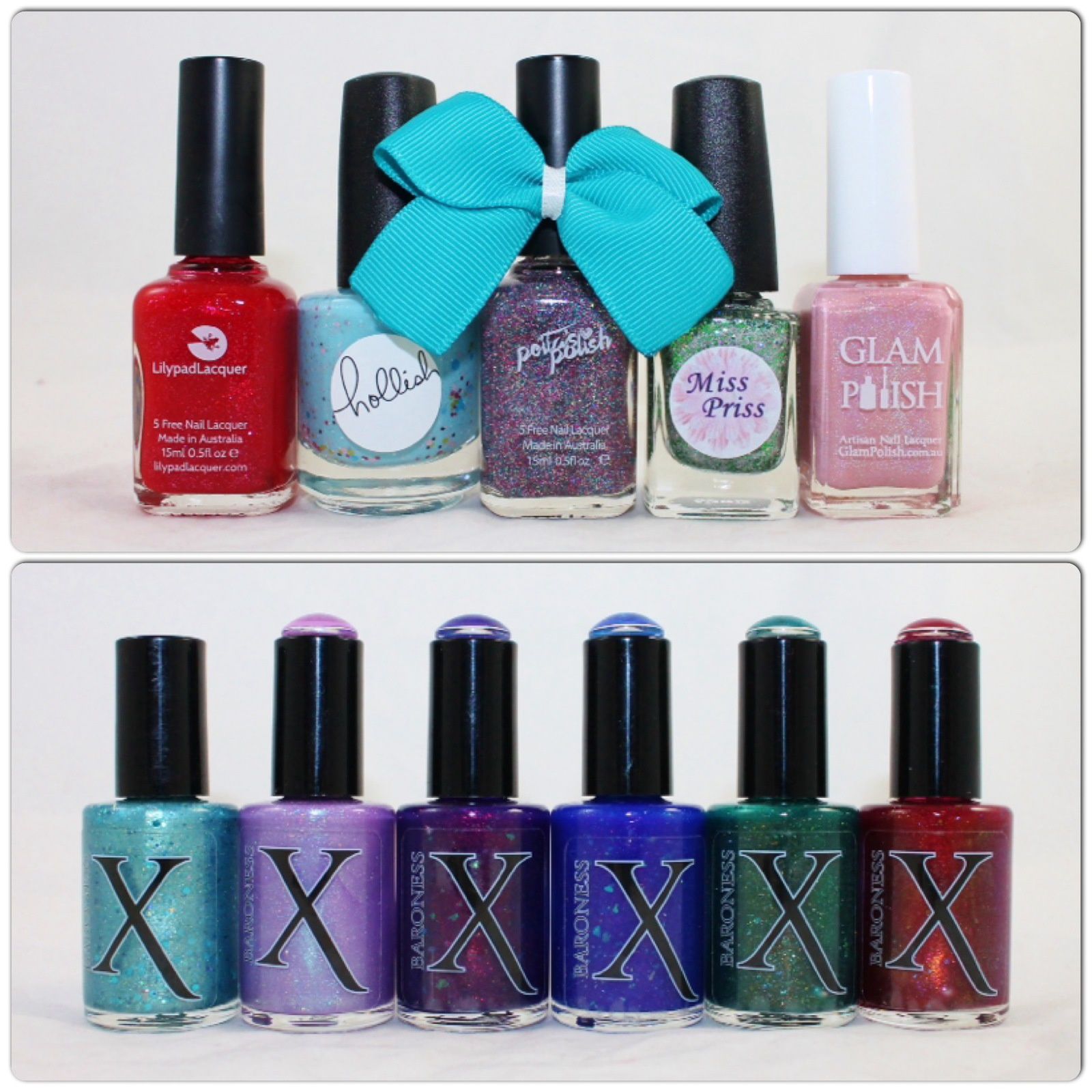 What's Indie Box January 2016. Baroness X Mermaid Madness, La Luz 2.0, Dulcinea, Alhambra, Quixotica, Molino.
Tout d'abord j'ai reçu ma What's Indie Box du mois de Janvier sur le thème de la série "The Big Bang Theory". J'adore cette série, je suis fans, je suis une geek, et je suis très impatiente de swatcher cette box (coming soon). Janvier a été pour moi le mois des découvertes avec ces magnifiques vernis Baroness X (une marque indie qui m'était inconnue jusque là), ils sont à couper le souffle !
First I received my January What's Indie Box inspired by "The Big Bang Theory". I love this TV show, I'm fan, I'm a geek, and I am very eager to swatch this box (coming soon). January was the month of discoveries for me with these beautiful Baroness X polish (a new indie brand to me), they are breathtaking!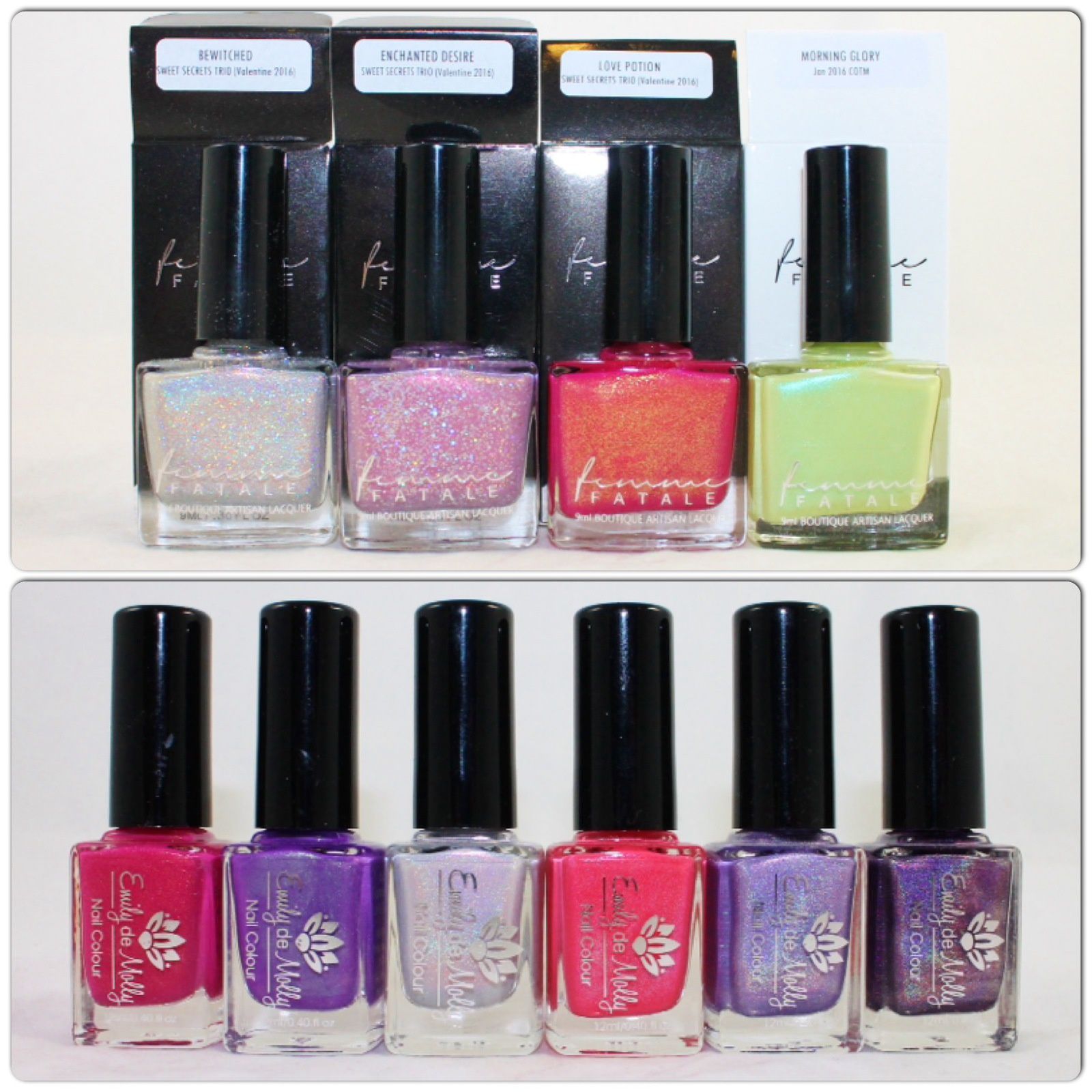 Femme Fatale Betwitched, Enchanted Desire, Love Potion & Morning Glory. Emily de Molly Modern Luster, The Pretender, Circlet of Ice, Deep Sea Coral, Head Over Heels & Illumine.
Je ne pouvais pas passer sur le nouveau trio de Saint Valentin de Femme Fatale, j'en ai aussi profité pou commander le vernis COTM (Color Of The Month) du mois de janvier, il sont tous fantastique. Et comme maintenant pour une commande directe sur le site de Femme Fatale il faut 10 vernis minimum pour la livraison aux USA, j'ai donc aussi pris 6 Emily de Molly (qui sont super beaux eux aussi)
I could not pass on the new Valentine trio by Femme Fatale, and I took advantage of my order to take the January COTM (Color Of The Month) it is fantastic. And now, as a for direct order on Femme Fatale website you need 10 polish minimum for a delivery in the US, I also took 6 Emily de Molly (who are super pretty too).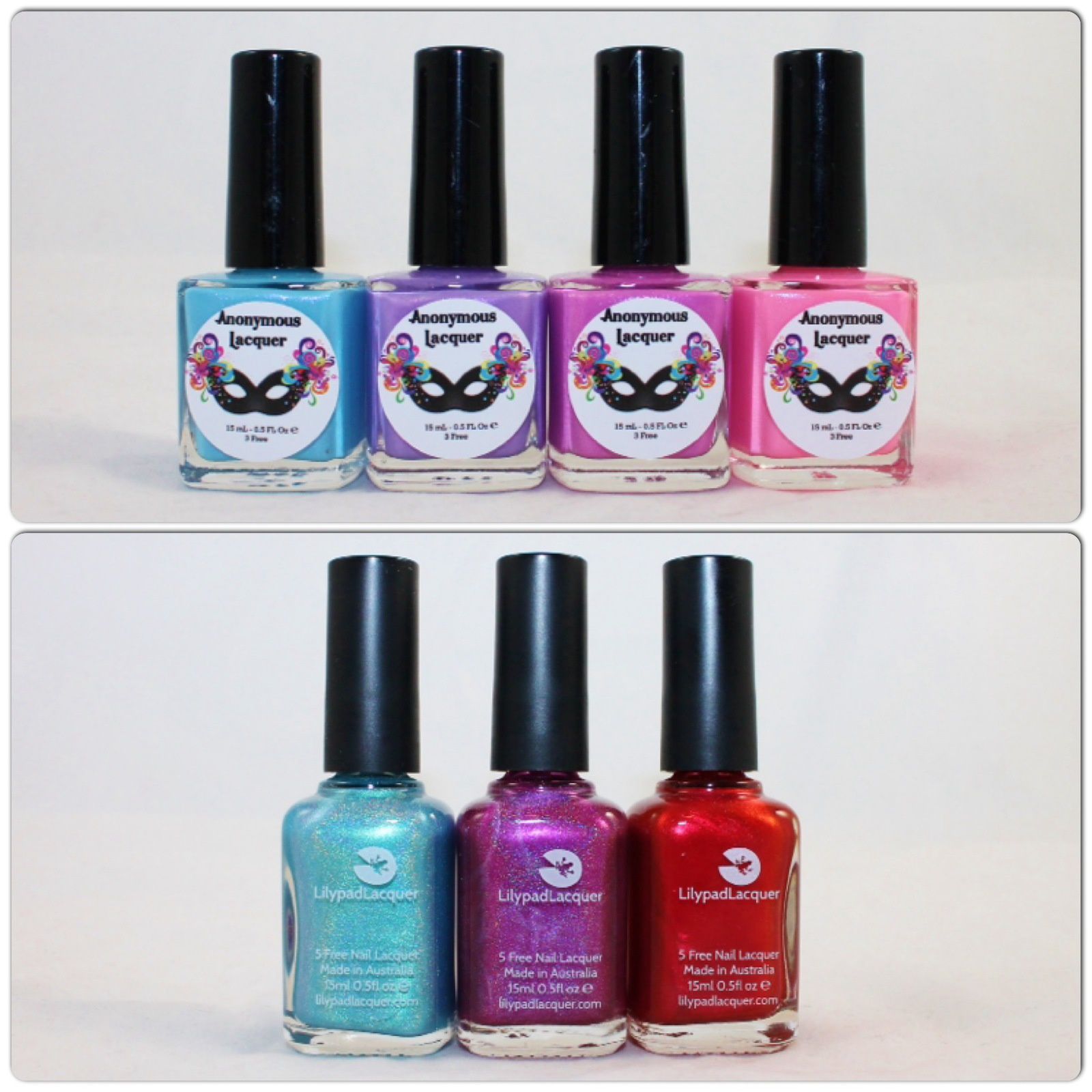 Anonymous Lacquer Under he Blue Hour, I Lilac You, Showers to Flowers & Pink-nik in the Park. Lilypad Lacquer Blue Moon, Pinky Tiki & Sandy Claws.
Comme je le disais le mois de janvier a été le mois des découvertes, j'ai donc découverts Anonymous Lacquer, et je dois avouer que j'adore, il va m'en falloir plus, mes precieuuuuuxxx... Trois nouveaux Lilypad Lacquer ont rejoins ma collection dont 2 customs (qui ne sont pas les miens mais qu'importe, merci Delphine).
As I said in January was the month of discoveries, so I discovered Anonymous Lacquer, and I must admit that I love it, it will need more my preciouuuuuss... Three new Lilypad Lacquer have joined my collection including 2 customs (not mine but who cares, thank you Delphine).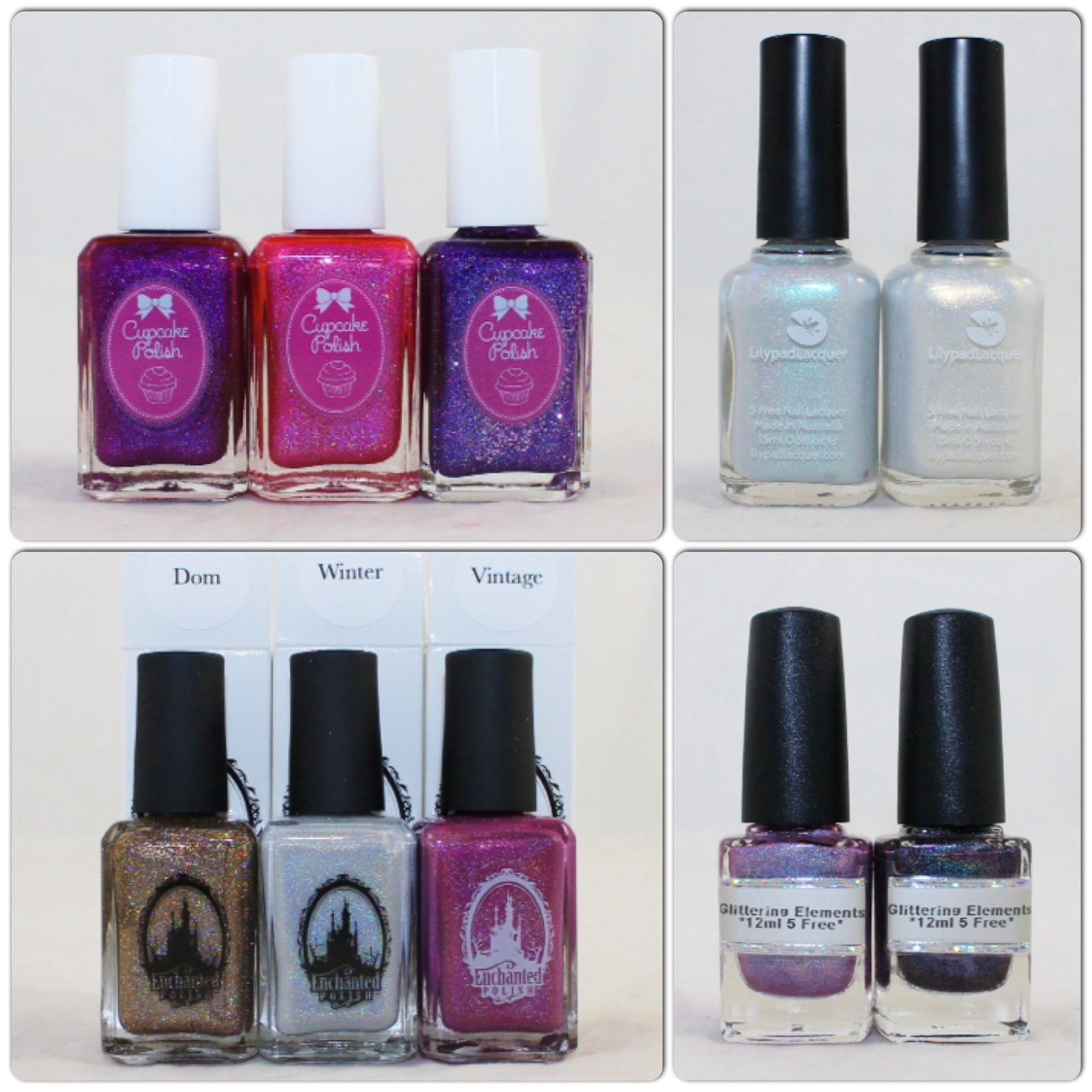 Cupcake Polish Berry Good Looking, Folies bergère & Copa Girls. Lilypad Lacquer Orion & Unicorn Pearls. Enchanted Polish Dom, Winter & Vintage. Glittering Elements Kisses from the Fishes & Holo-Kitty.
Et enfin de nouveaux precieux de chez Cupcake Polish, Enchanted Polish (Yeah j'ai eu la chance de pouvoir acheter ce trio dès qu'il est sorti le 1er janvier, un gros coup de bol) mais surtout mes customs du groupe Indie Polish Lovers United pour les mois de Novembre (Glittering Elements) et décembre 2015 (Lilypad Lacquer).
Finally some new precious from Cupcake Polish, Enchanted Polish (Yeah I was able to score this trio as soon as it was released on January 1st, a big stroke of luck), but also my customs from the Indie Polish Lovers United for the months of November (Glittering Elements) and December 2015 (Lilypad Lacquer).