Je suis toujours bien occupée à emballer toutes mes affaires pour le déménagement, mais celà ne m'empêche pas de prendre le temps de me refaire les ongles quand je peux. Bien que les mains souffrent beaucoup (le carton ça coupe) je ne me suis pas cassé un seul ongle (pour le moment) mais j'essaye de les garder relativement courts. J'ai choisi LynBDesigns Make Your Life Spectacular pour ma manucure. C'est un magnifique vernis holographique très pale, un peu pastel, avec des reflets roses super intenses. Il n'est pas très opaque (3 couches sur les photos) mais il est magnifique. Je l'imagine bien par dessus une couleur de base genre parme ou rose pale.
I'm still busy packing all my stuffs for the move, but does not prevent me to take the time to redo my nails when I can. Although my hands suffer a lot (cardboard cuts pretty bad) I did not break one single nail (for now) but I also try keep them relatively short. I chose LynBDesigns Make Your Life Spectacular for my manicure. It is a very pale and amazing holographic polish, a bit pastel, with really intense pink highlights. It is not very opaque (3 coats on the photos) but it is beautiful. I imagine it perfectly over a base color like a purple or pale pink.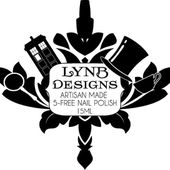 Sign up for my newsletter to keep up to date with sales, releases, and more. http://eepurl.com/baQdg5 See the new Totally Clueless collection: https://instagram.com/traceyloveslacquer ...