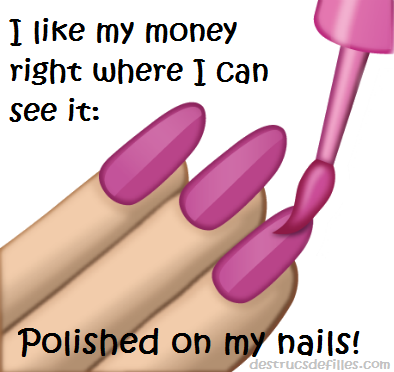 Les fans de Sex and the City reconnaîtront cette citation de Carrie Bradshaw qui au final peut s'appliquer à beaucoup de chose. Cela m'a inspiré pour créer cette petite image clin d'oeil pour toutes les NPA (Nail Polish Addict). Bref vous l'aurez compris encore une fois beaucoup de shopping ce mois-ci, ce qui n'est pas très raisonnable sachant que je déménage très bientôt.
Fans of Sex and the City will recognize this quote from Carrie Bradshaw that ultimately can be applied to many things. This inspired me to create this little picture for all Nail Polish Addict. In short you will understand once again a lot of shopping this month, which is not very reasonable knowing that I'm moving soon.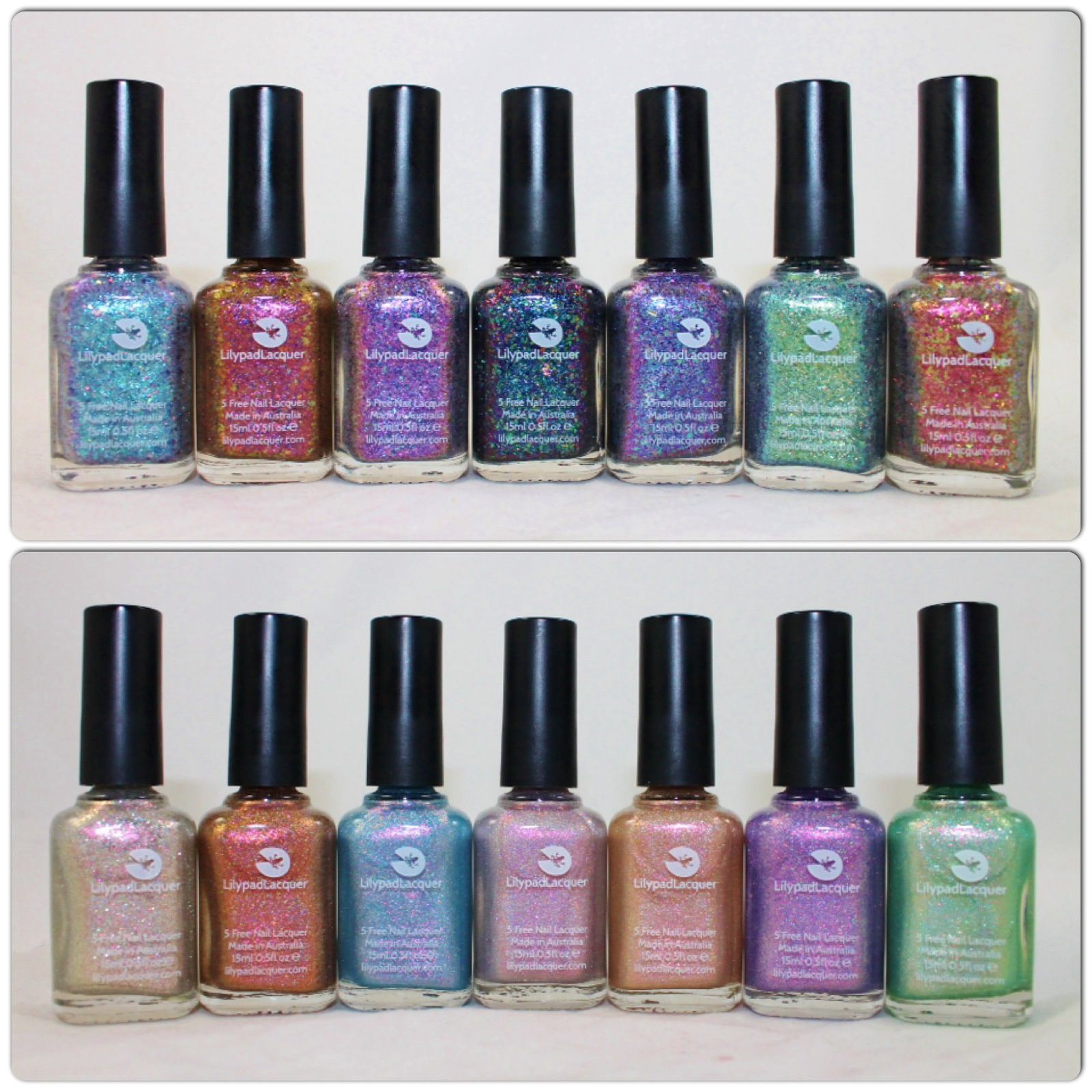 Lilypad Lacquer I am a Unicorn, Rainbows Rule, Magical Beauty, Dreamer of the Night, Mythical Legend, Fairytale Dream, Elusive Fantasy, White Light, Honey Bunch, Fire in the Sky, Rosy Glow, Bright Spark, Funtabulous & My Everything.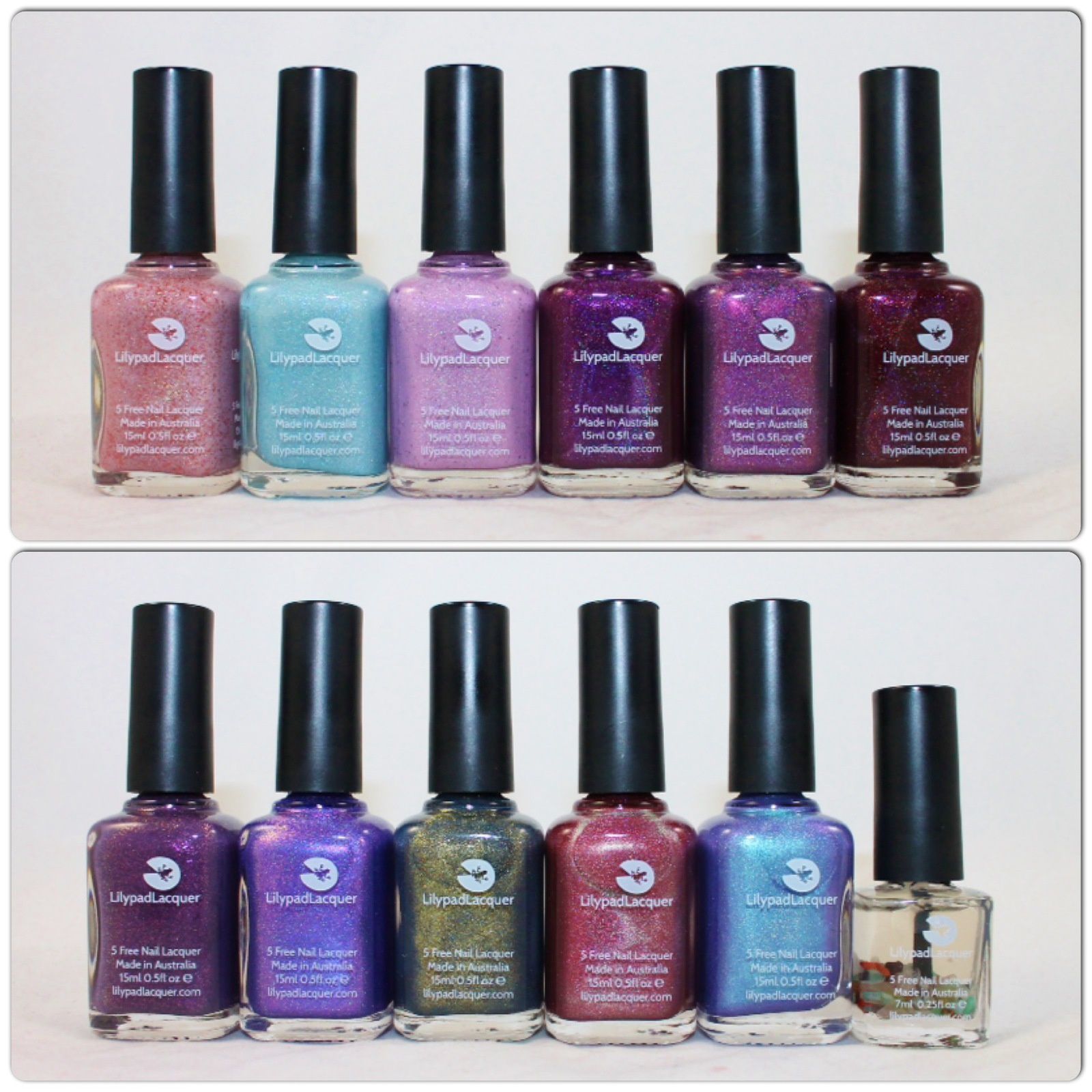 Lilypad Lacquer Pure, Fresh, Clean, Victorious, Queen, Fatale, Mulberry, Utopia, Antique, Ladyface, Sereniy & Crystal Clear.
Pour commencer j'ai reçu ma grosse commande Lilypad Lacquer de la dernière restock. Je le suis lâchée j'avoue mais ces vernis sont tellement beaux je n'ai pas pu résister !
For starters I received my big Lilypad Lacquer order fom the last restock. I am went crazy I admit but these varnishes are so beautiful I could not resist!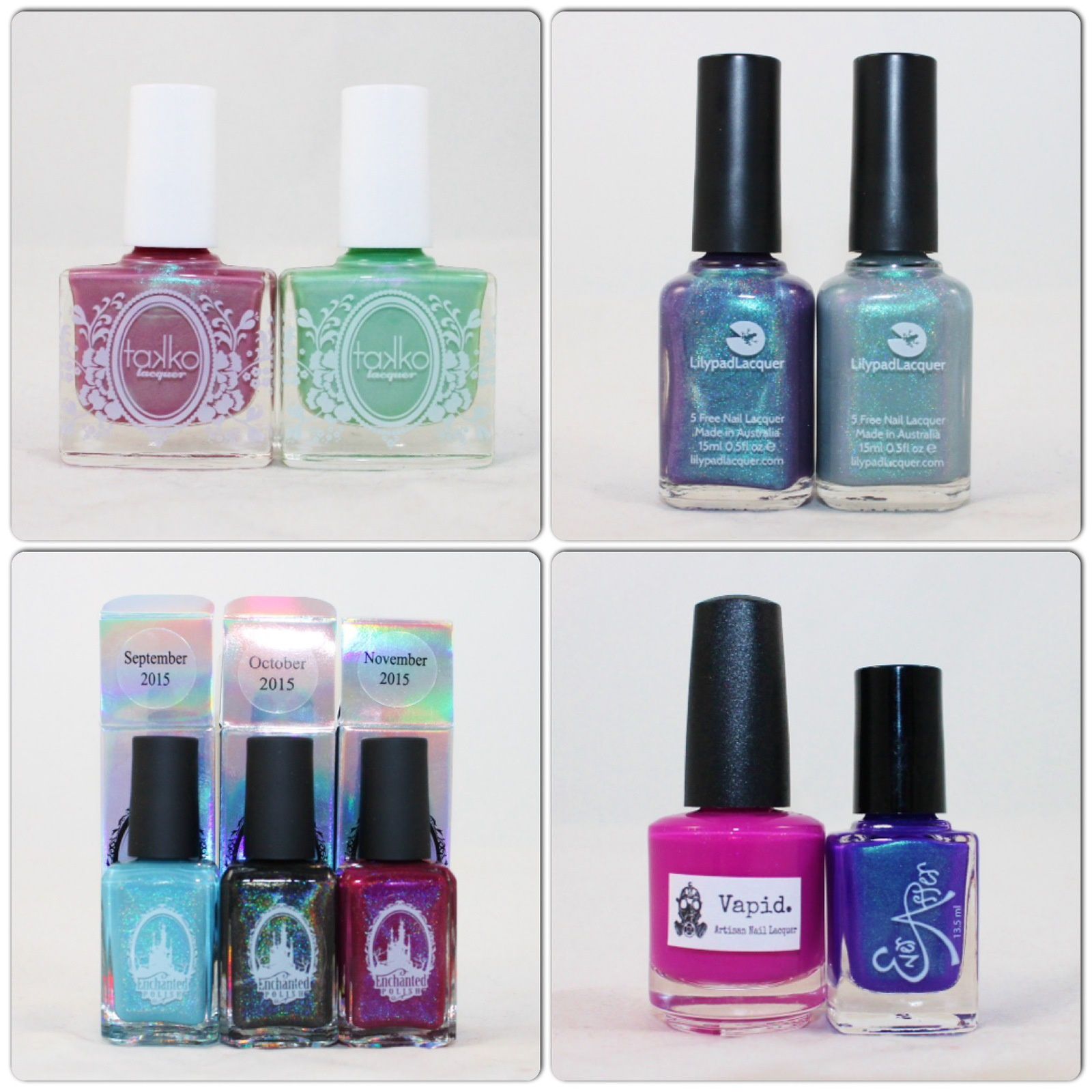 Takko Lacquer Coquettish & Matcha Latte. Lilypad Lacquer Aurora Australis & Aurora Borealis. Enchanted Polish September, October & November 2015. Vapid Lacquer Garota de Ipanema & Ever After Polish Witchin.
J'ai aussi pris 2 Takko Lacquer de la dernière collection, ceux qui me plaisaient le plus, Coquettish & Matcha Latte. J'ai reçu 2 des vernis Lilypad de la collection Out of Space. Je ne voulais pas acheter la collection complète car seulement 2 me plaisaient, mais je les ai trouvé sur facebook. J'ai également reçu mes monthlies d'Enchanted Polish et j'ai trouvé une de mes récente obsession Vapid Lacquer Garota de Ipanema (je l'ai payé cher sur NNR mais je ne regrette pas du tout !) ainsi que Ever After Polish Witchin, tous deux exclusif de la Awesome Sauce Indie Box.
I also bought 2 Takko Lacquer from the last collection, the ones I liked the most, Matcha Latte & Coquettish. I received two Lilypad from the Out of Space collection. I did not want to buy the whole collection as I only wanted 2 of them, but I found them on facebook. I also received my Enchanted Polish monthlies and I found one of my recent obsession Vapid Lacquer Garota de Ipanema (I paid a lot of money for it on NNR but I do not regret at all!) as well as Ever After Polish Witchin, both exclusives of the Awesome Sauce Indie Box.
J'ai également reçu la nouvelle collection de Femme Fatale que vous avez pu voir sur le blog récemment. C'est la dernière collection pour 2015 sur le thème de Dune, et je dois vous avouer, ces vernis sont sublimes ! Ne loupez pas la pré_commande du 1er au 5 novembre sur le site de Femme Fatale (et chez les revendeurs internationaux après celà : Color4Nails, Shiro Cosmetics, Beautometry, Beauty So Fly, Rainbow Connection UK, Dope Nails and Live Love Polish)
I also received the new collection Femme Fatale collection that you could see on the blog recently. This is the last collection for 2015 on the theme of Dune, and I must admit, these varnishes are sublime! Do not miss the pre-order from November 1st-5th on Femme Fatale website (and at international stockists soon after: Color4Nails, Shiro Cosmetics, Beautometry, Beauty So Fly, Rainbow Connection UK, Dope Nails and Live Love Polish)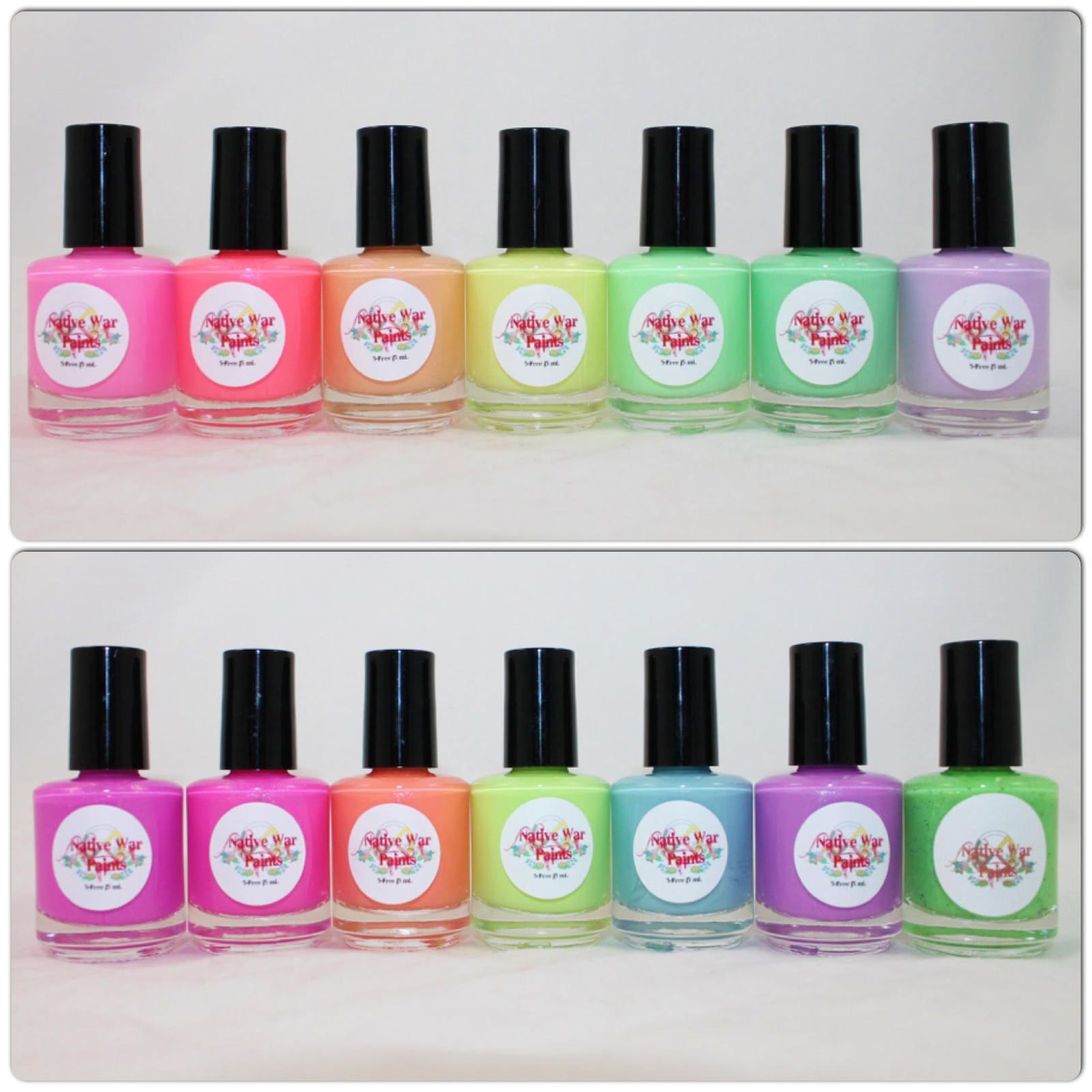 Native War Paints COLORS (Birds Nest in a Mailbox, Honeydew Smoothies, Bouquet of Liliacs, Drops of Sunshine, 1990s Lipstick, Orange Dreamsicle, Amanda Loves Betsey) It's Medicinal, COLORS 2.0 (Raspberry Sorbet, Carnival Cotton Candy, Melted Push Pop, Pistachio Ice Cream, Salt Water Taffy, Blueberry Yogurt)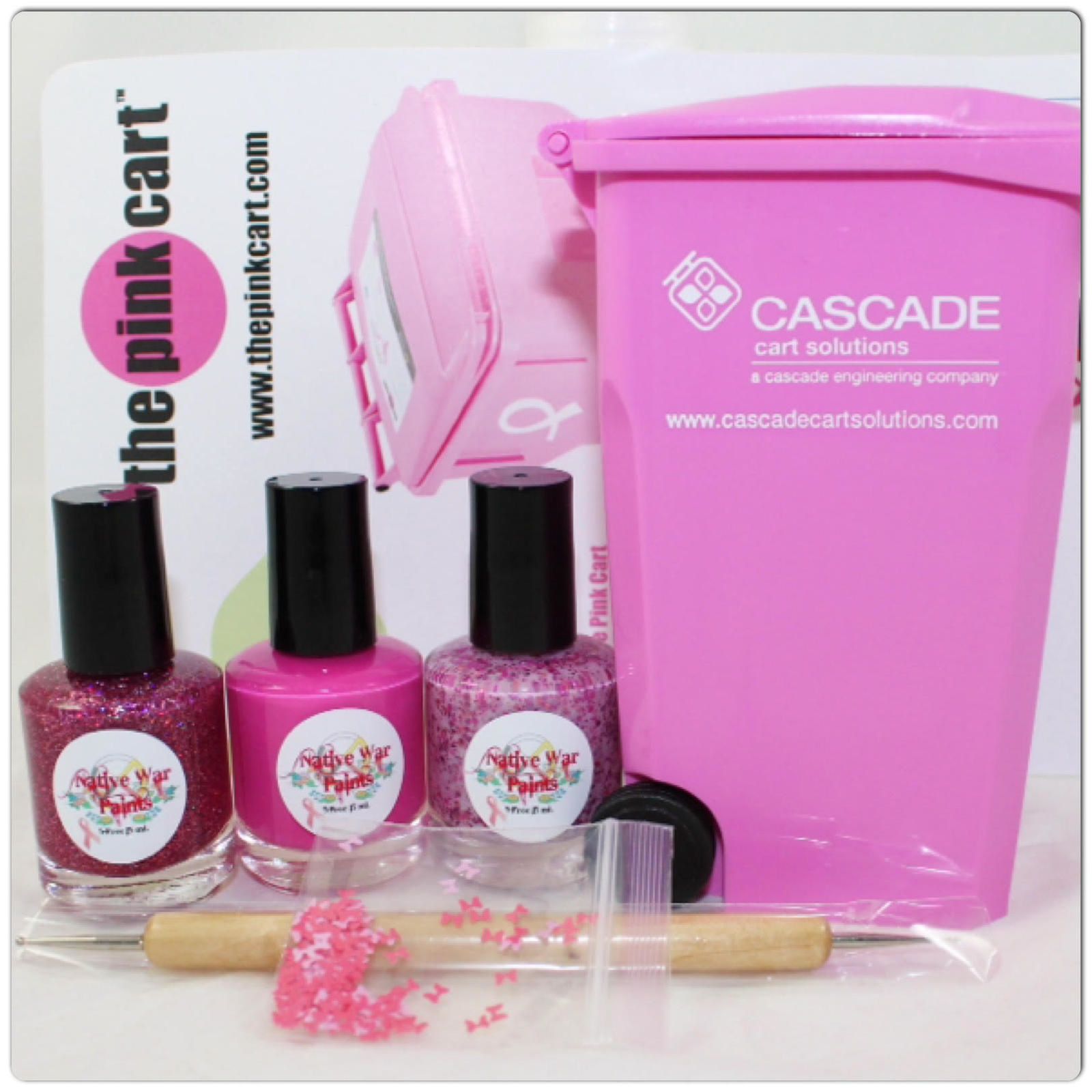 Native War Paints Pink Cart Nail Art (Fight, Inspire and Conquer + dotting tool and placement glitters)
J'ai aussi complètement craqué lors de ma dernière commande Native War Paints, je voulais tous les vernis pastels fluos ainsi que le trio Pink Cart Nail Art (vendu au profit de l'association contre le cancer du sein) parce que c'est pour la bonne cause mais aussi parce que j'adore cette mini poubelle rose, trop mimi !
I also completely broke down during my last Native War Paints order, I wanted all the neon pastel polish and also the Pink Nail Art Cart trio (sold at the benefit of the association against breast cancer) because it's for good cause but also because I love this pink mini cart, so cute!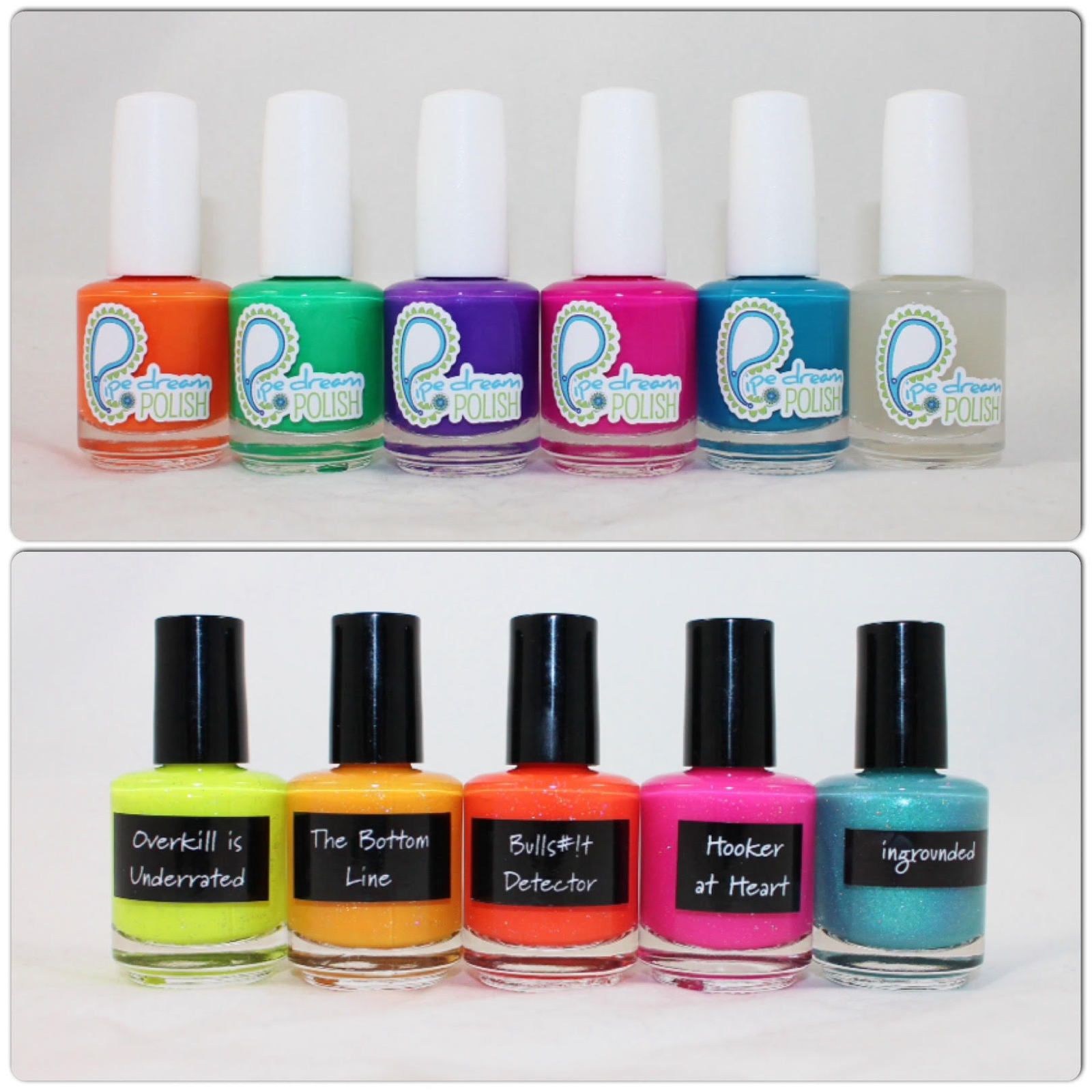 Pipe Dream Polish Street Carnival Collection (Rhythm, Tabanca, Harlequin, Masquerader, Celebration) + Clearwater. Crowstoes Overkill is Underrated, The Bottom Line, Bulls#!t Detector, Hooker at Heart and Ingrounded.
Je voulais la dernière collection de Pipe Dream Polish, la Street Carnival Collection, mais les restocks ne sont plus annoncées cela devient difficile de se les procurer. Heureusement j'ai réussi à les trouver seconde main mais neufs sur NNR quasiment au prix d'achat, le truc improbable! Crowstoes a réouvert sa boutique en ligne, c'était l'occasion pour moi de choper quelques petits vernis fluos que je voulais depuis un moment !
I wanted the latest Pipe Dream Polish collection, the Street Carnival Collection, but restocks are no longer announced and this made it difficult to get them. Fortunately I managed to find them second hand but new on NNR almost for the retail value, incredible! Crowstoes reopened her online store, it was an opportunity for me to grab a few neon polish I have been wanting for some time!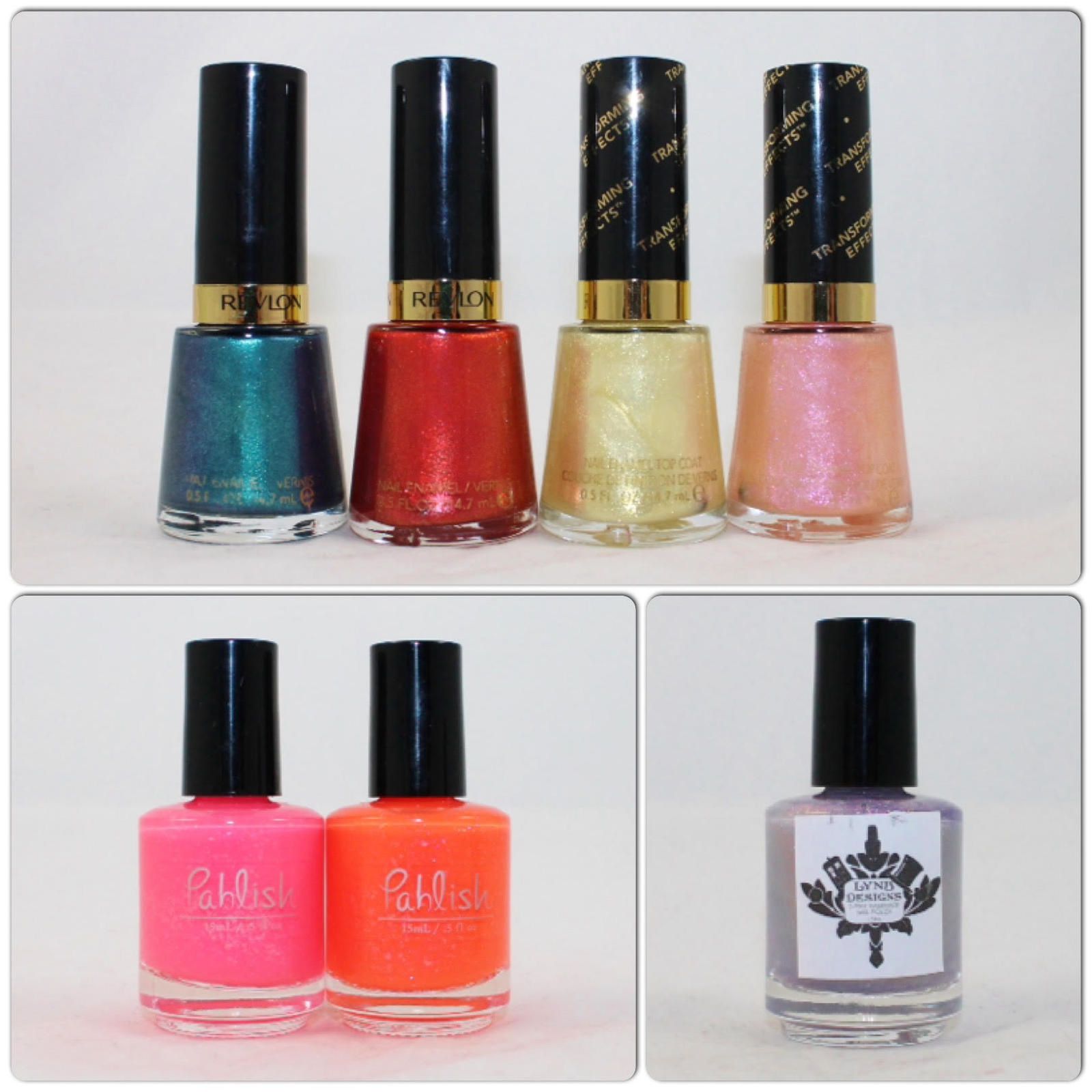 Revlon Bohemian, Uninhibited, Glod Glaze, Pink Glaze. Pahlish Watermelon Punch & Melon Baller. LynB Design Make your life Spectacular.
Et enfin quelques petits achat au drugstore avec ces 4 vernis Revlon, et quelques autres vernis trouvés dans des blog sales. Je en suis pas raisonnable sachat que tous ces achats datent du début du mois (sauf pour les Lilypad je les ai acheté le mois dernier mais ils ont mis en peu de temps pour arriver d'Australie) car depuis 15 jours c'est no buy... plus d'explications dans l'article de demain^^
Finally some small purchases at the drugstore with these 4 Revlon polish, nd some others found in some blog sales. I am not reasonable since all these purchases were made at the beginning of the month (except for the Lilypad I bought last month but they took a little time to get from Australia) because for the last 15 days I have been on a no buy... more explanation in tomorrow's post^^