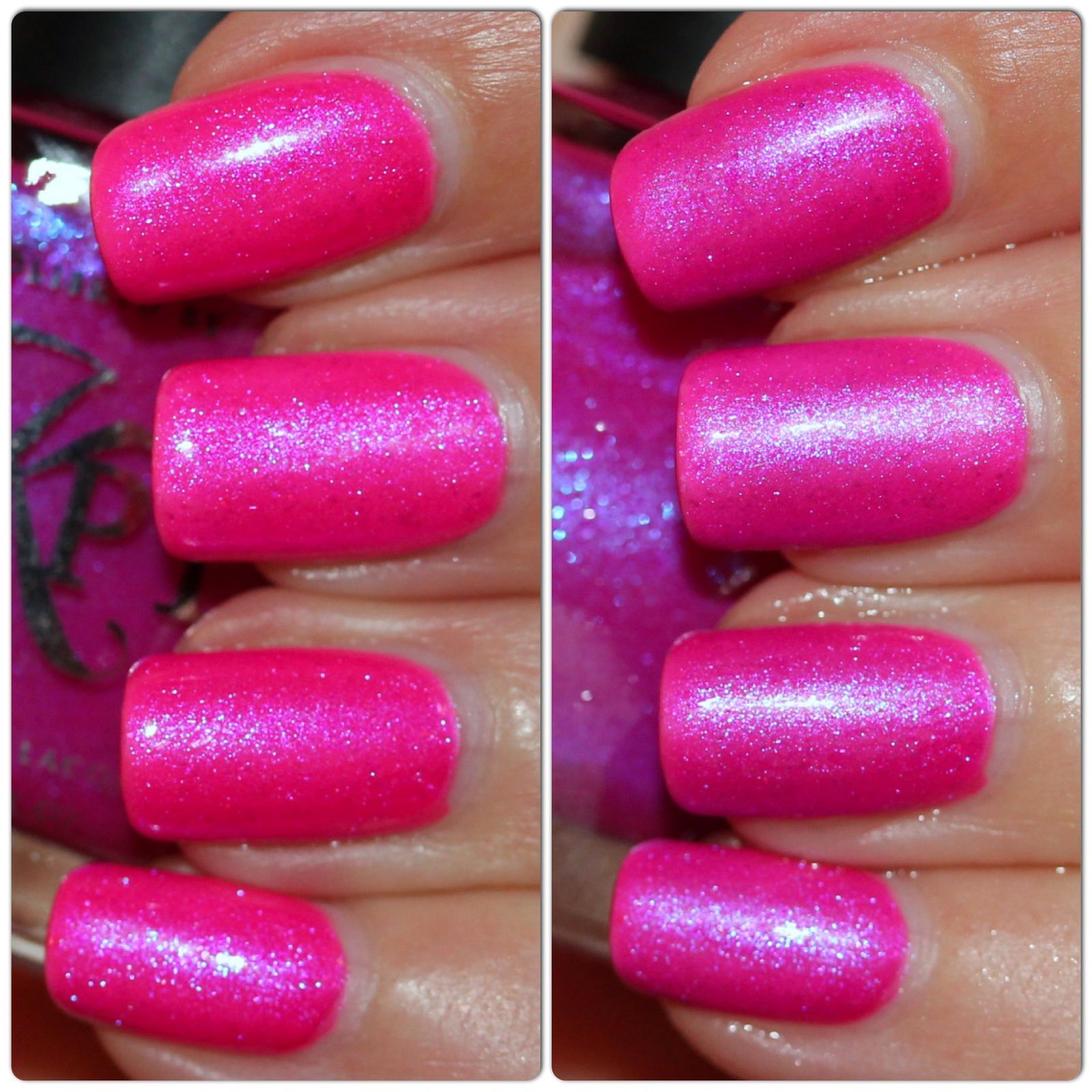 J'aime les vernis thermiques. je les aime encore plus quand ils sont roses ! J'ai donc choisi Polished by KPT Penelope pour ma nouvelle manucure. Je savais qu'il n'était pas très opaque, je l'ai donc posé directement par dessus Lilypad Lacquer United People (mais n'importe quel vernis blanc ou rose aurait fait l'affaire). Je dois avouer que je suis un peu déçue. La couleur est bien flashy et bien rose, mais le changement de couleur avec la température est vraiment discret, trop discret. J'aime les vernis avec un changement de couleur radical, et ce n'est pas le cas de celui-ci. Je ne suis même pas sure que vous puissiez voir la différence sur les photos ! A part ce petit détail et le fait qu'il ne soit pas vraiment opaque, la formule est très facile à appliquer et sèche vite.
I love thermal polishes. I love them even more when they are pink! So I chose Polished by KPT Penelope for my new manicure. I knew ite was not very opaque, so I layered it directly over Lilypad Lacquer United People (but any white or pink base would have done the trick). I must admit I'm a little disappointed. The color is really pink and bright, but the color change with the temperature is very discreet, too discreet. I love polish with a radical change in color, and this is not the case of this one. I'm not even sure you can see the difference on the pictures! Besides this small detail and the fact that it is not really opaque, the formula is very easy to apply and it dries quickly.
Sally Hansen Complete Care 4-in-1 Extra Moisturizing Nail Treatment / Lilypad Lacquer United People / Polished by KPT Penelope / HK Girl Top Coat
Custom 5-FREE nail lacquer handmade in sunny California. Follow us on Instagram & Facebook page at www.facebook.com/polishedbykpt for updates.