Quoi de plus sympa pour commencer la semaine qu'un joli rose magenta ! Aujourd'hui je porte Superchic Lacquer Chillin' with my Sister, il est super vif, avec des reflets un peu bleu et des micro paillettes, il est simplement magnifique. Par contre il n'est pas super opaque (comme beaucoup de Superchic Lacquer) j'ai mis 3 couches épaisses pour obtenir ce résultat. Malgré cela la formule est super agréable à appliquer et il sèche très vite.
What's more fun to start the week than a pretty magenta pink! Today I wear Superchic Lacquer Chillin 'with my Sister, it is super bright, with slightly blue reflections and micro glitter, it is just beautiful. However it is not super opaque (like many Superchic Lacquer) I put three thick layers to get this result. Despite it lack of opacity its formula is super pleasant to apply and dries quickly.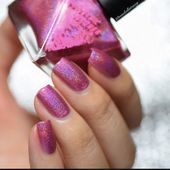 Happy July 4th SuperChics! Shop STOREWIDE TODAY, July 4th & Save 15% on most items - Use Coupon Code: FIRECRACKER15 . Offer valid July 4th ONLY and ends 11:59 PM PST or while supply lasts. May not ...