Comme je n'étais pas entièrement satisfaite des reflets de Sinful Colors Coral Riff, j'ai décidé de lui ajouter un peu de flakies avec le Nfu Oh 45. La couleur de ce vernis jelly à flakies est orange, donc cela a complètement changé la couleur du vernis de base, mais cela lui a également donné de jolis reflets. Les Flakies sont assez difficile à voir en photos à cause du manque de contraste entre les 2 couleurs, mais j'adore le résultat.
As I was not fully satisfied with the reflections of Sinful Colors Coral Riff, I decided to add a little flakies with Nfu Oh 45. The color of this jelly glaze with flakies is orange, so it has completely changed the base color, but it also gave it beautiful reflections. The Flakies are quite difficult to see photos because of lack of contrast between the two colors, but I love the result.
Essie Protein Base Coat / Sinful Colors Coral Riff / Nfu Oh 45 / Sally Hansen Miracle Gel Top Coat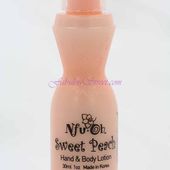 World famous Nail creation brand.