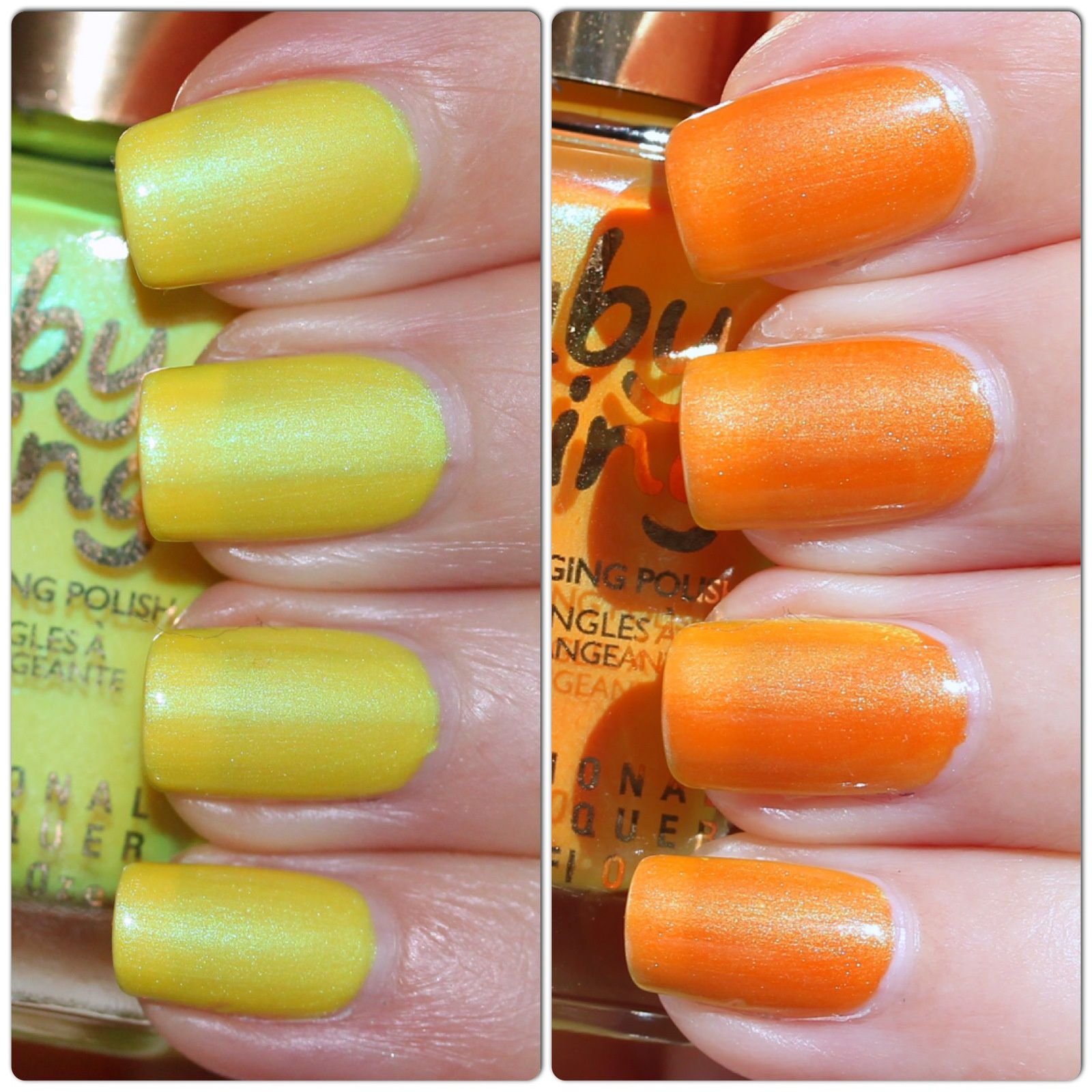 Ça y est, le soleil est bien là, la chaleur aussi, l'été approche à grands pas et ça me rend joyeuse. Ça me donne aussi envie de porter des vernis qui changent de couleur au soleil, parce que c'est fun et original ! J'ai choisi Ruby Wing Electric Firefly, un vernis jaune fluo au reflets verts, qui devient orange vif au soleil. La couleur est hyper flashy, il s'applique facilement, la formule est agréable, mais il n'est pas opaque du tout. Pour obtenir une bonne opacité, j'ai du mettre 4 couches ! Et encore le bord libre de mes ongles est encore légèrement visible. Je conseille donc de le poser sur une base jaune, parce que 4 couches ça commence à faire beaucoup. A part ça, je l'aime beaucoup, le changement de couleur est net mais pas très rapide.
That's it, the sun is there, the heat too, summer is fast approaching and it makes me happy. It makes me also want to wear polish that changes color in the sun, because it is fun and original! I chose Ruby Wing Electric Firefly, a neon yellow with green reflections, which turns bright orange in the sun. The color is super bright, it is easy to apply, the formula is nice, but it is not opaque at all. For a good opacity, I had to use 4 layers! And yet the free edge of my nails is still slightly visible. I suggest to put it on a yellow base, because 4 layers it starts to be a lot. Apart from that, I like it, the color change is sharp but not very quick.
Ruby Wing® Color Changing Nail Polish
Ruby Wing® is every free-spirits dream: nail polish that changes color. Our shades dramatically change in direct sunlight and then back again once inside.