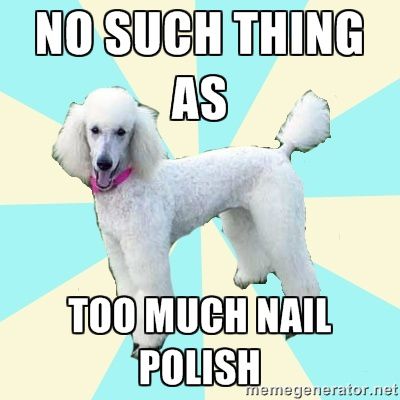 Je m'étais un peu calmée sur mes achats de vernis ces derniers mois, et puis ce mois-ci je ne sais pas trop pourquoi je me suis un peu lachée ! Sans trop m'en rendre compte une commande par-ci, une commande par là, et puis au final et bien j'ai accumulé beaucoup de nouveaux precieux en Mai !
I calmed down a little on my nail polish purchases the last few months, and then this month I'm not sure why I just caved! Without really realizing an order here and there, and tin the end I have accumulated a lot of new precious in May!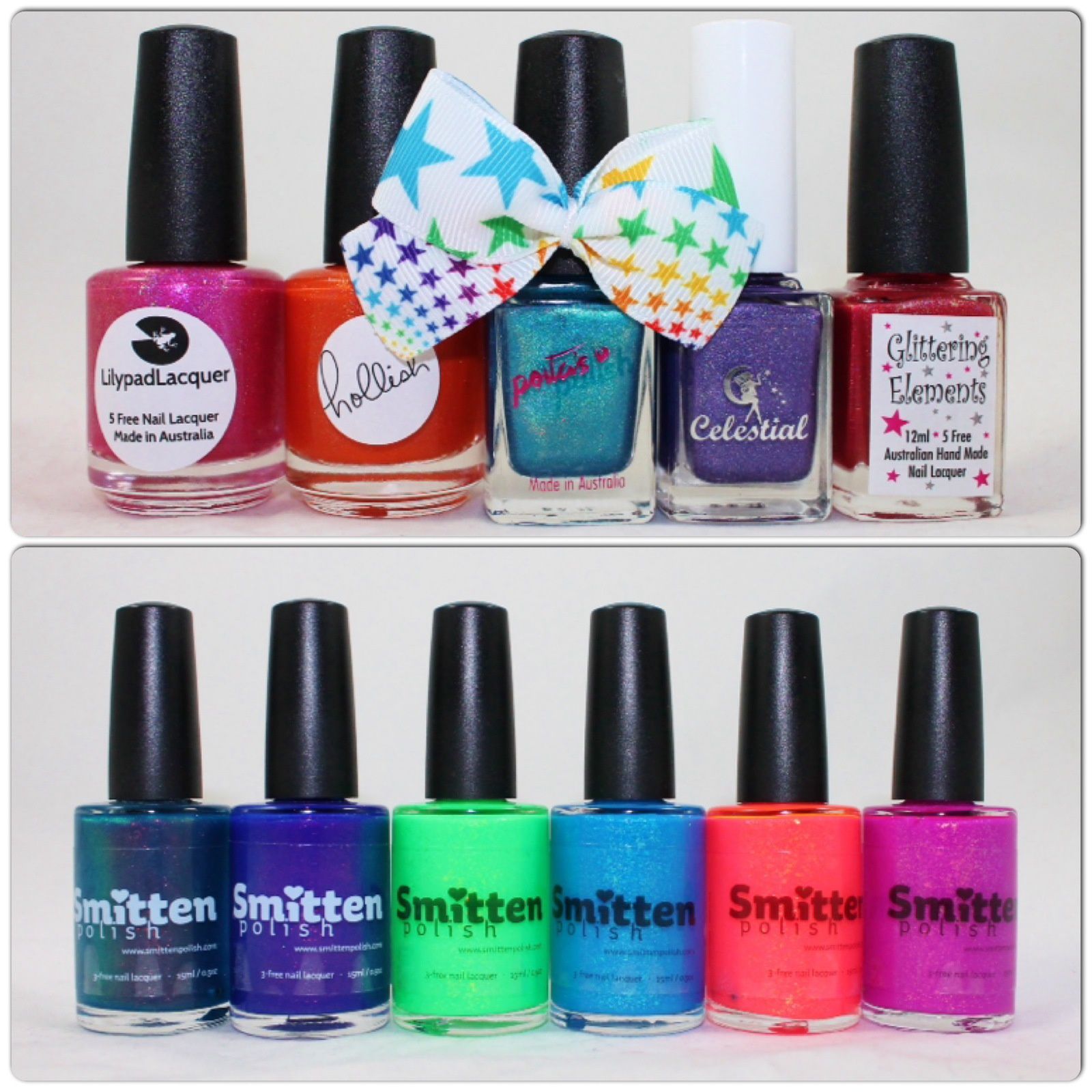 What's Indie Box May 2015. Smitten Polish A Wedding Dress that isn't Bright Turquoise, You Saucy Minx, Terra Opal, Aqua Opal, Ignis Opal, Aer Opal.
Tout d'abord j'ai reçu ma What's Indie Box du mois de Mai, mais pas de Dazzled Holograil ce mois-ci. Je n'ai toujours pas reçu ma Holograil d'Avril mais ils ont eu des soucis avec la post de Hong Kong et du coup il y a un peu de delais en attendant qu'ils trouvent une meilleure option pour envoyer les Holograil. J'ai aussi passé commande chez Smitten Polish parce que je voulais vraiment les nouveaux vernis Opal, et puis j'au aussi pris 2 autres qui me faisait de l'oeil depuis quelques mois LOL !
First I received my May What's Indie Box, but no Dazzled Holograil this month. I still have not received my April Holograil but they had problems with the post of Hong Kong and there are some delays until they find a better option to send the Holograils. I also ordered from Smitten Polish because I really wanted the new Opal collection, and then I also took the other 2 that I have been wanting for a few months LOL!
J'ai aussi reçu la nouvelle collection Femme Fatale, j'ai posté les swatches il y a quelques jours, franchement ne la loupez pas les vernis sont superbes ! Cette collection sera disponible en pré-commande sur le site de Femme Fatale du 1er au 5 Juin 2015. Le prix des vernis sera entre $8.50 et $10 AUD, et cette collection sera également disponible chez les revendeurs de Femme Fatale.
I also received the new Femme Fatale collection, I posted the swatches there a few days ago, frankly do not miss it the polish are awesome! This collection will be available for pre-order on the Femme Fatale website from June 1st to-5th 2015. The prices of varnish is between $8.50 and $10 AUD, and this collection will also be available at Femme Fatale retailers.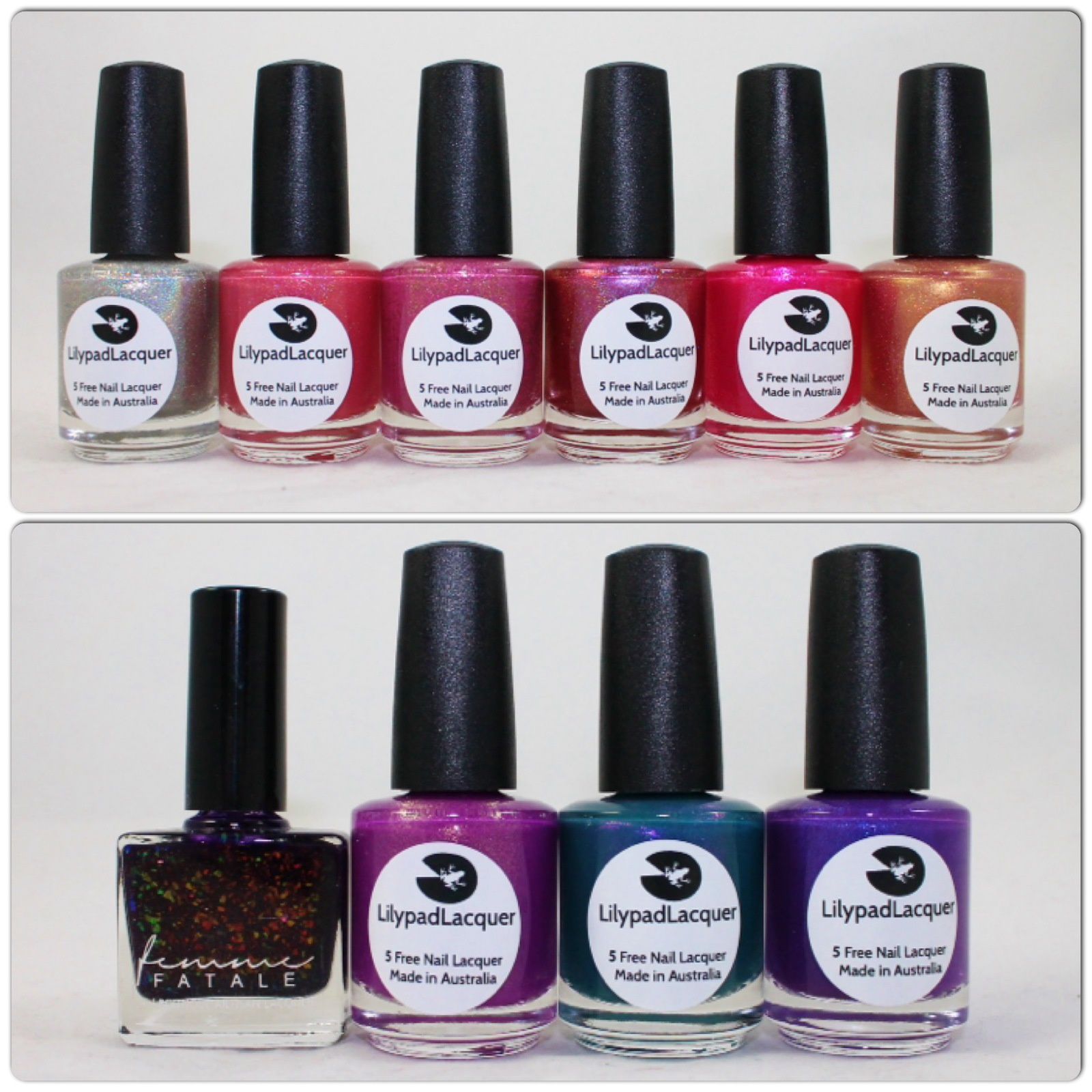 Lilypad Lacquer Ooh Shiny, Pink Sherbet, Peony Petals, Wildflower, Pink Diamonds, Rose Gold. Femme Fatale Pyramids on Mars (May'15 COTM). Lilypad Lacquer Sweet Spirit, Luner Berry &Dreamer Weaver.
Il n'y pas eu de restock Lilypad ce mois-ci, mais pour étancher ma soif de Lilypad j'ai passé commande chez Beauty So Fly et Femme Fatale. J'ai réussi à avoir les 3 nouveaux Femme Fatale Exclusives ainsi que le vernis Femme Fatale COTM (Color of the Month) qui est vraiment magnifique !
There was no Lilypad restock this month, but to quench my thirst for Lilypad I ordered at Beauty So Fly and Femme Fatale. I managed to get the 3 new Femme Fatale Exclusives and the Femme Fatale COTM (Color of the Month) which is really beautiful!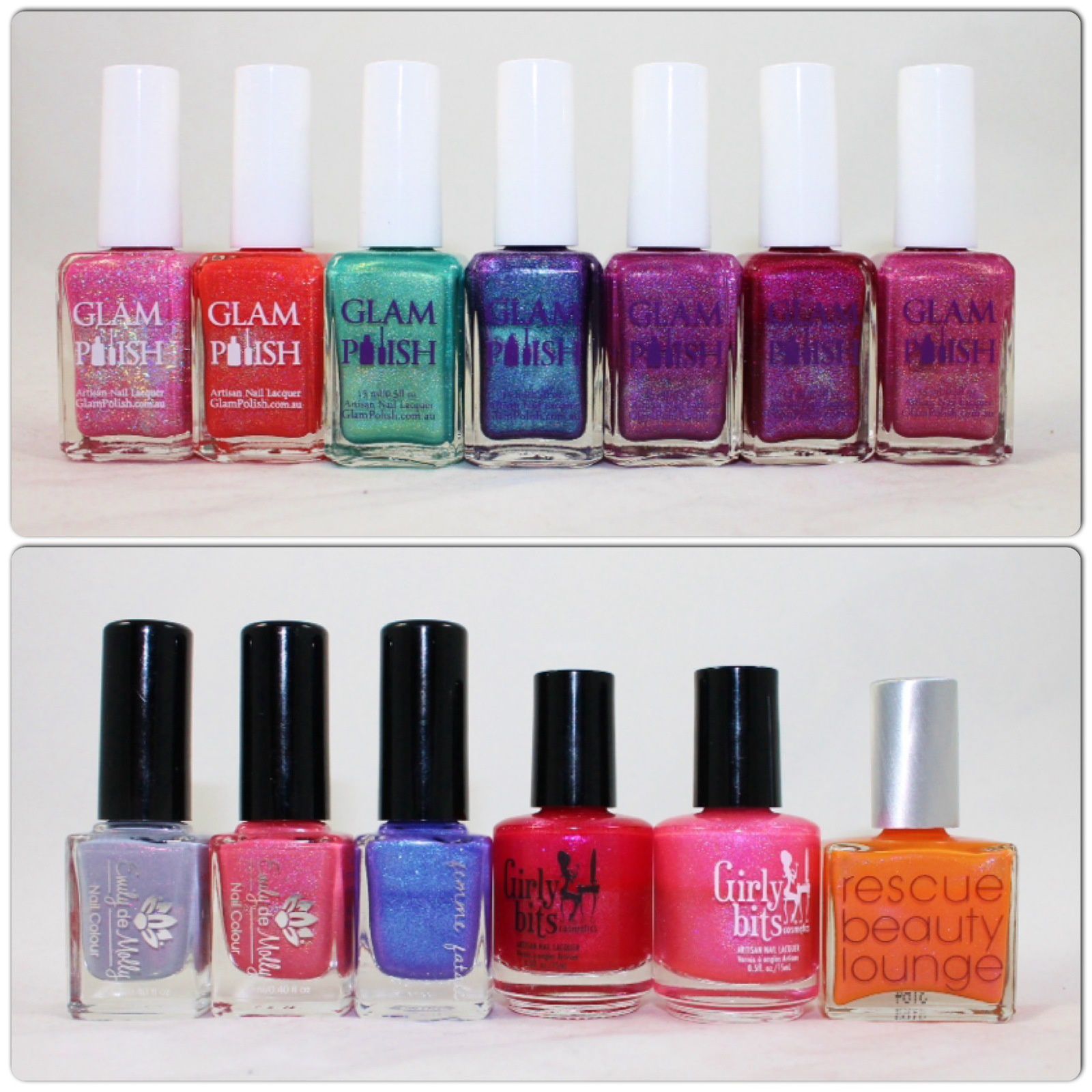 Glam Polish POW!, Hibiscus, Pictures in my Head, Divine Cosmos, Topsy Turvy, Twilight Echoes & Zip-a-Dee-Doo-Dah. Emily de Molly Lace Man & Seting Sun. Femme Fatale Vial of Frost. Girly Bits Dancing Phalanges & Our Lips are sealed. RBL Nails and Noms.
J'ai littéralement dévaliser une blog sale ce mois-ci, il y avait plein de beaux vernis pour pas cher, Glam Polish, Emily de Molly... je n'ai pas pu résister !
I literally rob a blog sale this month, there were lots of nice polish for cheap, Glam Polish, Emily Molly ... I could not resist!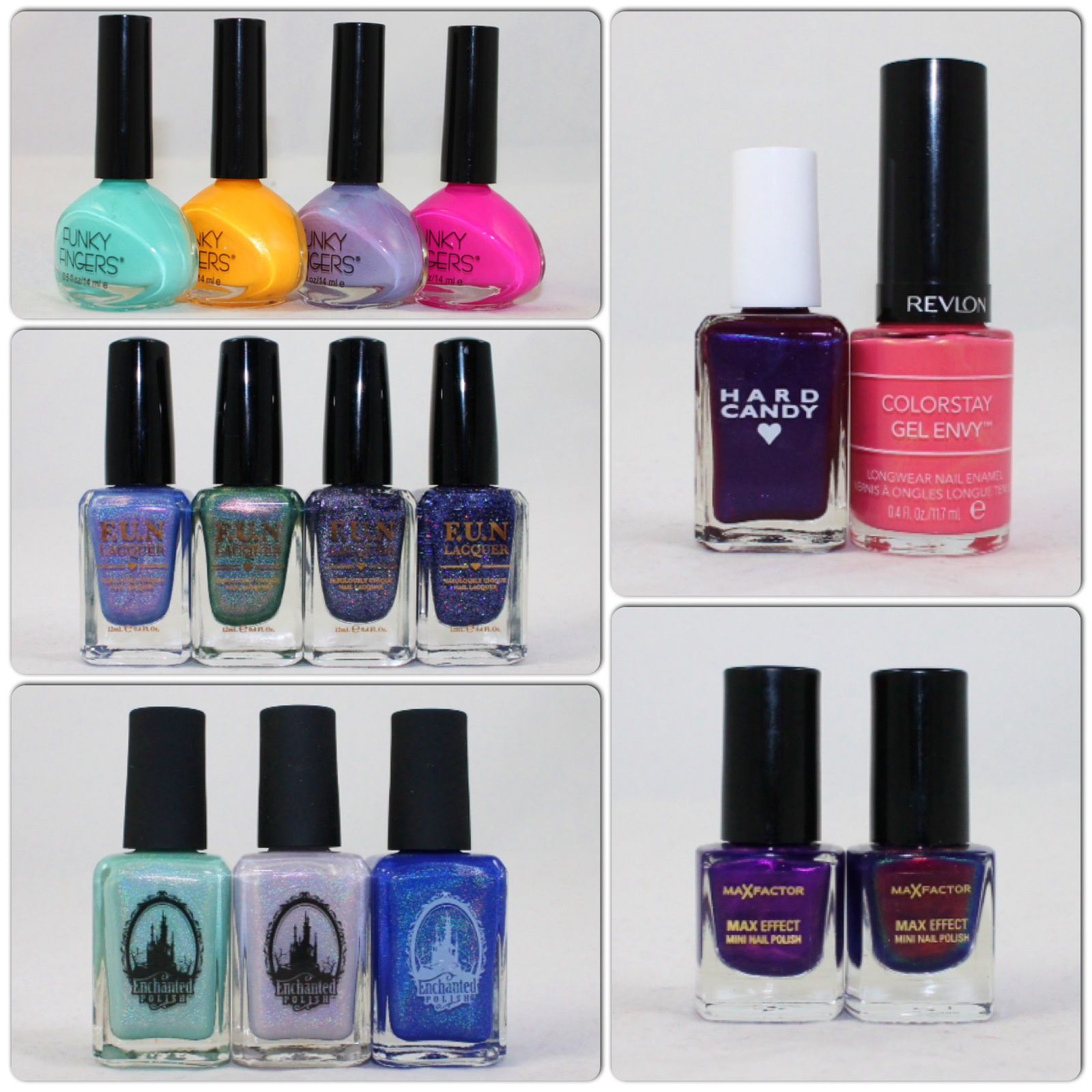 Funky Fingers Space Cadet, Hang Ten Brah, Waverunner, To Infinity (and Beyond). FUN Lacquer Anna, Ariel, Galaxy (H) & Galaxy. Enchanted Polish March, April & May 2015. Hard Candy Scam. Revlon Lady Luck. Max Factor Fantasy Fire (New and old versions)
J'ai acheté quelques vernis solaires Funky Fingers à Five Below, ainsi que 4 vernis FUN Lacquer sur le site de Live Love Polish (ou Anna et Ariel sont encore disponibles). J'ai aussi reçu mes monthlies Enchanted Polish, ils sont vraiment beaux. Et enfin j'ai acheté 2 vernis à Walmart (le Revlon et hard Candy) et j'ai commandé un back up de Max Factor Fantasy Fire chez Color4Nails car ils ont récemment changé la couleur, c'est vraiment dommage, la nouvelle couleur est jolie aussi (e l'ai également commandée) mais n'a rien de comparable à la version initiale !
I bought some solar polish from Funky Fingers at Five Below and 4 FUN Lacquer on the Live Love Polish website (or Anna and Ariel are still available). I also received my monthlies from Enchanted Polish, they are really beautiful. And finally I bought 2 polish at Walmart (the Revlon and Hard Candy) and I ordered a back up of Max Factor Fantasy Fire on Color4Nails because they recently changed the formula and color, it's a shame, the new color is nice too (I've also ordered it) but nothing compared to the original version!