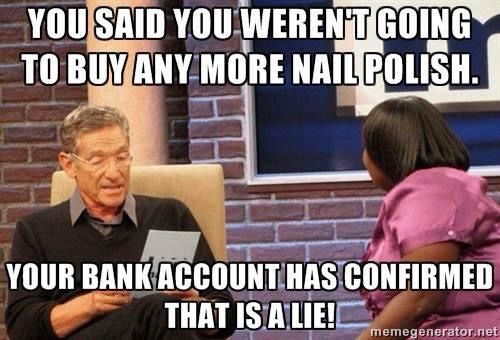 Oui j'avais bien dis que je m'étais calmée côté shopping de vernis, en plus ce mois-ci j'ai dévalisé Target à la sortie de la nouvelle collaboration avec Lilly Pulitzer, mon compte en banque a pris très cher ! Bref j'ai quand même craqué sur pas mal de nouveaux précieux... et surtout au dernier restock de Lilypad Lacquer... oups !
Yes well I said I calmed down my nail polish shopping, and moreover this month I went crazy at Target at the release of the new collaboration with Lilly Pulitzer, my bank account took it very badly! Anyway I still fell for many new precious... and especially at last Lilypad Lacquer restcoc... oops!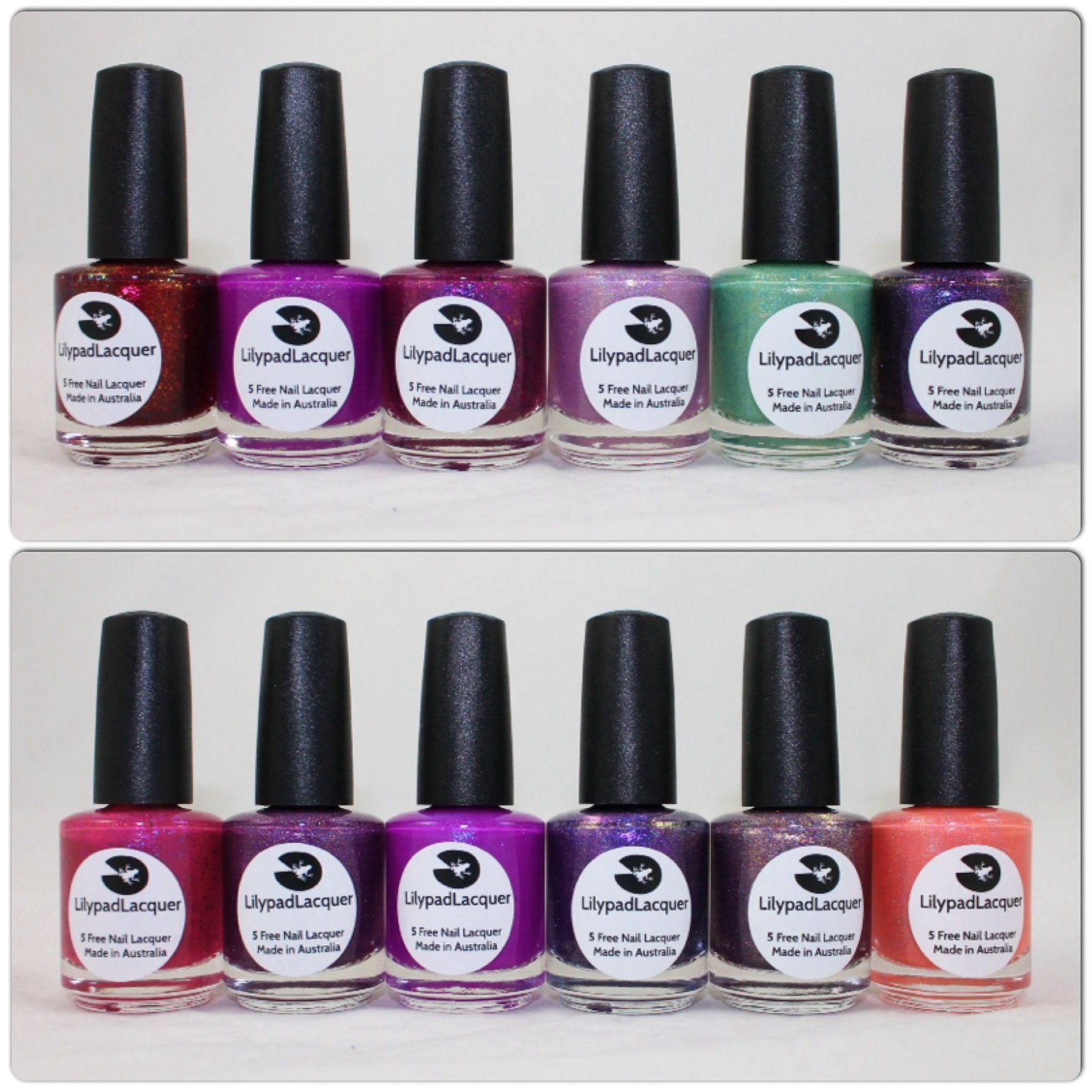 Lilypad Lacquer Raining Fire, Marvellous Magenta, Fantasia, Deelightful, Field of Dreams, Violet Leaves, Glamourous, Sweet Harmony, Vivacious, Morning Glory, Some Kind of Wonderful, Happy Heart.
Oui comme vous le voulez je me suis lâchée à la dernière restock de Lilypad Lacquer parce que la dernière fois je l'ai loupée (celle de novembre 2014). Enfin pas vraiment loupée, j'avais préférée attendre le restock chez Llarowe car les vernis sont au même pris mais les FDP sont gratuits au delà de $50 (ce qui facilement atteind avec une restock Lilypad). Mais à mon grand étonnement il n'y a pas eu de restock Lilypad chez Llarowe depuis (le mois de novembre !!! à moins qu eje l'ai loupé mis je ne crois pas). Donc je ne sais pas si Llarowe va continuer à vendre Lilypad, en tous cas cette fois-ci je ne voulais rien louper !
Yes as you can see I went a bit crazyduring last Lilypad Lacquer restock because the last time I missed it (November 2014). Not really missed it, I preferred to wait for a restock at Llarowe as polishes are the same price but shipping is free beyond $50 (that is easily reaches during a restock of Lilypad). But I was surprise there has been no Lilypad restock at Llarowe ever since (November !!! unless I missed it which I doubt). So I do not know if Llarowe will continue to sell Lilypad, at least this time I did not want to miss anything!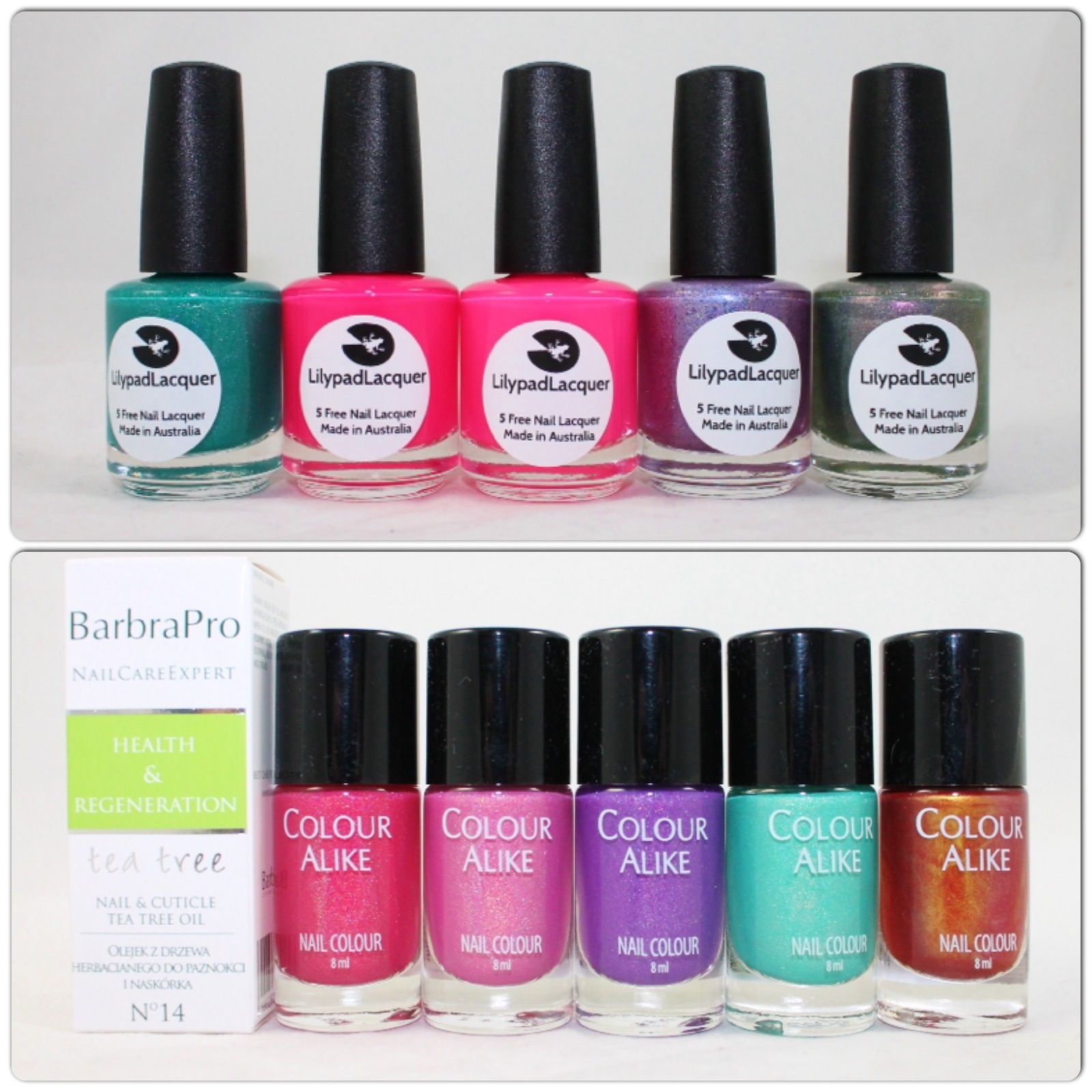 Lilypad Lacquer Temptealtion,, Raspberry Sundae, Strawberry Sundae, Lavender Blossom, Nature Child. BarbraPro cuticule oil. Colour Alike 530, 510, 531, 513, 499.
J'ai aussi reçu en Avril ma commande Colour Alike, j'aime beaucoup ces vernis ils ils ne coûtent vraiment pas cher (4€). En plus depuis qu'ils utilisent paypal comme mode de paiment c'est tellement plus simple pour commander ! Avant il fallait faire un virement sur un compte polonais, c'était un peu galère ! Bref ces vernis sont superbes et accessibles, je recommande grandement cette marque !
I also received my Colour Alike order in April, I love these varnishes and they really are cheap (4€). Especially since now they use paypal as a payment method that is much easier to order! Before you had to make a money transfer on a Polish account, it was a bit of a chore! Anyway these varnishes are beautiful and accessible, I highly recommend this brand!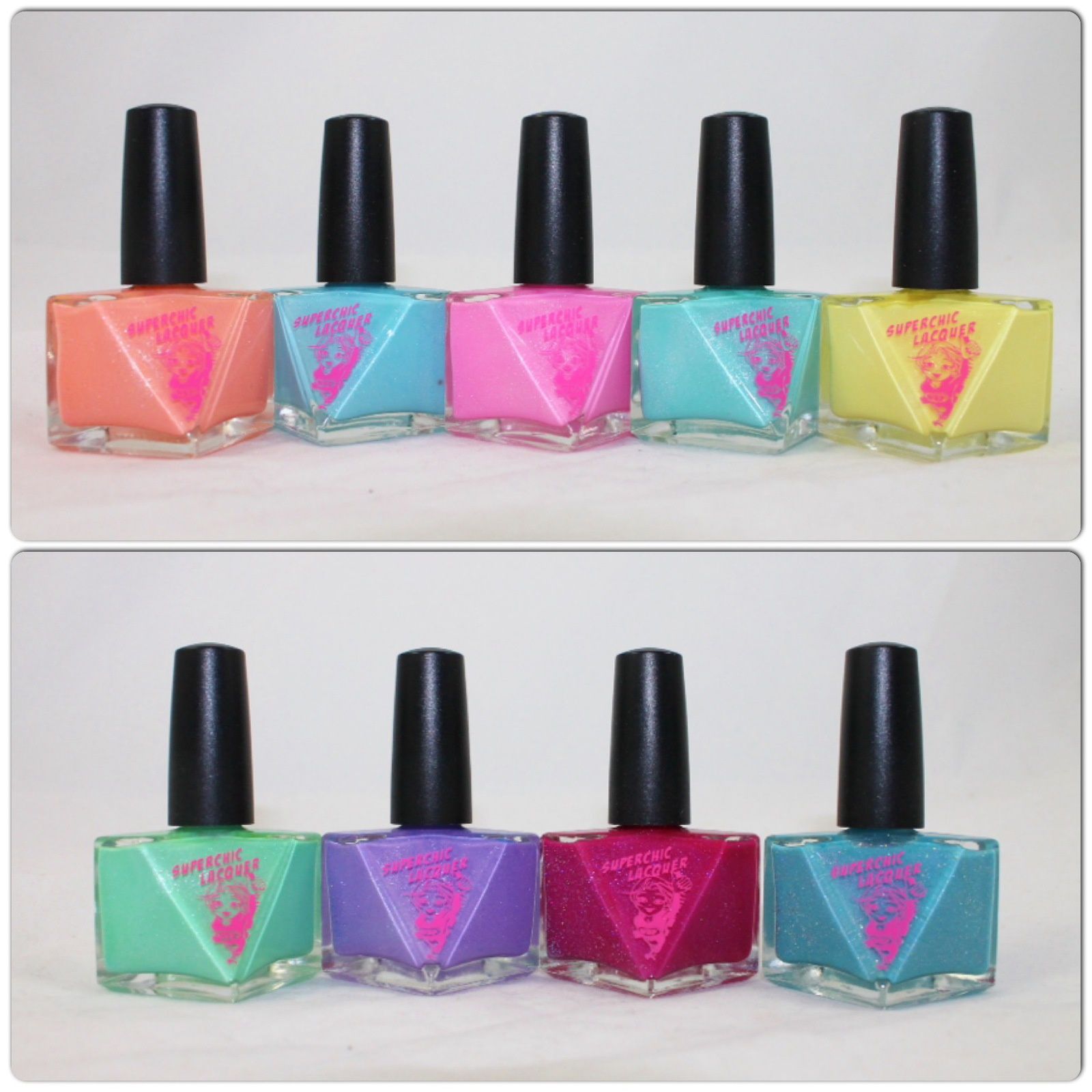 Superchic Lacquer Cause & Effect, Crystal Blue Persuasion, Happenstance, Pleasant Surprise, Law of Nature, Dumb Luck, Synchronicity, Chillin' With my Sister, Cold Hand Warm Hugs.
Ayant un faible pour les vernis pastels fluos, j'ai bien évidemment craqué pour la nouvelle collection Serendipity de Superchic Lacquer. Ces vernis sont magnifiques, et Superchic Lacquer est devenue une de de mes marques Indie préférée !
Having a weakness for neon pastel polish, I obviously fell for the new Serendipity collection by Superchic Lacquer. These polishes are beautiful, and Superchic Lacquer has become one of my favorite Indie brands!
Comme tous les mois j'ai reçu ma Holograil et ma What's Indie Box. Toujours avec un mois de décalage, et d'ailleurs ma Holograil du mois d'Avril n'est toujours pas en chemin, apparemment il y a des soucis avec la poste de Hong Kong. J'ai hâte de la recevoir les photos d'inspiration m'ont donné envie !
Like every month I received my Holograil and my What's Indie Box. Always with one month lag, and besides my April Holograil is still not on its way, apparently there are problems with the Hong Kong Post. I look forward to receiving it though the inspiration pics made me want it real bad!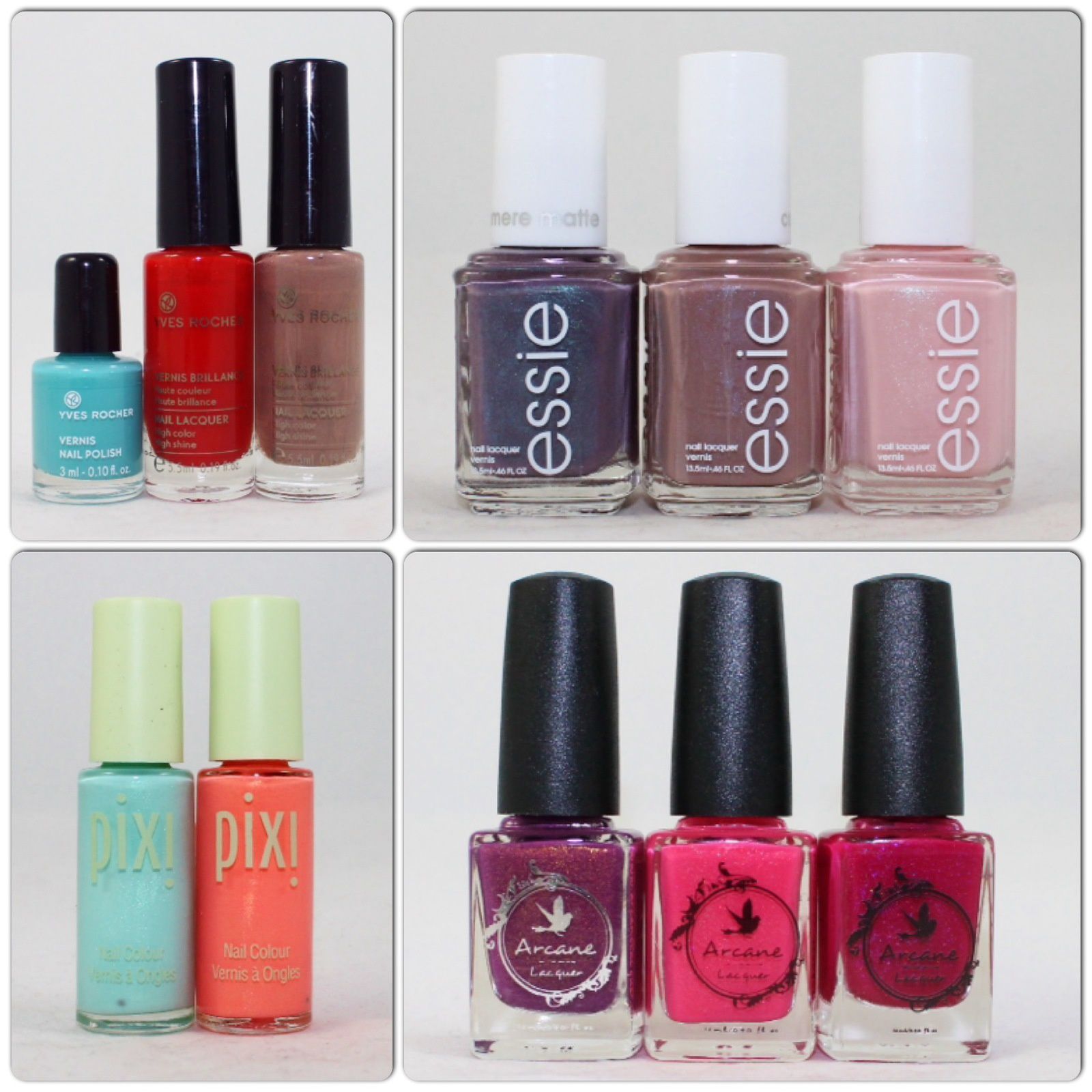 Yves Rocher Nuance Turquoise, 101 & 106. Essie Coat Couture, Comfy in Cashmere & Just Stiched. PIXI Soft Seafoam & Coral Cantaloupe. Arcane Lacquer Make a Move, Set the Pace, Moments of Clarity
Et pour finir mes plus petits achats. Tout d'abord ces 3 vernis Yves Rocher offerts par ma soeur qui travaille à Yves Rocher. Les couleurs sont classiques mais j'adore la formule de ces vernis. Et puis j'ai enfin réussi à mettre la main sur des 3 vernis Essie de la collection Cashmere Matte, je les voulais depuis longtemps. J'ai chopé 2 vernis PIXI de la dernière collection, comme tous mes PIXI ils sont super colorés et originaux (et c'est pour cela que je craque à chaque fois). Et enfin 3 vernis Arcane Lacquer, ils étaient dans ma wishlist sur etsy depuis des mois, et j'ai eu une envie subite de les commander ! Donc voilà, beaucoup d'achats en avril, espérons que ça se calme un peu en mai !
And finally some mini hauls. First these 3 Yves Rocher polishes offered by my sister who works at Yves Rocher. The colors are classic but I love the formula of these varnishes. And then I finally managed to get hold of the 3 polish from the Essie Matte Collection Cashmere that I wanted for a long time. I also bought two PIXI from the last collection, like all my PIXI they are super colorful and original (and this is why I fell for them every time). And finally 3 Arcane Lacquer, they were in wishlist on etsy for months, and I had a sudden urge to order them! So this is it, many purchases in April, hopefully it will calm down a bit in May!