Comme souvent, quand je manque de temps pour me faire une nouvelle manucure, j'ajoute des paillettes. J'ai donc décidé d'ajouter de jolies paillettes fluos avec Wicked Polish Stabbed by a Unicorn. Ce vernis contient un mélange de paillettes fluos et blanches. J'adore ce vernis, mais comme tous mes Wicked Polish avec des paillettes fluos, la couleur de la base est devenue légèrement rose car les paillettes ont déteint. Ce n'est pas un soucis pour moi, j'aime beaucoup le rose, mais du coup ça a un peu changé la couleur de mon vernis de base. Bien sur comme Wilderness est un vernis texturé, j'ai du ajouter une couche de Glitter food avant d'ajouter 2 couches de Stabbed by a Unicorn.
As often, when I do not have enough time to redo my nails, I add glitter. So I decided to add pretty neon glitter with Wicked Polish Stabbed by a Unicorn. This varnish contains a mixture of neon and white glitter. I love this polish, but like all my Wicked Polish with neon glitter, the color of the base became slightly pink because the glitter bleeded. This is not a concern for me, I love pink, but it changed a bit the color of my base polish. Of course as Wilderness is a textured varnish, I have added a layer of Glitter food before adding 2 layers Stabbed by a Unicorn.
Essie Protein Base Coat / Sparitual Wilderness / Nail Pattern Boldness Glitter Food / Wicked Polish Stabbed by a Unicorn / HK Girl Top Coat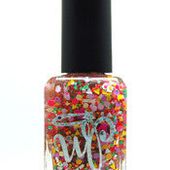 Wicked Polish for Virtuous People. Handmade in the USA - Big 3Free & Cruelty Free.