Pour le mois de février, la Holograil Box s'est mise aux couleurs de l'amour, et plus particulièrement celles de Roméo et Juliette et Antony et Cleopatre avec le thème "What is a Youth" (une chanson apparemment très connue issue de film Roméo et Juliette de 1968). Ce mois-ci les marque Indies participantes ont créé des duos pour chaque couple célèbre. Too Fancy Lacquer et Literary Lacquers pour Romeo and Juliet, et Emily de Molly et Chaos & Crocodiles pour Antony et Cleopatre. Non seulement j'aime beaucoup le thème, mais je dois admettre que c'est la première que j'aime vraiment les 4 vernis de ma box, ils sont tous sublimes, je suis aux anges !
For the month of February the Holograil Box wore the colors of love, more precisely those of Romeo and Juliet & Antony and Cleopatra with the theme "What is a Youth" (a famous song from the movie Romeo and Juliet from 1968). This month, the brand paired to create 2 colors for each famous couple. Too Fancy Lacquer paired up with Literary Lacquers for Romeo and Juliet, and Emily de Molly will paired up with Chaos & Crocodiles for Cleopatra and Antony.Not only do I love the theme, but I have to admit this is the first time I really love the 4 polish my box, they are all sublime, I'm in heaven!
Oh là là le Too Fancy Lacquer Star-Crossed Lovers je crois bien que c'est mon préféré ! C'est un magenta rouge avec des reflets holographiques très intenses et une touche de reflets dorés. Il me rapelle beaucoup le Glam Polish Tiffany mais en un peu plus rouge. Je suis complètement sous le charme de cette couleur !
Oh la la the Too Fancy Star-Crossed Lovers I think that it's my favorite! It is a magenta red with very intense holographic reflections and a touch of golden highlights. It reminds me a lot Glam Polish Tiffany but a little more red. I am completely in love with this color!
Voilà un bien joli rose holographique, Literary Lacquers What's in a Name?, qui est mon deuxième favoris. Vous le savez déjà, j'aime la couleur rose, vraiment beaucoup, et ce vernis est un magnifique rose bébé holographique, du pur bonheur en flacon.
Here is a very nice holographic pink, Literary Lacquers What's in a Name?, it is my second favorite. You know it already, I like the color pink, really a lot, and this polish is a beautiful holographic baby pink, pure happiness in a bottle.
OMG, ce vert turquoise super holographique avec des reflets dorés, Emily de Molly Lover's Quarrel, il est juste magique. Je ne suis pas une grande fan de vert, mais ce vernis est hypnotisant, magnifique, group coup de coeur !
OMG, this super holographic teal green with golden highlights, Emily Molly Lover's Quarrel, it is just magical. I'm not a big fan of green, but this polish is mesmerizing, gorgeous, big crush on this one!
Chaos & Crocodiles Love Indeed est un magnifique violet holographique, il est vraiment joli mais ce n'est pas mon favoris, tout simplement parce que je possède déjà beaucoup de vernis presque identique, ce n'est pas une couleur super originale pour moi.
Chaos & Crocodiles Indeed Love is a beautiful holographic purple, it is really nice but it's not my favorite, simply because I already have a lot of polish almost identical, it's not a super original color for me.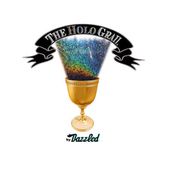 Pre-order for April's The Holo Grail Box. Theme of April: Power Girls! 4 exclusive holographic polishes made by: Aly's Dream Polish Emily de Molly Eat Sleep Polish NailNation3000 *Pre-order will be
The pre-orders for the next box are opened from the 1st -15th midnight HKT of each month, follow Dazzled to know more about next box.