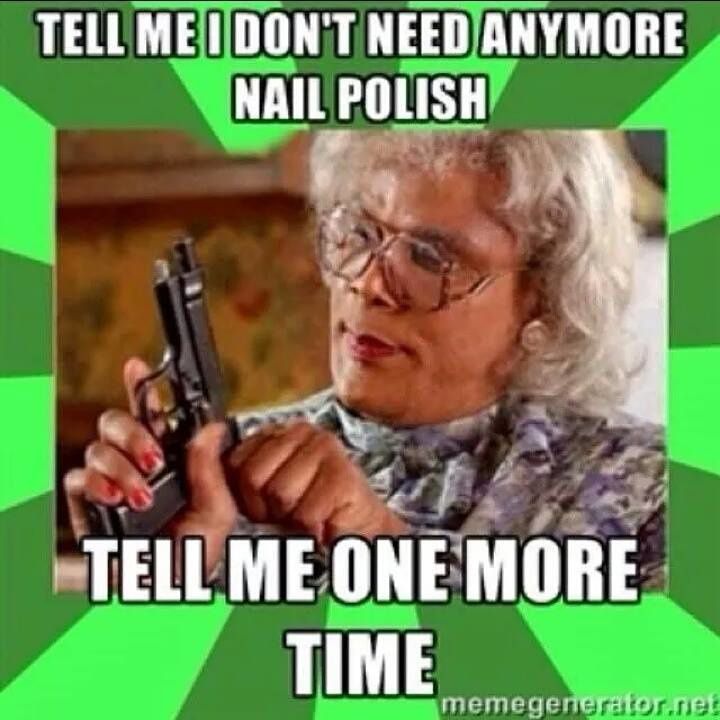 Le mois de Mars c'est le mois de mon anniversaire, et habituellement je me fait bien plaisir côté shopping. Mais comme je le disais dans mon précédent shopping haul, je me suis beaucoup calmée de ce côté là. Il faut dire que je commence à en avoir beaucoup, des vernis... heureusement je suis entourée de gens compréhensif qui ne s'indignent pas trop de la taille de ma collection LOL. Bon donc ce mois-ci peu d'achats, mais des achats réfléchis.
March is my birthday month, and I usually make myself happy by shopping a lot. But as I said in my previous shopping haul, I calmed down a lot on that side. I must say that I already have a lot of polish ... fortunately I am surrounded by nice people who are not too indignant about the size of my collection LOL. So this month a few purchases, but pondered purchases.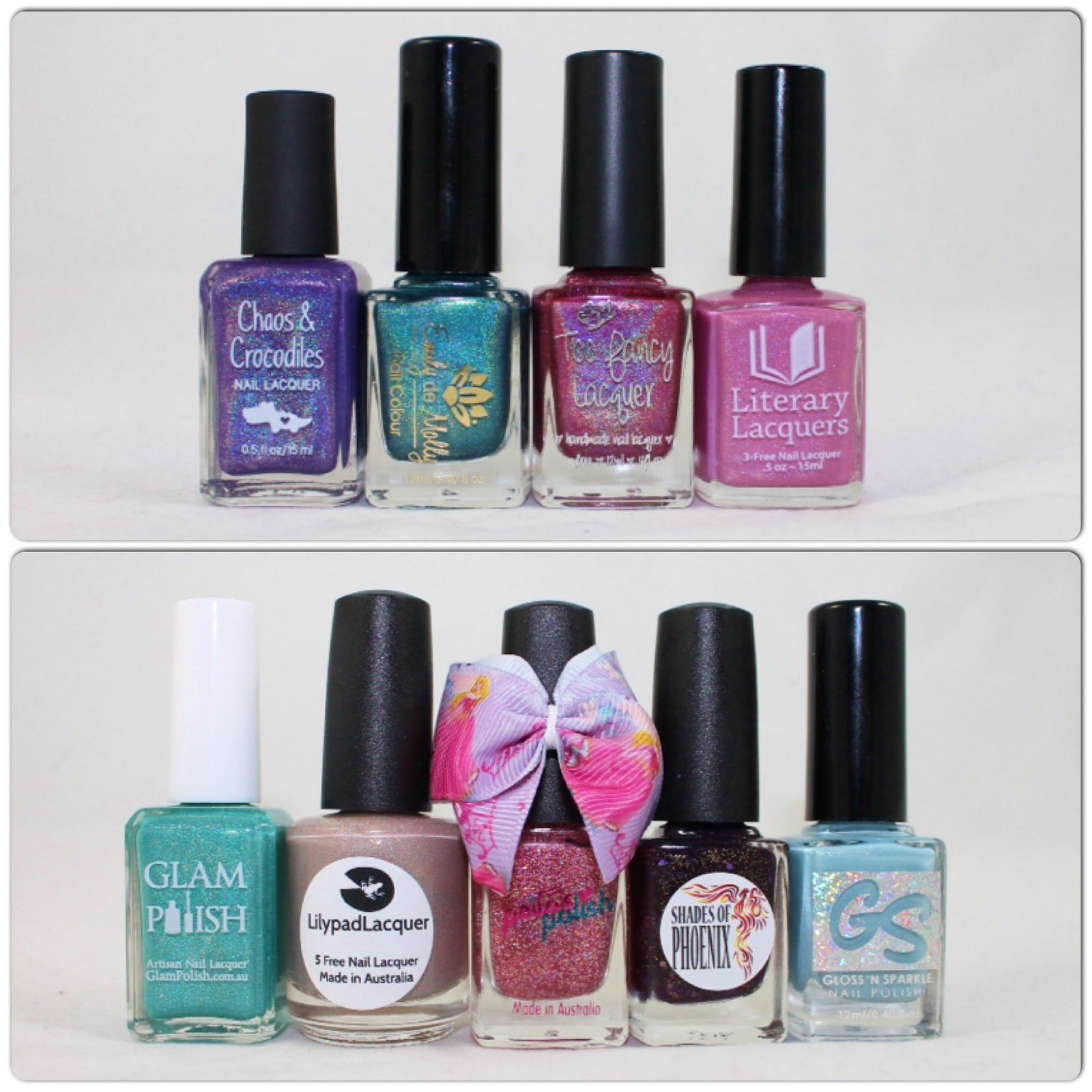 The Holo Grail Box by Dazzled - February 2015 - What is a Youth & What's Indie Box - March 2015 - Disney Princess
Mundo de Unas Stamping Polish 21 Purple, 34 Dark Gray, 4 Blue, 24 Aqua, Neon Pink, 5 Turquoise, 54 Iris, 31 Peach, 49 Lavender & 55 Orchid.
Mon plus gros achats du mois ce sont des vernis pour stamping Mundo de Unas. Je les ai acheté chez Llarowe, ils étaient tous en solde à des prix très intéressant, et comme je voulais tester cette marque depuis longtemps, je me suis lancée. J'en ai testé quelques uns et ils fonctionnent vraiment bien.
My biggest purchase of the month are stamping polishes from Mundo de Unas. I bought them at Llarowe, they were all on sale at very interesting prices, as I wanted to test this brand for a long time, so I ordered. I tested a few of them and they work really well.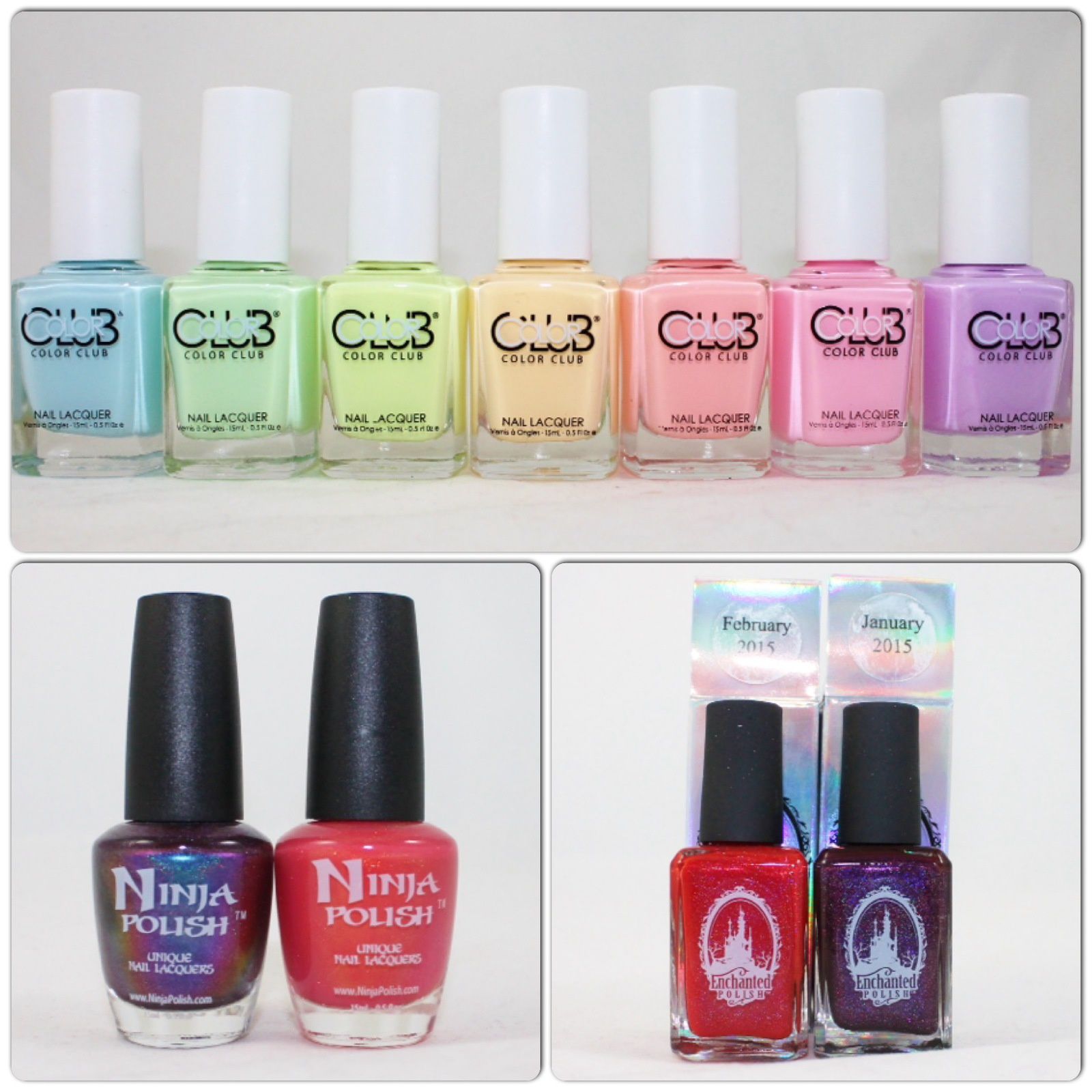 Color Club Poptastic Neon pastel 2015, Ninja Polish Passion Shift & Pacific Coral, Enchanted Polish January & February 2015
Le deuxième gros achat du mois, c'est la nouvelle collection de pastels fluos par Color Club. Vous le savez, les pastels fluos c'est mon truc, j'adore, et forcément je n'ai pas pu résister. En plus j'ai acheté cette collection sur ebay pour $30 donc je ne me suis pas ruinée. Ensuite j'ai commandé 2 Ninja Polish qui étaient sur ma wishlist (oui Ninja Polish a ré-ouvert et a un nouveau site internet) et aussi les 2 monthies d'Enchanted Polish.
The second big purchase of the month is the new Poptastic pastels neon by Color Club. You know, neon pastels are my thing, I love them, and inevitably I could not resist. In addition I bought this collection on ebay for $30 so it was cheap. Then I ordered 2 Ninja Polish that were on my wishlist (yes Ninja Polish has reopened and has a new website) and also the 2 monthies by Enchanted Polish.
Et pour finir une petite sneak peek de ce que j'ai reçu récemment et qui sera sur le blog très bientôt. (je n'en dis pas plus si ce n'est qu'ils sont superbes)
And finally a little sneak peek of what I received recently and that will be on the blog soon. (I will say no more except that they are superb)