Si il y bien une chose qui me chagrine, c'est quand une marque Indie que j'aime ferme. Parce que cela veut dire que je ne pourrais plus me procurer les vernis de cette marque. Bouh c'est le cas de Loki's Lacquer, qui faisait des vernis à couper le souffle comme ce magnifique Number 5 is Alive (ou Divine Light). Je ne possède que 4 vernis de cette marque mais je vais les chérir, car non seulement la formule est géniale, mais les couleurs sont magnifique.
If there's one thing that bothers me is when an Indie brand that I love closes. Because it means that I will not be able to buy anymore polish from this brand. It is the case of Loki's Lacquer, which made some breathtaking polish like this beautiful Number 5 is Alive (or Divine Light). I only have 4 polish this brand but I will cherish them, not only because the formula is great, but the colors are incredible.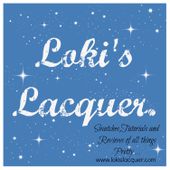 LOKIS LACQUER WILL BE CLOSING ITS DOORS ON THE 1st APRIL 2014. It is sad to go but due to my 2 special needs children something had to give. :( Loki''s Lacquer has had a good run in the past 2 ...
Loki's Lacquer is now closed but she is available to make custom orders upon request. I am just saying^^