Fin 2014 Lilypad Lacquer et Dazzled ont collaboré pour créer une collection exclusive Tim Burton. Bien que je ne soit pas une grande Fan de Tim Burton (j'aime bien ce qu'il fait mais sans plus), je suis une grande fan de Lilypad Lacquer, il me fallait donc la collection entière ! Aujourd'hui je vous montrer Sally's Song, un blanc holographique (plutôt grisâtre à cause des particules holographiques) avec des micro flakies cuivrées et des reflets turquoises très intense. C'est un mélange de couleur et de reflets très original, j'aime beaucoup le rendu. La formule est comme toujours parfaite, opaque en 2 couches, sèchage rapide, application facile...
In 2014 Lilypad Lacquer and Dazzled collaborated to create an exclusive Tim Burton collection. Although I am not a big fan of Tim Burton (I like what he does but no more), I am a big fan of Lilypad Lacquer, so I needed the entire collection! Today I show you Sally's Song, a white holographic (more greyish because the holographic particles) with coppery micro flakies and an intense turquoise shimmer. It is a veru original mixture of color and hues, I love the rendering. The formula is as always is perfect, opaque in 2 coats, quick drying, easy application...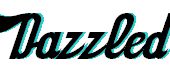 DAZZLED | Unique Nail Polishes from around the world!
Discover the unique, one of a kind indie nail polish from around the world. All handmade by small batches with love. a-England / Cirque / Dead Set Babes / Ha