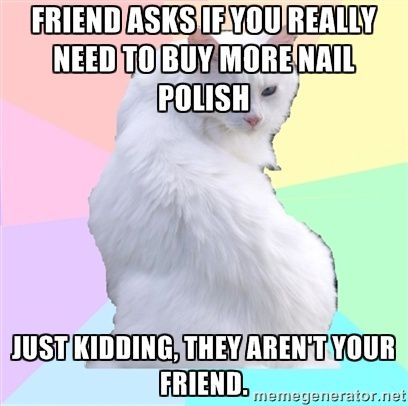 Heureusement que je n'ai pas pris pour résolution en 2015 de me limiter un peu en achats de vernis, parce qu'en janvier j'ai encore fait des folies. Je n'ai pourtant pas trop eu l'impression de faire beaucoup de shopping, mais en compilant tous mes achats à la fin du mois, et bien je dois avouer que j'en encore une fois acheté beaucoup trop de vernis. J'ai maintenant 3 helmers pleins... en février je vais probablement investir dans un 4ème !
Fortunately I have not taken for resolution in 2015 to limit myself a little regarding polish purchases, because in January I splurged. Yet I did not felt that I did a lot of shopping, but compiling all my purchases at the end of the month, I have to admit that I once again bought too much varnishes. I now have 3 full Helmers ... in February I'll probably invest in a fourth!
J'ai bien sur reçu ma Holograil de Décembre en peu en retard (et déjà swtachée) mais également celle de janvier. Incroyable pour une fois j'ai reçu ma Holograil avant ma What's Indie Box. (swatches très bientôt).
I of course got my December Holograil, a bit late (already reviewed), but I also received the January one. Incredible for once I received my Holograil before my What's Indie Box. (swatches soon).
Je voulais ces collection Neon Glitter de Yes Love depuis une éternité, mais ils ne sont pas vendus aux US. J'ai finalement craqué sur ebay, ils ne sont pas chers du tout et ils sont superbes !
I wanted these Neon Glitter collection by Yes Love for ages, but they are not sold in the US. I finally gave up and bought them on ebay, they are not expensive at all and they are superb!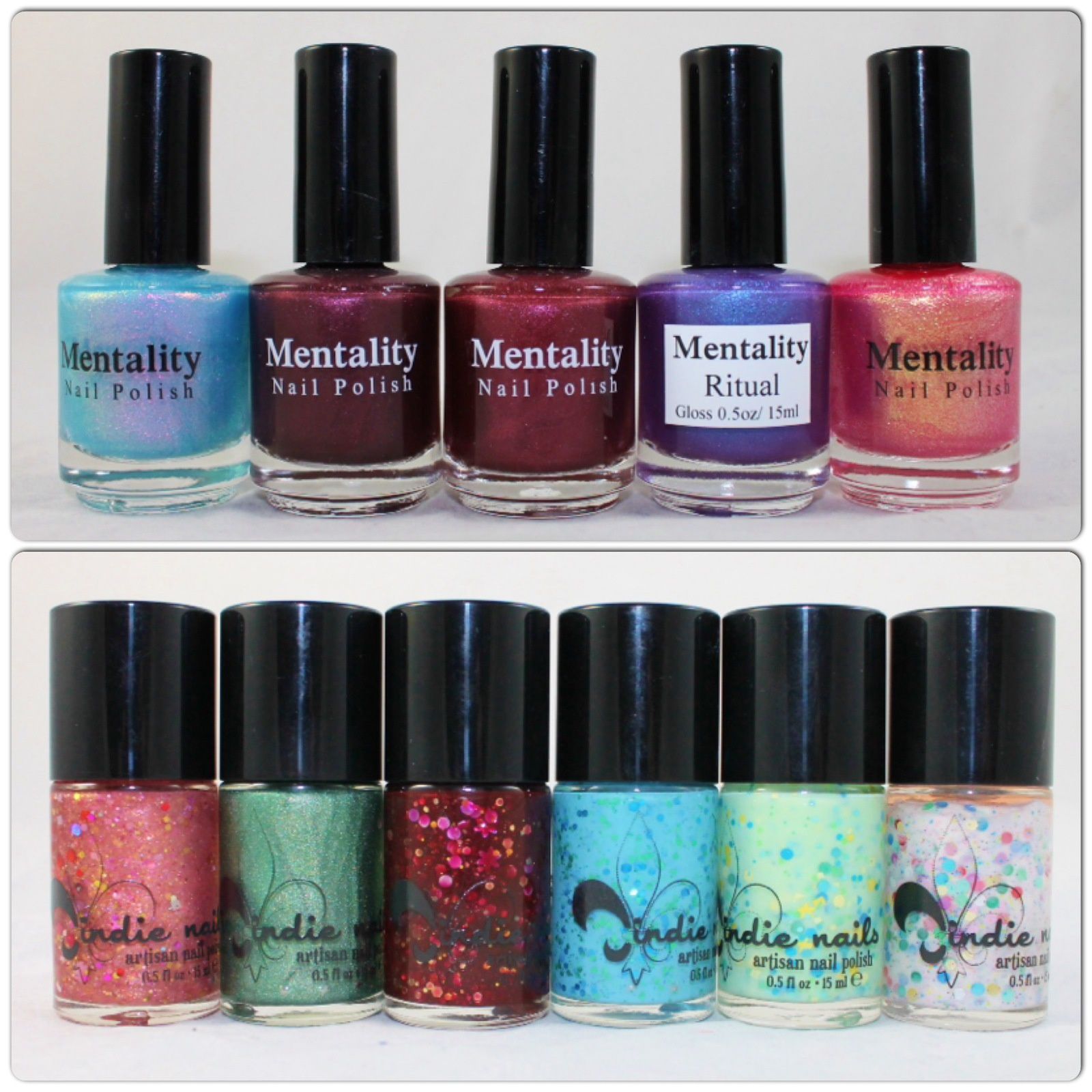 Mentality Nail Polish Gala, Gorgeous, Allure, Ritual & Spree. Jindie Nails Baby Love My Baby Love, Today is the 1st Day of the Rest of Your Life, Red Velvet Revolver, Honey Blue Blue, Love Yourself & Paper Flowers
Je ne possédais aucun Mentality Polish, et j'ai vu plusieurs swatches sur le net, j'ai donc décidé de me lancer, et ils ont l'air trop beaux ! J'ai aussi reçu ma dernière commande Jindie Nails, avec de nouvelles couleurs (et aussi des anciennes couleurs que je n'avais pas).
I did not own any Mentality Polish, and I have seen several swatches on the net, so I decided to give it a go, and they have really pretty! I also received my last order from Jindie Nails, with new colors (and the old colors that I did not have).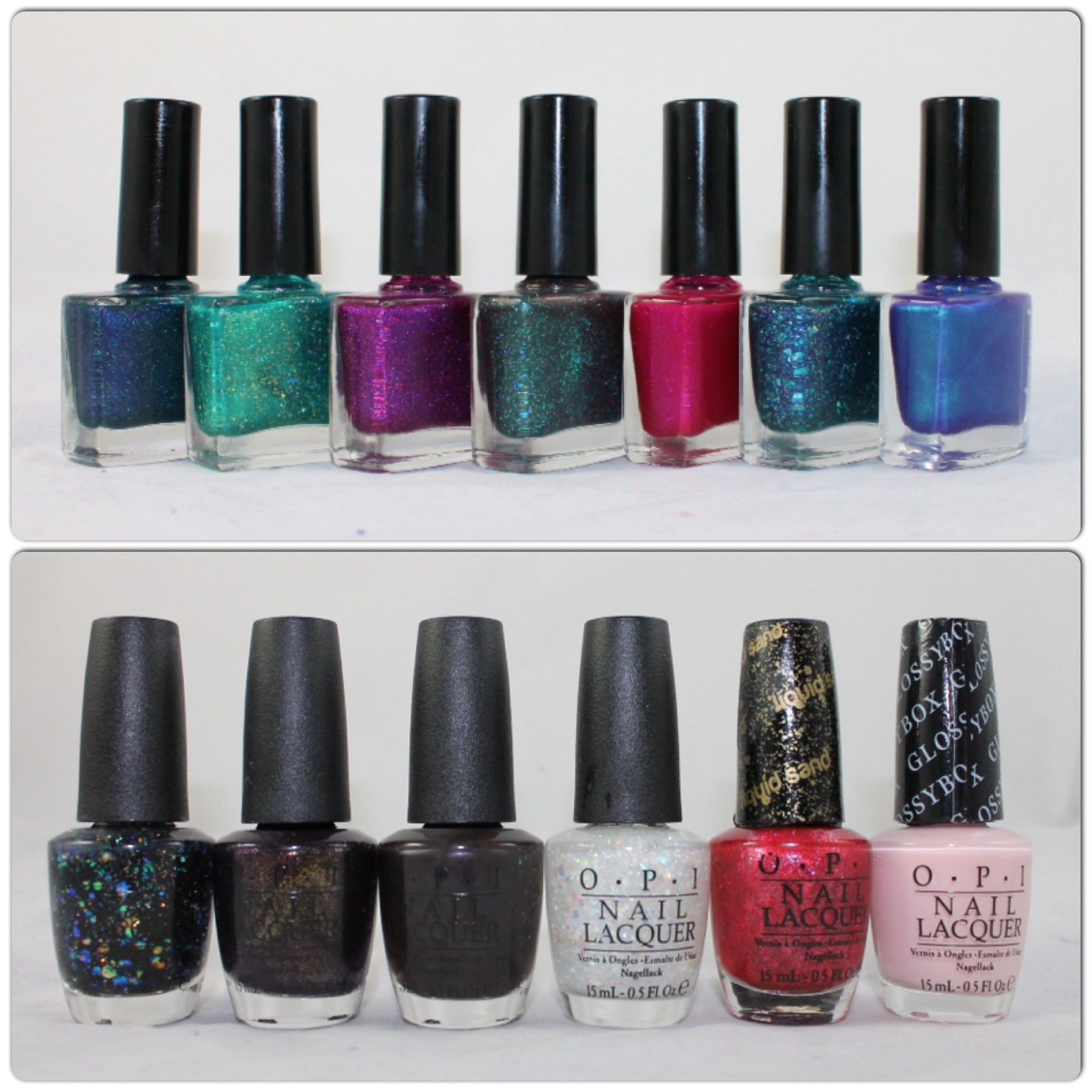 Femme Fatale Alone in the Darkness, Stand in the Clouds, Touch of Madness, In His House He Waits Dreaming, Brain Link, All sanity is Lost & Under The Waters. OPI Comet in the Sky, First Class Desires, Love is Hot and Coal, Snow Globetrotter, The Impossible & Pink Outside the Glossybox.
Vous le savez déjà, ce mois-ci j'ai reçu la nouvelle collection Femme Fatale (review here) et ils sont magnifiques. Il seront de nouveaux disponibles sur le site de Femme Fatale en du 1er au 5 février 2015 (avec le Valentin's Day Trio). J'ai aussi découvert qu'il y avait un Marshalls pas loin de chez moi (et oui au bout de 3 ans je découvre encore de nouveaux magasins) et ils ont plein d'OPI a moins de $4 (Le petit dernier est le OPI exclusif de la Glossybox, je l'ai échangé sur edivv).
You already know, this month I received the new Femme Fatale collection to review (review here), and they are beautiful. There will be new available again on Femme Fatale website from Feb 1st-5th (with the Valentine's Day Trio). I also discovered that there was a Marshalls not far from my home (and yes after 3 years I am still discovering new stores) and they have plenty of OPI for less than $4 (The last one is the exclusive for Glossybox, I traded on edivv).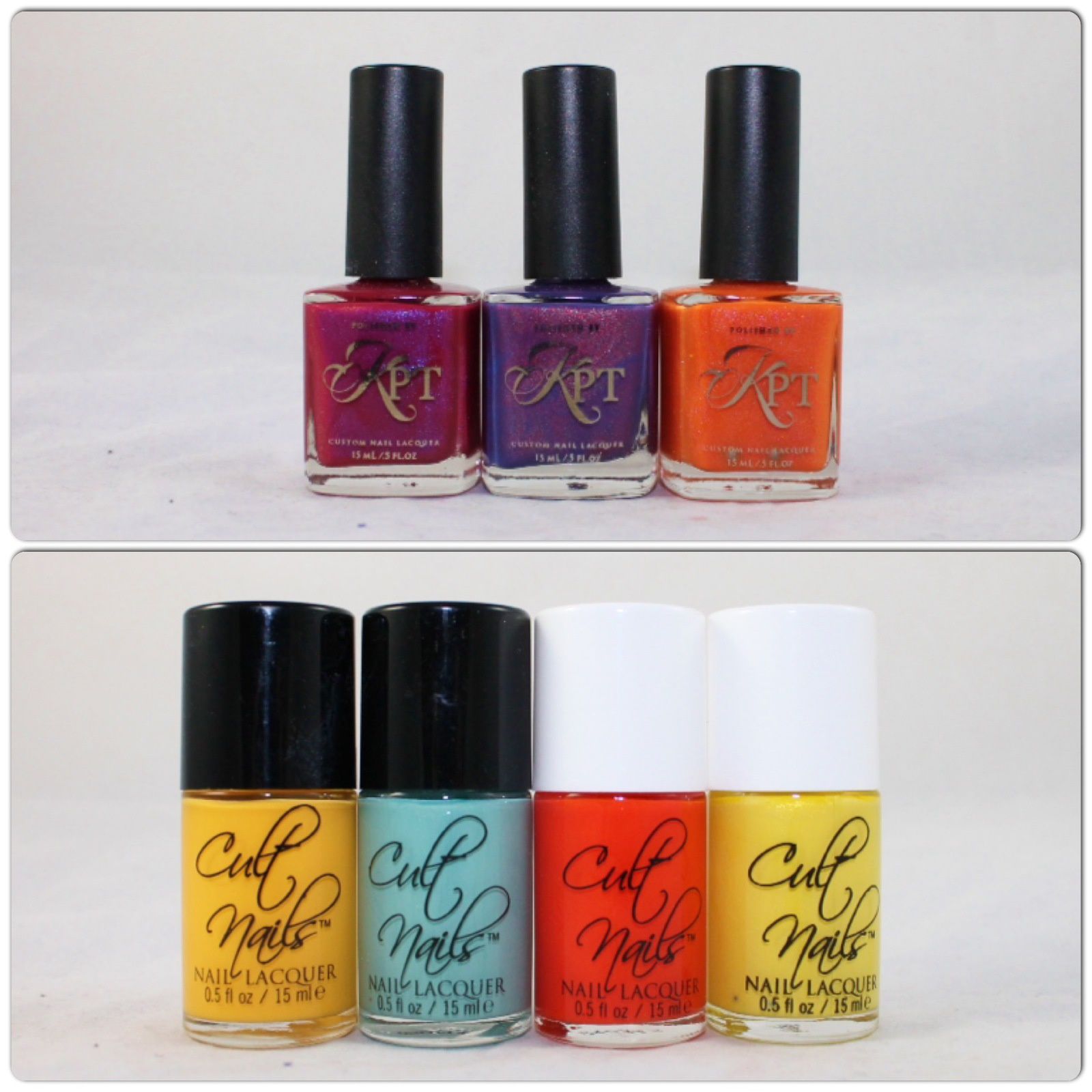 Polished by KPT A Dream Within a Dream, Mars Escapade & Do You Wanna Fanta? Cult Nails Feel Me Up, Manipulative, Ay Poppy! & You're My Dandy Lion.
J'ai commander 3 vernis thermiques chez Polished by KPT (j'adore la formule de ces vernis) dont 2 de la nouvelle collection. Et j'ai une bien triste nouvelle, Cult Nails va fermer, c'est déprimant, et comme je voulais certains des vernis de la marques depuis un moment, j'ai décidé de commander avant qu'ils ne soient plus disponibles.
I ordered 3 thermal varnish from Polished by KPT (I love the formula of these) including 2 of the new collection. And I have very sad news, Cult Nails is closing, it's depressing, and I wanted some polish of this brands for a while, so I decided to order before they are no longer available.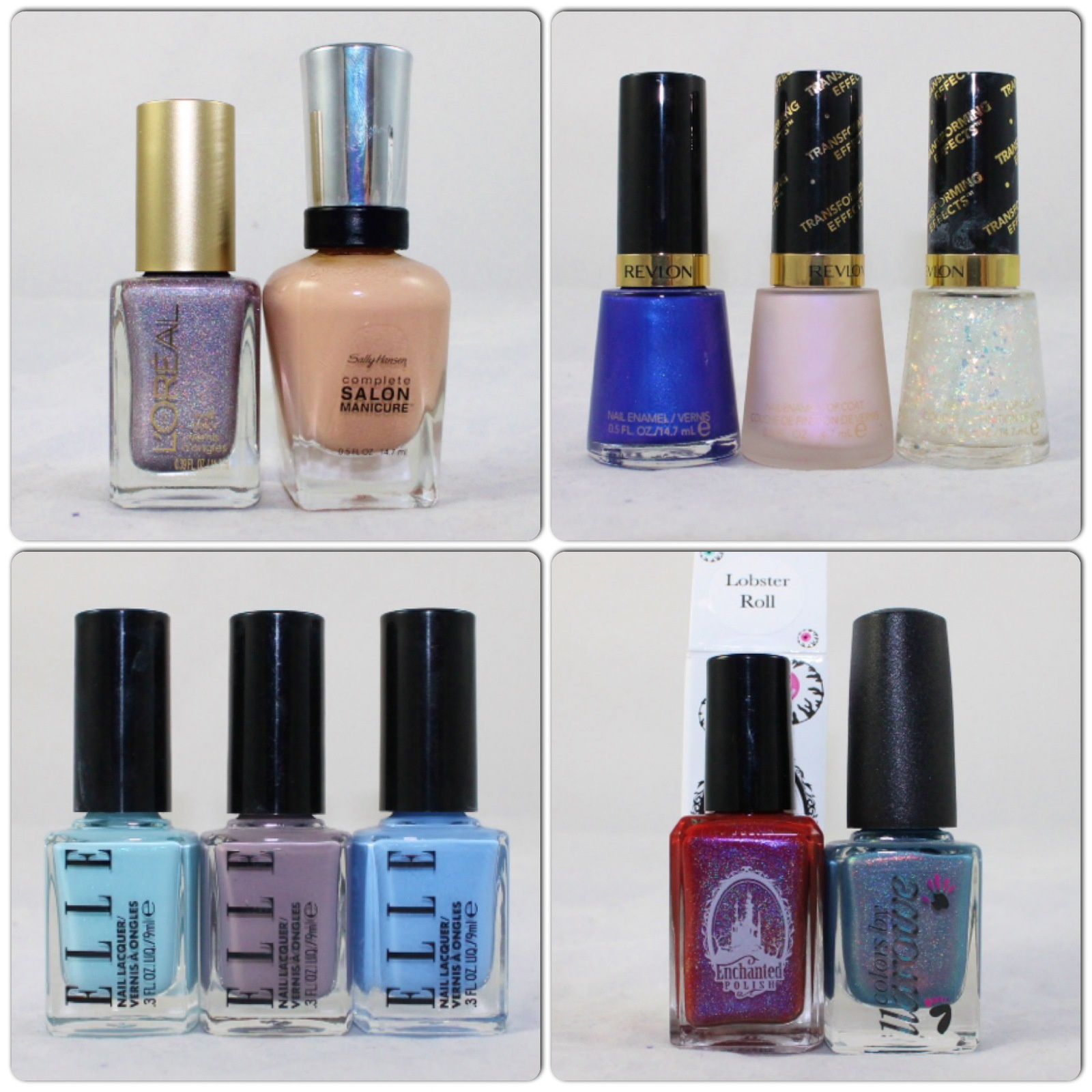 L'Oréal Masked Affair. Sally Hansen Camelflage. Revlon Sultry, Matte Pearl Glaze & Cosmic Flakies. Elle On Location, In a Fog & Ship Shape. Enchanted Polish Lobster Roll. CBL Wind Beneath my Wings.
Et enfin de plus petit achats, principalement drugstore, avec le fameux L'Oréal Masked Affair, Sally Hansen Camelflage et 3 Revlon de la dernière collection. J'ai aussi découvert la marque de vernis Elle, j'ai voulu en tester quelques uns, et enfin 2 affaires que j'ai faites sur Storenvy, Enchanted Polish Lobster Roll et CBL Wind Beneath my Wings.
And finally smaller purchases, mainly drugstore, with the famous L'Oréal Masked Affair, Sally Hansen Camelflage and 3 Revlon from the latest collection. I also discovered the brand Elle, I wanted to try a few, and finally two awesome deals I made on Storenvy, Enchanted Polish Lobster Roll and CBL Wind Beneath my Wings.