Bon alors évidemment, comme à chaque fois où je me dis que je ne vais pas craquer et commander la Allure Beauty Box, et bien si je le fais. C'est un peu compulsif, je ne sais pas trop pourquoi mais je finis toujours par la commander. Alors bien sur encore une fois il y a pas mal de produits que je ne peux pas utiliser à cause de mes allergies (et je vais les échanger sur edivv) mais il y a aussi plein de produits que je suis super contente d'essayer.
Okay so obviously, like every time I tell myself that I will not order the Allure Beauty Box, and still I do. It's a bit compulsive, I do not know why but I always end up ordering it. Then of course once again there is a lot of products that I can not use because of my allergies (and I will trade them on edivv) but there are also full of products I'm really happy to try.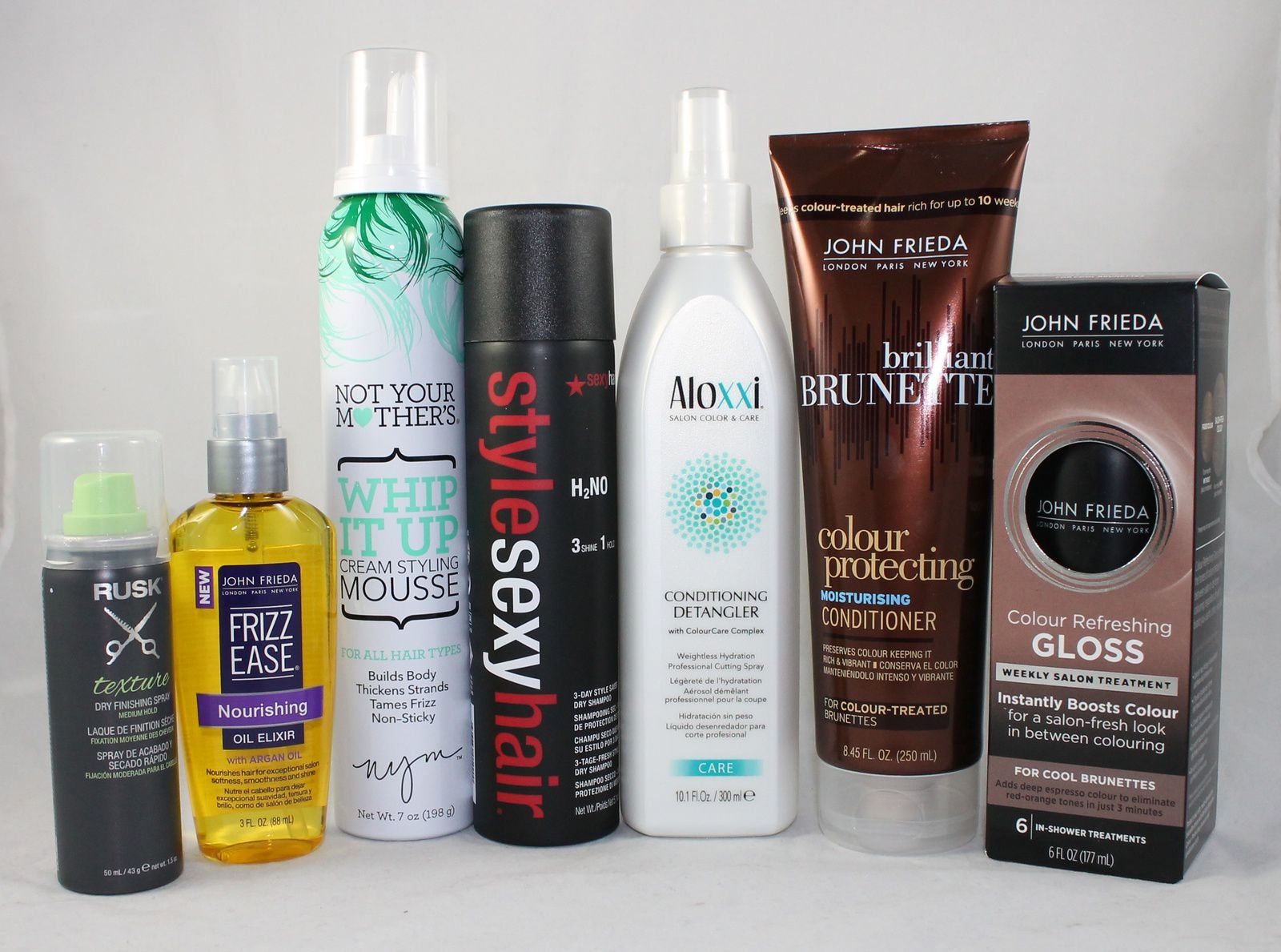 RUSK® Texture spray, JOHN FRIEDA® Frizz Ease® Nourishing Oil Elixir, NOT YOUR MOTHER'S® Whip It Up™ Cream Styling Mousse, STYLE SEXY HAIR® H2No 3 Day Style Saver Dry Shampoo, ALOXXI Conditioning Detangler, JOHN FRIEDA® Brilliant Brunette® Colour Protecting Moisturising Conditioner, JOHN FRIEDA® Colour Refreshing Gloss For Cool Brunettes
Alors je vais commencer pour les produits pour cheveux, qui sont en fait les produits pour lesquels je n'ai vraiment aucune utilité (à part l'huile pour cheveux car je me fais un masque d'huile toutes les semaines, surtout en hiver). Pour mes cheveux j'utilise Wen et j'en suis ravie, je n'utilise rien d'autre, donc tous mes produits vont être échangés.
I'll start with hair products, which are in fact the products for which I have really no use (except the hair oil because I'm getting an oil mask every week, especially in winter) . For my hair I use Wen and I am delighted it, I use nothing else, so all these products will be traded.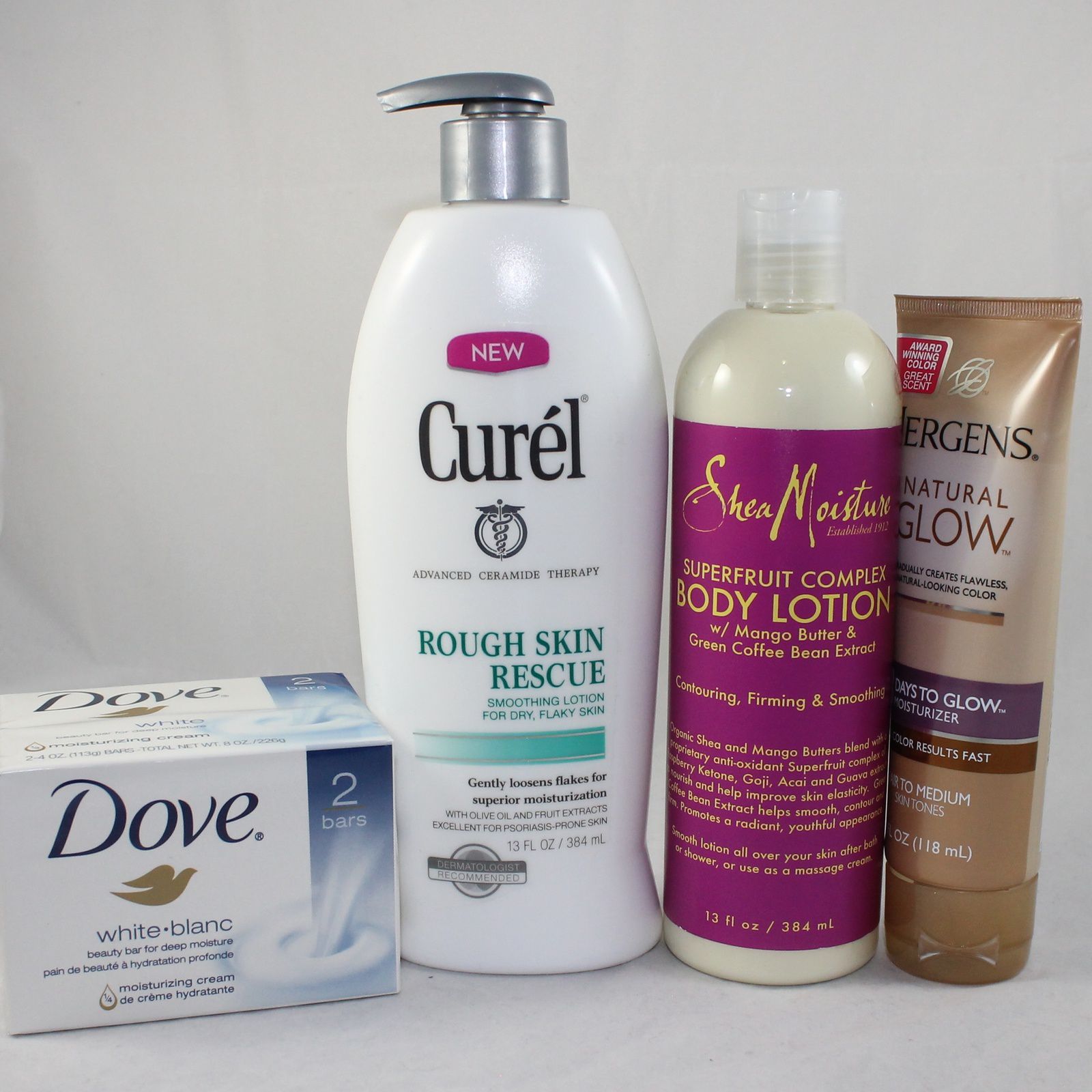 DOVE White Beauty Bar, CURÉL® SKINCARE Rough Skin Rescue Lotion, SHEAMOISTURE Superfruit Complex Body Lotion, JERGENS® Natural Glow® 3 Days To Glow™ Moisturizer
Les produits pour le corps, là déjà c'est mieux. Les savons Dove je ne les utilise pas pour le corps, je les utilise pour laver mes pinceaux de pinceaux de maquillage, ils sont parfait pour ça, doux et hydratant (surtout pour les pinceaux en poils naturels). Les deux lotion pour le corps je les adore, Curel et Shea Moisture sont des marques dont quasiement tous les produits sont sans parfum, c'est un plus pour moi qui suis allergique. Et enfin la lotion bronzante Jergens je l'adore aussi, elle n'est pas sans parfum mais je l'ai déjà essayé et elle ne me fais pas d'allergie, et elle rend ma peau sublime. C'est pour moi un must have, principalement en été (car je ne bronze pas facilement mais avec cette lotion ma peau n'est pas blanche comme si j'étais malade).
With products for the body, it is already better. The dove soaps I do not use on my body, I use them to wash my makeup brushes, they are perfect for that, gentle and moisturizing (especially for brushes with natural bristles). Both body lotion I love them, Curel and Moisture Shea are brand which almost all products are fragrance free, it's a plus for me who is allergic. And finally the tanning lotion Jergens I love it too, she is not fragrance free but I have tried it before and it does not give me allergy, and it makes my skin sublime. For me it is a must have, especially in the summer (because I do not tan easily but with this lotion my skin is not white like I was ill).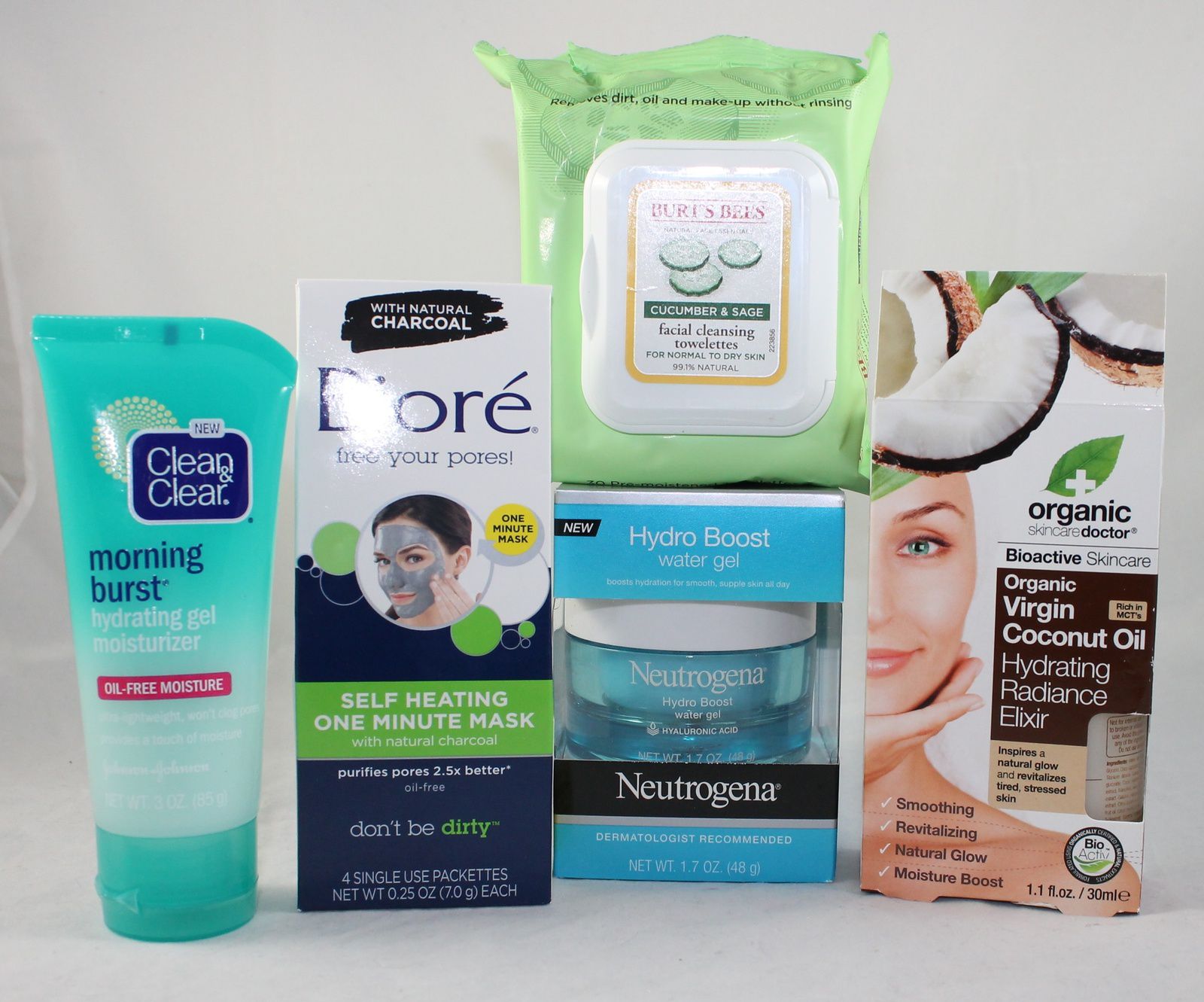 CLEAN & CLEAR® Morning Burst® Hydrating Gel Moisturizer, BIORÉ® Self Heating One Minute Mask, NEUTROGENA® Hydro Boost Water Gel, BURT'S BEES® Cucumber & Sage Facial Cleansing Towelettes, ORGANIC DOCTOR Organic Virgin Coconut Oil Hydrating Radiance Elixir
Dans les produits pour le visage, c'est 50/50. Les crème/gel hydratants Clean & Clear et neutrogena ne sont pas sans parfum donc je ne vais pas les utiliser. Le reste par contre oui, j'adore ce masque Bioré (déjà testé et approuvé), les lingettes démaquillantes Burt's Bees sont sans parfums, et je suis super excitée à l'idée de tester le sérum Organic Doctor car cette marque et 100% organique (et sans parfum) et ce sérum est parfait pour ma peau qui a tendance a être très sèche en hiver.
With face products, it's 50/50. One one hand the moisturizing cream/gel Clean & Clear and Neutrogena are not fragrance free so I'm not going to use them. The rest one the other hand yes, I love this Bioré mask (already tested and approved), the Burt's Bees Cleansing Wipes are fragrance-free, and I'm super excited to test thes serum by Organic Doctor because this brand and 100% organic (and fragrance free) and this serum is perfect for my skin which tends to be very dry in winter.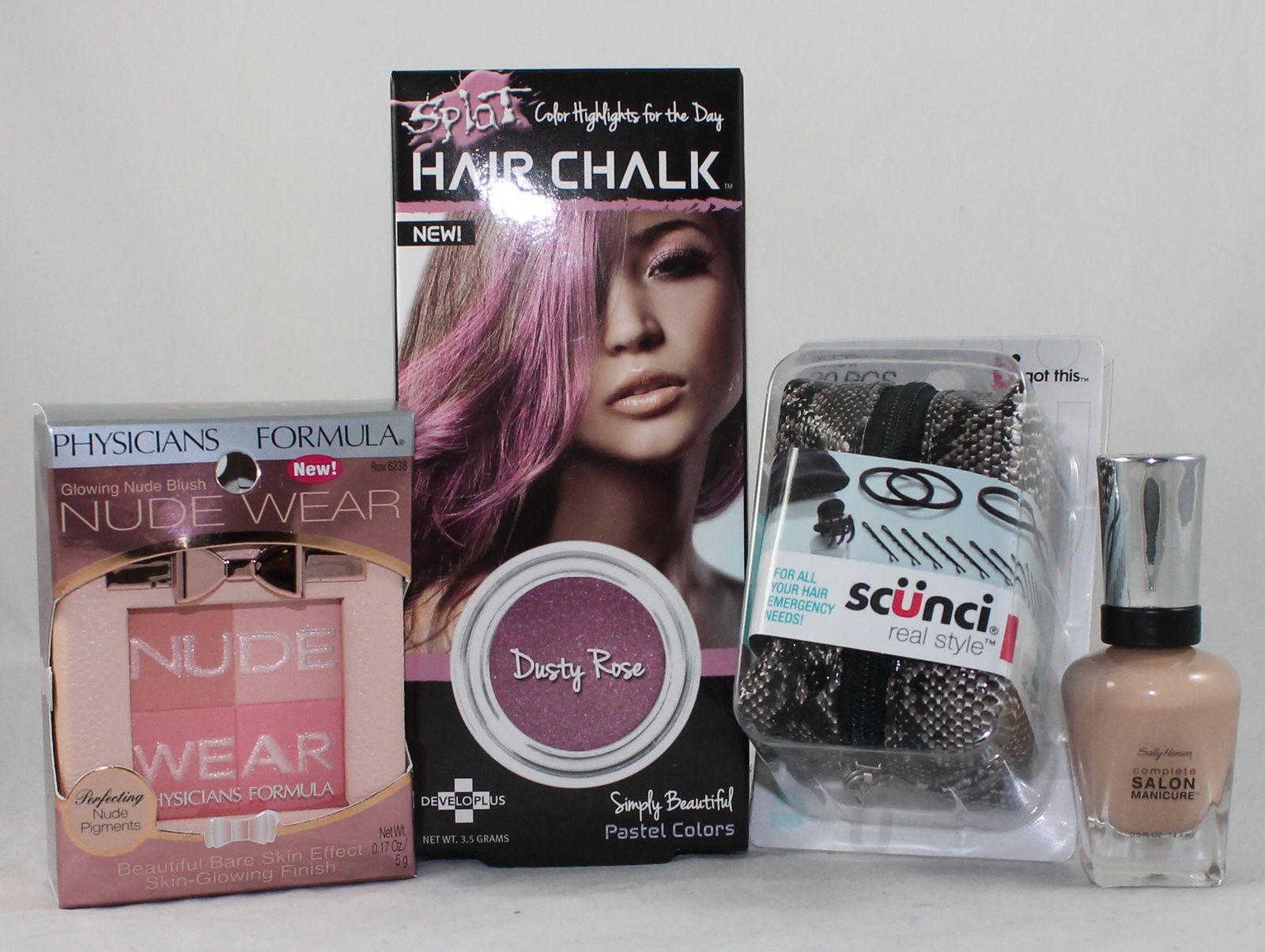 PHYSICIANS FORMULA® Nude Wear™ Glowing Nude Blush–Rose, SPLAT Hair Chalk, SCÜNCI® Hair-Emergency Kit, SALLY HANSEN® Complete Salon Manicure™
Et enfin le reste... ce Blush Physicians Formula est très joli j'aime la couleur et la formule, et le colorant pour cheveux en rose (ma couleur), je trouverai bien une occasion de l'utiliser. Le petit sac d'urgence pour cheveux, très mignon et pratique dans mon sac à main, et enfin un vernis Sally hansen, une couleur que je n'ai pas et c'est un nude, on n'a jamais assez de nude (LOL). Donc encore une fois une box vraiment géniale, bien que cette fois-ci encore il y a beaucoup (trop) de produits pour cheveux, mais globalement j'en suis très satisfaite.
And everything else ... this Physicians Formula blush is very nice I like the color and the formula and the hair chalk in pink (my color), I will definitely find an opportunity to use it. The small emergency bag for hair, very cute and practical in my purse, and finally a Sally Hansen polish, a color I did not have and it's a nude, I never have enough nude (LOL). So once again a really great box, although this time again there is still a lot of hair products (too mush), but overall I am very satisfied.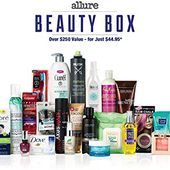 Morning Burst Hydrating Gel Moisturizer This oil-free, water-based formula contains a blend of cucumber and green mango extracts, absorbing quickly to leave skin replenished. Toothbrush + Built-In ...
http://www.allurebeautyboxpromo.com/Allure-Beauty-Box-Winter/dp/B00P6P9N84