Halloween était juste passé quand j'ai reçu ma Dazzled Box du mois d'octobre. Comme toujours la livraison est très longue, mais en générale je suis contente des vernis. Je dis en général car cette fois-ci je suis un peu déçue des couleurs. Je suis une personne qui aime les couleurs flashys et je dois dire que cette box est plutôt sombre, ou plus précisement terne, et pas super originale non plus (pas mal de couleurs déjà vu, sauf peut-être pour le Philly).
Halloween had just passed when I received my October Holograil Dazzled Box. As always delivery is very long, but in general I am happy with the polish. I say usually because this time I'm a little disappointed by the colors. I am a person who likes bright colors and I must say that this box is rather dark, or more precisely dull, and not super original either (a lot of colors are déjà vu, except perhaps for the Philly).
Foxy Paws Polish Gimme Soul est un vernis noir, qui tire un peu sur le vert kaki très foncé, holographique avec des micro flakies dorées. Il me fait un peu penser à October 2014 d'Enchanted Polish (mais ce ne sont pas des dupes, ne me faites pas dire ce que je n'ai pas dit lol). Le formule est bonne et le séchage est rapide.
Foxy Paws Polish Gimme Soul is a black polish, which takes quite a bit on the dark camo green side, holographic with gold micro flakies. It makes me think of October 2014 by Enchanted Polish (but are not dupe, do not make me say what I did not lol). The formula is good and is fast drying.
Literary Lacquers The Blood is the Life est censé être un vernis rouge holographique (d'après la description), mais pour moi c'est un vernis marron. Il a de petites paillettes dorées holographiques, tout comme Literary Lacquers Rare Book Room de la Holograil d'avril. D'ailleurs pour moi ce sont presque des dupes (The Blood is the Life est un poil plus foncé). Je suis assez déçue d'avoir reçu 2 vernis quasiment identiques de la même marque à 6 mois d'intervalle.
Literary Lacquers The Blood is the Life was supposed to be a holographic red polish (from what the description says), but for me it is more a brown polish. It has small gold holographic glitter, as Literary Lacquers Rare Book Room of the April Holograil box. In fact for me they are almost dupes (The Blood is the Life is a bit darker). I'm pretty disappointed to have received two almost identical polish from the same brand only 6 months apart.
Philly Loves Lacquer Come Play With us Danny c'est la jolie surprise de cette box. D'habitude je ne suis pas fan des vernis Philly Loves Lacquer, je ne les trouve pas vraiment opaque et pas assez holographique. Mais ce bleu night holographique est parsemé de reflets roses violets très discrets, il est quasiment opaque en une seule couche est sèche ultra vite. C'est mon préféré de cette box.
Philly Loves Lacquer Come Play With us Danny is the lovely surprise of this box. Usually I'm not a fan of Philly Loves Lacquer, I do not find her polish really opaque and not holographic enough. But this holographic night blue is full with pink & purple hues, very discreet, it is almost opaque in one coat is dry super fast. This is my favorite of the box.
Et pour finir Too Fancy Lacquer Don't Drink The Water, un gris metallisé holographique, très bonne formule et sèchage rapide, mais je n'aime pas le gris, donc je suis un peu déçue par cette couleur. Bref vous l'aurez compris, je ne vais surement garder que le Philly, car les autres ne sont pas trop à mon goût.
And finally Too Fancy Lacquer Do not Drink The Water, a holographic gun metal grey, very good and fast drying formula, but I do not like grey, so I'm a little disappointed by that color. In short you will understand, I will probably only keep the Philly because the others are not really my taste.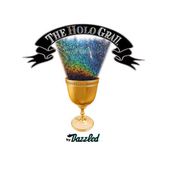 Pre-order for December's The Holo Grail Box. Theme of December: The Grinch Who Stole Christmas 4 exclusive holographic polishes made by: Cupcake Polish Foxy Paws Polish NailNation3000 Too Fancy ...
The Grail Holo Box contains 4 exclusive Holographic polish. It is sold by Dazzled, it is available for purchase (pre-order) each month for 2 weeks (from the 1st to the 15th).