Aujourd'hui j'ai 3 nouveau franken polish a vous montrer. Je n'avais pas trop d'idée pour les noms mais une de mes clientes qui achète régulièrement sur ma boutique Etsy, Brandy, m'a suggéré un thème, la légende du Roi Arthur. J'ai adoré, et donc voici mes 3 nouveaux bébés, Excalibur, Avalon et Lady of the Lake.
Today I have three new franken polish to show you. I did not really have any idea for the names, but one of my customer who regularly buys on my Etsy shop, Brandy, suggested me a theme, The Arthurian Legend. I loved it, and here are my three new babies, Excalibur, Avalon and Lady of the Lake.
Pink Dipsy Bulle Franken Polish - Excalibur (2 coats no top coat)
Le premier c'est Excalibur, et c'est un vernis multichrome vert bleu. Les changements de couleurs sont difficiles à capturer donc j'ai mis plusieurs photos pour vous montrer à quel point il est beau.
The first is Excalibur, and it's a multichrome blue green color. The color changes are difficult to capture so I put several pictures to show you how beautiful it is.
Avalon est un vernis vert turquoise foncé (c'est une couleur difficile à décrire) avec de magnifiques reflets roses. C'est une couleur parfaite pour l'automne, foncée mais colorée à la fois. Je crois bien que c'est mon préféré des 3.
Avalon is a dark turquoise green polish (this is a hard to describe color) with beautiful pink hues. It is a perfect color for fall, both dark and bright color. I think it is my favorite of the 3.
dtenses. Celui-ci est un peu moins opaque que les 2 autres, j'ai mis 3 couches pour obtenir une opacité totale mais j'aime beaucoup cette couleur.
And finally the beautiful Lady of the Lake, a beautiful purple with intense blue highlights. This one is a little less opaque than the other 2, I put three coats to achieve full opacity but I love this color.
Ces 3 vernis sont disponibles dans ma boutique Etsy, mais les quantités sont très limitées. Ils sont vendus $6 la bouteille de 10ml.
All 3 polish are available in my Etsy shop, but the quantities are very limited. They are sold $6 the bottle of 10ml.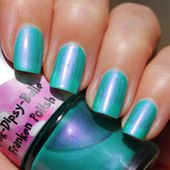 08/09/2014: I just released 3 new multichrome toppers, and restocked some old colors. I will release some new limited edition colors soon (end of september), if you want to know when you can follow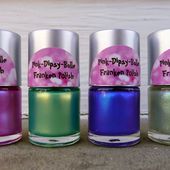 Little Bottles of Love: PinkDipsyBulle Franken Polish - Queen Conch, Golden Apple, Nebula and Lady of the Lake Swatches & Reviews
GUYS HEY! I'm 23 weeks pregnant yesterday and I can no longer bend over without grunting. So, anyway... I actually have some swatches for you today! That is your reward for still subscribing to my ...
http://littlebottlesoflove.blogspot.com/2014/09/pinkdipsybulle-franken-polish-queen.html
You can also check Brandy's review of some of my polish, she has beautiful nails and she makes beautiful pictures too. And I love reading her blog^^