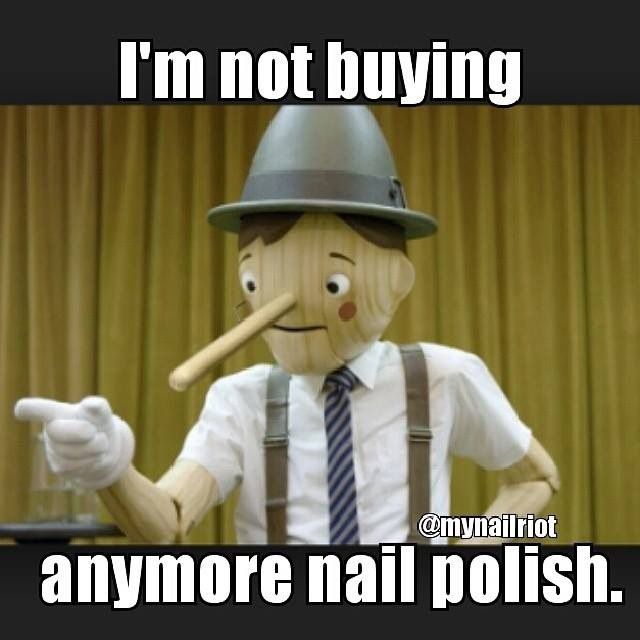 C'est marrant comme des fois je peux me convaincre de limiter mes achats de vernis... et échouer lamentablement, sans vraiment faire exprès. Au début du mois je me dis toujours, ohh fait un peu attention tu en a tellement (de vernis) tu n'as pas besoin de tout ça !... Et au moment d'écrire mon article mensuel je fais le bilan et je me dis, je suis vraiment faible ! Tout ça pour vous dire, oui encore plein de nouveaux vernis sont arrivé ce mois-ci, et il y a de véritable beauté, et surtout pas mal de vernis qui étaient dans ma wishlist... score !
It's funny how sometimes I can convince myself to limit my purchases... and fail miserably, not really on purpose. At the beginning of the month I always tell myself, ohh be a little careful you already have so many (varnish) you do not need all that!... And as I write my monthly article I look back and I think, I'm really weak! All that to say, yes still lots of new polish received this month, including some little gems, and especially a lot of polish that were on my wishlist ... score!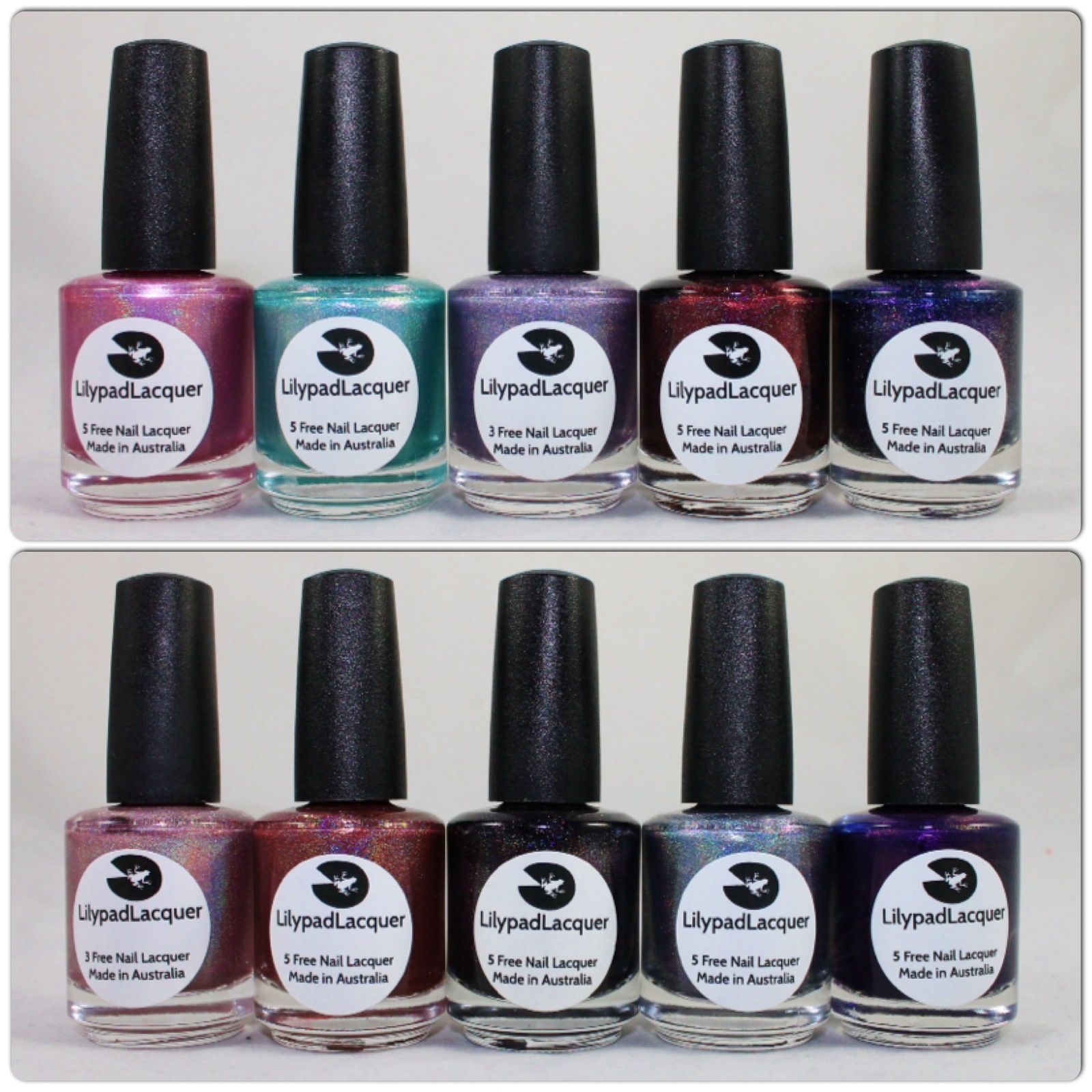 Lilypad lacquer Pouty Pink, Weird Cyance, Tanzantite Twinkle, Pulp Fiction, It's Blue and it's Mind, Pink Quartz, Oh Fudge, Vamp-a-licious, Teal Pearl & Peita's Potion
Et ce mois-ci encore pas mal de Lilypad, tous achetés dans des blog sale, et j'ai réussi à trouver plusieurs vernis de ma wishlist notamment Peita's Potion, Weird Cyance, Pulp Fiction, Vamp-a-licious et It's Blue and it's Mind... ils sont trop beaux je suis trop contente !
And this month still quite a few more Lilypad, all purchased from blog sale, and I managed to find several from my wishlist including Peita's Potion, Weird Cyance, Pulp Fiction, Vamp-a-licious and It's Blue and it's Mind ... they are so stunning I'm so happy!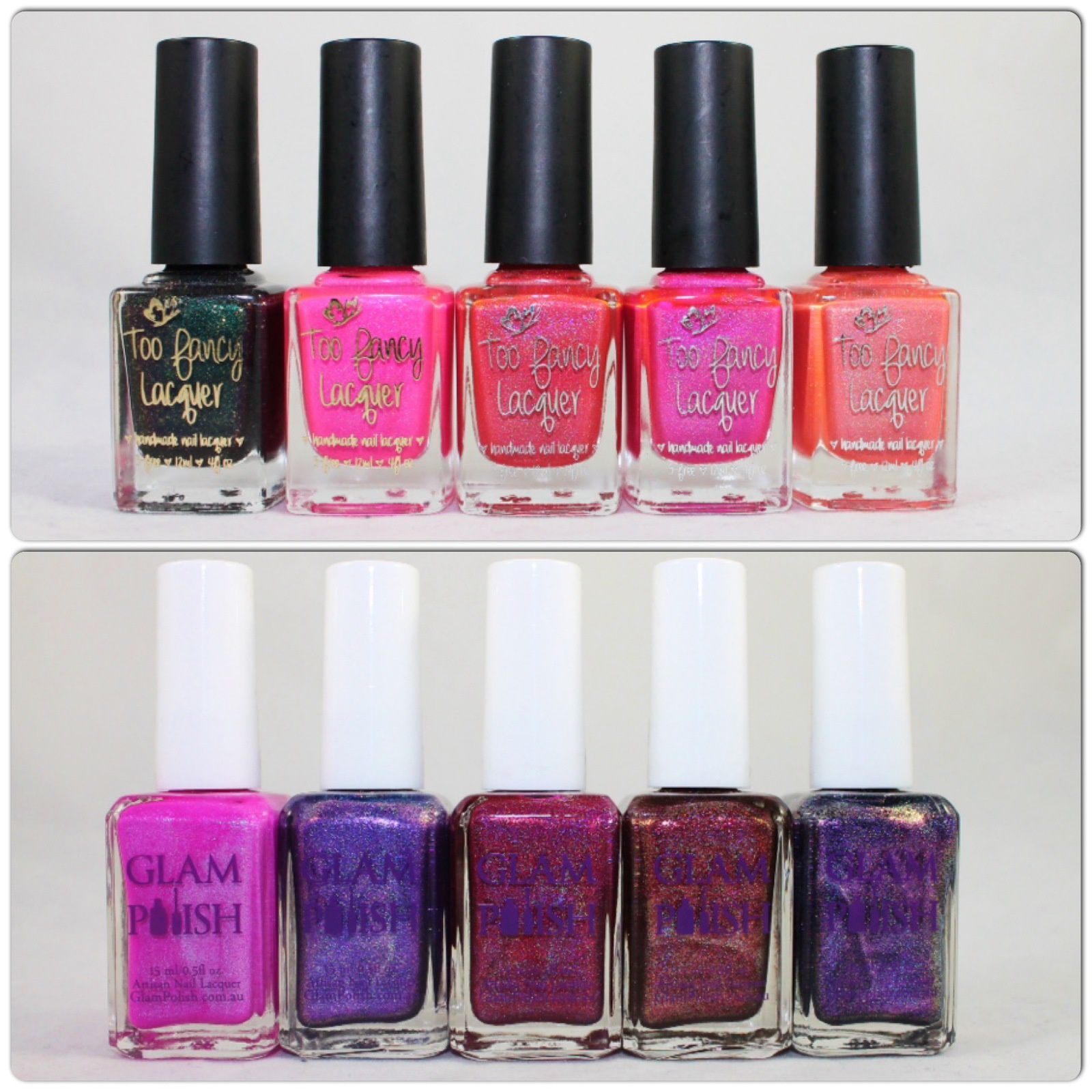 Too Fancy Lacquer Counting Stars, Never Too Old For Pink, Mon Chéri, This Love is Smokin' Hot, Dringking... Watermelon. Glam Polish Unforgettable Dream, Witching Hour, Tiffany, Carrie & Tales from the Dark Side.
J'ai découvert la marque Too Fancy Lacquer grace à la Dazzled Holograil box, j'ai décidé d'en acheter quelques-uns à la dernière restock, et je dois admettre ils sont vraiment beaux. J'ai aussi acheté quelques Glam Polish sur Hypnotic Polish et Meimei's Signatures, notamment le vernis exclusif de Hypnotic Polish (Unforgettable Dream) et le duo d'Halloween exclusif pour Meimei's Signatures (Carrie & Tales from the Dark Side).
I discovered Too Fancy Lacquer thanks to the Dazzled Holograil box, I decided to buy some at the last restock, and I must admit they are really amazing. I also bought some Glam Polish on Hypnotic Polish & Meimei's Signatures including the Hypnotic Polish eclusive (Unforgettable Dream) and the Halloween duo exclusive from Meimei's Signatures (Carrie & Tales from the Dark Side).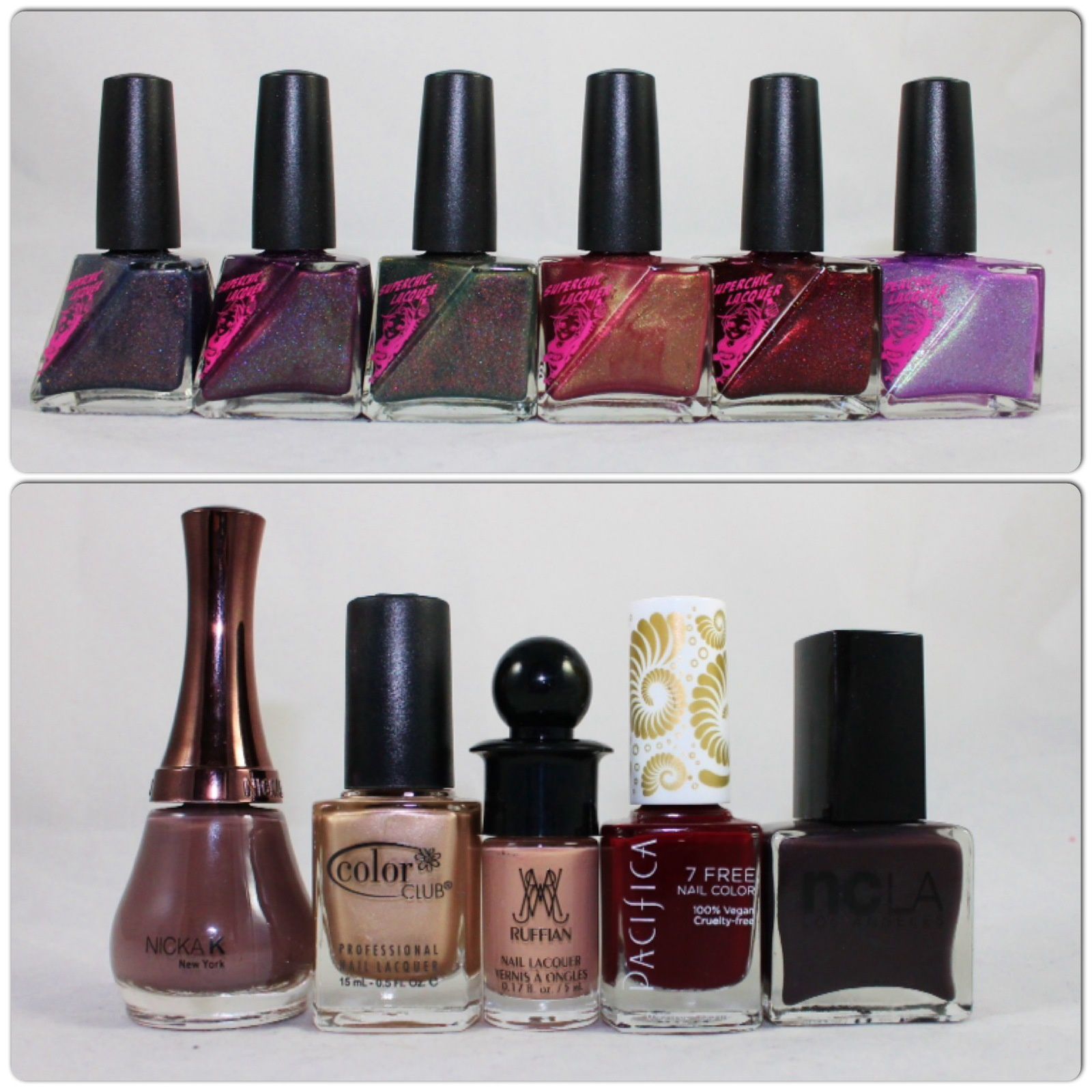 Superchic Lacquer Nightshade Serum to Younth Like actually!, Baker's Hunger for a Bun in the Oven, You Dont' Know Jack About my Beans, Golden, Delicicous Curse, Little Vampy Riding Hood, Fumblng Fairytales. Nicka K NY 112. Color Club Top Shelf. Ruffian Naked. Pacifica Red Red Wine. ncLA Model Behaviour.
Comme je l'ai déjà mentionné, j'aime beaucoup la marque Superchic Lacquer, et quand leur collection d'automne est sortie, j'ai craqué sur 6 vernis, et ils sont incroyables ! J'ai aussi reçu pas mal de vernis dans des beauty box ce mois-ci, Ipsy (Pacifica), Boxycharm (nLA), Birchbox (Ruffian) et j'ai échangé le Nicka K sur edivv, le Color Club était supplément cadeau reçu avec ma dernière commande Birchbox.
As I already mentioned, I love the Superchic Lacquer brand, and when their fall collection came out, I fell for 6 of them, and they are amazing! I also received a lot of polish in my beauty boxes this month, Ipsy (Pacifica) Boxycharm (nLA) Birchbox (Ruffian) and I swapped the Nicka K on edivv, the Color Club was received as gift with purchase from Birchbox with my last order.
J'ai également reçu ma What's Indie Box du mois de Septembre 2014 (swatches très bientôt) et ma Dazzled Holograil Box du mois d'Août 2014 (déjà swatchée ici).
I also received my What's Indie Box for the month of September 2014 (swatches coming soon) and my Dazzled Holograil Box for August 2014 (already swatched here).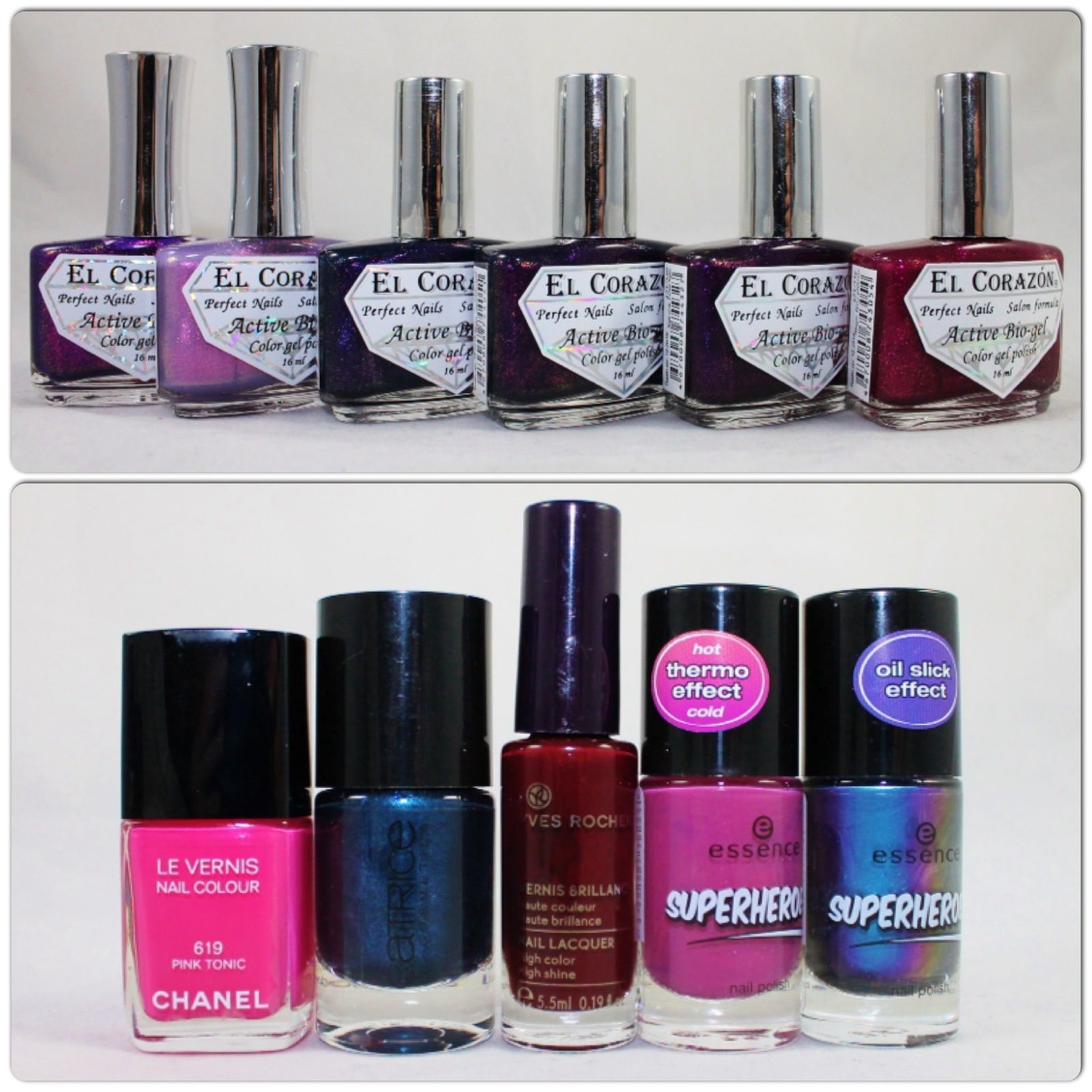 El Corazon Magic Attraction, Magic Tenderness, Magic of Night City, Magic Oriental Night, Magic of the Arabian Nights, Magic Berry Princess. Channel Pink Tonic. Catrice George Blueney. Yves Rocher 103. Essence Fantastic Girl & Power Girl.
Lors de ma commande chez Hypnotic Polish, j'ai également pris quelques vernis El Corazon, j'en voulais depuis longtemps et ceux-là sont vraiment magnifiques. J'ai reçu un colis surprise de ma famille en France, et bien sur ils me connaissent bien car il y avait des vernis dedans, un Channel, un catrice, un Yves Rocher et 2 Essences.
When I ordered from Hypnotic Polish, I took some El Corazon polish, I wanted some for a long time and these are really stunning. I received a surprise package from my family in France, and of course they know me well because there was some polish including Channel, Catrice, Yves Rocher and Essence.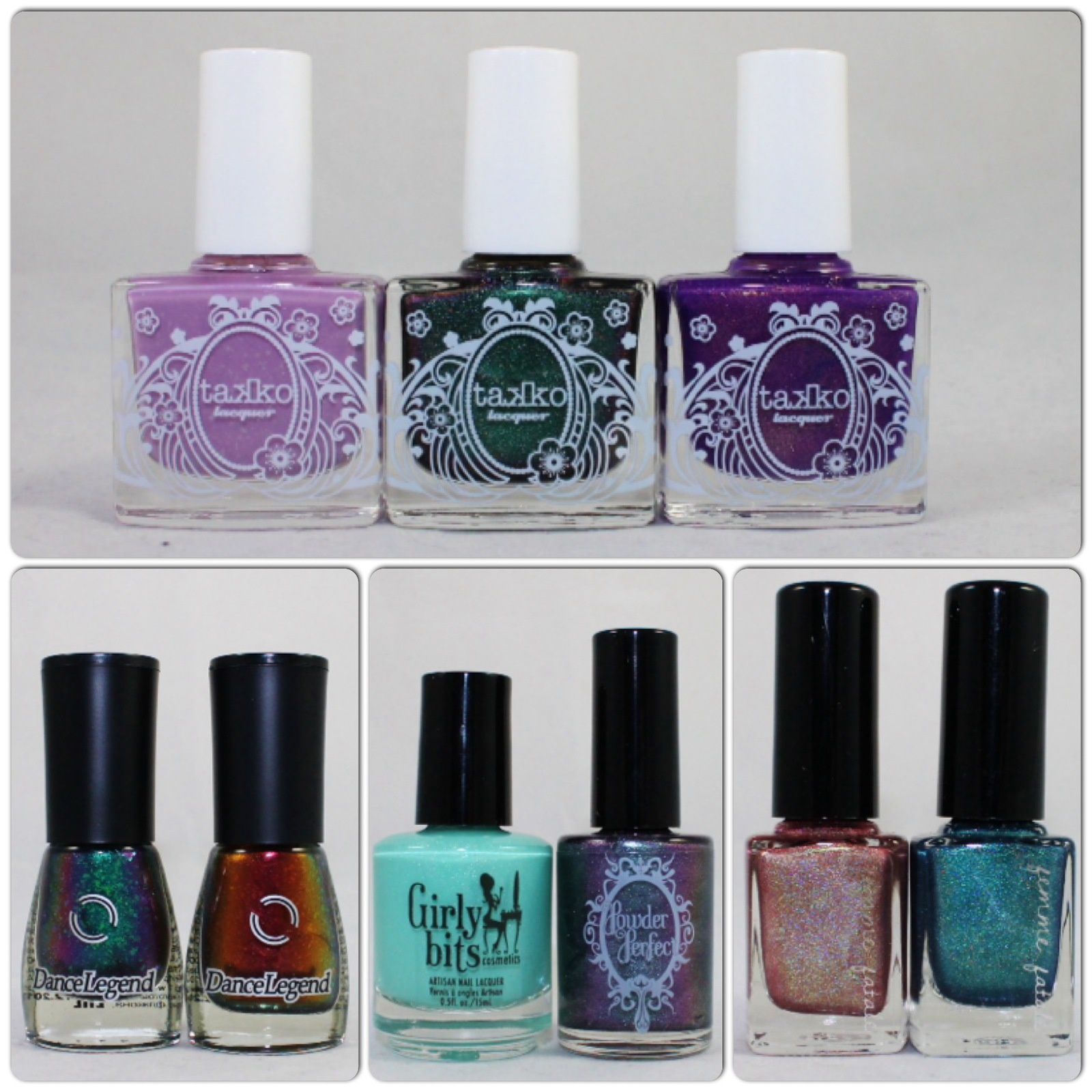 Takko Lacquer Lavender Macaron, Dreamcatcher, Cheshire Cat. Dance Legend Phobos & Mars. Girly Bits En-JOY-mint. Power Perfect Fog is Rolling In. Femme Fatale Cosmetics Midnight Masquerade & Gentlemen's Scuffle.
Pour la première fois j'ai réussi à avoir 3 Takkitos lors de la restock Takko Lacquer, je voulais aussi Curious and Curiouser mais je l'ai loupé. J'ai aussi enfin reçu les 2 nouveaux Dance Legend multichromes (commandé il y a presque 2 mois). J'ai aussi reçu quelques autre joyaux de Girly Bits, Powder Perfect et Femme Fatale Cosmetics !
For the first time I managed to buy 3 Takkitos during last Takko Lacquer restock, I also wanted Curious and Curiouser but I missed it. I also finally received 2 new Dance Legend (ordered there almost 2 months). I also received a few other gems by Girly Bits, Powder Perfect and Femme Fatale Cosmetics!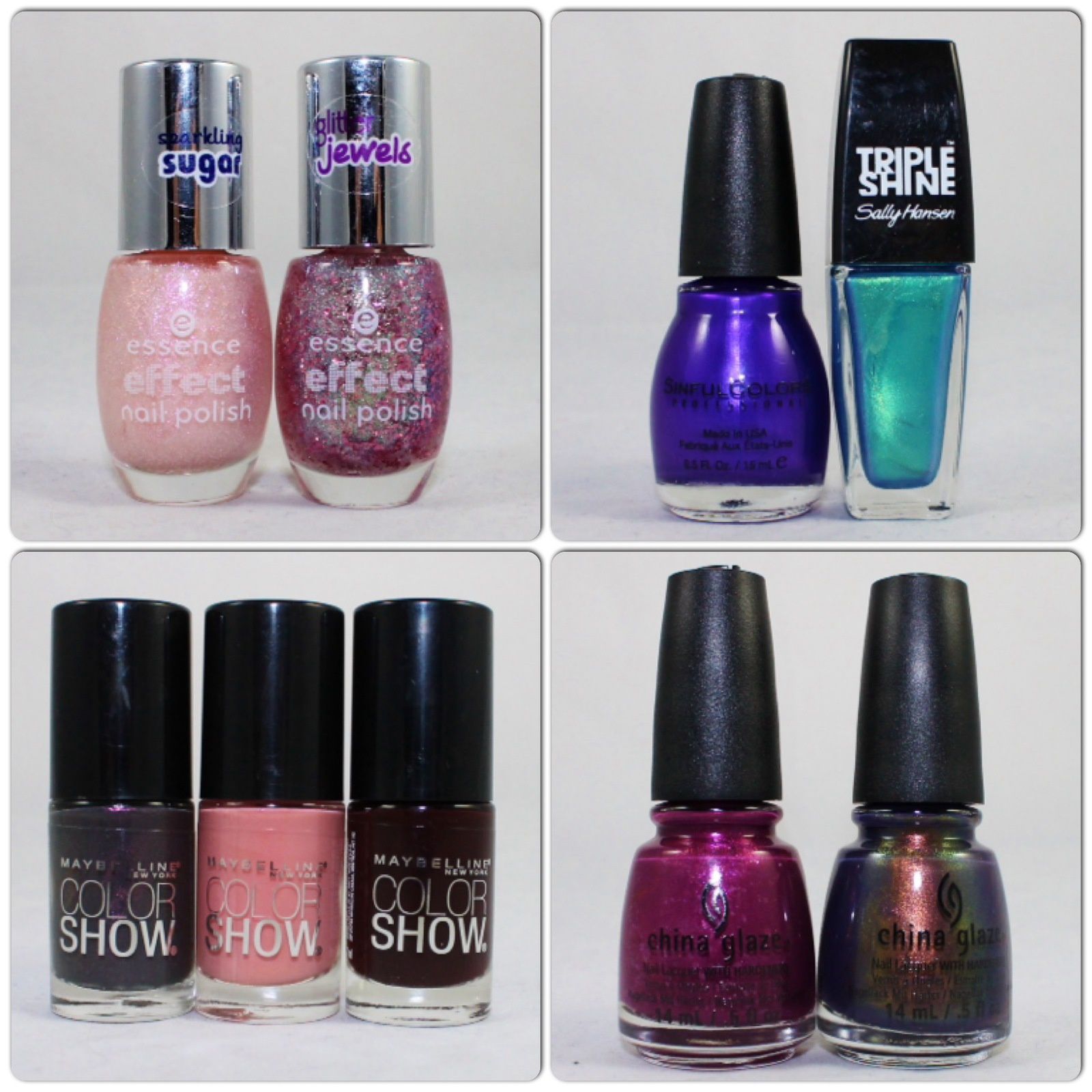 Essence Baby You're a Firework, Glitz & Glam. Sinful Colors Let's Talk. Sally Hansen Make Waves. Maybelline Plum as You are, I got You Beige, Dressed to Kill. China Glaze Nice Caboose!, Choo-Choo Choose You.
J'ai aussi fait quelques achats en boutique, des vernis que je trouvais jolis, comme ces 2 vernis Essence ou 2 vernis de la nouvelle collection China Glaze. J'ai complètement craqué sur ces vernis Maybelline de la nouvelle collection ils sont vraiment beaux !
I also did some shopping in stores, varnishes which I found pretty as these two Essence or two of the new China Glaze collection. I completely fell for these Maybelline polish from the new collection they are really beautiful!
Et pour finir j'ai commandé 4 vernis The Devil Wears Polish, Ils sont beaux mais en revoyant les photos sur le site je m'attendais à mieux, mais bon je verrai une fois posé ce qu'ils donnent ! J'ai aussi fait le plein de patchs pour les ongles, ils étaient en soldes (1$ les Essies, 2$ les autres) et je pense en porter plus souvent c'est tellement facile et rapide à poser et en ce moment je n'ai pas trop le temps donc c'est parfait. Donc voilà je n'ai pas été sage du tout, et je vais arrêter de dire que je vais limiter mes achats de vernis, parce que j'en suis tout simplement incapable !
And finally I ordered 4 The Devil Wears Polish, They are beautiful but looking back at the photos on the website I expected better, but hey I'll see once on my nails what they look like! I also bought some full nail patchs, they were on sale ($1 the Essies, $2 the others) and I think I will wear nail patch more often it's so easy and quick to use l and right now I don't really have much time so it's perfect. So this is it I have not been good at all, and I'll stop saying that I'm going to limit my nail polish shopping, because I am simply unable to!