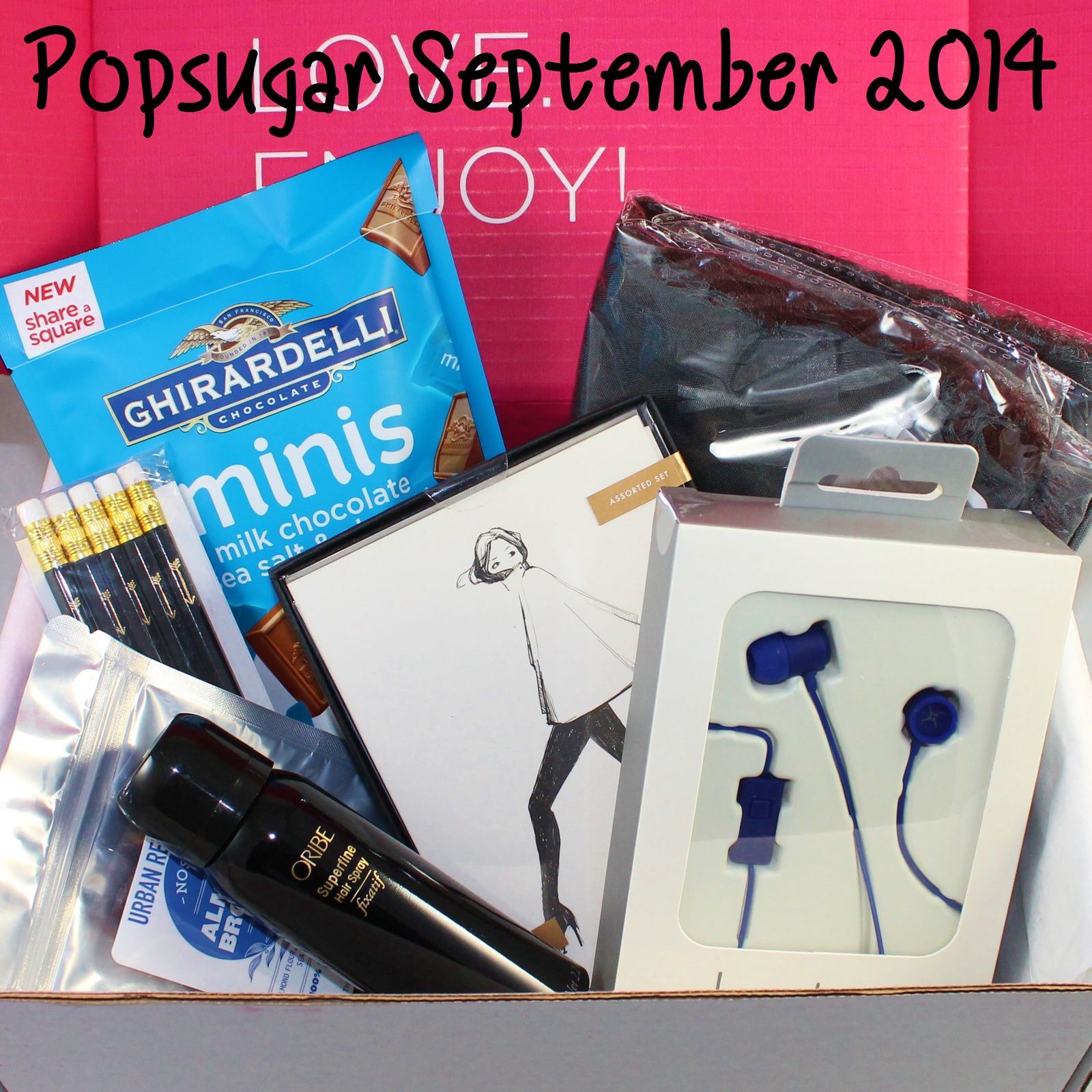 Aujourd'hui je vous montre ma Popsugar du mois de Septembre, et cela sera ma dernière. Non pas que je sois déçue de cette box ou quoi qu ce soit, c'est juste que je commence à me lasser un peu de toutes ces box (et j'ai fais le plein de produits de beauté et de maquillage pour plusieurs mois) et du coup je ne vais garder que Birchbox et Ipsy. Et cela me fera faire des économies. Pour revenir à ma popsugar, je dois quand même avouer que ce mois ci m'a un peu déçue...
Today I show you my PopSugar for September, and this will be my last. Not that I'm disappointed with that this box or anything else, it's just that I'm starting to get tired of all these boxes (and I have tons of beauty products and make-up for several months) I'll just keep Birchbox and Ipsy. And I will be saving money. To go back to my PopSugar, I still have to admit that this month I was a bit disappointed...
Je commence par la nourriture. Je ne suis en générale pas trop fan de recevoir de la nourriture mais Popsugar a toujours quelque chose de sympa mais ce brownie aux amandes était, bof bof. Je n'ai pas trop aimé mais je pense que cela dépend des gens, et pour un brownie gluten-free il n'était pas si mal. Les chocolats par contre étaient trop bons, j'ai partagé avec mes collègues au travail et nous avons vidé la paquet en moins de 2 jours (ces chocolats étaient un Special Extra).
I start with the food. I'm generally not a big fan of getting food in boxes but PopSugar always have something fun but that almond brownie was so, so. I did not really like it but I think it depends on people taste, and for a gluten-free brownie it was not so bad. The chocolates on the other hand were so good, I shared with my colleagues at work and we emptied the package within 2 days (these chocolates were a Special Extra).
Alors je ne suis pas du genre à écrire des cartes, je suis plutôt emails, et en plus je ne les trouve pas si jolies. Et pour continuer dans la même idée, je n'écris pas beaucoup mais encore moins avec des crayons à papiers, et là encore je ne les trouve pas si jolis non plus, donc concernant ces 2 objets c'est un gros fail pour moi !
So I'm not the kind of girl who writes cards, I'm more emails, plus I do not find them so pretty. And to continue with the same idea, I do not write much but even less with this type of pencils, and again I do not find them so pretty either, so for these two items is a big fail for me!
Bon je ne mets jamais de laque pour cheveux, et en plus elle n'est pas sans parfum donc je ne vais pas l'utiliser. Par contre les écouteurs je vais les utiliser, pour sur, mais je n'aime pas trop ni la couleur, ni le design.
Well I never use hairspray, plus it is not fragrance-free so I'm not going to use it. But the headphones I will use them for sure, but I do not like either the color or the design.
Bon voilà le seul objet de cette box dont je suis complètement fan, c'est cette écharpe. j'adore la couleur, j'adore la matière, et je suis une fille à écharpe car je suis très frileuse. Et il y avait aussi un autre Special Extra, une carte cadeau Nike de $20, je ne pense pas l'utiliser mais l'avantage d'une carte cadeau c'est que c'est que ça peut toujours faire plaisir à quelqu'un d'autre.
Well now the only item of this box that I'm completely crazy about, this is the scarf. I love the color, I love the material, and I am a girl which loves scarf because I'm very sensitive to cold. And there was also another Special Extra, a Nike gift card for $20, I do not think I will use it but the advantage of a gift card is that is that it can always make someone else happy.
I just signed up for the @POPSUGAR Must Have box. Order now and get $5 off your first month with code FBTAKE5!