Je suis vraiment excitée aujourd'hui de vous montrer ce que j'ai reçu dans la dernière Allure Beauty Box. Alors à chaque fois j'essaye de résister car avec mes problèmes d'allergies je sais que je ne pourrais pas utiliser entre un tiers et la moitié des produits, mais à chaque fois je craque car il y a toujours des tonnes de produits que je veux tester et cela coutêrait plus cher de les acheter individuellement que d'acheter la box. Donc oui voilà la Allure Beauty Box pour cet automne, et elle est super!
I'm really excited today to show you what I received in the last Allure Beauty Box. So every time I try to resist because with my allergy problems I know I will not use a third to half of the products, but everytime I am weak because there are always tons of products I want to try, and it would cost more to buy them individually than to buy the box. So yeah here is the Allure Beauty Box for this fall, and it is great!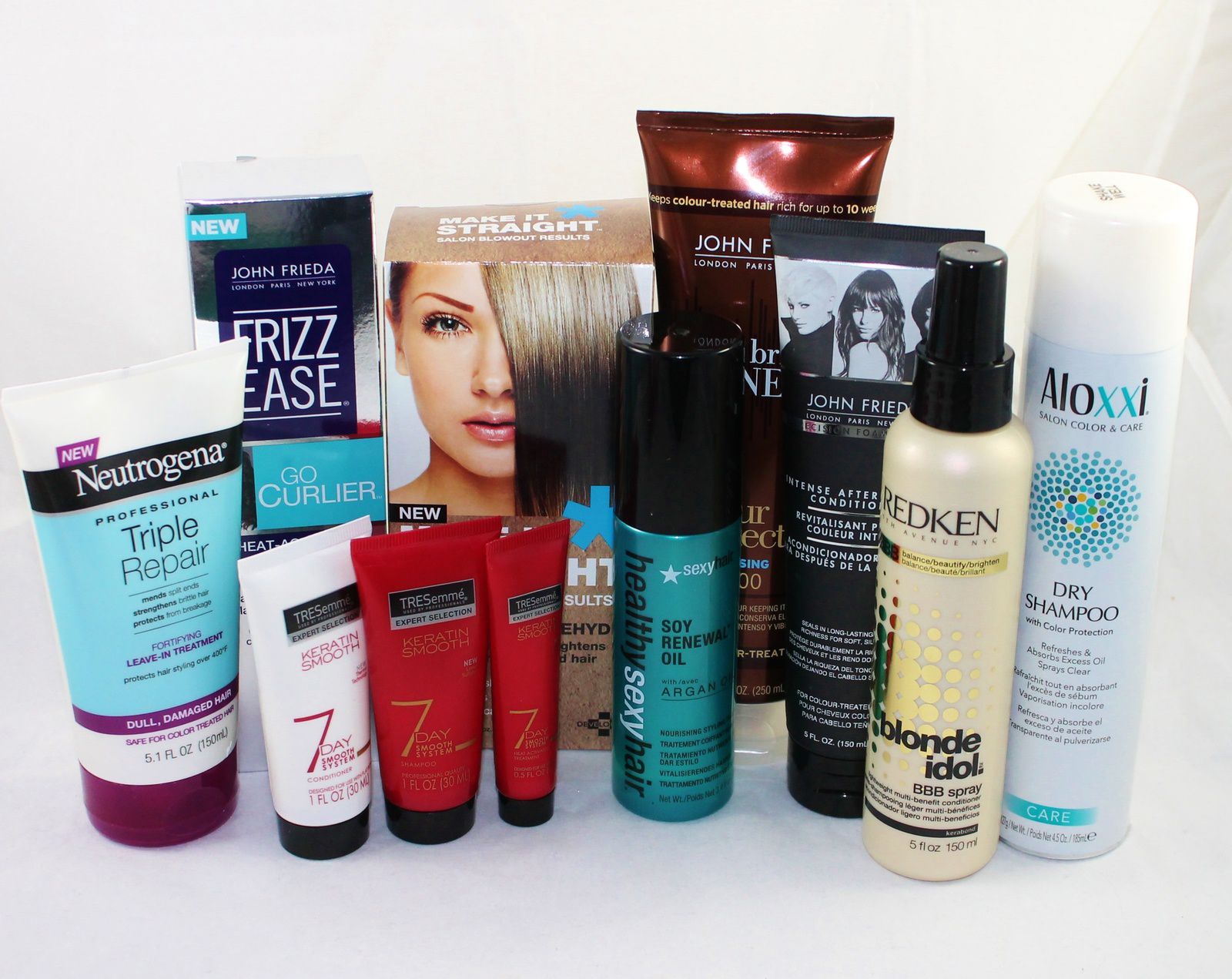 Neutrogena Triple Repair Fortifying Leave In Treatment, TRESemme Keratin Smooth 7 Day Smooth Control Starter Set, Healthy Sexy Hair Soy Renewal Oil Nourishing Styling Treatment, John Frieda Precision Foam Colour Intense After Colour Conditioner, Redken Blonde Idol BBB Spray, Aloxxi Dry Shampoo, John Frieda Brilliant Brunette Colour Protecting Shampoo, Make It Straight & John Frieda Frizz Ease Go Curlier Heat Activated Spray
Comme dans la box de cet été, la box d'automne regorge de produits pour les cheveux. Ça me ne déplaît pas au contraire mais entre les produits dont je n'ai aucune utilité (le shampoing pour cheveux bruns car je suis blonde; le traitement pour raidir les cheveux, j'ai déjà les cheveux raides; le shampoing sec car je n'en utilise jamais; ou le soin pour cheveux colorés car je n'ai pas les cheveux colorés) et ceux qui contiennent du parfum de synthèse (auquel je suis allergique) on a vite fait le tri. Je ne vais garder que le Healthy Sexy Hair Spray (je possède déjà un échantillon et je l'adore), le spray pour cheveux blonds et le spray Go Curlier de John Frieda (je viens juste de recevoir mon premier fer à friser, donc à tester). Ça semble peu sur le nombre de produits reçus mais pour moi c'est déjà beaucoup (je n'utilise pas beaucoup de produits pour les cheveux).
As the summer box, the autumn box full of hair products. It does not displease me but between the products for which I have no use (the shampoo for brown hair because I'm blonde, the treatment to straighten hair, I already have straight hair, the dry shampoo because I never use dry shampoo, or the care for colored hair because I do not have colored hair) and those that contain synthetic fragrance (which I am allergic to) it was a quick sorting. I will keep the Healthy Sexy Hair Spray (I already have a sample and I love it), the spray for blonde hair and the John Frieda Go Curlier (I just received my first curling iron, I need to try it). It seems lnot a lot compared to the number of products I received but for me that's a lot (I do not use a lot of hair care products).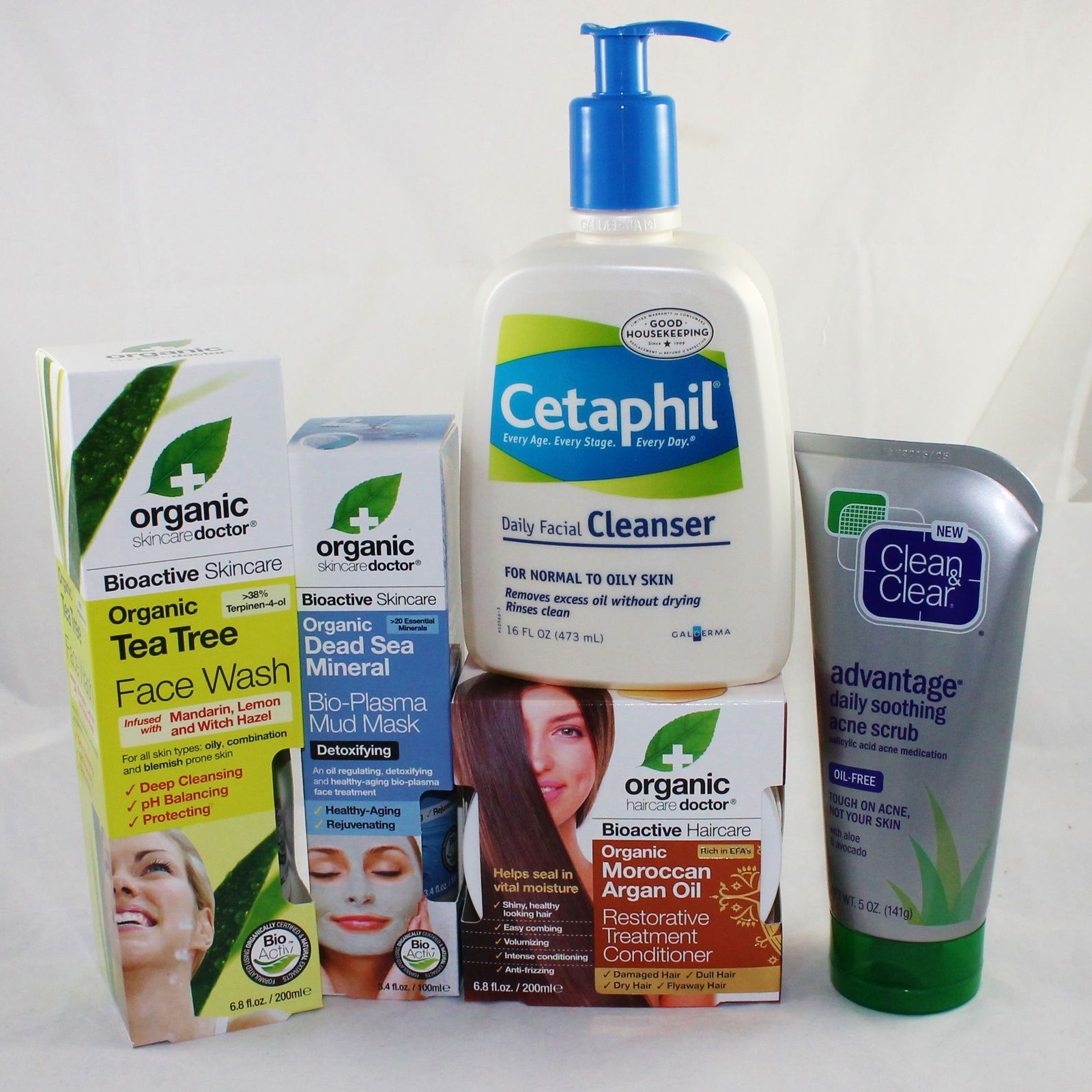 Organic Doctor Organic Tea Tree Face Wash, Organic Doctor Organic Moroccan Argan Oil Restorative Treatment Conditioner, Organic Doctor Organic Dead Sea Mineral Bio-Plasma Mud Mask, Cetaphil Daily Facial Cleanser & Clean & Clear Advantage Daily Soothing Acne Scrub
Dans cette box il y a avait une marque que je ne connaissais pas, Organic Doctor®, mais je suis super excitée à l'idée de tester ces produits car ils sont 100% organiques et donc sans parfum de synthèse ! Il y a un nettoyant pour le visage, un masque pour le visage et un masque pour les cheveux. Ma petite déception de cette box c'est le nettoyant pour le visage Cetaphil. Dans la liste des produits qui était censé être dans le box, le Cetaphil était le Gentle skin cleanser (qui est sans parfum, j'étais contente) mais au lieu de ça j'ai reçu le Daily facial cleanser (qui lui est parfumé), et que donc je ne vais pas garder ! Je ne vais pas non plus garder l'exfoliant anti-acné car il est parfumé également.
In this box there was a brand I did not know about, Organic Doctor®, but I'm super excited to try these products because they are 100% organic and therefore no synthetic fragrance! There is a facial cleanser, a face mask and a hair mask. My disappointment of this box is the Cetaphil facial cleanser. On the list of products that were supposed to be in the box, the Cetaphil was the Gentle skin cleanser (which is fragrance free, I was happy) but instead I got the Daily facial cleanser (which is scented) , and so I will not keep it! I'm not going to either keep the anti-acne scrub because it is also scented.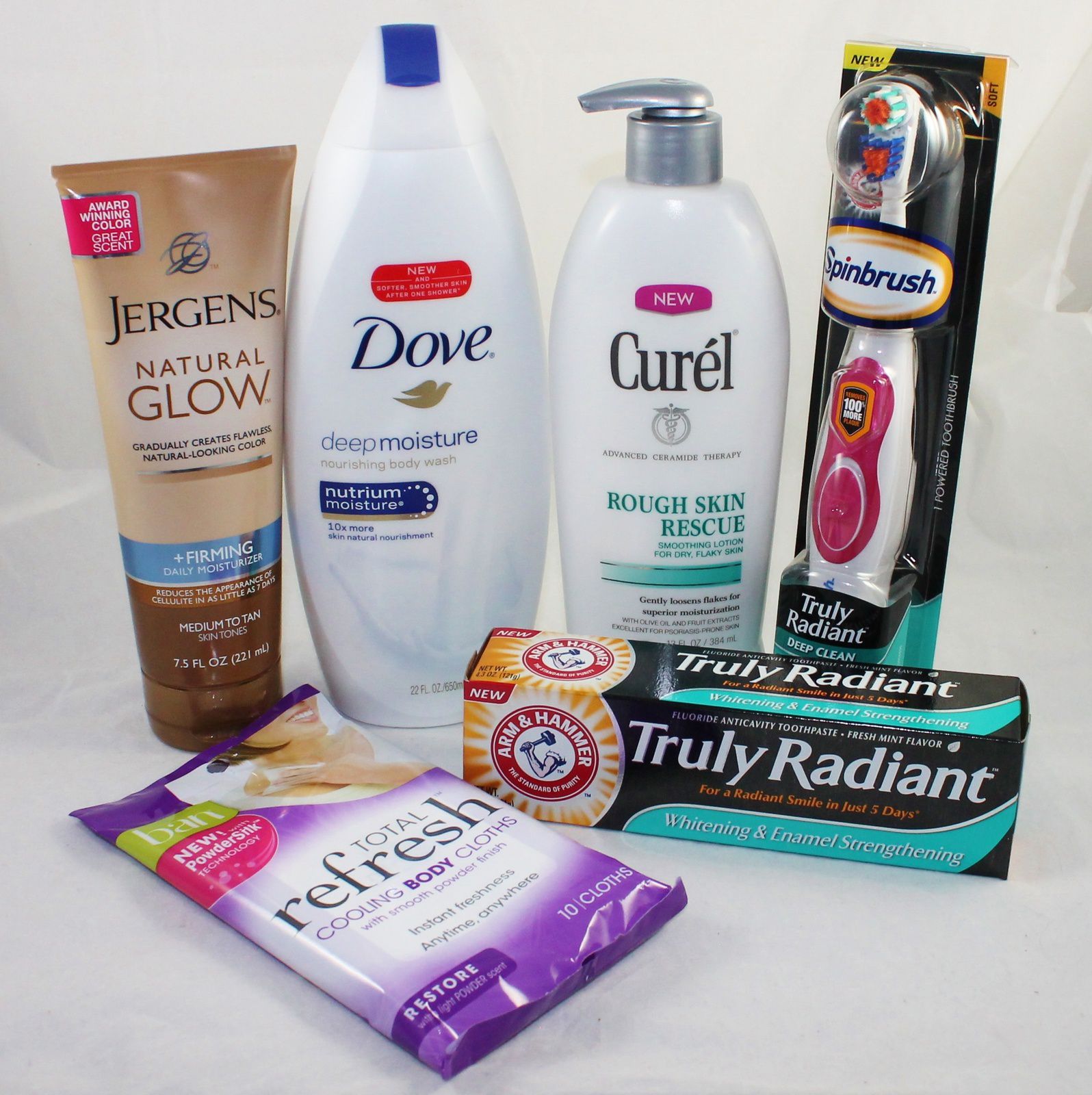 Jergens Natural Glow + Firming Daily Moisturizer, Dove Deep Moisture Nourishing Body Wash, Curel Rough Skin Rescue, Arm & Hammer Spin Brush Truly Radiant, Arm & Hammer Truly Radiant Toothpaste & BAN Total Refresh Cooling Body Wipes
Dans les produits pour le reste du corps je vais bien sur garder la brosse à dent à pile et le dentrifrice, mais aussi le lait corporel Curel (j'adore cette marque) et je vais essayer le lait hydratrant raffermissant Jergens (qui apparemment et aussi autobronzant progressif). Le gel douche dove et les lingettes Ban sont super parfumés donc je ne vais pas les utiliser.
In products for the rest of the body I will of course keep the spin toothbrush and toothpaste, but also the Curel body lotion (I love this brand) and I'll try the Jergens Natural Glow + Firming Daily Moisturizer (and apparently it gives a gradual self-tanning). The dove shower gel and Ban wipes are not fragrance free so I will not use them.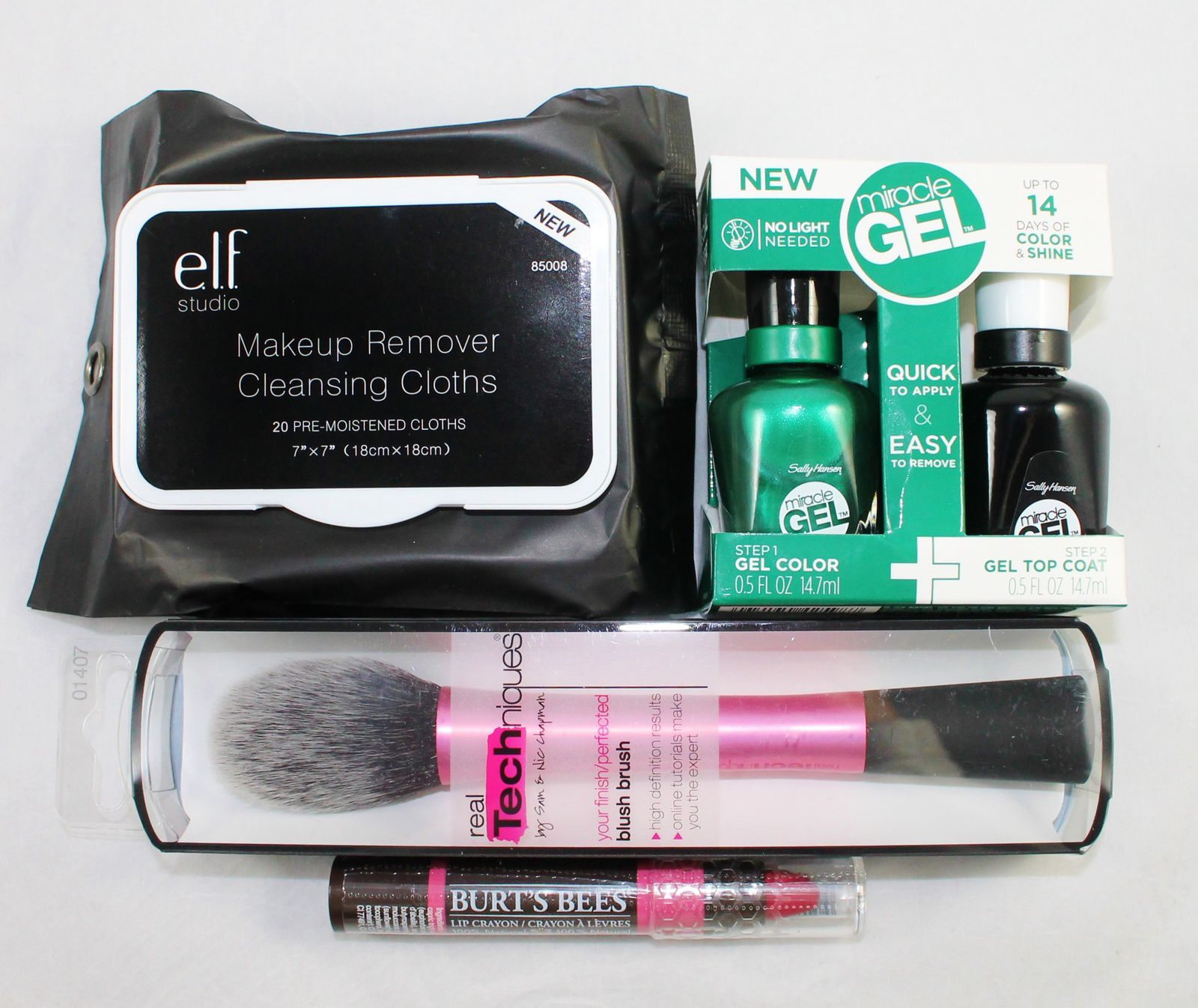 E.L.F. Studio Makeup Remover Cleansing Cloths, Sally Hansen Miracle Gel Polish Duo, Real Techniques Blush Brush & Burt's Bees 100% Natural Lip Crayon
Il n'y avait pas beaucoup de cosmétiques dans cette box, mais je suis quand même contente de ce que j'ai reçu. Les lingettes démaquillantes seront parfaites pour mon sac de voyage, j'ai entendu beaucoup de bien des vernis gel Sally Hansen, en particulier le top coat (mais par contre je n'aime pas trop la couleur du vernis), le pinceau pour blush a l'air sympa et le baume à lèvre teinté est 100% naturel et a une jolie couleur.
There was not a lot of cosmetics in that box, but I'm still happy with what I received. The cleansing wipes are perfect for my travel bag, I have heard many many great things about the Sally Hansen gel polish especially the top coat (but I do not like the color of the ppolish that much), the blush brush looks good and the tinted lip balm is 100% natural and has a nice color.
Q: What is the Allure Beauty Box? It's a collection of full-size beauty products-hair, nail, makeup, skin, and more-sold at a great value to our readers. A portion of the proceeds from each sale is
The fall box is sold out but stay tuned for more informations on the next boxes^^