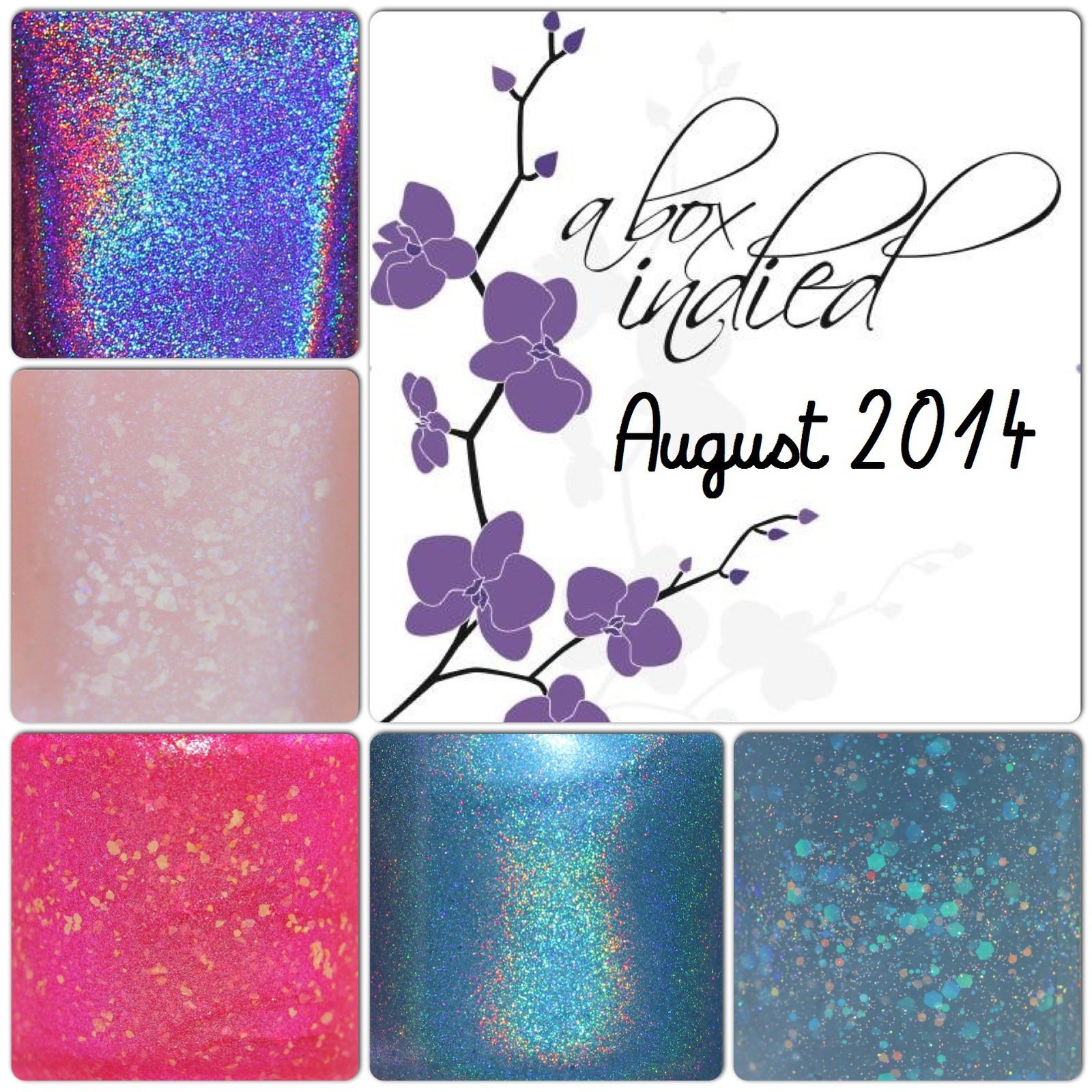 Je n'avais pas commandé la Box de Llarowe depuis quelques mois, mais la Box Indied du mois d'Août elle me faisait de l'oeil grave. J'ai eu la chance de pouvoir en acheter une (elle était sold out en 5 minutes) et je ne suis pas déçue du tout !!!
I had not ordered the Llarowe box this past few months, but the A Box Indied of August really caught my attention. I had the chance to be able to buy one (it was sold out in 5 minutes) and I'm not disappointed at all !!!
Et bien sur je commence par la petite bombe de cette box, le fabuleux Colors by Llarowe Toga! Toga! Toga!. C'est un violet super vif avec l'incroyable reflets holographiques super intense. Je savais que j'allais adorer ce vernis mais je dois avouer que c'est, je pense, le vernis le plus holographique que je n'ai jamais vu !
And of course I start with the little gem of this box, the fabulous Colors by Llarowe Toga! Toga! Toga! This is a super bright purple with incredible holographic reflections, super intense. I knew I would love this polish but I have to say this, I think, the most holographic polish I have ever seen!
Je savais également que j'allais adorer Crowstoes That Boy is a P.I.G. Pig, car c'est un joli rose pas du tout opaque mais parfait pour une manucure discrète et originale. En effet ce rose pâle a des reflets verts intenses et des micro flakies iridescentes. Je l'ai posé seul mais il peut être pose sur une couleur de base ou par dessus une french.
I also knew I would love Crowstoes That Boy is a P.I.G. Pig because it's a pretty pink, not really opaque but perfect for a discreet and original manicure. Indeed it is pale pink with intense green hues and iridescent micro flakies. I am wearing it alone but it can be layered over a base color or a french.
Un vernis rose fuchsia légèrement duochrome, avec des reflets verts et des flakies duochromes, Different Dimension 7 Years of College Down The Drain est juste magique. Il n'est pas très opaque mais il est tellement versatile qu'il peut se porter seul ou par dessus une couleur de base (je pense qu'il doit être superbe par dessus une base noire). J'adore !
A fuchsia pink varnish slightly duochrome with green highlights and duochromes flakies, Different Dimension 7 Years of College Down The Drain is just magical. It is not very opaque but it is so versatile it can be worn alone or over a base color (I think it must be great over a black base). I love it!
Je ne suis pas super fan de Glisten & Glow You've Been HAZED parce que je possède déjà pas mal de vernis très similaire. Ceci dit c'est un joli bleu holographique qui est opaque en deux couches et avec des reflets holographiques relativement intenses.
I'm not a big fan of Glisten & Glow You've Been Hazed because I already have a lot of very similar varnish. That said it's a pretty blue holographic opaque in two coats with relatively intense holographic reflections.
Girly Bits Food Fight! est un joli bleu gris avec des paillettes iridescentes et des légers reflets holographiques. Il est vraiment joli, je ne pensais pas aimer ce vernis mais une fois posé je dois admettre que je l'aime beaucoup !
Girly Bits Food Fight! is a pretty grayish blue with iridescent glitter and some holographic reflections. It is really nice, I did not think I will like this polish but once on my nails I have to admit I like it a lot!
Je suis contente d'avoir commandé cette box car tous les vernis sont beaux, avec de bonnes formules et de jolies couleurs. Je n'ai pas commandé la box de septembre car elle ne me disait rien, mais j'attends de voir les prochaines. J'aime bien le fait ce savoir ce qu'il y aura dans la box avant de la commander, contrairement à la Holograil ou la What's Indie Box.
I'm glad I ordered this box because all the polish are beautiful, with good formulas and nice colors. I did not order the September box because it did not like it that much, but I can't wait to see the future boxes. I like the fact that you can know which polish will be in the box before ordering, unlike the Holograil or What's Indie Box.