Je dois dire que j'étais très excitée à l'annonce du thème de la Holo Grail box de juillet, les jeux vidéos ! Je suis (enfin j'étais, je n'ai plus trop le temps) une adepte des jeux vidéos, et particulièrement Final Fantasy, alors quand j'ai vu les inspirations pour cette box, je n'ai pas hésite une seule seconde. Et j'ai eu raison les vernis sont magnifiques !
I must say I was very excited at the announcement of the Holo Grail box theme for July, video games! I am (well I was, I don't really have the time anymore) a huge fan of video games, particularly Final Fantasy, so when I saw the inspiration for this box, I did not hesitate for a second. And I was right the polish are beautiful!
Aly's Dream Polish (Final Fantasy) Yuna (2 coats, no base coat, no top coat)
Donc vous l'aurez compris, comme je le disais plus haut, Final Fantasy j'adore, et Yuna par Aly's Dream Polish est une petite merveille. C'est un magnifique violet holographiques avec des reflets roses très intenses. Il est parfait,tant par sa couleur que par sa formule.
So you understood, as I said above, I love Final Fantasy, and Yuna by Aly's Dream Polish is a marvel. It's a beautiful holographic purple with intense pink highlights. It is perfect, both in color and in formula.
Chaos & Crocodiles Bluebeary (2 coats, no base coat, no top coat)
Je ne connaissais pas Bluebeary, mais j'aime ce vernis de Chaos & Crocodiles. C'est un joli bleu turquoise holographique, très vif avec de légers reflets roses dorés (qui ne ressortent pas vraiment en photo). C'est la première fois que j'essaye un vernis de cette marque et la formule est excellente.
I did not know Bluebeary, but I love this polish by Chaos & Crocodiles. This is a pretty aqua turquoise blue holographic, really bright and with slighty pink gold shimmer (which does not really stand out in picture). This is the first time I try a polish from this brand and the formula is excellent.
Too Fancy Lacquer Mario's Attack (2 coats, no base coat, no top coat)
Too Fancy Lacquer Mario's Attack est un vernis corail holographique, un peu rouge et rose à la fois, avec des micro flakies roses. Il est vraiment superbe, coloré mais pas trop flashy. C'est une jolie couleur et il s'applique comme du beurre c'est un vrai plaisir !
Too Fancy Lacquer Mario's Attack is a holographic coral, red and pink at the same time, with pink micro flakies. It is really beautiful, colorful but not too bright. It's a nice color and it applies like butter is a real pleasure!
Philly Loves Lacquer Hero's Shade (3 coats, no base coat, no top coat)
Et enfin Philly Loves Lacquer Hero's Shade, un vert émeraude foncé, subtilement holographique et avec également quelques reflets dorés. Ce n'est pas le genre de couleur que j'aime mais je trouve que celui-ci est sympa, il a de la profondeur (je ne sais pas comment dire autrement). Par contre comme tous les Philly Loves Lacquer que j'ai pu essayer, il a fallut 3 couches pour obtenir une bonne opacité.
Finally Philly Loves Lacquer Hero's Shade, a dark emerald green, subtly holographic and with also some golden highlights. This is not the kind of color that I like but I think this one is nice, it has depth (I do not know how to say otherwise). But like all Philly Loves Lacquer I've tried, it took three coats to get good opacity.
La Holo Grail Box contient 4 vernis holographiques exclusifs. Elle est vendue par Dazzled, elle est disponible à l'achat (pré-commande) chaque mois pendant 2 semaines (du 1er au 15 du mois); pour plus d'informations je vous ai mis le lien ci-dessous.
The Grail Holo Box contains 4 exclusive Holographic polish. It is sold by Dazzled, it is available for purchase (pre-order) each month for 2 weeks (from the 1st to the 15th); for more information I've put the link below.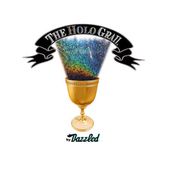 The Holo Grail Box - September
Pre-order for September's The Holo Grail Box. Theme of September: Waltz of the flowers 4 exclusive holographic polishes made by: Aly's Dream Polish Emily de Molly NailNation3000 Too Fancy Lacquer ...