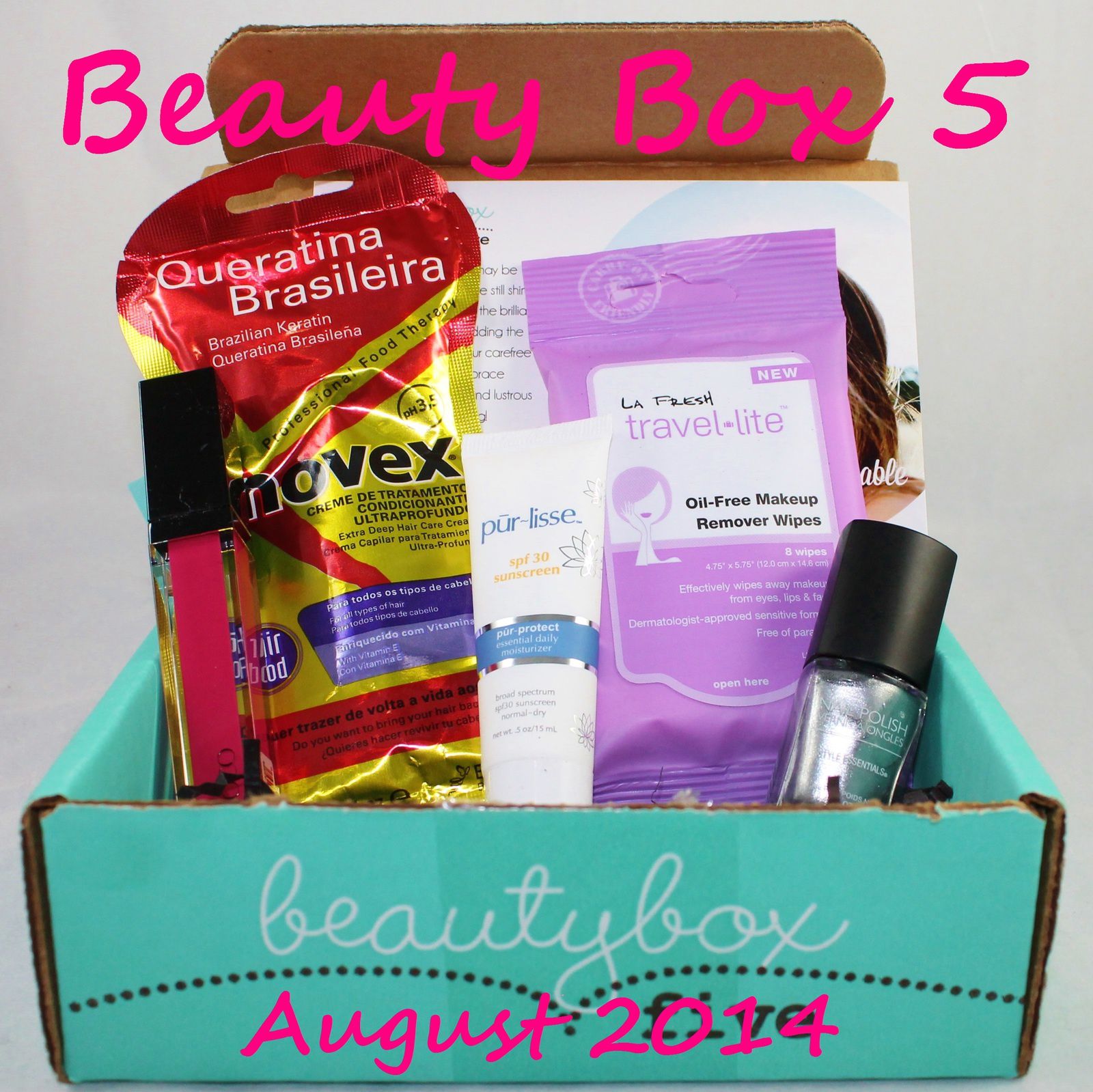 C'est la deuxième fois que je reçois la Beauty Box 5, mon premier mois était gratuit, et pour celui-ci j'ai payé $12. Ma box contient une crème de jour SPF 30 Purlisse (Purlisse est dans toutes les box récemment, j'ai un full size et 2 échantillons, et j'aime bien cette crème), des lingettes démaquillantes pour peau sensibles, un gloss rose, un masque nourrissant pour cheveux et un vernis à ongle. Comme je disais j'aime bien la crème Purlisse, le vernis est argenté, il est joli mais je ne l'ai pas encore essayé, le gloss je l'ai essayé et j'aime beaucoup la couleur et la texture, le masque pour cheveux il a l'air bien mais je ne l'ai pas encore testé, et enfin les lingettes démaquillantes soit disant pour peaux sensibles contiennent du parfum dans c'est la seule chose dans cette box que je ne vais pas utiliser. Globalement c'est une bonne box, mais je ne suis pas super convaincue par la sélection de produits (je sais je devient difficile), je vais donc surement résilier cet abonnement.
This is the second time I get the Beauty Box 5, my first month was free, and for this one I paid $12. My box contains a SPF 30 Purlisse moisturizer (Purlisse is in every box recently, I have a full size and 2 samples already, and I like this cream), cleansing wipes for sensitive skin, a pink gloss, a nourishing hair mask and a nail polish. Like I said I like the Purlisse cream, the polish is silver, it is pretty but I have not tried it yet, the gloss I tried it and I love both the color and texture, the mask hair looks good but I have not yet tested, and finally the cleansing wipes for sensitive skin contain fragrance in it is the only thing in the box that I will not use. Overall it is a good box, but I'm not convinced by the selection of products (Yeah I know I am becoming picky), so I will probably cancel this subscription.
Beauty Box 5 is a monthly subscription service that delivers a package of sample beauty products to your door every month.