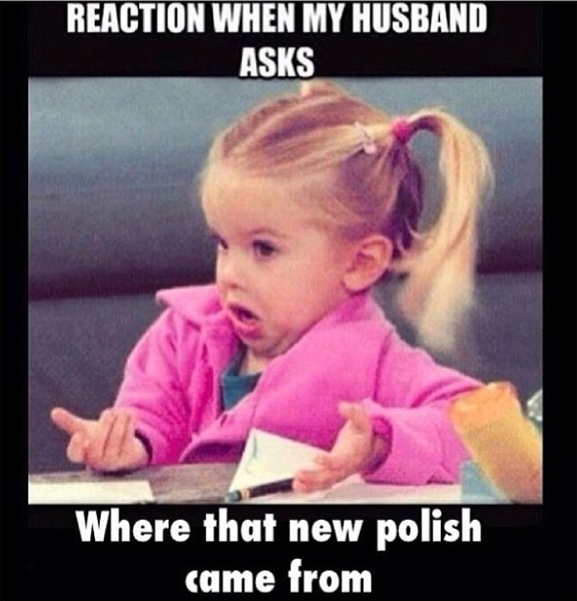 Alors pour le coup ce mois-ci j'ai étais relativement sage (enfin je suppose tout le monde n'a pas la même définition de "relativement") parce qu'à part quelques Lilypad (12) et mes 3 box mensuelles (Holograil, WIB et A Box indied) je n'ai pas fais tant d'achats que ça. Bon il faut dire que j'ai été super occupée ce mois-ci (oui c'est étonnant j'ai eu un mois d'Août chargé au boulot) et j'ai pris quelques jours de congés (seulement 2 mais c'est déjà ça), donc je n'ai pas trop eu le temps de faire du shopping. Bon je vous montre il y a quand même de quoi faire un article^^
So for once this month I was relatively good (well I guess not everyone has my definition of "relatively") because aside some Lilypad (12) and my 3 monthly box (Holograil, WIB and A Box Indied) I did not make so many purchase. Well I must say I've been super busy this month (yes it's amazing I had an busy month at work) and I took a few days off (only 2 but still), so I did not have much time to go shopping. Well I will show you anyway there is still plenty to write an article^^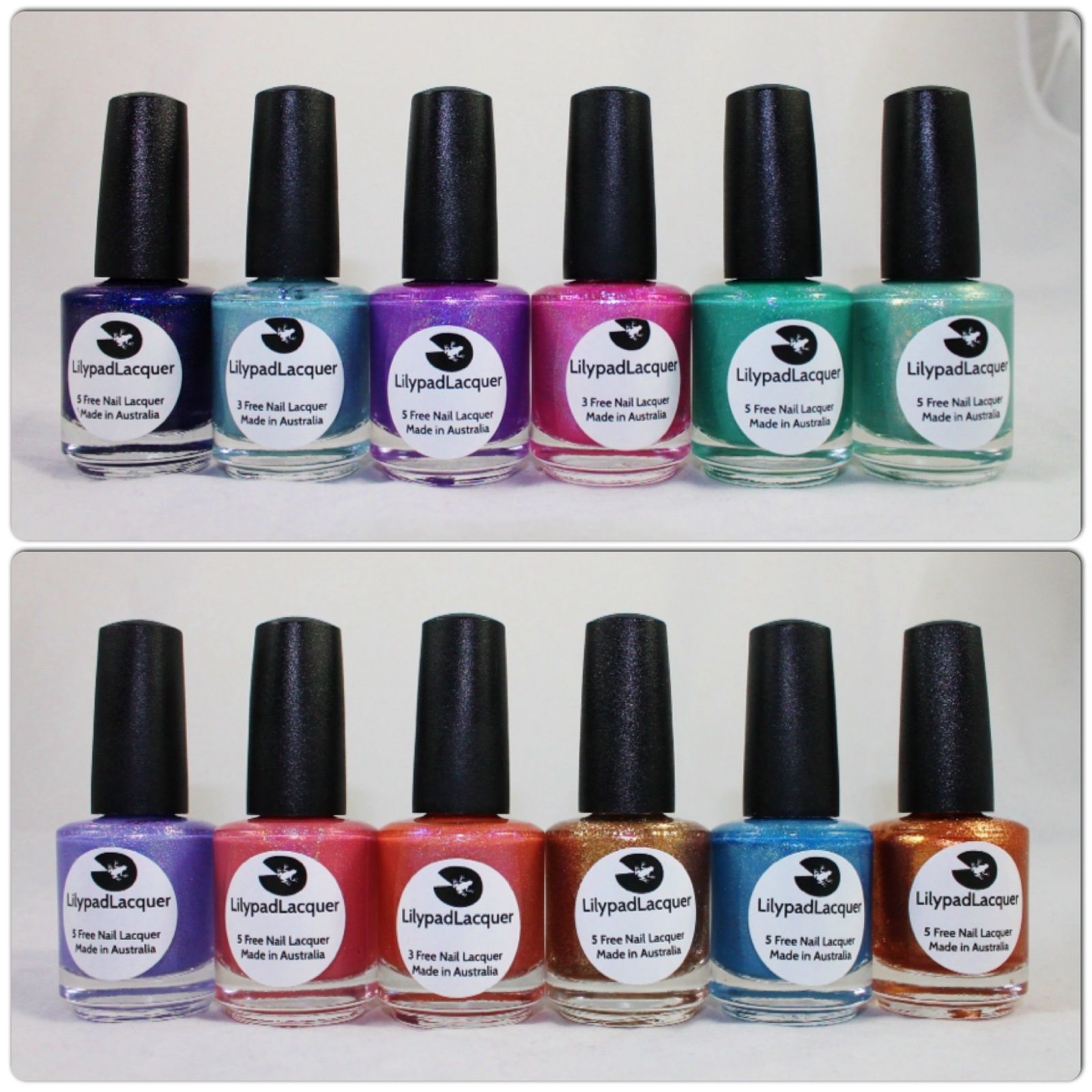 Lilypad Lacquer Almost Famous, Luscious Larinar, No drama Quens Here, Pink Sugar, Neon Oceans Lights, Tealing me Soflty, Passion, Peachy, I'm Feeeling Peachy, Mixed Metals, Sherbet & Copper Sparks
Et oui je continue a compléter ma collection de Lilypad, je suis fan, mais ce mois-ci j'ai écumé les blog sale (j'ai enfin trouvé Almost Famous) et j'ai reçu pas mal de commandes groupées de vernis exclusifs comme le Neon Ocean Lights et le Tealing me Softly. Je commence à en avoir pas mal mais je ne compte pas m'arrêter là, je deviens de plus en plus accro à cette marque tellement ces vernis sont magnifiques !
And so I continue to complete my Lilypad collection, I'm a fan, but this month I scoured storenvy and blog sales (I finally found Almost Famous) and I received a lot of group orders of exclusive polish like Neon Ocean Lights and Tealing me Softly. I am starting to have a lot but I do not intend to stop there, I become more and more addicted to this brand because these polishes are gorgeous!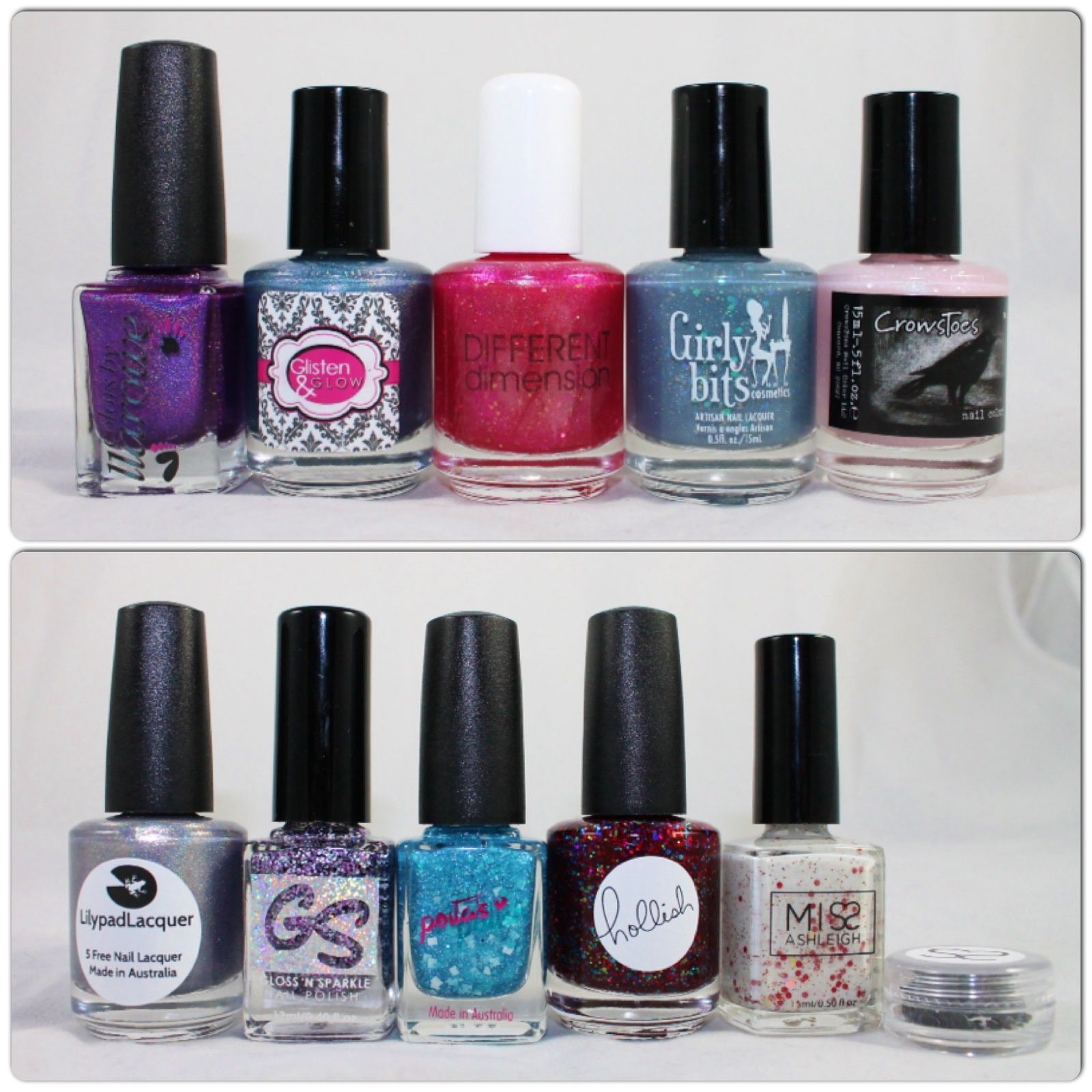 A Box Indied August 2014 CBL Toga! Toga! Toga!, Glisten & Glow You've Been Hazed!, Different Dimension 7 Years of College Down the Drain, Girly Bits Food Fight & Crowstoes That Boy is a P.I.G. Pig. What's Indie Box August 2014 Lilypad Lacquer Tomcat Tales, Gloss'n Sparkle Beetle Juice, Peita's Polish Smurfs Up!, Hollish Mosters Mashed & Miss Ashleigh Schmickey.
Je vous le disais plus haut, ce mois-ci j'ai reçu 3 box dont la Box Indied et la What's Indie Box (j'ai aussi reçu la Holograil mais celle du mois de juillet). J'attends toujours ma Holograil du mois d'Août mais elle devrait arriver bientôt ! Je vais swatcher ces vernis très bientôt d'ailleurs (non en fait ils sont déjà swatcher mais il faut que je trie les photos et que j'écrive les articles).
As I said earlier, this month I received 3 boxes including the A Box Indied and the What's Indie Box (I also received my Holograil but for the month of July). I am still waiting for my Holograil of August and it should arrive soon! I will swatch these polishes very soon (in fact they are already swatched but I have to sort the pictures and write the articles).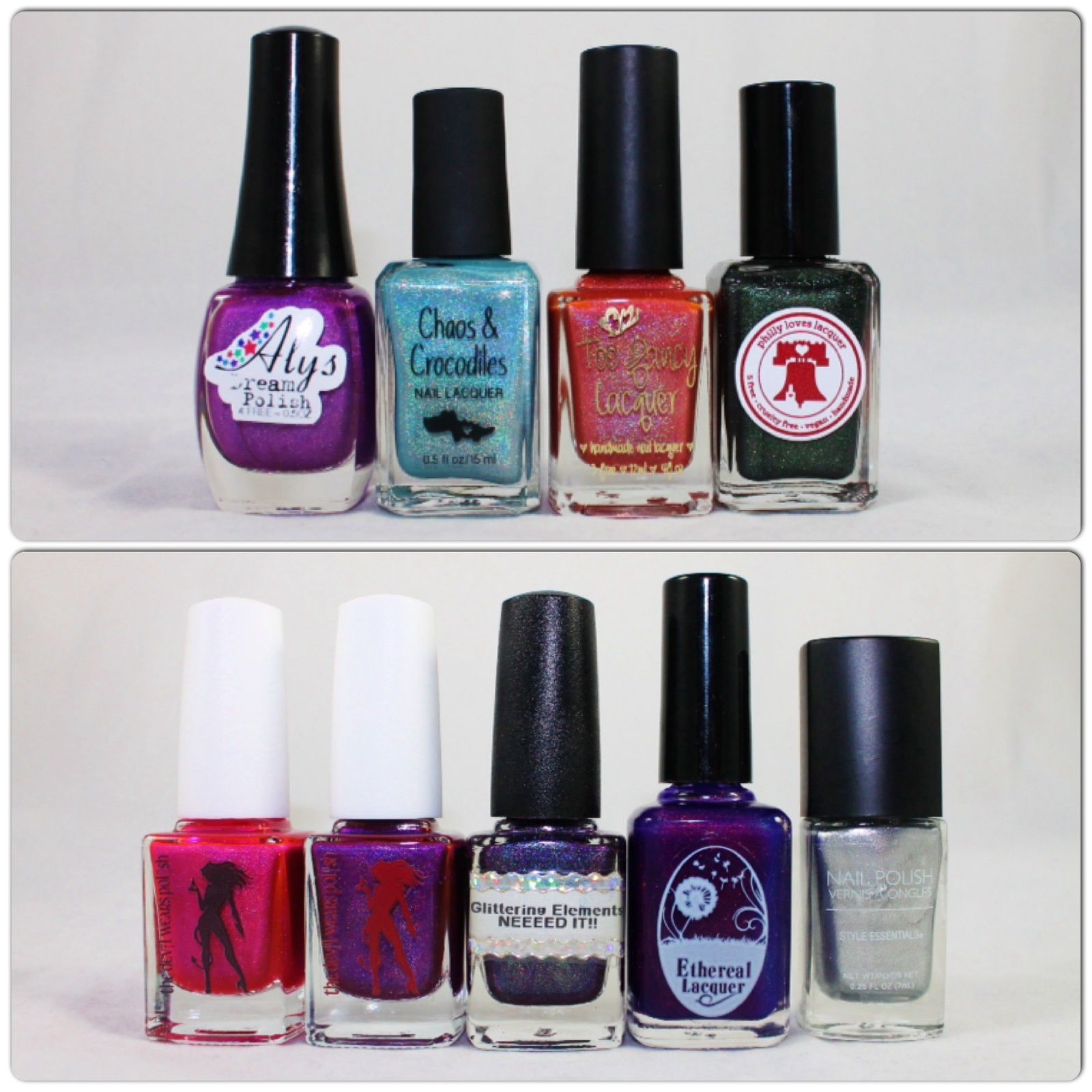 Dazzled Holograil Box Aly's Dream Polish Yuna, Chaos & Crocodiles Blue beary, Too Fancy Lacquer Mario's Attack, Philly Loves Lacquer Hero's Shade. The Devil Wears Polish Pink Panther & Dang! Glittering Elements Neeeed it!! Ethereal Lacquer Worlds Apart & Nail Polish Style Essentials Silver
Donc vous le savez (parce que j'ai déjà swatcher ces vernis), j'ai aussi reçu la Holograil du mois de Juillet. Je ne sais pas pourquoi mais cette box arrive toujours beaucoup plus tard que les autres, des fois c'est un frustrant. J'ai aussi acheter quelques vernis sur des blog sales, des The Devil Wears Polish (des prototypes), Glittering Elements, Ethereal Lacquer, le le vernis argenté je l'ai reçu dans ma BB5 (je ne l'ai pas encore testé mais il a l'air bien sympa et bien métallique).
So you already know (because I've swatch these polish already), I also received my Holograil of July. I do not know why but this box always takes much more time than the others, sometimes it's frustrating. I also bought some varnish on blog sales, from The Devil Wears Polish (prototypes), Glittering Elements, Ethereal Lacquer, and the silver polish I received it in my BB5 (I have not tried it yet but it looks very nice and very metallic).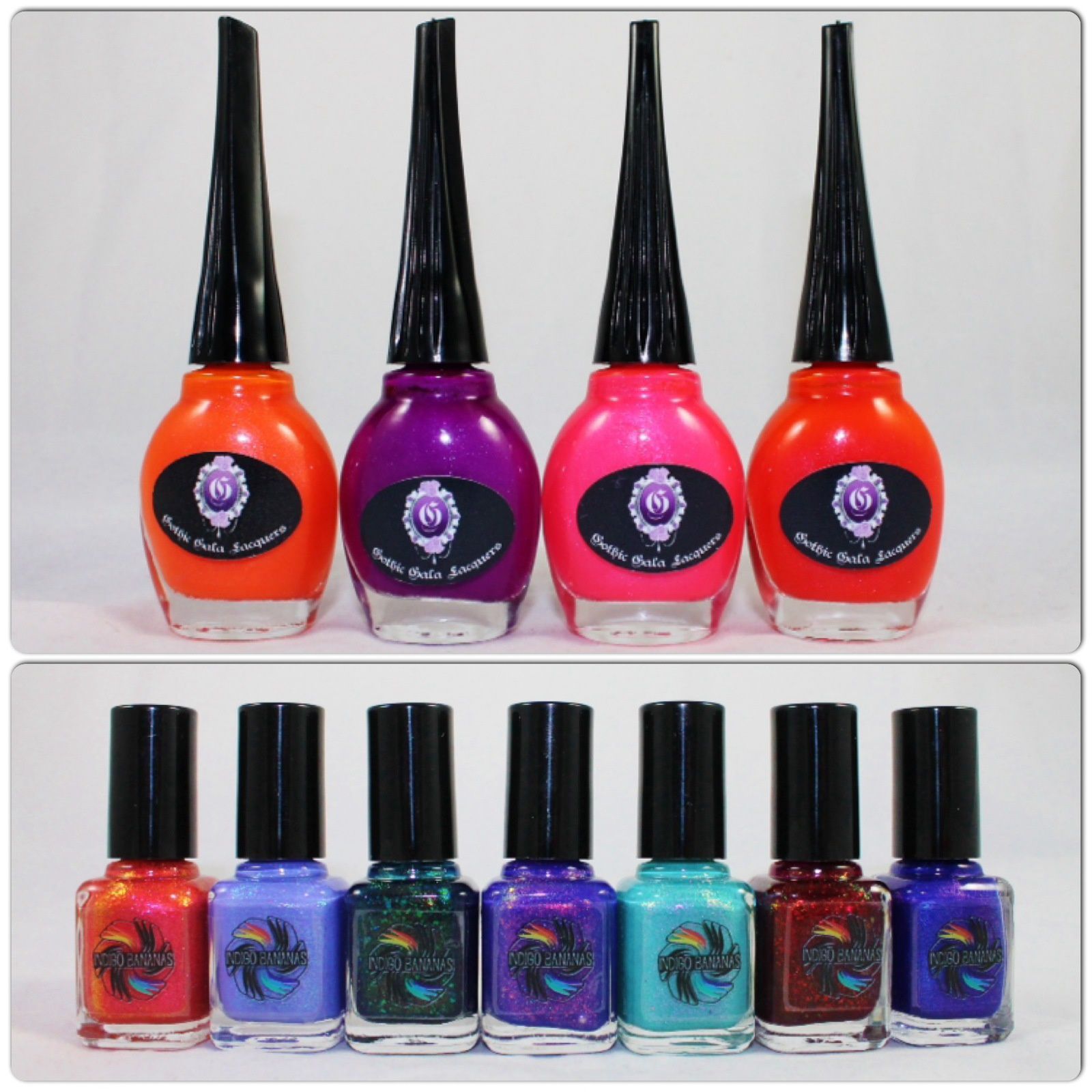 Gothis Gala Lacquers Orange Crush, Face Melter, Blusing Bodies & Wasted Youth. Indigo Bananas Fiery the Angels Fell, Electric Unicorns, Acid Ocean, Hole in the Sky, Immortal Game, Reign & Halcyon.
Donc comme je disais pas énormément d'achats ce mois-ci, j'ai commandé chez Gothic Gala lacquers (j'adore les bouteilles et ce sont des vernis phosphorescents) et Indigo Bananas (j'adore ces minis bouteilles et les nouvelles couleurs sont top, le seule truc un peu énervant avec Indigo Bananas c'est que les délais de livraison sont trèèèèèès long !)
So like I said not much shopping this month, I ordered from Gothic Gala lacquers (I love the bottles and they glow in the dark) and Indigo Bananas (I love these mini bottles and the new colors are awesome, the only thing upsetting with Indigo Bananas is that delivery times are reallyyyy long!)
Sinful Colors Matte About Blue & Real Teal. Cirque Colors Midsummer Night, Dear Dahlia & Thicker Than Water. Cult Nails Tempest, Nevermore & Wax That Top Coat. Kiss Nails Patchs.
Et pour finir j'ai pris 2 Sinful Colors de la nouvelle collection Silk (ce sont des vernis mattes) au Rite Aid (avec aussi des patchs Kiss Nails qui étaient en solde), j'ai bien sur craqué sur la dernière collection Cirque Colors Kontiki (ils sont trop beaux) et j'ai profité des soldes chez Cult Nails pour prendre leur vernis blanc et noir (qui sont réputé pour être opaque en une seule couche) et le top coat effet cire. C'est vrai que cela fait beaucoup de vernis mais comparé à d'habitude j'ai vraiment été sage !
And finally I took 2 Sinful Colors of the new Silk collection (they are matte) at Rite Aid (with also some Kiss Nails patches that were on sale), I of course fell for the new Cirque Colors collection Kontiki (they are so pretty) and I took advantage of the sales at Cult Nails to take their black and white lacquers (which are known to be opaque in a single layer) and the top coat with a wax effect. It's true that it's a lot of polish but compared to usual I was really good!