Comme d'habitude ma HoloGrail Box du mois de Juin est arrivée un peu tard (je n'ai pas encore reçu non plus celle de Juilllet), et j'ai été pas mal occupée du coup je n'ais pas eu le temps de poser ces petites merveilles ! Mieux vaut tard que j'amais, voici les vernis de la Box Bon Voyage !
As usual my june HoloGrail Box arrived a little late (I have not yet received the july one), and I've been pretty busy I did not have time to swatch these little wonders! Better late than never, here are the polish of the Bon Voyage Box!
Philly Loves Lacquer Sunset Down the Shore (3 coats, no base coat, no top coat)
Alors je vais commencer par celui que j'aime le moins, Philly Loves Lacquer Sunset Down the Shore. Si je ne l'aime pas trop ce n'est pas à cause de la couleur, parce que c'est un magnifique orange corail subtilement holographique. Non si je ne l'aime pas trop c'est parce qu'il n'est pas vraiment opaque. Sur les photos je porte 3 couches, et vous pouvez encore légèrement voir le bord libre de mes ongles. Mais à part ça j'adore la couleur elle est juste splendide !
So I'll start with the one I like least Philly Loves Lacquer Sunset Down the Shore. If I do not like it is not because of the color, because it is a beautiful orange coral subtly holographic. Not if I do not like it is because it is not really opaque. In the pictures I wear 3 coats, and you can still slightly see the free edge of my nails. But other than that I love the color is just gorgeous!
Lilypad Lacquer Island Escape (2 coats, no base coat, no top coat)
Après voici celui que j'aime le plus, et c'est le Lilypad Lacquer Island Escape. Je suis toujours bluffée par l'imagination de Nicole et aussi par la qualité de ces vernis, et des couleurs toujours plus belles les unes que les autres! Island Escape est un bleu roi holographique, avec des reflets holographiques turquoises, et des flakies multichromes (roses, violettes et dorés). C'est un mélange incroyable, une explosion de reflets et de couleurs, juste incroyable !
Here after the one I love the most, and this is the Lilypad Lacquer Island Escape. I am always blown away by the imagination of Nicole and also by the quality of her polish, and always beautiful colors! Island Escape is a holographic royal blue, with turquoise holographic reflections, and multichrome flakies (pink, purple and gold). This is an incredible mixture, an explosion of hues and colors, just amazing!
Nail Nation 3000 Spiritual Holo (2 coats, no base coat, no top coat)
Nail Nation 3000 Spiritual Holo est également une petite merveille. A première vue, dans la bouteille, c'est juste un bleu foncé holographique, avec un côté un peu gris. Mais une fois sur les ongles la couleur devient vivante, magnifique, non seulement c'est il est bleu, holograpique, mais il a aussi des reflets verts, turquoises, et sur certaines photos on dirait presque qu'il est également duochrome ! C'est le genre de vernis qu'il faut posé avant de décidé si on l'aime ou pas !
Nail Nation 3000 Spiritual Holo is also a marvel. At first glance, in the bottle it is just a holographic dark blue polish, with a dusty gray side. But once on the nail the color becomes alive, beautiful, not only is it blue, holograpic, but it also has hints of green, turquoise, and some pictures it almost looks like it is also duochrome! This is the kind of polish must wear before deciding whether you like it or not!
Liquid Sky Lacquer Sun Kissed in San Tropez (2 coats, no base coat, no top coat)
Liquid Sky Lacquer Sun Kissed in San Tropez est un vernis multichrome et holographique. La couleur dominante est un beige caramel aux reflets bleus argentés holographiques. Il est également multichromes avec des reflets bleus, roses et oranges. C'est un vernis vraiment original et magnifique ! Ce mois-ci j'aime vraiment ma HoloGrail Box, les vernis sont tous beaux (malgré un soucis d'opacité pour le Philly) et j'ai vraiment hâte de vois ma box de juillet (qui j'espère devrait arriver bientôt).
Lacquer Liquid Sky Sun Kissed in San Tropez is a holographic multichrome polish. The dominant color is a caramel beige with blue silvery holographic reflections. It is also multichrome with blue, pink and orange hues. This is a truly original and beautiful polish! This month I really love my HoloGrail Box, the polish are all beautiful (despite a concern withopacity for the Philly) and I can not wait to see my july box (which hopefully should arrive soon).
La Holo Grail Box contient 4 vernis holographiques exclusifs. Elle est vendue par Dazzled, elle est disponible à l'achat (pré-commande) chaque mois pendant 2 semaines (du 1er au 15 du mois); pour plus d'informations je vous ai mis le lien ci-dessous.
The Grail Holo Box contains 4 exclusive Holographic polish. It is sold by Dazzled, it is available for purchase (pre-order) each month for 2 weeks (from the 1st to the 15th); for more information I've put the link below.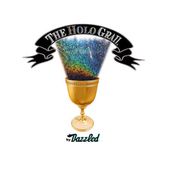 Pre-order for August's The Holo Grail Box. Theme of August: Sea Wonders 4 exclusive holographic polishes made by:Foxy Paws PolishLilypad LacquerLiterary LacquersToo Fancy Lacquer *Pre-order will be