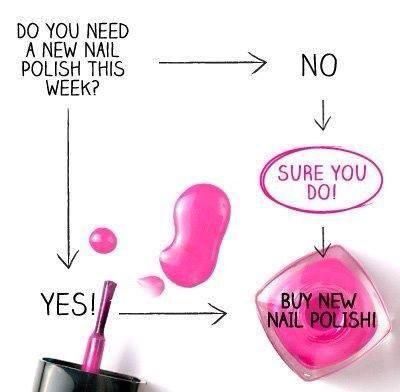 Tous les mois c'est la même histoire, non je n'ai pas besoin de nouveaux vernis mais je finis toujours par exploser mon budget d'achat de vernis ! C'est plus fort que moi il y a tellement de nouveauté, de vernis magnifiques et de marques Indies supers... à chaque fois je craque. Vous l'aurez compris, encore beaucoup de nouveaux précieux ce mois-ci, mes Helmers débordent, je n'ai plus de place mais je suis heureuse^^
Every month it's the same story, no I did not need new polish but I always end up buying a lot and blow my budget! It is stronger than me there is so much new, beautiful varnish and great Indie brands... every time I cave. You understood, a lot of new pretties this month, my Helmers overflowing, I don't have anymore space but I'm happy^^
Lilypad Lacquer Young & Beautiful, Glimmering Lake, Lilac Lovely, Parma Violet, Luminous Lily, Ravishing Rose, Lost in Paradise & Wink of Pink. Jindie Nails To-Teally Aussome, Flowers in the Attic, Purplexed, The Skies in my Dreams, Patience is a Virtue, Just Say Glow, Mr President & Dollish Polish Ms Monroe.
Vous le savez, ce n'est plus un secret, mes marques Indies préférées sont Jindie Nails et Lilypad Lacquer. J'ai donc ce mois-ci acheté pas mal de Lilypad Exclusifs (Dazzled, Beauty So Fly...) et j'ai également reçu ma dernière commande Jindie Nails avec plein de nouveauté que Jen m'a envoyé pour review !
You already know, this is no longer a secret, my favorite Indie brands are Jindie Nails and Lilypad Lacquer. So this month I bought quite a few Lilypad Exclusive (Dazzled, Beauty So Fly ...) and I also received my last order from Jindie Nails with lots of new pretties Jen sent me for review!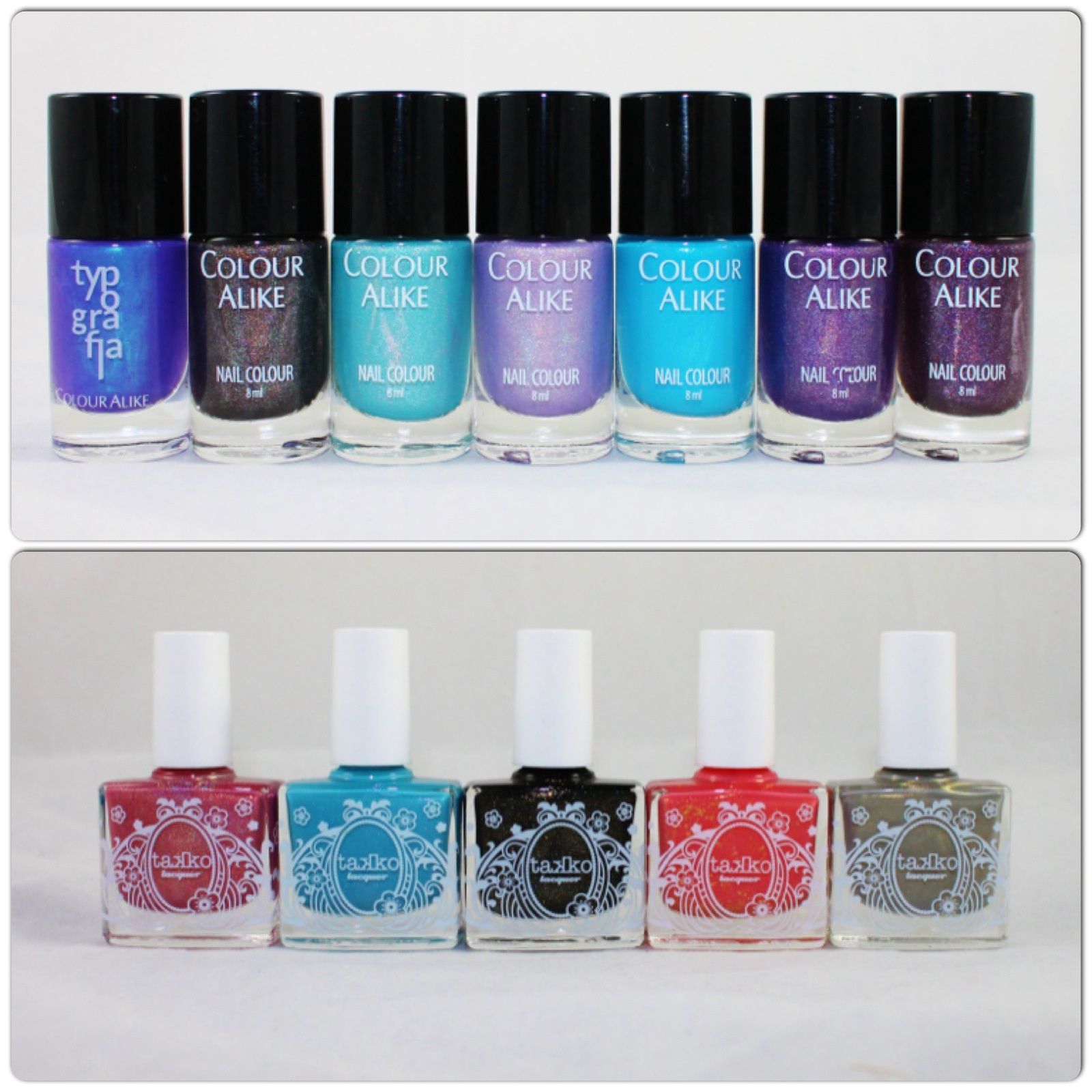 Colour Alike Typografia J, 500, 512, 511, 456, 497, 502. Takko Lacquer Babycakes, Blue Flamingo MIA, Aphrodisiac, Electric Apple NYC, Créateur.
J'adore également la marque polonaise Colour Alike. C'est vernis sont magiques, ils sont très bon marché (je dirais même plus ils sont a un prix ridiculement bas), et la marque maintenant utilise paypal donc pour commander c'est bien plus simple qu'avant ! (avant il fallait faire un virement bancaire pour commander). J'ai également eu la chance de mettre la main sur les nouveaux Takkitos lors de la restock chez Llarowe, ça n'a pas été facile mais j'ai réussi je suis trop contente ils sont magnifiques !
I also love the Polish brand Colour Alike. Their varnishes are magical, they are very cheap (I would even say they are a ridiculously low price), and the brand is now using paypal for orders so it is easier than ever! (before you needed to make a bank transfer to order). I also had the chance to get my hands on the new Takkitos from last llarowe restock, it was not easy but I managed to get them I'm so happy they are gorgeous!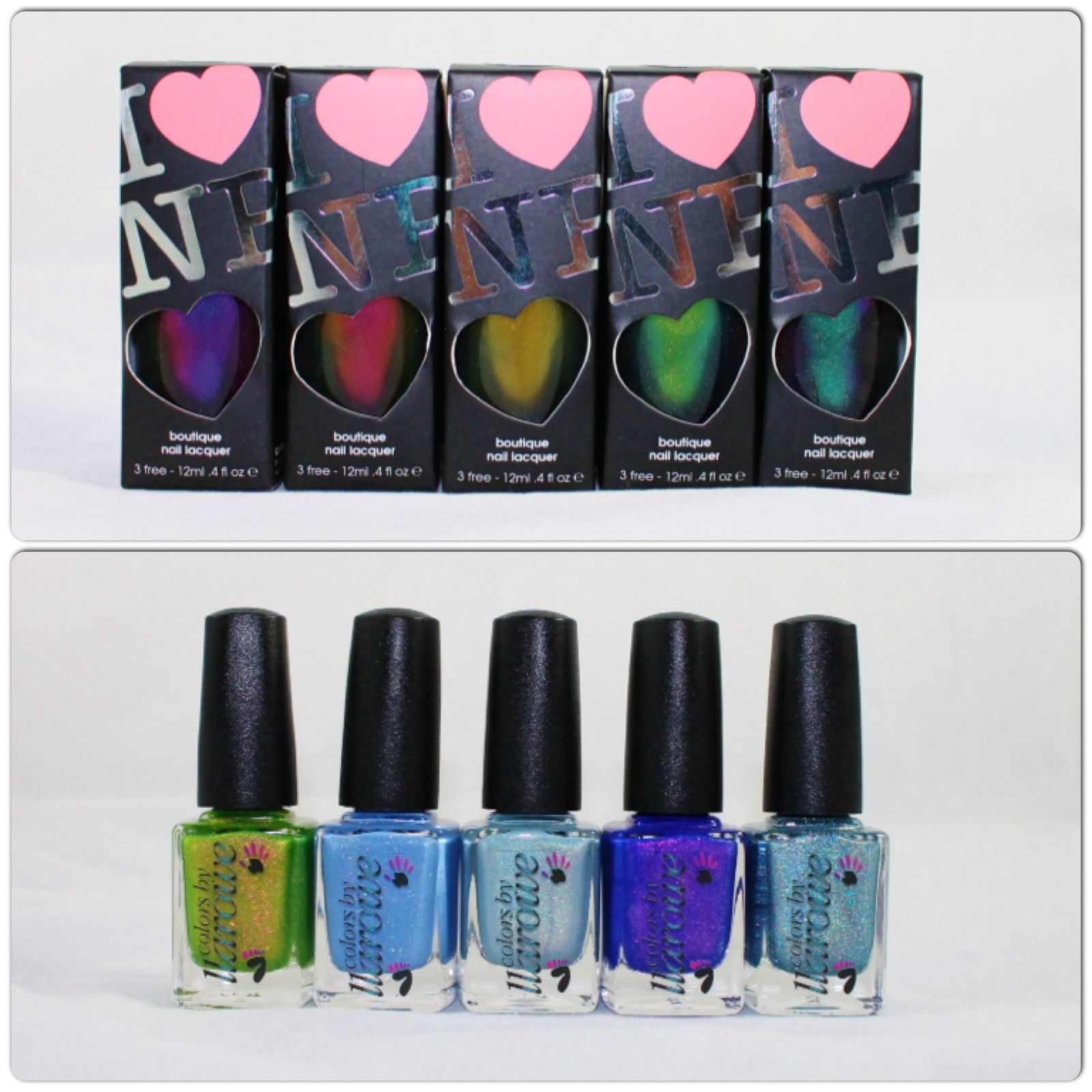 I Love NP Peace, Masquerade, Bishop, Reminisce (H), Sirene (H). CBL Holiday Road, Soccer Mom, Rezipped, Cnni's Nosy Neighbor, Turquoise Tinkle.
En tant que fan inconditionnelle de vernis multichromes je ne pouvais pas passer à côté des nouveaux I Love NP (et j'au aussi commandé 2 version holo de vernis que je possédais déjà), et je ne pouvais pas passer non plus à côté des nouveaux Colors by Llarowe de la nouvelles collection, ils sont trop beaux je les adore !
As a huge fan of multichrome polish I could not miss the new I Love NP (and I also bought the 2 holo version of polish that I already had), and I could not pass either on the new colors by Llarowe from the new collection, they are so beautiful I love them!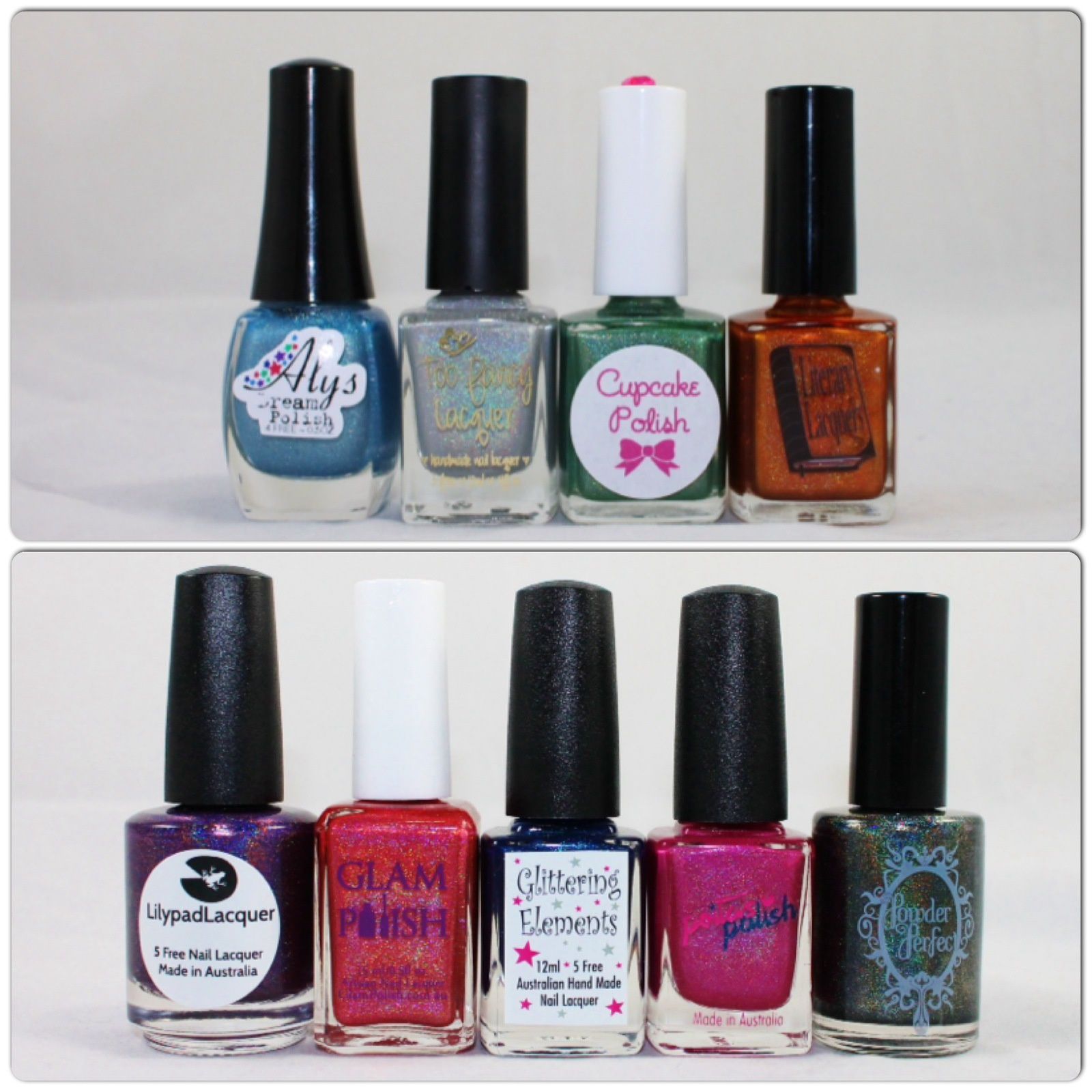 Dazzled Holograil May 2014 (Aly's Dream Polish H2whOa, Too Fancy Lacquer Pixie Wisper, Cupcake Polish Earth Girl, Literary Lacquer Not Up Close). What's Indie Box June 2014 (Lilypad Lacquer Violet Blaze, Glam Polish Don't Make Me Blush, Glittering Elements Queen of the Mermaids, Peita's Polish Pink Blitz, Powder Perfect Party in the Park).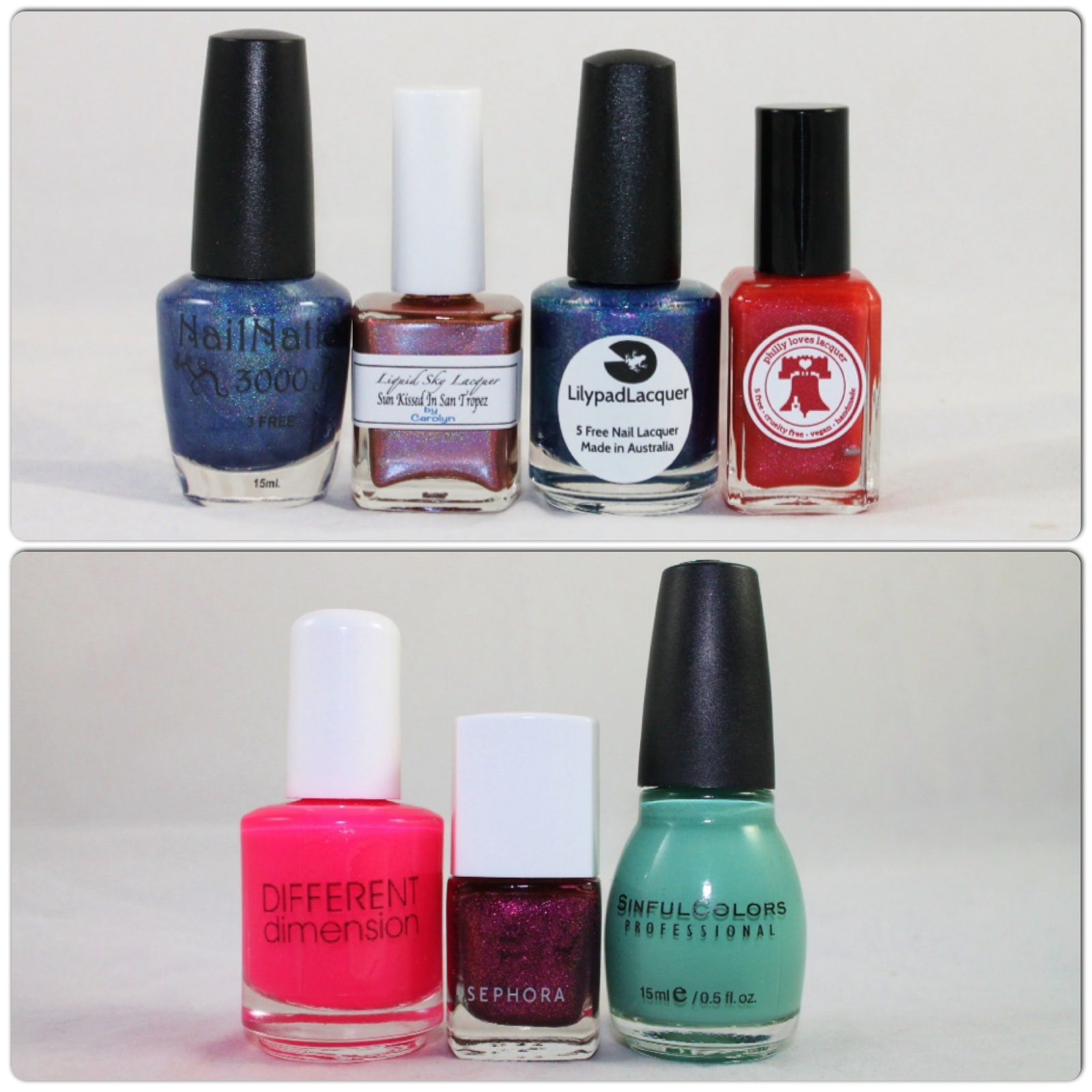 Dazzled Holograil June 2014 (Nail Nation 3000 Spiritual Holo, Liquid Sky Lacquer Sun Kissed in San Tropez, Lilypad lacquer Island Escape, Philly Loves Lacquer Sunset Down The Shore). Different Dimension Pelican Village, Sephora Ambrosia, Sinful Colors Open Seas.
J'ai également reçu 2 de mes Dazzled Holograil (Mai et juin) et ma What's Indie Box de Juin. Certains de ces vernis sont juste des tueries comme vous avez déjà pu le voir avec la review de la Dazzled de Mai (les reviews des box de Juin arrivent bientôt sur le blog). J'ai aussi réussi à trouver le Different Dimension de la Box Indied de Juin (il est trop beau) et un joli Séphora (de la collection Pantone) et Sinful Colors Open Seas.
I also received 2 of my Dazzled Holograil (May and June) and my What's Indie Box for June. Some of these polishes are just incredible as you may have already seen in the review of the May Holograil (the reviews of the June boxes are coming soon on the blog). I also managed to find the Different Dimension from the June Indied Box (it is so pretty) and a nice Sephora (from the Pantone collection) and Sinful Colors Open Seas.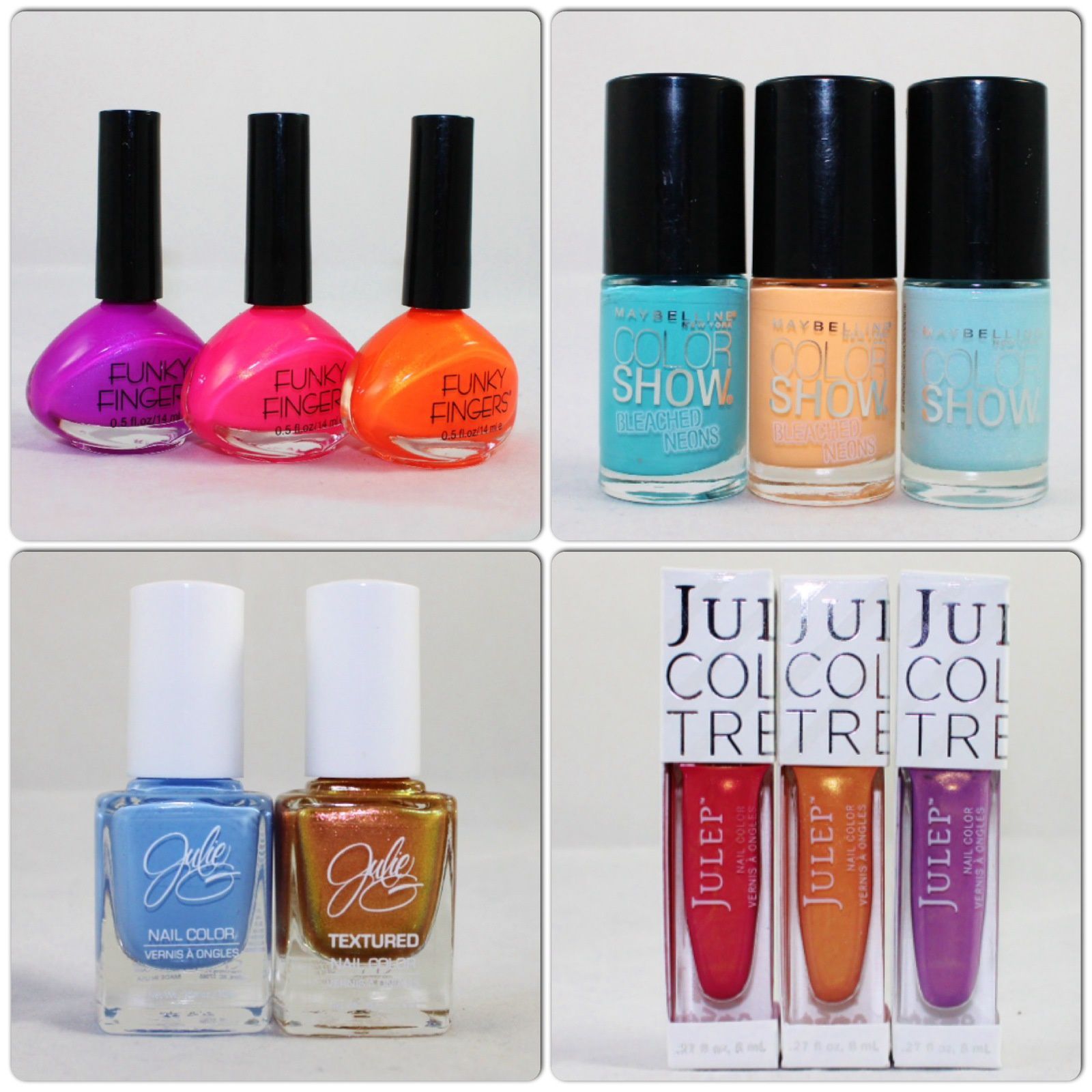 Funky Fingers BPM, All The Rave, Drop the Bass. Maybelline Bleached in Peach, Day Glow Teal, Frozen Over. Julie G Santorini, Golden Sunset. Julep Laree, Saaya, Paulette.
Comme vous le savez surement, ici aux USA la tentation est partout, dans tous les magasins et drugstore. J'ai complètement craqué pour les nouveaux fluos de Funky Fingers (ils ont des reflets dorés de fou), j'ai aussi trouvé les 2 vernis manquant à ma collection Maybelline Bleached Neon (et aussi un autre trop beau, Frozen Over). Julie G fait de sublimes vernis, j'en ai déjà plusieurs et ces deux là ont retenu mon attention donc je les ai pris, et j'ai aussi flashé sur quelques Julep assez sympa que j'ai eu à prix réduits.
As you may already know, here in the U.S. temptation is everywhere, in every shops and drugstores. I completely fell in love with the new neon polish fom Funky Fingers (they have crazy golden highlights), I also found the 2 missing polish for my Maybelline Bleached Neon collection (and another one very beautiful, Frozen Over). Julie G creates sublime varnish, I already have several and these two caught my attention so I took them, and I also bought some pretty nice Julep I got with a discount.
Et pour finir, le reste de mes achats qui ne sont pas des vernis, j'ai acheté des nail wraps NCLA en soldes. j'en voulais depuis longtemps mais je les trouve super chers, et pour Memorial Day il y avait 20% et frais de port gratuits. Et j'ai enfin reçu mes nouvelles plaques de stamping Vivid Lacquer que j'avais commandé il y a quelques mois. Pfiou c'est tout pour le moment, j'ai beau me raisonner j'en veut toujours plus, oui c'est bien pour ça que l'appelle ça une addiction^^
And finally, the rest of my purchases that are not nail polish but are related, I bought nail wraps from NCLA. I wanted to try them for a long time but I think they are super expensive, and on Memorial Day there were 20% with free shipping. And I finally got my new stamping plates from Vivid Lacquer that I ordered few months ago. Phew that's all for now, I think I always want more, yes it is why it is called an addiction^^