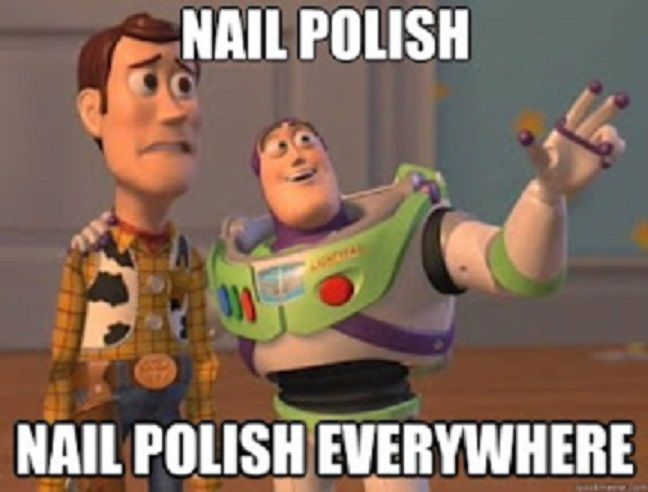 Yep encore une fois j'ai explosé mon budget du mois réservé à l'achat de vernis (j'ai envie de dire comme tous les mois, je ne sais pas trop à quoi ça sert que je me fixe une limite). Bref j'ai dépensé des sous, mais j'ai de nouveaux précieux tous plus beaux les uns que les autres ! Des fois je me dis que j'ai tellement de vernis que je pourrais ouvrir mon propre salon de manucure LOL!
Yep again I blew my nail polish budget for this month, again (like every month, I'm not sure what it is that I set myself a limit). Anyway I've spent money, but I have new precious all more beautiful than the others! Sometimes I tell myself that I have so many polish that I could open my own nail salon LOL!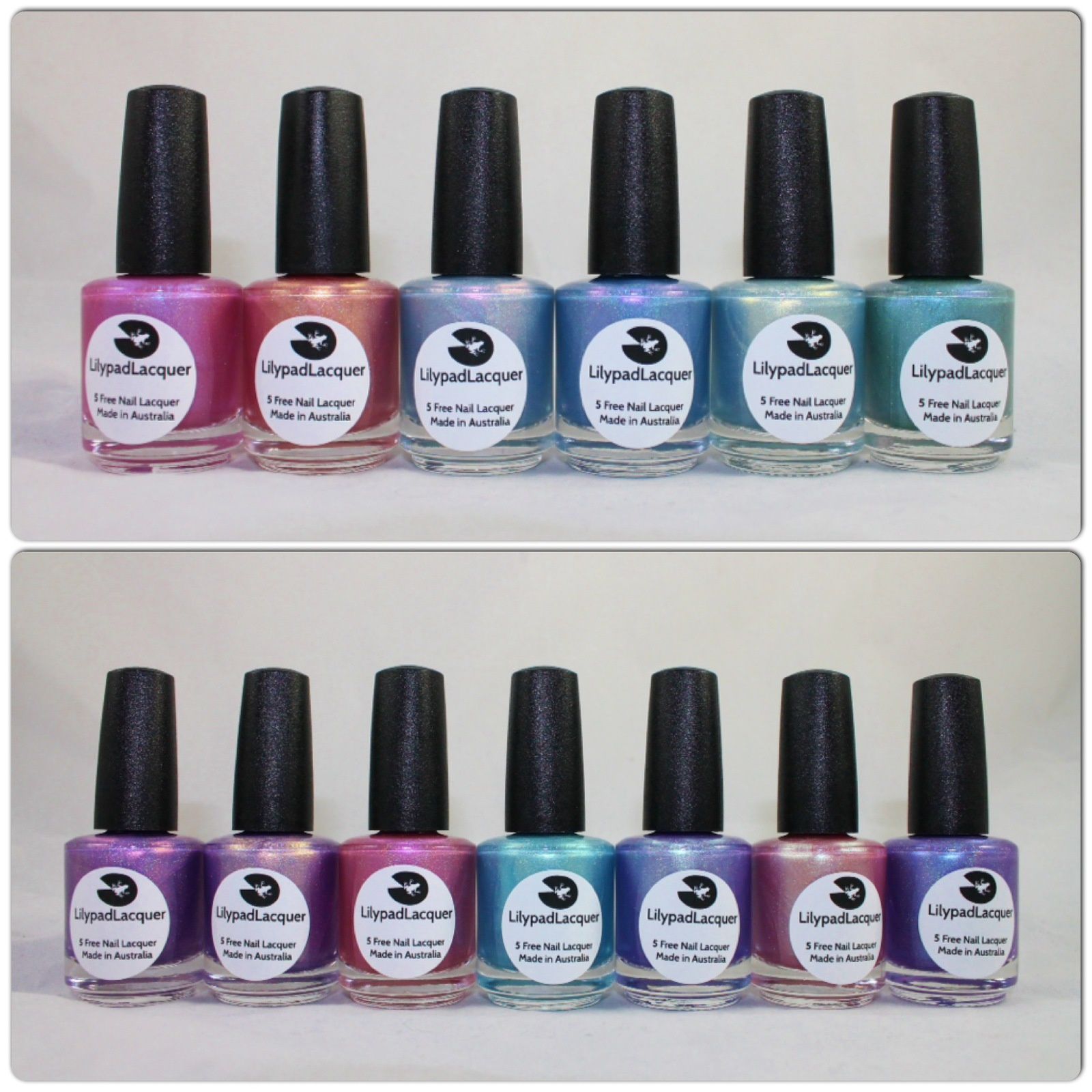 Lilypad Lacquer Fairy Floss, Young Love, Playful, In Bloom, Golden Sea, Moon Glow, Violetta, Goddess, Plum Wine, Pinkle, Sea Queen, Grape Parfait & Tender Touch.
Et oui encore ce mois-ci j'ai plein de nouveaux Lilypad, Nicole est tellement créative et productive, elle sort de nouveaux vernis tous les mois quasiment. J'ai pris presque toute la nouvelle collection Delicate Duos et le trio True Blood 2014 (chez llarowe), les exclu Femme Fatale Cosmetics et quelques autres par-ci par-là !
And yes even this month I have lots of new Lilypad, Nicole is so creative and productive, she releases new varnish almost every month. I took almost all the new collection Delicate Duos and the True Blood 2014 trio (at llarowe), the exclusives from Femme Fatale Cosmetics and some others here and there!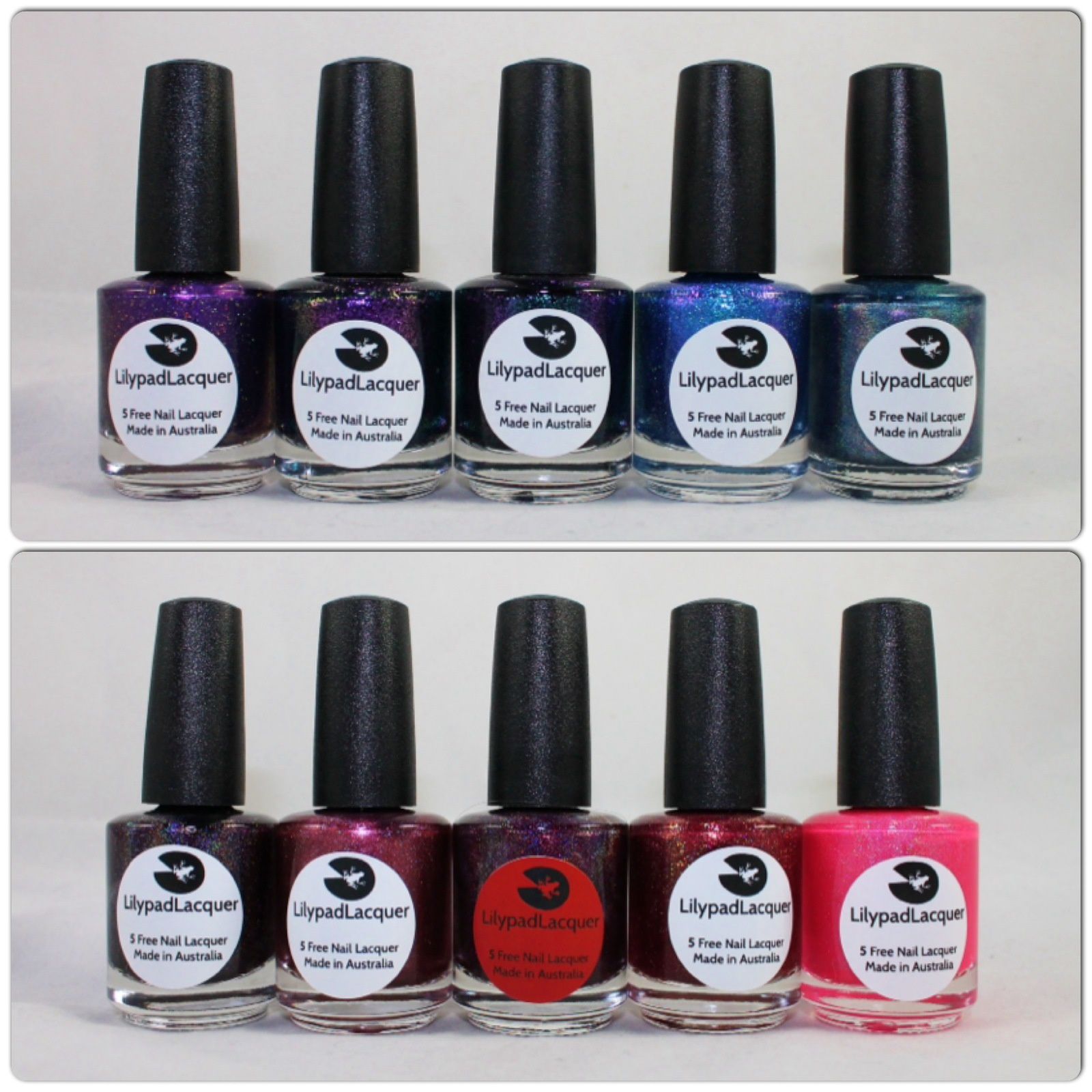 Lilypad Lacquer Merllot for Me, Radical Change, World Apart, Azure Dreams, Where the Lilypads Grow, Immortal, Bite Me, True Blood 2014, Golden Garnet & Bubble Yummo.
Je n'ai bien sur pas su résister à la tentation neon avec la nouvelle collection Poptastic de Color Club (acheté chez Llarowe, oui j'ai donné beaucoup d'argent à Leah Ann ce mois-ci). Et evidemment je suis passée chez Five Below pour mon article comparatif Color Club vs. Funky Fingers, et bien sur je ne suis achetée d'autre Funky Fingers, notamment la collection inspirée de la Reine des Neiges.
I did of course not resist the neon temptation with the new Color Club Poptastic Collection (purchased from Llarowe, yes I gave a lot of money to Leah Ann this month). And of course I went to Five Below for my comparison post on Color Club vs. Funky Fingers, and of course I purchased new Funky Fingers, especially 3 polish inspired by Frozen.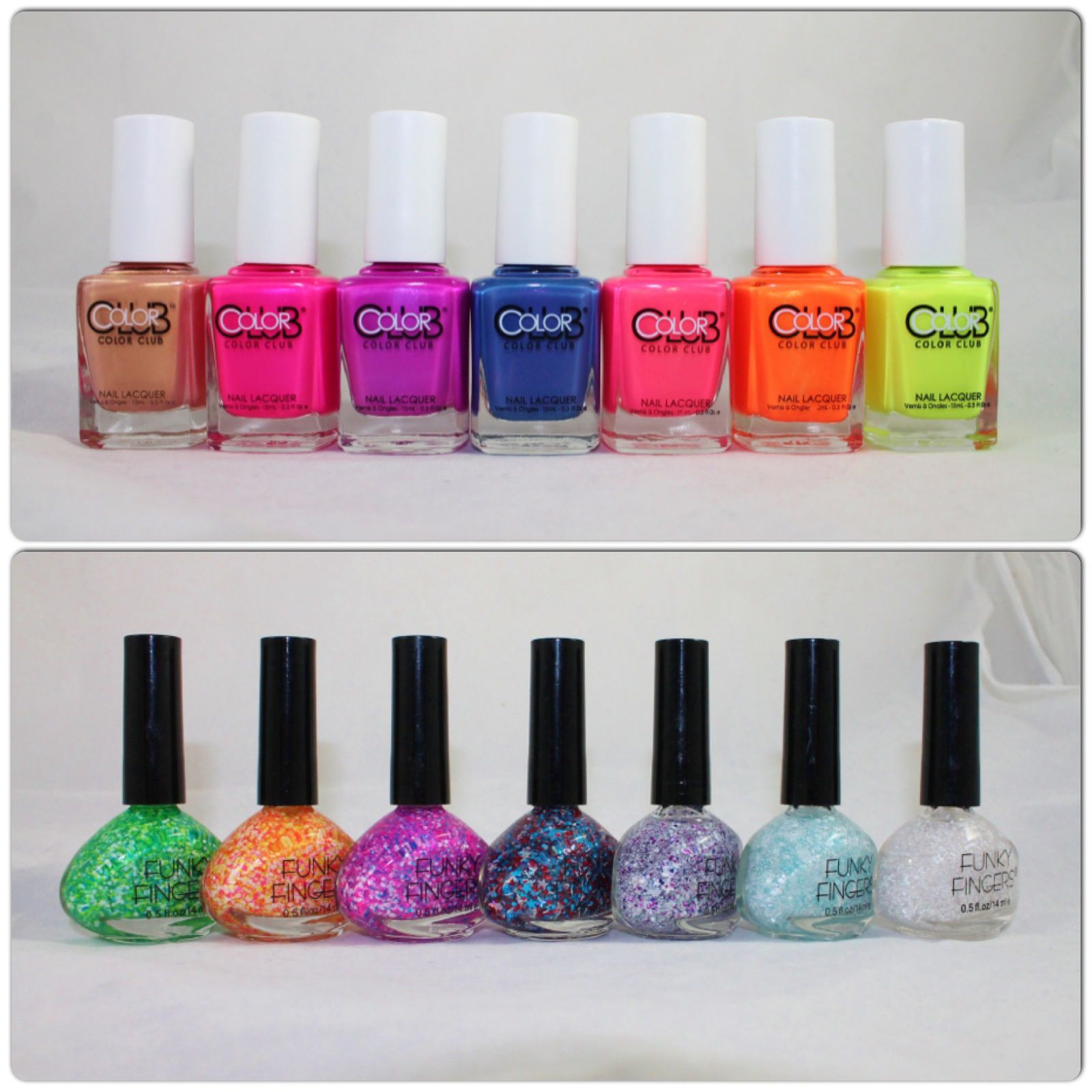 Color Club Safari Sunset, Kapow!, Right On, Bell Bottom Babe, Peace Love & Polish, Foxy mama & Not so Mellow Yellow. Funky Fingers Glitter Explains it All, Glitter Matters, Saved by the Glitter, Fireworks, Anna, Elsa & Olaf
J'ai également passé une commande chez Carpe Noctem Cosmetics car elle a vraiment de jolies choses, et puis il y a d'autres Indies shoppé par-ci par-là... Femme Fatale Cosmetics , Liquid Sky Lacquer, Too Fancy Lacquer, Black Cat Lacquer & Jindie Nails.
I also placed an order with Carpe Noctem Cosmetics because she really creates nice things, and then there are others Indies that I bought here and there... Femme Fatale Cosmetics, Liquid Sky Lacquer, Too Fancy Lacquer, Black Cat Lacquer & Jindie Nails.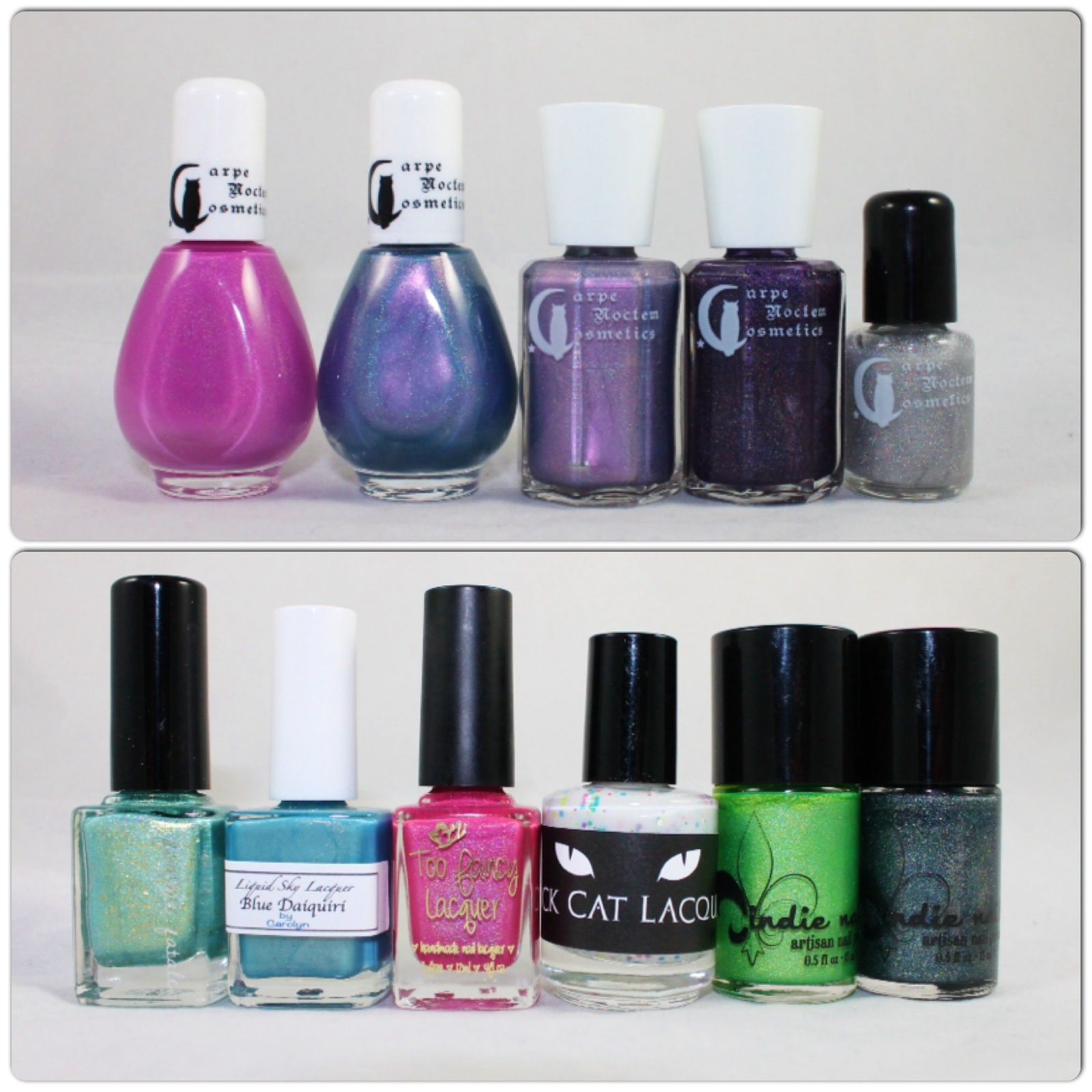 Carpe Noctem Cosmetics I'm a Big Fucking Deal!, Clear Skies, Calypso, Pimp my Purple & Rainbow in the Dark. Femme Fatale Cosmetics Apothecary, Liquid Sky Lacquer Blue Daiquiri, Too Fancy Lacquer I FIL Good (Group Custom), Black Cat Lacquer Deep Fried Everything (A Box Indied Exclusive), Jindie Nails Everyday I'm Russell'n & You Mad Bro?
Dans les nouvelles collections Dance Legend Il y en avait quelques uns qui ne faisait de l'oeil, alors j'en ai profité quand j'ai commandé chez Llarowe pour en ajouter 4. Et j'ai aussi enfin passer commande chez Alchemy Lacquers depuis le temps que je lorgnais sur les vernis Elixirs !
In the new collections Dance Legend There were some who caught my attention, so I took the opportunity when I ordered from Llarowe to add 4 of them. And I also finally placed an orders with Alchemy Lacquers because I was eyeing the Elixirs collection for a while now!
Comme tous les mois (enfin presque puisque là c'est 3 mois d'un coup) j'ai reçu ma pre-commande Enchanted Polish, et je dois dire que je ne suis pas sure de les aimer, il faut que je les porte pour me faire une idée (comme souvent avec les Enchanted je ne sais pas pourquoi). J'ai aussi eu la chance de pouvoir prendre 2 Takko lacquer lors de la dernière restock surprise, j'étais trop contente car d'habitude je n'arrive jamais à commander lors des restocks. Et puis aussi 2 mini Huemorista bien jolis (Huemorista est l'une des premières marque Indie dont j'avais entendu parler il y a quelques années, et elle existe toujours).
Like every month (well almost since there is three polish at once this month) I received my Enchanted Polish pre-order, and I must say that I'm not sure to love tham, I need to wear tham to really be sure (as often with Enchanted I do not know why). I also had the chance to take 2 Takko lacquer during the last un-announced restock, I was so happy because I usually never get to anything during announced restocks. And also got 2 mini Huemorista they are very pretty (Huemorista was the first Indie brand I had heard of a few years ago, and it still exists).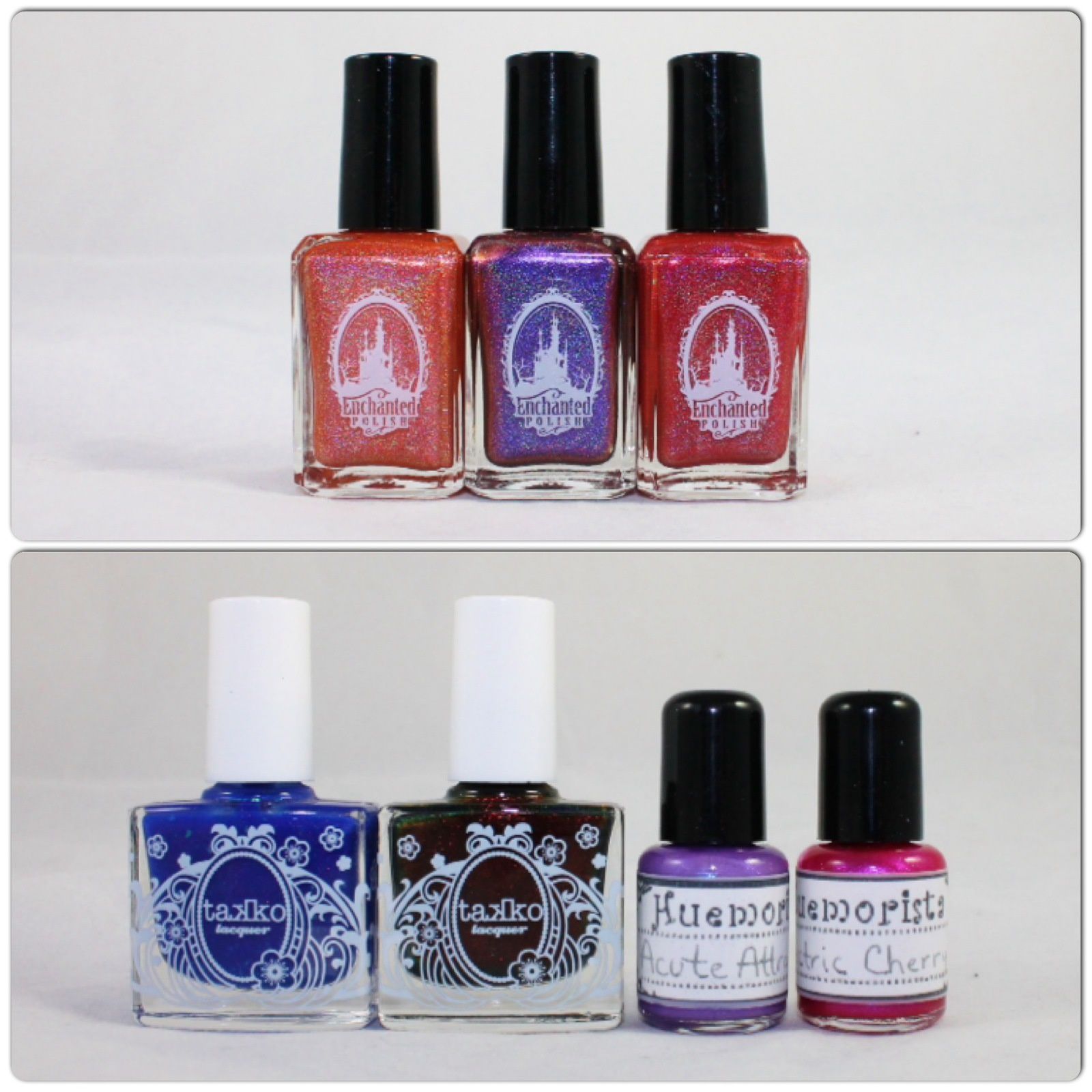 Enchanted Polish May 2014, June 2014 & july 2014. Takko lacquer We're all Mad Here & Opium. Huemorista Acute Attraction & Electric Cherry
Un peu de tout avec quelques vernis reçu dans certaines de mes box (Nicka K dans ma BB, Zoya dans ma FFF, Sinful Color avec PinchMe ), et 3 Maybelline en édition Limitée, ils sont superbes. Et pour finir ma What's Indie Box du mois de Juillet mais vous avez déjà vous les vernis dans mon article d'il y a 2 jours. Voilà c'est tout mais c'est beaucoup, je sais je plaide coupable et je vais réfléchir à investir dans un 3ème Helmer !
A little bit of everything with some polish received in some of my suscriptions boxes (Nicka K in my BB5, Zoya in my FFF, Sinful Colors with pinchme) and 3 Maybelline Limited Edition, they are superb. And finally my What's Indie Box forJuly but you have already seen the polish and swatches in my article from 2 days ago. That's it but it's a lot, I know I plead guilty and I'm going to think about investing in a third Helmer!