(This nail polish was sent for review by Jindie Nails)
Si il y a bien une couleur que je préfère c'est le rose. Et j'adore également les vernis fluos. Alors quand Jen m'a envoyé Higher Flower, un des derniers vernis de sa collection Recover Me, j'ai sauté de joie. Higher Flower est un vernis rose fluo crelly avec une multitude de mini flakies et paillettes. Il est beau, sa formule est géniale, il est hyper flashy et juste ce qu'il faut de bling bling. C'est un vrai bijoux ! Au moment ou j'écris cet article je crois bien qu'il est épuisé, mais je vous conseille de suivre Jindie Nails sur Facebook et Instagram pour connaître les dates des restocks, parce que croyez moi, celui-ci est un must have !
If there is indeed a color I love, it is pink. And I also love neon polish. So when Jen sent me Higher Flower, one of the last polish from her Recover Me collection, I jumped of joy. Higher Flower is a neon pink crelly polish with a multitude of mini flakies and glitter. It is beautiful, its formula is great, it is super bright and just enough sparkles. It is a real jewel! At the time I write this post I think it is sold out, but I recommend following Jindie Nails on Facebook and Instagram to know the restock dates, because believe me, this one is a must have!
Essie Protein Base Coat / Jindie Nails Higher Flower / OutTheDoor Top Coat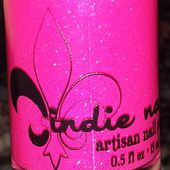 This product is unavailable Newly released May 28th was the , Recover Me Collection. There are 5 polishes in the Recover Me Collection including: Just Say Glow K.I.S.S, Higher Flower (this polish) ...