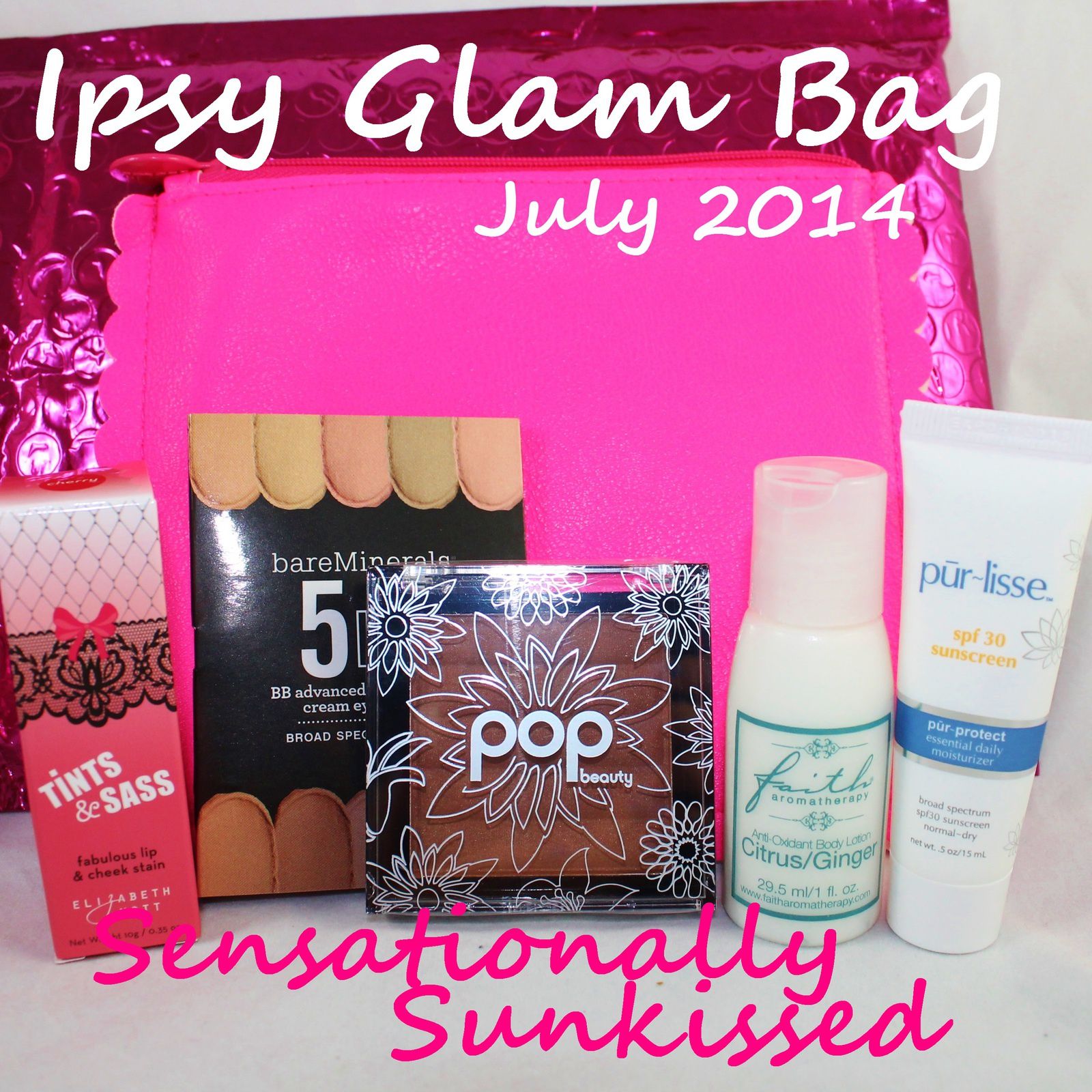 bareMinerals 5-in-1 BB Advanced Performance Cream Eyeshadow Broad Spectrum SPF 15, Elizabeth Mott Tints & Sass, Faith Aromatherapy Citrus-Ginger Anti-Oxidant Body Lotion, POP Beauty Sunkissed Bronzer, Pur~lisse pur~protect essential daily moisturizer spf 30
Youhou j'ai enfin reçu mon Ipsy bag, et je dois dire je suis ravie. J'ai reçu un lips & cheeks tint (un fard à jour et baume à lèvre 2 en 1) d'une très jolie couleur (mais parfum cerise vous aurez compris il contient du parfum donc je vais l'échanger), un fard à paupière BareMinerals 5 en 1 (SPF, primer... super formule) la couleur est un peu sombre mais c'est parfait pour faire des smokey eyes, un bronzer Pop Beauty (que j'ai déjà mais justement je l'adore), un lait pour le corps (qui sent super bon mais il est 100% naturel donc je peux l'utiliser) et une crème de jour SPF Pur-lisse également sans parfum. A part le lips & cheeks tint, je vais tout utiliser (bon OK le bronzer peut-être pas je l'ai déjà et j'en utilise jamais beaucoup), et c'est une très bonne sélection de produits, je suis super contente. Et en plus le bag est juste parfait, pas trop petit et rose fluo !
Woah I finally received my Ipsy bag, and I must say I am delighted. I received a lips & cheeks tint in a very pretty color (but cherry scented so you'll you understand it contains fragrances so I'll trade it), a BareMinerals eyeshadow 5 in 1 (SPF, primer ... super formula) the color is a little dark but it is perfect for smokey eyes, a Pop Beauty bronzer (I already have it and I love it), a body lotion (which smells so good but it is 100% natural so I can use it) and a moisturizer with SPF by Pur-liss and it is fragrance-free. Apart from the lips & cheeks tint, I will use everything (Ok maybe not the bronzer as I already have it and I never used a lot), and it is a very good selection of products, I'm really happy. And in addition the bag is just perfect, not too small and neon pink!
Join Aurelie & subscribe to the Glam Bag by ipsy ($10/month)
Makeup bags personalized just for you! ipsy was founded by Michelle Phan. Receive 4-5 beauty products every month. Share your Looks. Get great beauty offers.