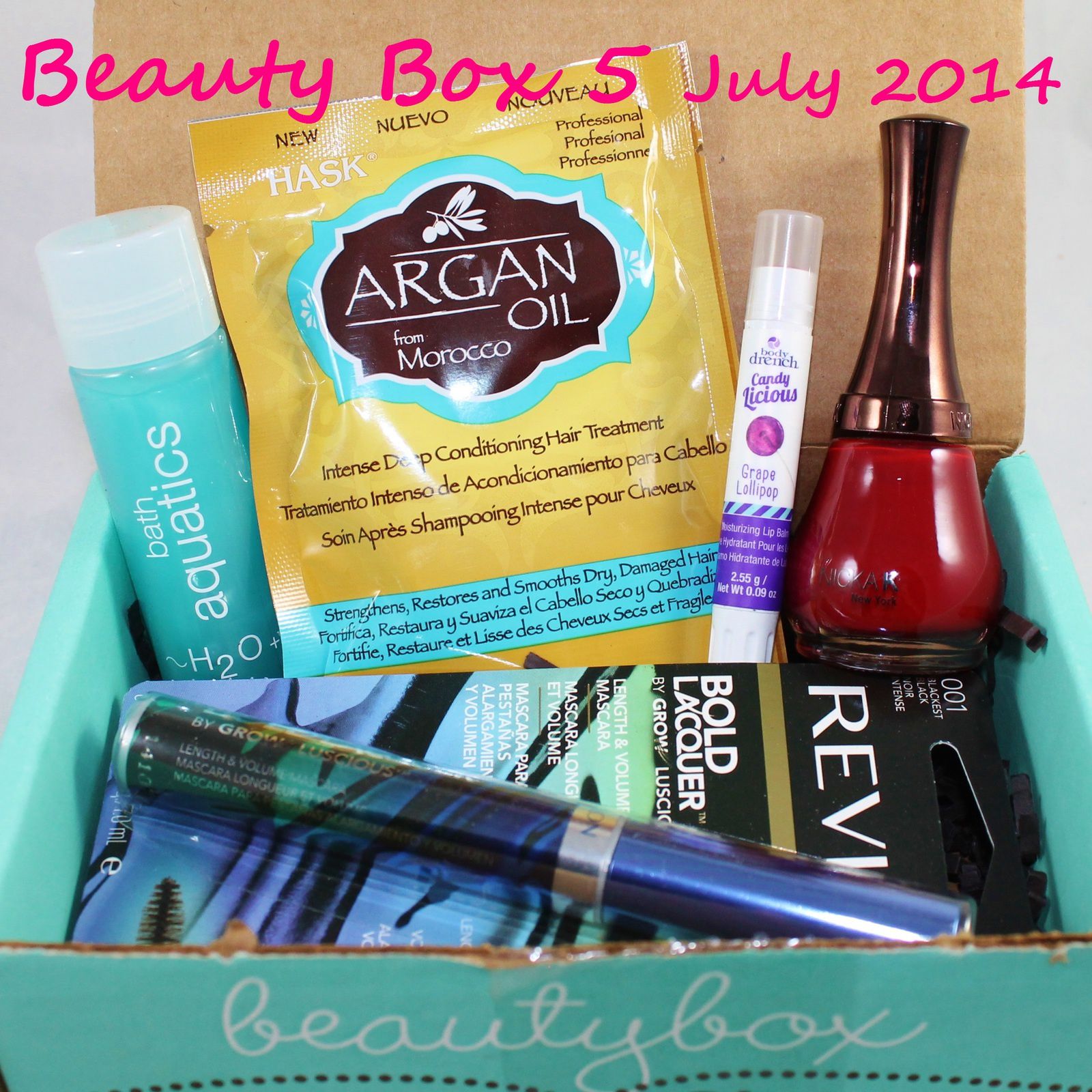 Aujourd'hui je vous présente une nouvelle box que j'ai décidé de tester, la Beauty Box 5. Tous les mois c'est 5 produits/échantillons pour $12 (ou $30 pour 3 mois, ce qui fait $10/mois, le même prix que Birchbox ou Ipsy). Il y a moins de variations dans les produits qu'avec Birchbox ou Ipsy, donc vous pouvez commander au mois si les échantillons vous plaisent (si vous commandez avant le 21 du mois) ou passer votre tour si la box ne vous dis rien (il faut annuler votre box et la recommander le mois suivant, je fais ça tout le temps pour PopSugar notamment). J'ai voulu tenter cette box car j'ai eu ma première box pour $1 (c'était une promo). Alors je ne sais pas trop encore quoi penser de cette box, il y a du bien et du moins bien. J'adore le mascara (je n'ai jamais assez de mascara LOL), le vernis (même si la couleur est relativement classique) et le masque pour cheveux. Je suis beaucoup moins fan du baume à lèvre et du shampoing mais parce qu'ils sont parfumés (et que je suis allergique au parfum). Pour $1 je ne vais pas me plaindre, je vais attendre la prochaine et je verrai si je continue ou pas. Croyez moi ou non mais pour le moment en abonnement régulier je n'ai que Birchbox et Ipsy, et des fois je commande au mois par mois (en fonction des spoilers ou des reviews) PopSugar, New Beauty Tube, FabFitFun et autres (Allure Box, Birchbox Limited Edition Box, Hautelook bag...).
Today I introduce you a new suscription box I've decided to try, the Beauty Box 5. Every month it contains 5 products/samples for $12 (or $30 for three months, which is $10/month, the same price than Birchbox or Ipsy). There is less variation in the products than with Birchbix or Ipsy, so you can order one month if the products/samples interest you (if you order before 21th of the months) or pass if you don't like the box (you have to cancel and re-order the next, I do that all the time for PopSugar for example). I wanted to try this box since I got my first box for $1 (it was a promo). So I do not really know yet what to think of this box, there are good and less good. I love the mascara (I never have enough mascara LOL), the nail polish (even if the color is relatively conventional) and the hair mask. I love much less the lip balm and shampoo but because they are scented (and I'm allergic to fragrance). For $1 I will not complain, I'll wait for the next one and see if I continue or not. Believe me or not, but for the moment I only have regular subscription for Birchbox and Ipsy, and sometimes I order one month of other (then cancel, based on spoilers or reviews) PopSugar, New Beauty Tube, FabFitFun and others (Box Allure , Birchbox Limited Edition Box, Hautelook bag ...).
Beauty Box 5 is a monthly subscription service that delivers a package of sample beauty products to your door every month.