Je rattrape tout doucement mon retard dans mes swatches de mes dernières box, et voici la HoloGrail du mois de may. Les deu premières box n'avaient pas vraiment de thème (Meet the Makers, pour présenter les marque participantes) mais celle-ci a un thème, les 4 éléments (la terre, le feu, l'air et l'eau). Les vernis sont très bien représenté par les photos d'inspiration, mais personnellement je n'aime pas trop les vernis de cette box.
I slowly catch up in my swatches of my last boxes, and behold the HoloGrail for the month of May. The first 2 boxes did not really have a theme (Meet the Makers to introduce participating brand) but this one has a theme, the four elements (earth, fire, air and water). The polish are very well represented by the photos of inspiration, but I personally do not like the colors of this box.
Cupcake Polish Earth Girl est un joli vert émeraude légèrement holographique qui représente bien l'élément de terre. Je ne possédais aucun vernis de cette marque mais j'en avais déjà entendu parlé et je suis contente de pouvoir enfin la tester. La formule est bonne mais la couleur ne me plaît pas trop, je ne suis pas une fan de vert.
Cupcake Polish Earth Girl is a beautiful emerald green slightly holographic that properly represents earth element. I did not have any polish from this brand, but I had already heard of it and I'm glad to finally try it. The formula is good but the color is not for me, I'm not a fan of green.
Literary Lacquer Not Up Close représente le feu. C'est un orange cuivré au reflets dorés. Il est ultra holographique, il est très vif et voyant, c'est vraiment la couleur parfaite pour représenter le feu ! Malheureusement ce n'est pas le genre de couleur que j'apprécie. Très bonne formule.
Literary Lacquer Not Up Close represents fire. It is a coppery orange with golden highlights. It is ultra holographic, it is very bright and shinny, it really is the perfect color to represent fire! Unfortunately this is not the kind of color I like. Very good formula.
Too Fancy lacquer Pixie Whispers (2 coats, no base coat, no top coat)
Too Fancy lacquer Pixie Whispers est mon préféré de cette box. Il représente l'air. C'est un vernis holographique entre le blanc, le bleu et le gris. Il est très holographique et la couleur est très douce. La formule est parfaite, je commence à vraiment aimer cette marque donc je ne possède pas encore beaucoup de vernis TFL.
Too Fancy Pixie Whispers lacquer is my favorite of the box. It represents the air. This is a holographic polish in between white, blue and gray. It is very holographic and the color is very soft. The formula is perfect, I'm starting to really love this brand even though I do not have a lot of TFL polish.
Aly's Dream Polish H2whOa représente l'eau, c'est un joli bleu ciel avec de jolis reflets. C'est mon deuxième préféré de cette box. J'aime bien les vernis bleus, celui-ci est joli mais sans plus. La formule est très bonne. Et le nom du vernis m'a fait sourire. Vous l'aurez compris, les vernis du mois de mai sont jolis mais ne sont pas trop dans les couleurs que j'affectionne. J'ai maintenant hâte de voir la box de juin car les photos d'inspiration étaient très colorées.
Aly's Dream Polish H2whOa represents water, it's a nice blue sky color with nice reflections. This is my second favorite of the box. I like blue varnish, it is nice but nothing more. The formula is very good. And the name of varnish made ​​me smile. You'll understand, polish from this may box are pretty but not too much in the colors I like. I can not wait to see the June box because the inspiration pictures were very colorful.
La Holo Grail Box contient 4 vernis holographiques exclusifs. Elle est vendue par Dazzled, elle est disponible à l'achat (pré-commande) chaque mois pendant 2 semaines (du 1er au 15 du mois); pour plus d'informations je vous ai mis le lien ci-dessous.
The Grail Holo Box contains 4 exclusive Holographic polish. It is sold by Dazzled, it is available for purchase (pre-order) each month for 2 weeks (from the 1st to the 15th); for more information I've put the link below.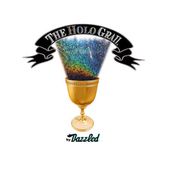 Pre-order for July's The Holo Grail Box. Theme of July: Video Games 4 exclusive holographic polishes made by:Aly's Dream PolishChaos & CrocodilesPhilly Loves LacquerToo Fancy Lacquer *Pre-order