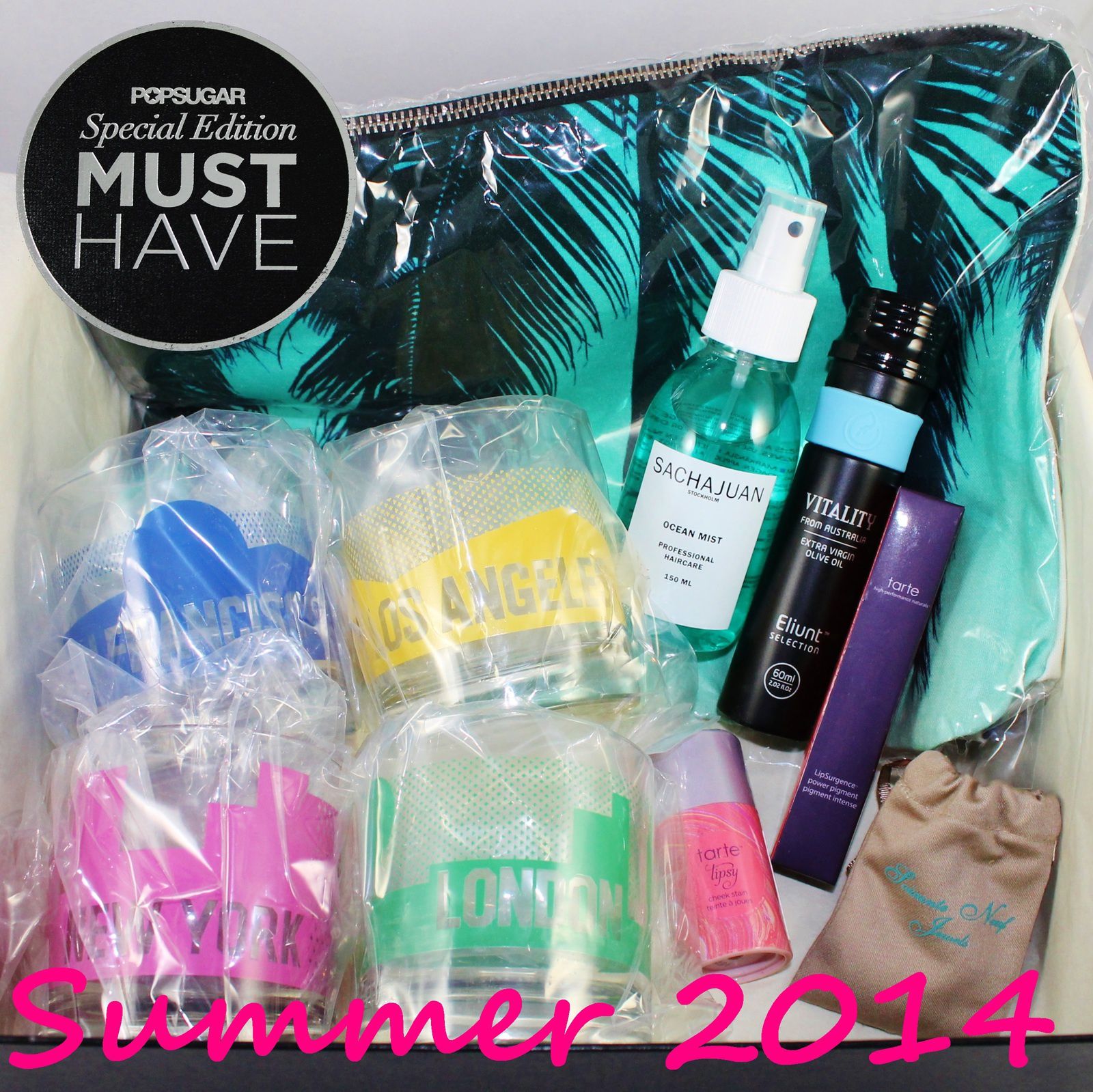 Aujourd'hui j'ai la box en édition Limitée Summer 2014 de PopSugar Must Have a vous montrer. Je n'étais vraiment pas sure de la commander, les box en édition limitée de PopSugar coûtent cher ($100) et c'est un peu une risque ne sachant pas ce qu'il y a dedans. Au final je suis super contente de cette box car j'adore tous les produits qui sont dedans !
Today I have the Limited Edition Summer 2014 PopSugar Must Have a show you. I was really not sure to order it, limited edition PopSugar boxes are expensive ($100) and it is a bit of a risk not knowing what there is inside. In the end I'm super happy with this box because I love all the products that I received!
Tout d'abord j'ai reçu ces verres trop adorables, très colorés et qui sont exclusifs de cette box. Il y a 4 verres, 4 couleurs, 4 villes (San Francisco, New York, London et Los Angeles). Sur leur site web ils ont plein d'autres villes, je pense me faire une petite collection parce que j'aime beaucoup ces verres.
Firstly I got thes eadorable glasses, colorful and they are PopSugar exclusive. There are 4 glasses, 4 colors, 4 cities (San Francisco, New York, London and Los Angeles). On their website they have plenty of other cities, I think I will make myself a small collection because I love these glasses.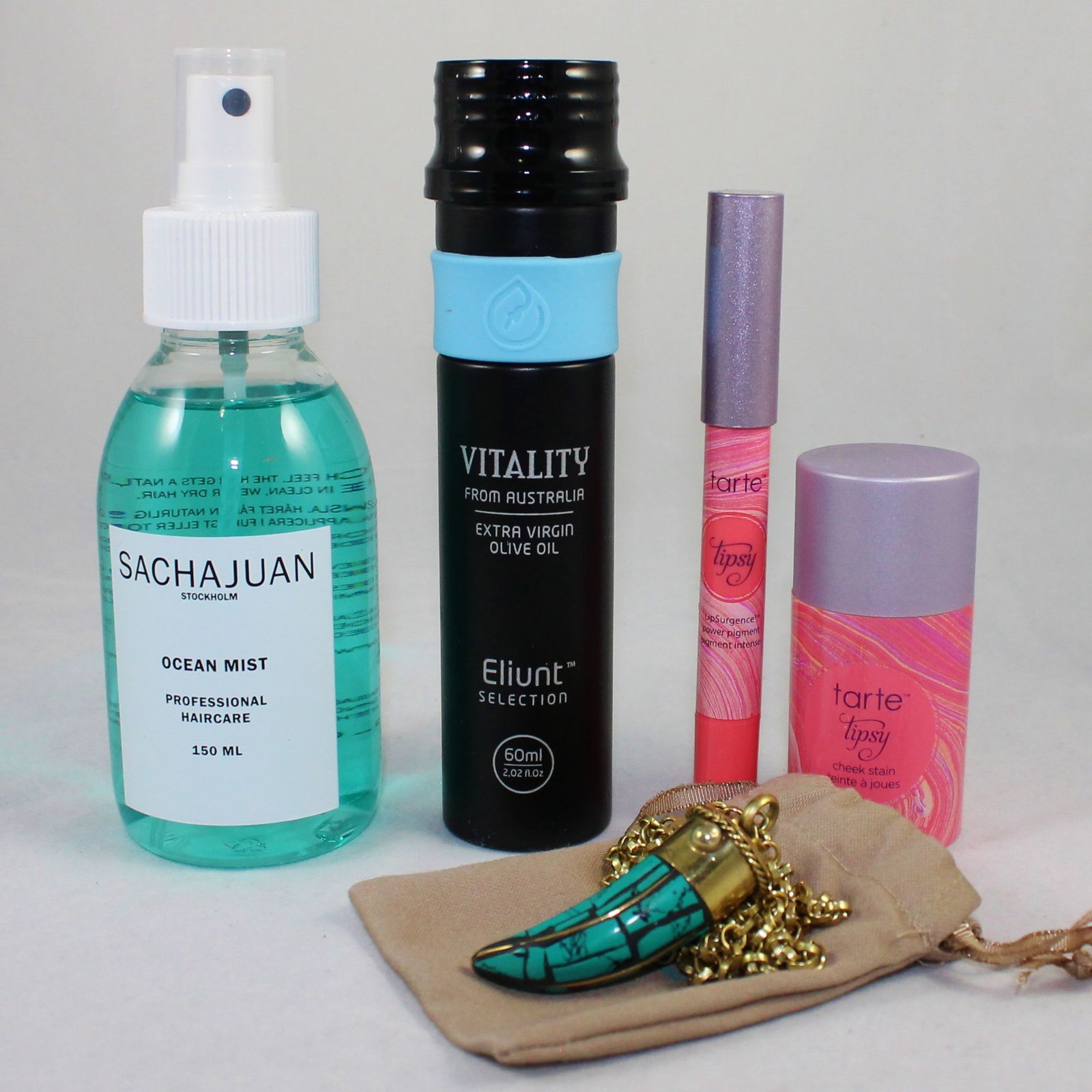 Sachajuan Ocean Mist Texturizing Spray ($28), Eliunt Olive Oil ($15), Tarte Resurgence lip pencil in Tipsy ($28), Tarte Cheek Stain in Tipsy ($30) & Soixante Neuf Pendant Horn Necklace ($155)
J'ai aussi reçu un spray se soin pour les cheveux (ça tombe bien celui que j'utilise actuellement est quasiment vide), une huile d'olive (pour cuisiner), un baume à lèvre et un blush en stick Tarte Cosmetics (j'adore Tarte Cosmetics) et un collier très joli (et qui coûte super cher). J'aime tous ces produits et je vais tous les utiliser.
I also received a hair care in spray (it's good the one I use now is almost empty), olive oil (for cooking), lip pencil and blush stick from Tarte Cosmetics (I love Tarte Cosmetics) and a very nice necklace (and super expensive too). I love all these products and I will use them all.
Et enfin le produit que j'aime le plus c'est ce petit sac, ou grande pochette Samudra. j'adore le design, les couleurs, en plus ce petit sac est relativement grand, parfait pour moi pour mettre des produits de protection solaire dans mon sac de place. Au final je suis ravie de cette box, sa valeur vaut largement des $100 que j'ai payé et je vais utiliser tous les produits que j'ai reçu.
And finally the product that I love the most is this little bag or large pouch from Samudra. I love the design, colors, and this pouch is relatively large, perfect for me to put sunscreen products in my beach bag. In the end I am delighted with this box, its value is well worth the $ 100 I paid for it and I will use all the products I have received.
Join POPSUGAR Must Have to receive a monthly box full of fun, must-have picks curated by the POPSUGAR editors. Your bag will include full-size products of tried-and-true classics, celebrity ...
https://musthave.popsugar.com/?utm_source=account-page&utm_medium=link&utm_content=u:15589181&utm_campaign=vl_link