(This nail polish was sent for review by Jindie Nails)
Très souvent quand je passe commande chez Jindie Nails, je reçois quelques nouveauté en avant première pour review. Et j'ai littéralement flashé sur ce vernis en particulier. Jindie Nails The Skies in my Dreams est un crelly avec une base blanche, des paillettes fluos roses et bleues et quelques paillettes noires. Il y a des étoiles, des carrés, des ronds, bref c'est beau, ça flashe, ça me plaît. La formule est parfaite, les paillettes s'appliquent facilement et il est opaque en 3 couches (sur les photos j'ai posé 1 fine couche pour commencer puis 2 couches normales). Je ne sais pas quand exactement ce vernis sera disponible à la vente, je vous conseille de suivre Jindie Nails sur Facebook et Instagram pour en savoir plus.
Very often when I order from Jindie Nails, I get some new polish for review. And I literally fell for on this polish in particular. Jindie Nails The Skies in my Dreams is a crelly with a white base, pink and blue neon glitter and some black glitter too. There are stars, squares, dots, it is beautiful, it is bright, I just love it. The formula is perfect, glitter are easy to apply and it is opaque in 3 layers (the pictures I put one thin layer to start and then 2 normal layers). I do not know exactly when this polish will be available for sale, I suggest you follow Jindie Nails on Facebook and Instagram for more information.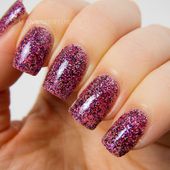 Jindie Nails | Online Nail Polish Boutique. Get Your Sparkle On!
Indie, artisan nail polish line based in Southern, USA. Cruelty & 3-free. Mid size (tall 9ML) & full (15 ML) size options are available in most shades. Website is restocked periodically each month ...