Jindie Nails Patience is a Virtue est un vernis exclusif envoyé avec les dernières commandes Jindie Nails. Jen a créer ce vernis est l'a ajouté aux commandes passées en mai car elle a eu du retard dans l'envoi de ces commandes. J'ai au la chance d'avoir passé une commande à cette période. Je trouve le geste vraiment adorable, et en plus le vernis est à tomber. C'est un vernis corail rose très irisé avec des paillettes turquoises et roses. Il est magnifique. Il s'applique à merveille, il est opaque en 2 couches mais j'en ai ajouté une troisième pour ajouter plus de paillettes. J'ai vraiment eu un gros coup de cœur pour ce vernis !
Jindie Nails Patience is a Virtue is an exclusive polish sent sent in recent orders from Jindie Nails. Jen created this varnish and added to orders placed in May because she had delays in the shipping of those orders. I had the chance to have placed an order at this time. I find the gesture really sweet, plus the varnish is to fall for. This is a very iridescent coral pink polish with turquoise and pink glitter. It is beautiful. It applies beautifully, it is opaque in 2 coats, but I added a third to add more glitter. I really had a big crush on this polish!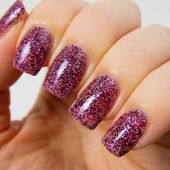 Jindie Nails | Online Nail Polish Boutique. Get Your Sparkle On!
Indie, artisan nail polish line based in Southern, USA. Cruelty & 3-free. Mid size (tall 9ML) & full (15 ML) size options are available in most shades. Website is restocked periodically each month ...