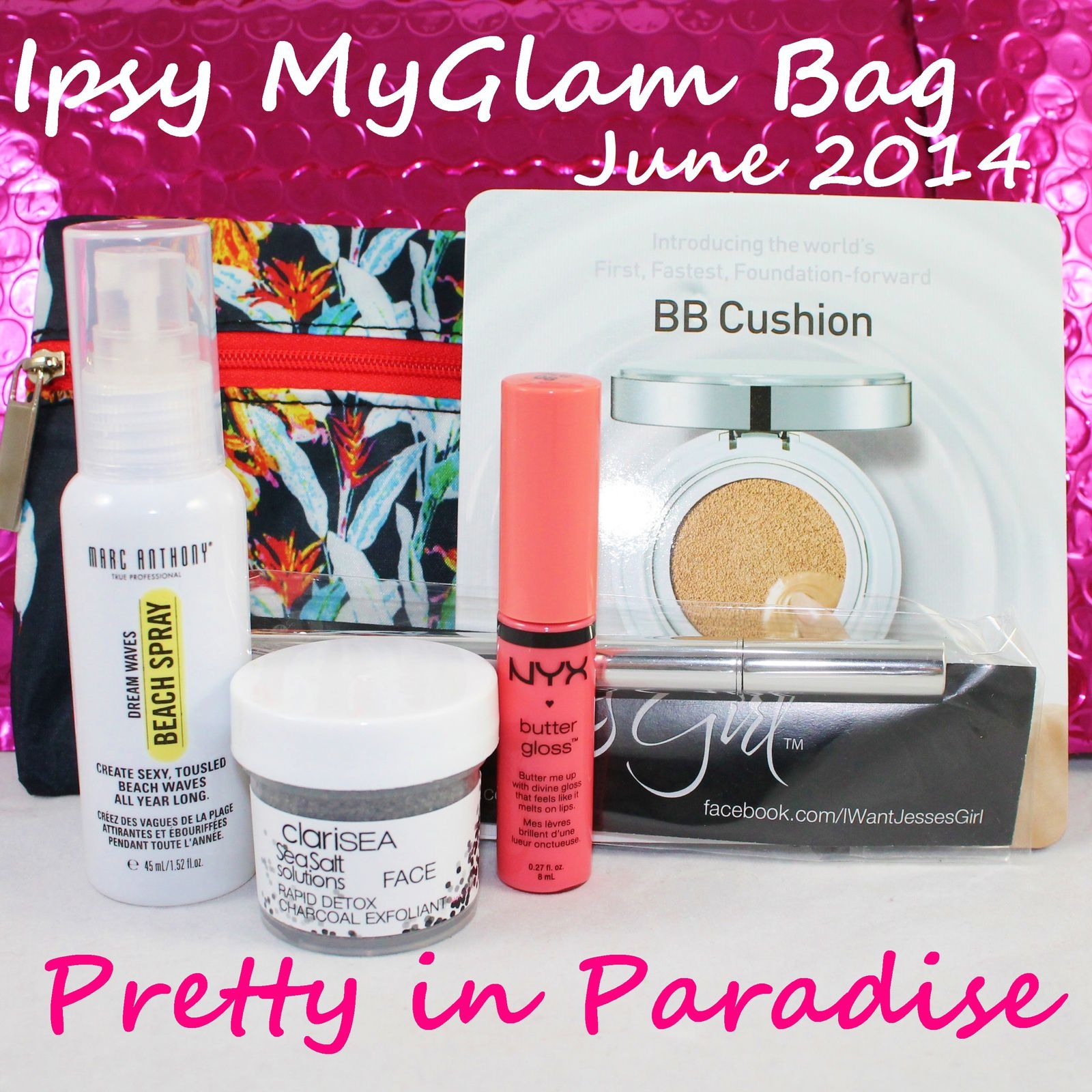 Marc Anthony Dream Waves Beach Spray, clariSEA Sea Salt Solutions Rapid Detox Charcoal Exfoliant, NYX Butter Gloss in Apple Strudel, Jesse's Girl Waterproof Liquid Eyeliner & Laneige BB Cushion
C'est cette période du mois que je préfère, celle ou je reçois Ipsy. Ipsy est définitivement ma box beauté préférée, il y a beaucoup de make-up et de temps en temps des soins. Ce mois-ci j'ai reçu une super sélection, mais malheureusement pas mal des produits que j'ai reçu ne sont pas sans parfum. En Maquillage j'ai reçu le liner liquide Jesse's Girl noir, j'ai entendu beaucoup de choses positives à propose de ce lier, j'ai hâte de l'essayer. J'ai aussi reçu un Butter Gloss NYX (Apple Strudel), j'adore ces gloss j'en ai déjà plusieurs, dont cette couleur, c'est donc un doublon pour moi mais c'est vraiment un produit sympa, je vais essayer de l'échanger sur edivv contre une autre couleur que je n'ai pas. En soin j'ai reçu un spray Beach Waves pour les cheveux, il contient du parfum, tout comme la BB cream Laneige. Je suis déçue car j'avais vraiment envie de tester cette BB cream. Le seul produit de soin que j'i reçu et que je peux utiliser c'est le gommage clariSEA. Donc en résumé les produits que j'ai reçu sont top, et même si je ne peux pas tous les utiliser, pour $10 je ne vais pas me plaindre.
It is that time of the month that I love, the time when I receive my Ipsy bag. Ipsy is definitely my favorite beauty suscription box, there is a lot of make-up and occasionally skincare. This month I received a great selection, but unfortunately a lot of the products I received are not fragrance-free. Regarding make-up I received the black liquid liner by Jesse's Girl, I heard a lot of good things about it, I can not wait to try it. I also received a Butter Gloss NYX (Apple Strudel), I love these glosses I already have several, including this color, so this is a duplicate for me but it really is a nice product, I will try to trade it on edivv for another color that I don't have. Regarding skincare and haircare I received a Beach Waves spray for hair, it contains fragrance, so does the Laneige BB cream. I'm disappointed because I really wanted to try this BB cream. The only skincare product I received and I can use that is the clariSEA scrub. So all the products I received are nice, and even if I can not use them all, for $10 I will not complain.
Join Aurelie & subscribe to the Glam Bag by ipsy ($10/month)
Makeup bags personalized just for you! ipsy was founded by Michelle Phan. Receive 4-5 beauty products every month. Share your Looks. Get great beauty offers.