Ce mois-ci ma Birchbox contient énormément d'échantillons, et aussi un petit extra que j'ai gagné à un giveaway Birchbox. J'ai reçu un lot d'échantillons Davines (shampoing, après-shampoing et traitement), une lotion pour le corps et un nettoyant enzymatique pour le visage. Tous ces produits ont l'air supers mais ne sont pas sans parfum, donc je ne peux pas les utiliser. J'ai aussi reçu un échantillon de parfum que je ne vais également pas utiliser, donc la majorité de ma Birchbox va partir en échange. Alors il ne reste pas grand chose que je peux vraiment utiliser, les mini ombres à paupières de la nouvelle palette Revealed 2 de Coastal Scent, et le mini liner Push-Up de Benefit que j'ai gagné. Plus ça va, plus je me demande si la Birchbox est faite pour moi ! J'aime le fait qu'elle contienne beaucoup de produits de soins, mais je reçois énormément de produits que je ne peux pas utiliser. J'hésite fortement à résilier mon abonnement mais comme je ne suis pas encore sure je vais attendre un peu.
This month my Birchbox contains a lot of samples, and also a little extra that I won at a Birchbox giveaway. I got a lot of samples from Davines (shampoo, conditioner and treatment), a body lotionand an enzymatic facial cleanser. All these products look great but are not fragrance-free, so I can not use them. I also received a sample of perfume that I will not use either, so the majority of my Birchbox will go for trade. So there is not much left I can really use, the mini eyeshadow palette from the new Revealed 2 by Coastal Scent, and mini liner Push-Up by Benefit that I won. The more it goes, the more I wonder if the Birchbox is for me. I like the fact that it contains a lot of skincare products, but I get a lot of products that I can not use. I am thinking about cancelling my subscription but I'm not sure yet so I'll wait a bit.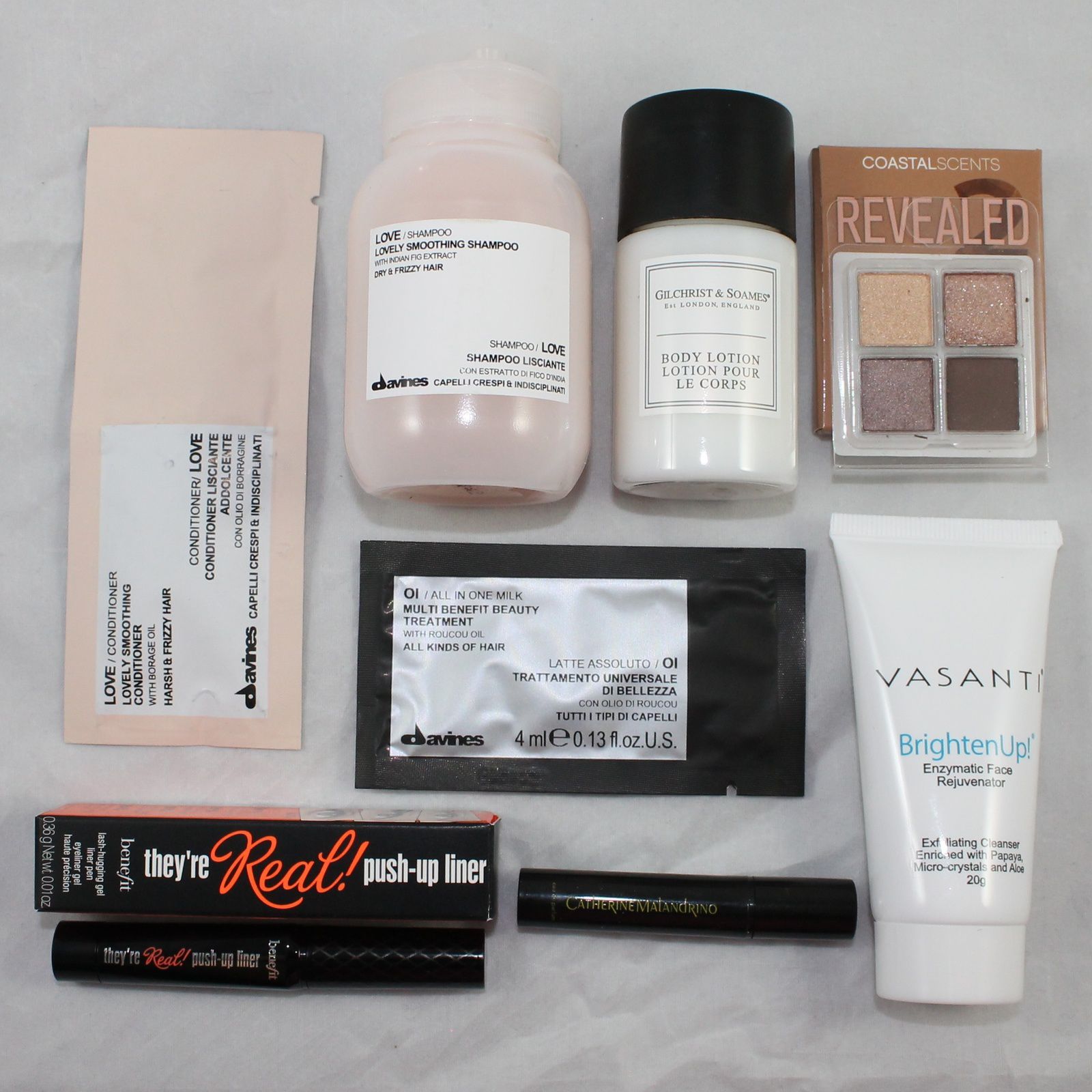 Davines Love Smoothing Conditioner, Shampoo & All in One Milk, Benefit They're Real Push-Up Liner, Gilchrist & Soames London Collection Body Lotion, Catherine Malandrino Style de Paris, Coastal Scents® Revealed 2 Palette Sample & Vasanti BrightenUp! Enzymatic Face Rejuvenator.
Try personalized samples with a monthly subscription, stock up on favorites in the Birchbox Shop, plus get ideas and inspiration to bring into your daily routine.