Je sais je suis carrément à la bourre avec cet article car aujourd'hui je vous montre les 4 vernis de la box Holo Grail du mois de Mars. Alors déjà j'ai reçu cette box en Avril, et puis j'ai été super occupée, et oui swatcher 4 vernis à la suite ça prend du temps. Bref j'ai finalement trouvé un moment pour les essayer, et je dois dire que je suis mitigée. J'en adore 2 sur les 4, les 2 autres sont jolis mais je n'en suis pas folle. Trève de bla bla voici les photos.
I know I'm super late with this article because today I show you the 4 nail polish of the March Holo Grail Box. So I received this box late, in April, and then I was super busy, and yes swatching 4 varnish in a row it takes time. Anyway, I've finally found a moment to try them and I must say I'm not disappointed but so super happy either. I love 2 of 4, the other 2 are nice but I'm not crazy about them. Enough bla bla here are the pictures.
Aly's Dream Polish Pinkberry is un vernis rose assez flashy, holographique et avec de jolis reflets bleus (que l'on ne voit pas en photos). Il est opaque en 2 couches & sèche relativement vite. C'est le premier vernis de cette marque que j'essaye, il est vraiment beau (oui il est rose je ne vais pas dire le contraire) et la formule est vraiment bonne. Je le trouve superbe !
Aly's Dream Polish Pinkberry is a pretty bright pink varnish, holographic and with pretty blue reflections (which are not seen in pictures). It is opaque in 2 coats & dries relatively quickly. This is the first polish from this brand that I try, it is really beautiful (yes it is pink I will not say otherwise) and the formula is really good. I really love it!
Too fancy Lacquer Mesmerized est un violet foncé holographique. Les reflets holographiques sont intenses mais à part ça je trouve que ce vernis manque de quelques chose. J'aurais bien ajouté des reflets bleus ou roses. La formule est impressionnante, il est opaque en une seule couches et sèche très vite. Encore une fois c'est le premier vernis de cette marque que j'essaye et je suis impressionnée par la formule mais pas trop par la couleur.
Too fancy Lacquer Mesmerized is a holographic dark purple. Holographic reflections are intense but other than that I think it is missing something. I would have added blue or pink hues. The formula is impressive, it is opaque in a single layer and dry very quickly. Again this is the first polish from this brand that I try and I am impressed by the formula but not by the color.
Foxy Paws Polish Want You est un joli bleu vif holographique parsemé de paillettes dorées et bleues. La couleur est jolie mais l'ajout de paillettes rend la texture beaucoup moins lisse qu'un vernis holographique classique. Les paillettes se ressortent pas très bien une fois le vernis posé ce qui lui donne un fini un peu irrégulier et gâche un peu le rendu. Je ne suis pas fan de ce vernis.
Foxy Paws Polish Want You is a pretty bright holographic blue sprinkled with gold and blue glitter. The color is nice but adding glitter makes the texture much less smooth than regular holographic polish. Glitter do not stand very well once the varnish is layered and it gives a slightly irregular finish and spoils the result. I'm not a fan of this polish.
Et pour finir mon petit favoris Lilypad Lacquer Natures Gift, un magnifique gris vert duochrome et holographique aux reflets violets avec des micro flakies dorées. L'effet duochrome et les flakies donne de la dimension au vernis, et le rendu vari suivant la lumière, c'est vraiment beau à voir. La formule est très bonne, il est opaque en 2 couches et sèche vite. J'adore Lilypad Lacquer et encore une fois je ne suis pas déçue ni par la formule, ni par la couleur.
And finally my favorite Lilypad Lacquer Natures Gift, a beautiful gray-green duochrome and holographic with violet reflections & micro gold flakies. The duochrome effect & flakies give dimension to the varnish, and the result varies depending on the light, it's really nice to see. The formula is very good, it is opaque in 2 coats and dries quickly. I love Lilypad Lacquer and again I'm not disappointed either by the formula or by the color.
Vous l'aurez compris mes 2 favoris sont Pinkberry et Natures Gift. La Holo Grail Box contient 4 vernis holographiques exclusifs. Elle est vendue par Dazzled, elle est disponible à l'achat (pré-commande) chaque mois pendant 2 semaines (du 1er au 15 du mois); pour plus d'informations je vous ai mis le lien ci-dessous.
You probably understood my two favorites are Pinkberry and Natures Gift. The Grail Holo Box contains 4 exclusive Holographic polish. It is sold by Dazzled, it is available for purchase (pre-order) each month for 2 weeks (from the 1st to the 15th); for more information I've put the link below.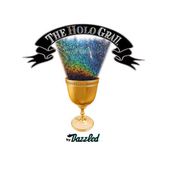 Pre-order for June's The Holo Grail Box. Theme of June: Bon Voyage! Inspired by makers' favourite vacation place! 4 exclusive holographic polishes made by:Lilypad LacquerLiquid Sky ...