Il y a quelques jours Sephora lançait son nouveau kit solaire 2014. Ce kit, vendu $32 (valeur réelle $177) contient 16 échantillon deluxe de produits de bronzage, protection solaire... Forcement comme tous les kits Sephora, celui-ci s'est vendu à la vitesse de la lumière mais j'ai réussi à en acheter un. Je suis une accro aux produits solaires, je protège ma peau un maximum (même l'hiver, j'ai une peau très sensible au soleil et j'ai des tonnes de grains de beauté) et ce kit est parfait pour tester de nouveaux produits. En plus pour chaque kit vendu Sephora verse $20 à la fondation contre le cancer de la peau. Alors faire une bonne action, se faire plaisir et protéger sa peau le tout pour $32, moi je dis oui !
A few days ago Sephora launched its new safety sun kit for 2014. This kit was sold for $32 (actual value $177) and contains 16 deluxe sample of tanning and sun protection products... Of course as all Sephora kits, it is sold out at the speed of light, but I managed to buy one. I am addicted to solar products, I protect my skin all the time (even in winter, I have a very sun sensitive skin and I have tons of moles) and this kit is perfect for testing new products. In addition for each kit sold Sephora gives $20 to the skin cancer foundation. So do a good deed, enjoy yourself and protect your skin all for $32, I say yes!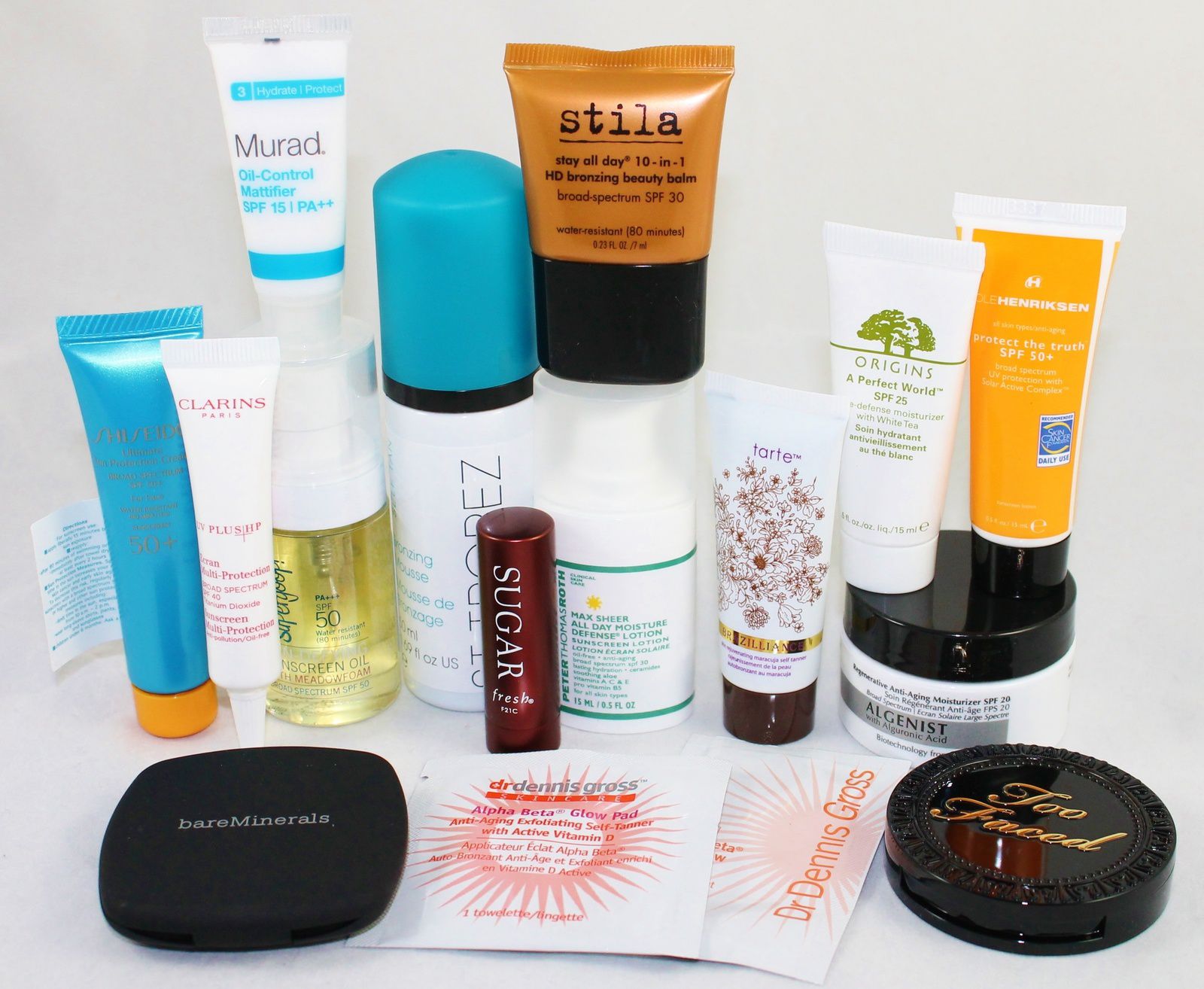 - 0.06 oz Dr. Dennis Gross Alpha Beta® Daily Glow Moisture - 0.5 oz Peter Thomas Roth Max Sheer All Day Moisture Defense® Lotion - 0.14 oz Too Faced® Chocolate Soleil Medium/Deep Matte Bronzer - 0.3 oz Clarins UV Plus HP Multi-Purpose Broad Spectrum SPF 40 Sunscreen - 0.33 oz Murad® Oil-Control Mattifier SPF 15 PA++ - 0.5 oz Tarte™ Brazilliance Skin Rejuvenating Maracuja Self Tanner - 0.23 oz Stila Stay All Day® 10-in-1 HD Bronzing Beauty Balm Broad-Spectrum SPF 30 - Dr. Dennis Gross™ Alpha Beta® Glow Pad - 0.15 oz bareMinerals READY Touch Up Veil Broad Spectrum SPF 15 in Translucent - 1.69 oz St. Tropez Self Tan Bronzing Mousse - 0.5 oz Origins A Perfect World™ SPF 25 Age-Defense Moisturizer - 1 oz Supergoop! Sun-Defying Sunscreen Oil Broad Spectrum SPF 50 - 0.64 oz Shiseido Ultimate Sun Protection Cream Broad Spectrum SPF 50+ For Face - 0.5 oz Algenist Regenerative Anti-Aging Moisturizer SPF 20 - 0.08 oz Fresh Sugar Lip Treatment Sunscreen SPF 15 - 0.5 oz Ole Henriksen Protect the Truth SPF 50+ Broad Spectrum UV Protection
Comme vous pouvez le voir sur cette photo, il y avait plein de produits différents, mais principalement des crème de jour avec SPF ou crème solaire (je n'en ai testé aucunes pour le moment). Il y avait aussi 2 autobronzants, un Saint Tropez (avec fragrance donc il va direct dans ma pile de produits à échanger sur edivv) et une fameux Tarte Brazilliance. Je n'aime pas les autobronzants, ils rendent ma peau orange on dirait que je suis malade, mais je voulais tester le Brazilliance depuis un moment. je l'ai tester hier sur mes jambes (la partie de mon corps qui bronze le moins) soir et je dois dire que je suis ravie. Il est facile d'utilisation (pas besoin de gommage) et il donne un résultat super naturel (et pas orange). J'aurais du faire des photos avant/après mais franchement j'envisage de racheter ce produits. Dans le kit il y avait aussi un bronzer Too Faced qui sent bon le chocolat (et ce n'est pas du parfum c'est du vrai chocolat dedans), il est très foncé, j'avais peur qu'il soit trop foncé pour moi mais il est en fait parfait pour faire une petite touche de contouring. Et enfin le dernier produit que j'ai testé et que j'adore c'est la poudre matte compacte BareMinerals avec SPF. J'ai la version sans SPF et je l'adore (comme il est petit il est donc mon sac à main tout le temps et je l'utilise pour faire des retouche quand ma peau brille un peu trop), et je compte bien abuser de cette version avec SPF dès que la soleil sera un peu trop agressif (direct dans le sac à main). En résumé je suis ravie de ce kit, quelques unes des crèmes solaires contiennent du parfum donc je ne les utiliserai pas, mais le reste je vais les utiliser jusqu'à la dernière goutte. Malheureusement ce kit est déjà en rupture de stock en ligne, je ne pense pas qu'il sera de nouveau disponible mais peut-être dans certains magasins, à vérifier !
As you can see from this picture, there was lots of different products in this kit, but mainly moisturizers with SPF or sunscreen (I did no test these yet). There was also two self-tanning products, a Saint Tropez (with fragrance so it will go in my stack of products to trade on edivv) and the famous Tarte Brazilliance. I do not like self-tanners, they make my skin orange it looks like I 'm sick, but I wanted to test the Brazilliance for a while. I tested it yesterday on my legs (the part of my body that tans the least) and I must say I am delighted. It is easy to use (no scrubing necessary) and it gives a great natural tan (not orange). I should have done before/after pictures but honestly I plan to buy this product . In the kit there also was a Too Faced bronzer that smells like chocolate (and it is not fragrance it is real chocolate inside), it is very dark, I was afraid it was too dark to me, but it is actually perfect for contouring. And the last product I tried and I love is the matte compact powder with SPF from BareMinerals. I have the version without SPF and I love it (as it is small it is my purse all the time and I use it to correct the shinning of my skin during the day), and I intend to abuse this version with SPF when the sun will be a bit too aggressive (it goes directly in my purse) . In summary I am delighted with this kit, some sunscreens are not fragrance-free so I will not use them, but the rest I will use until the last drop. Unfortunately this kit is already out of stock online, I do not think it will be available again but maybe it still is in some stores, you can check!
Sephora: Sephora Favorites : Sun Safety Kit : face-sunscreen
What it is: A kit containing 16 deluxe sample sizes of sunscreen, safe self-tanning, and bronzing must-haves, plus a convenient travel bag. What it does: Sephora and The Skin Cancer Foundation are ...