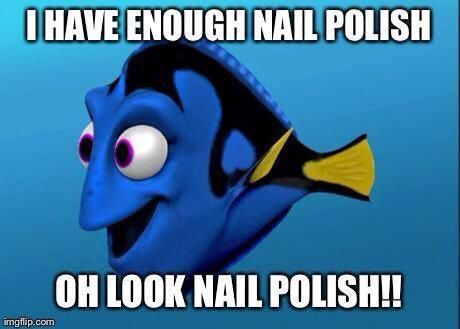 Et nous y voici encore, la fin du mois et le bilan de mes achats de vernis (je suis également une makeup addict mais je vous épargne le makeup haul du mois de mai ça fait peur). Beaucoup d'achats ce mois-ci mais pas tant que ça, j'ai réussi à me restreindre un peu et je me suis étonnée moi-même. Bon en même temps je n'ai définitivement plus de place, je suis en plein inventaire et tri de mes vernis (depuis plus d'un mois mais j'en ai tellement) et du coup j'essaye de limiter un peu. Attention c'est parti...
And here we are again, the end of the month and the summary of my nail polish purchases (I'm also a makeup addict but I'll spare you the makeup haul for May it is scary). Many purchases this month but not that much, I managed to restrain myself a little and I'm surprised. Well at the same time I was definitely out of room to store polish, I'm in the middle of sorting and inventoring my polish (for over a month but I have too many) and then I tried to limit a bit. Ready? let's go...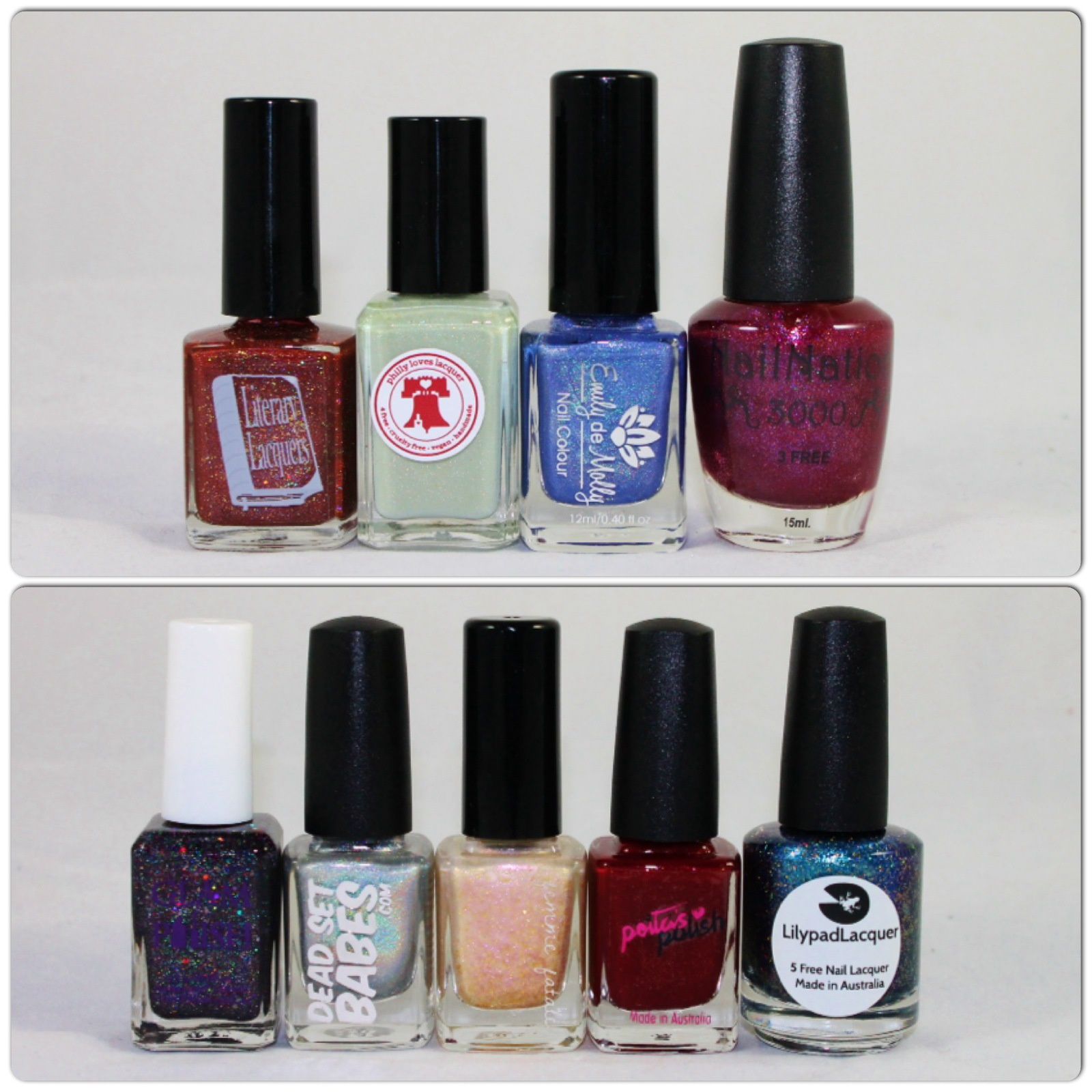 Holo Grail Box (April) Literary Lacquer Rare Books Room, Philly Loves Lacquer I love You a Lime, Emily de Molly Imperfect Harmony & Nail Nation 3000 Once Bitten. What's Indie Box (May 2014) Glam Polish Ciao Bi#%$es, Dead Set Babes Eric in Chains, Femme Fatale Cismetics Sookie, Peita's Polish All Flavor No Bites & Lilypad Lacquer I love the Smell of Nail Polish in The Morning.
Tout d'abord voici mes 2 box, la Holo Grail par Dazzled et la What's Indie Box disponible sur peita's Polish. La Holo Grail a toujours un peu de retard, j'ai reçu celle d'avril mais pas encore celle de mai. La What's Indie Box du mois de mai et bien arrivée au mois de mai, et le thème était True Blood. J'adore la série, j'adore les vernis de cette box ils sont superbes (j'essayerai de rattraper mon retard dans les swatches de ces box dès que possible).
First here are my 2 boxes, the Holo Grail by Dazzled and What's Indie Box available at Peita's Polish. The Holo Grail is always a little late, I received the April box but not the May one. What's the Indie Box for May and arrived safely in May, and the theme was True Blood. I love the serie, I love these lacquers they are superb (I'll try to catch up in swatches of these boxes as soon as possible).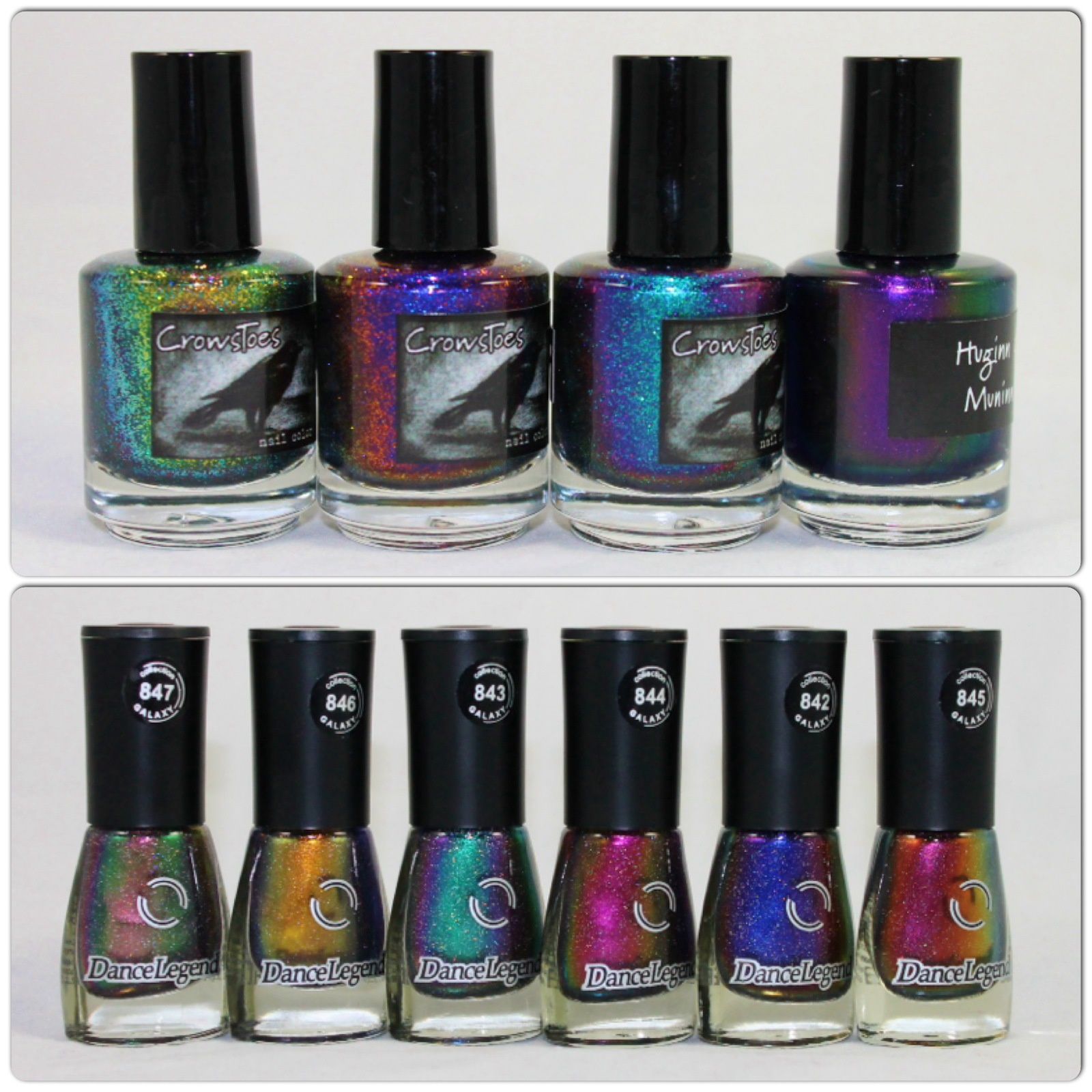 CrowsToes Vanaheim, Muspelheim, Nidavellir and Huginn & Muninn (from the 9 Realms collection). Dance Legend Galaxy Collection (Solar Eclipse, Protuberance, Milky Way, Big Bang, Pulsar & Comet Tail)
La dernière collection de Crowstoes inspirée de la mythologie nordique des 9 royaumes est juste une tuerie. Malheureusement je n'ai pas pu tous les acheter alors j'ai pris les plus beaux (des multichromes comme c'est bizarre). Toujours des multichromes avec la collection Dance Legend Galaxy, et oui je n'ai pas pu résister j'ai tellement adoré leur multichromes normaux qu'il me fallait ceux-là aussi (et puis parce qu'ils sont moins cher que les Picture Polish sorti récemment et qui sont très similaires).
The latest collection from Crowstoes inspired by the Norse mythology and the 9 realms is just a killer. Unfortunately I could not buy all of them so I took the prettiest to me (the multichromes it's so weird LOL). Still in multichromes with the Dance Legend Galaxy collection, and yes I could not resist so I loved their regular multichromes that I needed those too (and then because they are cheaper than the Picture Polish recently released and are very similar).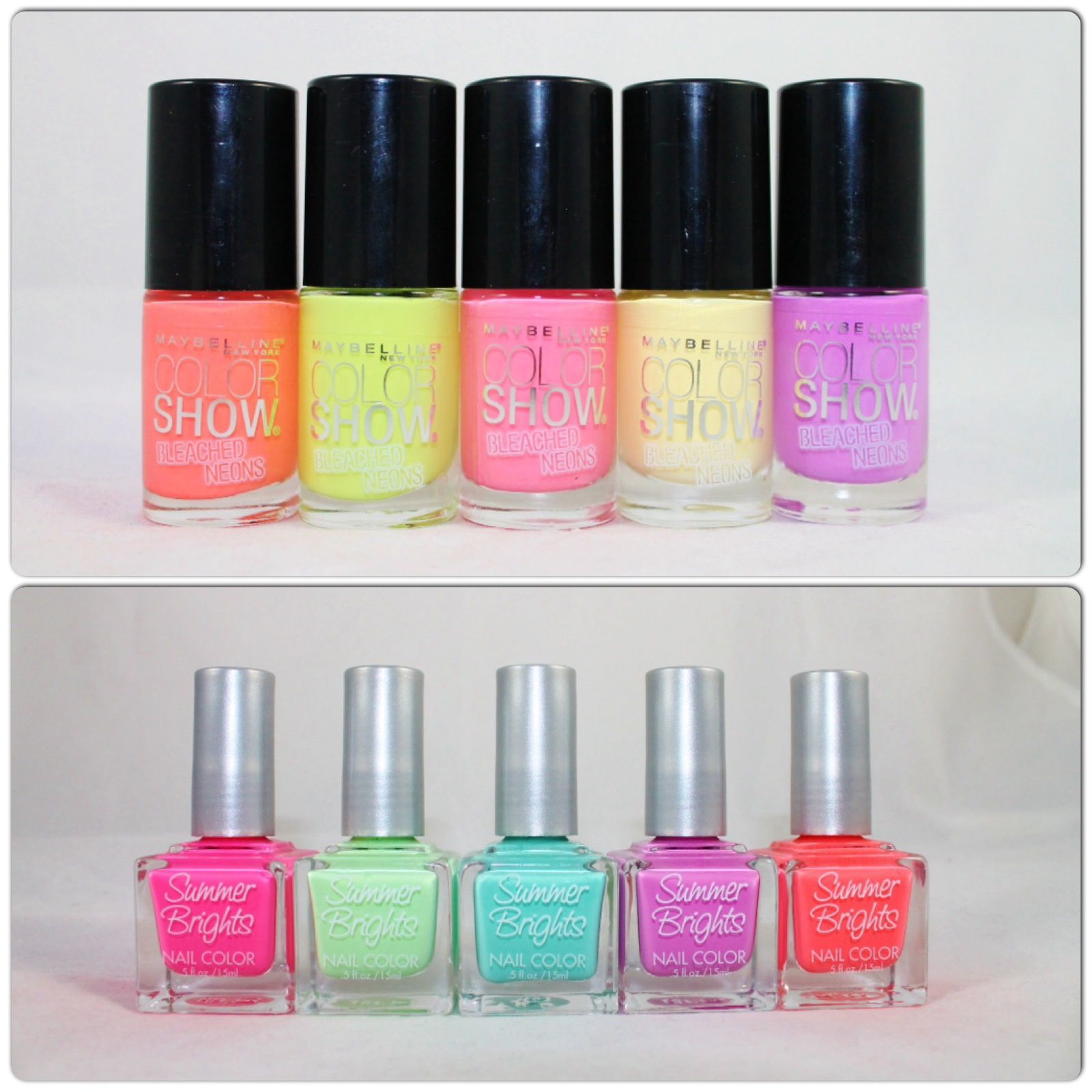 Maybelline Bleached Neons (Coral Heat, Lime Accent, Pink Punch, Citrus Collide & Ultra Violet) Summer Bright Nail Color (Pink, Green, Turquoise, Violet & Coral)
Une autre de mes obsession après les vernis multichromes, ce sont les vernis fluos, et en particulier les vernis fluos pastels. Quand j'ai vu que Maybelline avait sorti une collection en édition limitée avec uniquement des teintes fluos pastels, oui je les ai tous pris. En fait non car je n'en ai trouvé que 5 sur les 7, il me manque le bleu et le orange, j'espère pouvoir les trouver bientôt. Et au passage j'ai vu la collection d'été Summer Brights, l'année dernière j'avais hésité à les prendre (la collection d'été 2013) et quand je m'étais enfin décidée il n'en resté qu'un. Je n'ai pas voulu faire la même erreur, j'ai pris tous ceux qui me plaisait (mais ils n'ont pas de petits noms, ni de numéro d'ailleurs).
Another of my obsession after multichromes, it is neon polish, varnishes and especially pastel neon. When I saw that Maybelline has released a limited edition collection with only neon pastel colors, I took them all. Actually not because I have found only 5 out of the 7, I miss the blue and orange, I hope to find them soon. And by the way I saw the new Summer Brights collection, last year I had hesitated to buy some (from the summer 2013 collection) and when I finally decided to buy them only one color was remaining. I did not want to make the same mistake this year, I took all that I liked (but they do not have names, or even numbers).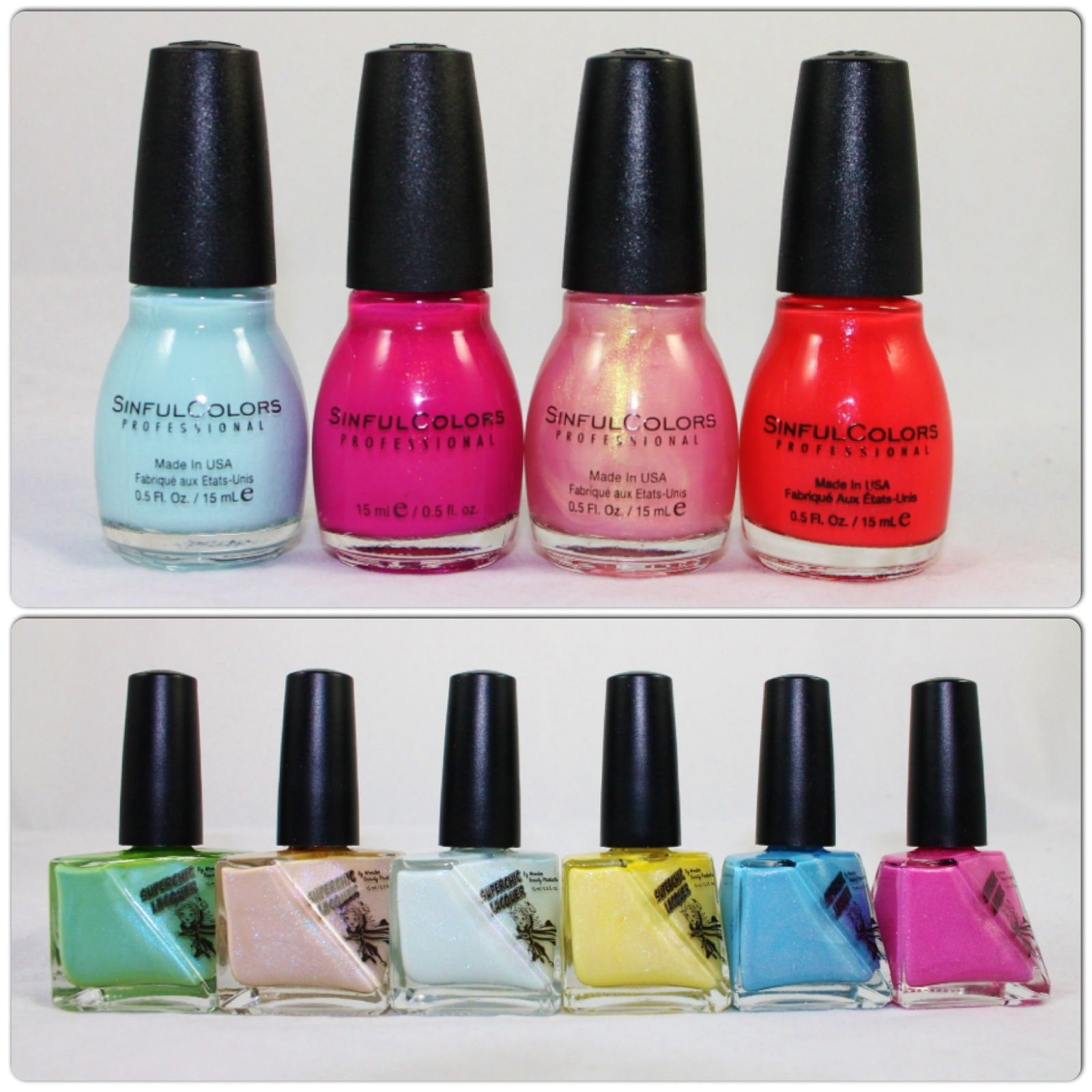 Sinful Colors Tidal Wave, Cream Pink, You Just Wait & Coral Riff. SuperChic Lacquer Sunday Driver, Bashing in the Sand, White Water Rush, Kissed by the Sun, Hot Spring Dipping Hole & Pocket Full of Posies
Quand je suis passée au drugstore j'ai jeté un oeil sur les vernis Sinful Colors et j'en ai acheté quelques uns dont les couleurs me plaisaient bien, et j'ai aussi acheté la nouvelles collection de SuperChic Lacquer. J'ai tellement aimé la collection précédente (des vernis crellies aux reflets incroyables) qu'il me fallait la nouvelle !
When I went to the drugstore I had a look on Sinful Colors polish and I bought a few colors which I liked a lot, and I also bought the new collection from Superchic Lacquer. I liked the previous collection some much (crellies the incredible reflections) that I needed the new one !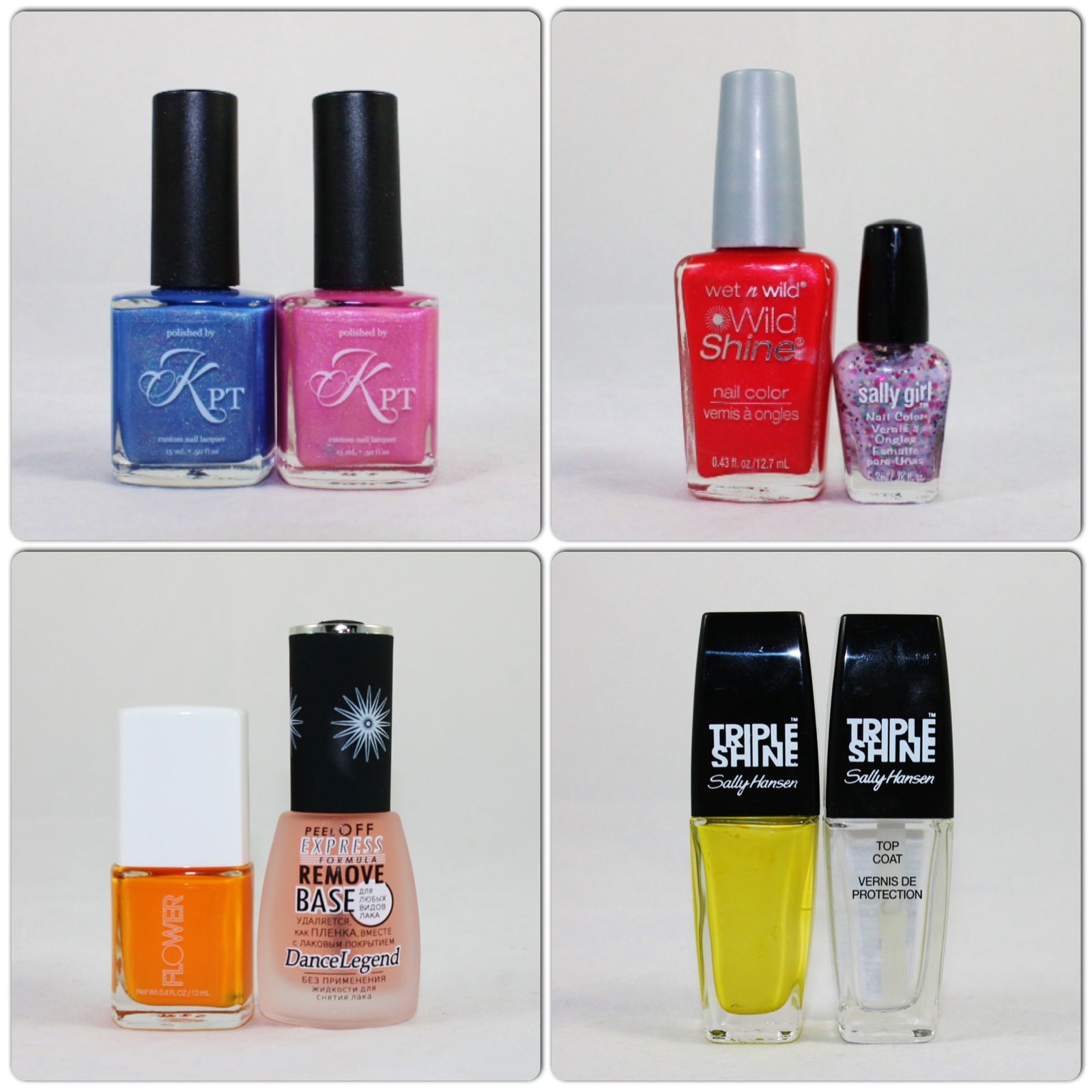 Polished by KPT Kevin Bleu & Sunday Rose. Wet'n Wild Too Hot For You. Sally Girl Fresh as a Daisy. Flower Eye of the Tiger Lily. Dance Legend Peel Off base Coat. sally Hansen Triple Shine Statemint & Top Coat.
Et enfin pour finir quelques petites choses par-ci par-là, 2 Polished by KPT, des vernis et soins reçus dans des box (Flower et Sally Hansen) et dans des échanges. Finalement j'éai été plutôt sage, j'espère pouvoir continuer à ma limiter le mois prochain....
And finally to finish a few things here and there, 2 Polished by KPT, varnishes and nail care received in beauty boxes (Flower and Sally Hansen) or trades. I finally was rather good, I hope to continue to limit myself next month ...