Aujourd'hui je vous présente un vernis que j'adore, Live Life Polished Pink-A-Blue. Je ne connais pas du tout cette marque, mais je suis tombée sur ce vernis sur Instagram, apparemment c'était un vernis non destiné à la vente dans sa boutique, un petit lot de vernis qu'elle avait fait juste comme ça (ou les restes d'un custom je ne me souviens plus exactement). Bref je l'ai vu et je l'ai voulu, et comme n'avait que quelques bouteilles en stock j'ai eu raison de la contacter de suite pour l'acheter, parce qu'il est juste magnifique. C'est un joli bleu pastel assez flashy (presque fluo) avec des mini paillettes rose fluos. La formule est géniale, il sèche super vite et est opaque en 2 couches. Je le trouve parfait, vous en pensez quoi ?
Today I will show you a polish that I love a lot, Live Life Polished Pink-A-Blue. I did not know this brand, but I came across this polish on Instagram, apparently it was not for sale in her shop, a small batch of varnish she had done just like that (or the remains of a custom I can not remember exactly). Anyway I've seen it and I wanted it, as she anly had a few bottles in stock I was right to contact her immediately to buy it, because it is just beautiful. This is a nice bright pastel blue (almost neon) with mini neon pink glitter. The formula is great, it dries super fast and is opaque in 2 coats. I find it perfect, what do you think?
Peel-Off Base / Live Life Polished Pink-A-Blue / OutTheDoor Top Coat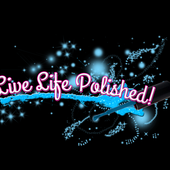 All polishes are handmade and are 5-free! If you have a special order or would like to combine shipping, email me at livelifepolished@hotmail.com and I will gladly help! - Online Store Powered by ...