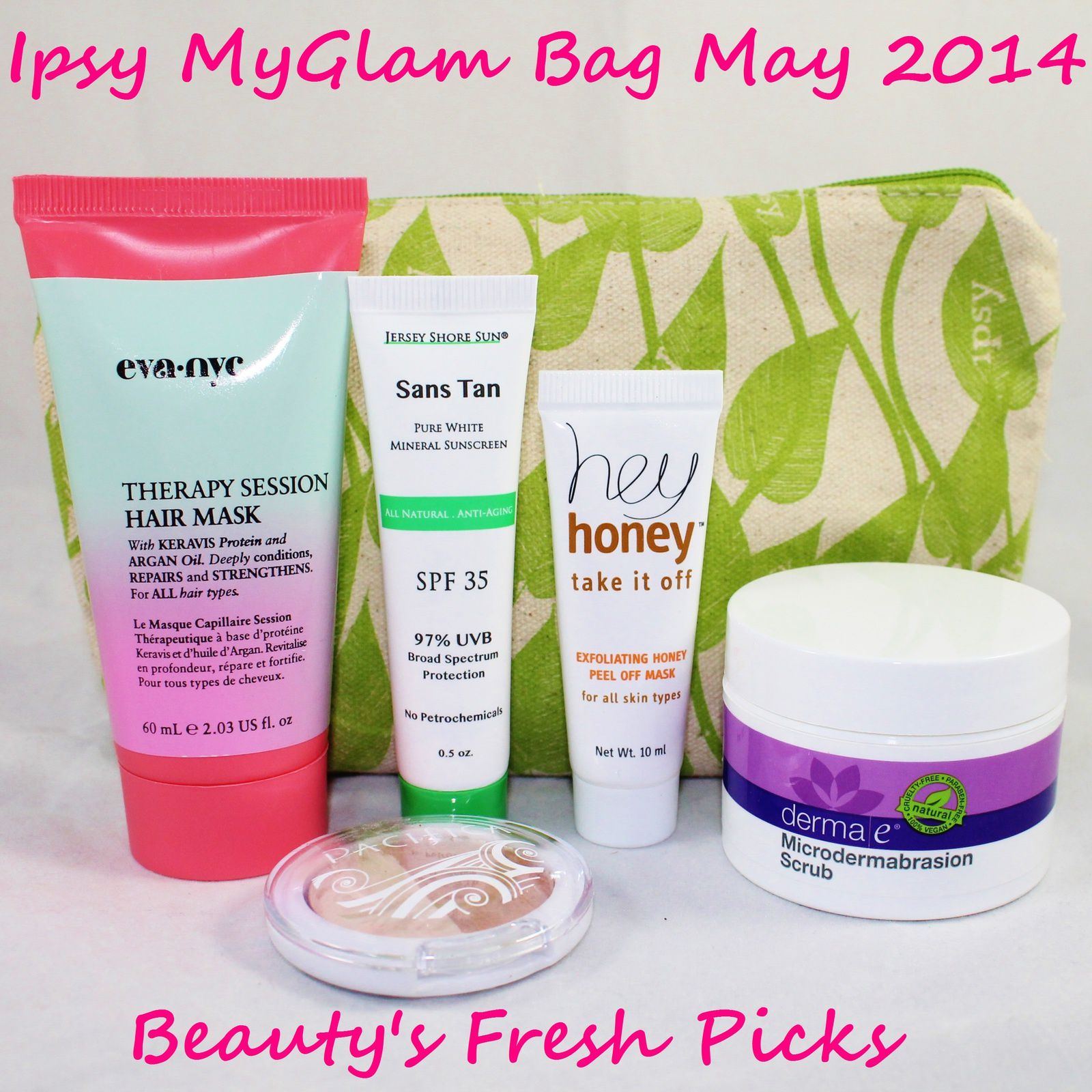 Eva NYC Therapy Session Hair Mask, Jersey Shore Sun® Sans Tan Anti-aging Sunscreen, Hey Honey Take It Off! Exfoliating Honey Peel Off Mask, derma e Microdermabrasion Scrub & Pacifica Mineral Eyeshadow Duo
Je viens de recevoir mon nouveau Glam Bag par Ipsy et je suis super contente. Ce mois-ci il y a beaucoup moins de produits de maquillage que d'habitude, mais ce n'est pas une mauvaise chose en soi car la sélection de produits du mois de mai est vraiment bien. Bon je ne vais pas faire comme le mois dernier avec un détails de chaque sneak peek et des produits correspondants (j'ai mis les sneak peeks en fin d'article) mais sachez que globalement dans mon questionnaire Ipsy je n'avais mis aucunes limitations sur les produits de beauté (hors maquillage) et que par conséquent tous les produits que j'ai reçu correspondent à mon profile (sauf le duo de fard à paupière). je vais pour sur utiliser la crème solaire et le produits de microdermabrasion, mais les masques (un pour cheveux et l'autre pour le visage) contiennent malheureusement du parfum donc je vais les échanger. Comme pour le mois dernier où tout le monde avait reçu le liner Urban Decay, en mai tout le monde a reçu un des deux duo de fard à paupière. Initialement j'étais septique par rapport à ce produit, mais je l'ai essayé et je suis conquise. Comme vous pouvez le voir ci-dessous la teinte la plus claire (Celestial) n'est pas un simple beige clair, il a aussi des reflets roses très intenses, et le beige plus foncé n'est pas juste beige, il a aussi des reflets or et bronze. C'est deux couleurs sont juste magiques je suis très contente d'avoir reçu ce duo, j'hésite même faire un échange pour obtenir l'autre duo (violet) que je n'ai pas reçu.
I just received my new Glam Bag by Ipsy and I am super happy. This month there is a lot less makeup than usual, but it is not a bad thing because the selection of products for May is really good. Well I 'm not going to do like last month with details of each sneak peek and related products (I put the sneak peeks at the end of this article) but just know that in my Ipsy quizz I did not put any limitations on beauty products & skincare (excluding makeup) and therefore all the products I received this month fit my profile (except the eyeshadow duo). I'm going to use the sunscreen and microdermabrasion cream , but unfortunately both masks (one for hair and one for the face) contain fragrance so I'll trade them . As last month when everyone had received the Urban Decay liner, in May everyone received one of the two eyeshadow duo. Initially I was skeptical regarding this product, but I tried it and I love it. As you can see below the lightest shade (Celestial) is not a simple light beige , it also has very intense pink highlights and thedarker beige also has gold and bronze reflections. These two colors are just magical I am very happy to have received this duo, I am even thinking makinge a trade for another duo (purple) I have did not received .
ipsy: Exclusive Beauty Finds by Our Stylists for YOU
Founded by Michelle Phan. Personalized beauty products & offers (makeup & more)! Subscribe to the Glam Bag. Membership is free.