Il y a quelques jours j'ai reçu une nouvelle box Influenster, et je suis particulièrement excitée de tester ces produits car il s'agit d'une VoxBix Mary Kay 100% makeup. Je connais la marque Mary Kay de nom, je n'ai cependant jamais testé leur produits. Quand j'ai su que j'étais sélectionnée pour recevoir cette box j'ai regardé un peu leur sélection de maquillage et ils ont vraiment des choses intéressantes et pas trop chères. Voyons en détails les produits que j'ai reçu...
A few days ago I received a new box from Influenster, and I am particularly excited to try these products because it is a 100% Mary Kay makeup VoxBox. I know the Mary Kay brand by name, I have however never tested their products. When I knew I was selected to receive this box I looked a few of their products and they really have an interesting selection and it is not too expensive. Let's see the products I received...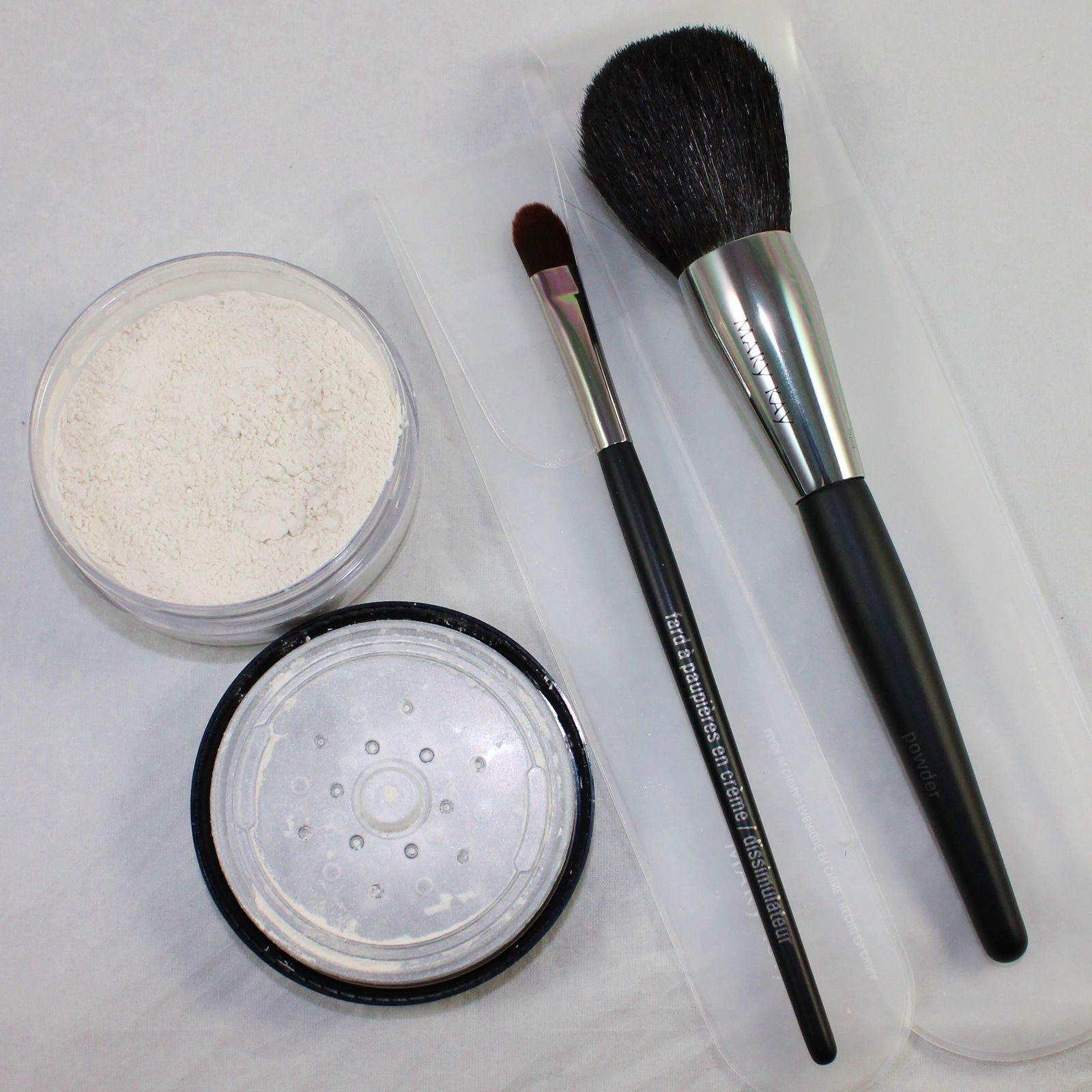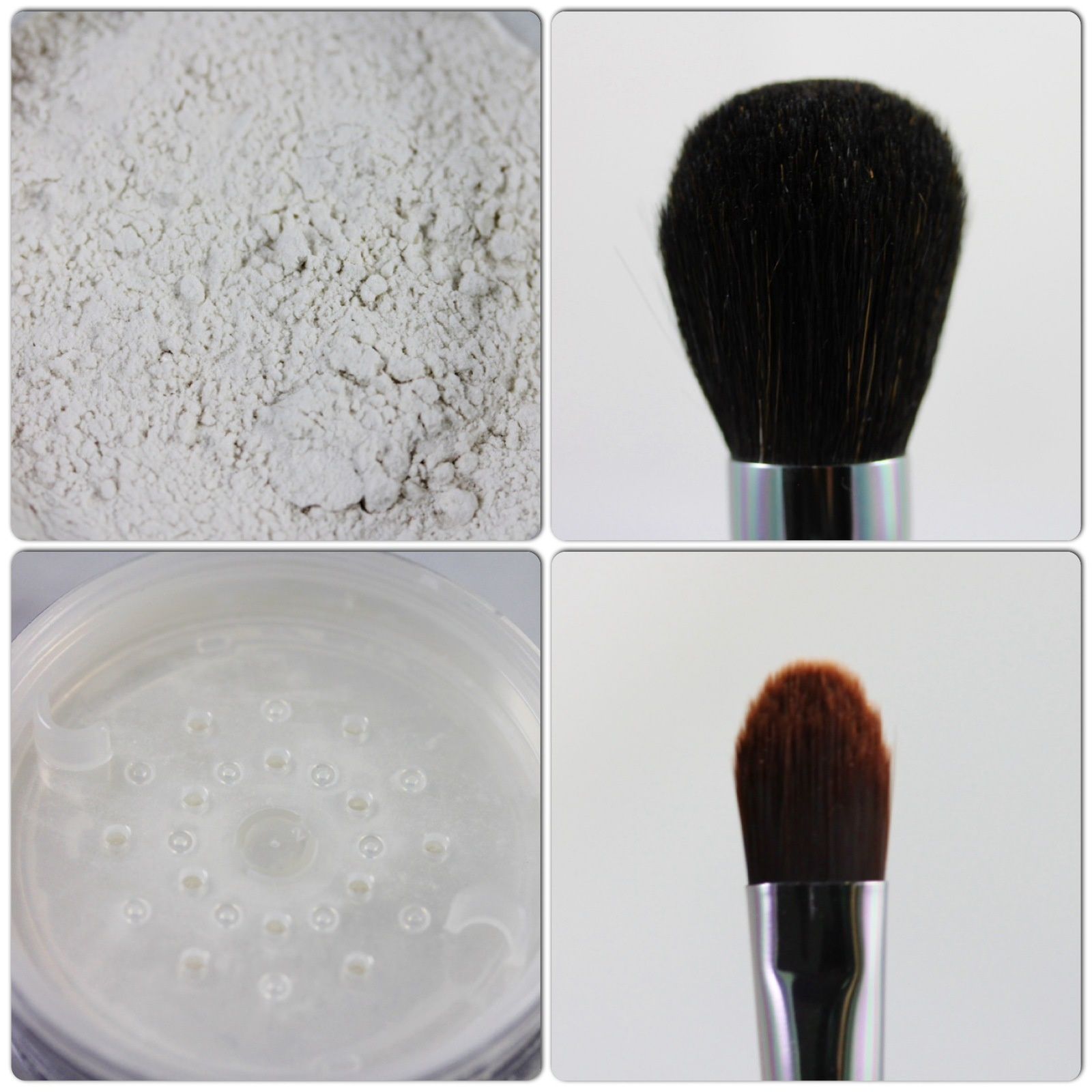 Mary Kay Translucent Loose Powder ($16), Mary Kay Cream Eye Color/ Concealer Brush ($10) & Mary Kay Powder Brush ($16)
Je commence par la poudre libre translucide, j'ai reçu un gros pot, j'utilise souvent ce genre de poudre après mon fond de teint (ou BB cream) pour éviter l'effet peau qui brille. Cette poudre est de très bonne qualité (comparable à ma poudre libre Amazonian Clay de Tarte que j'utilise actuellement), elle a l'aire un peu plâtreuse comme ça dans la boîte mais en fait non elle est très légère. J'ai aussi reçu deux pinceaux, un pour le visage et un pour les yeux, la qualité est bonne, mais pas exceptionnelle, je possède déjà beaucoup de pinceaux à maquillage dont certains d'excellente qualité, et je dirais que ceux-ci se situent dans la moyenne, après il faut aussi voir leur durée de vie. Le pinceaux pour les yeux semble un peu grossier, mal coupé, je ne sais pas si cela est fait exprès mais ça me laisse un peu dubitative.
I will start with the translucent loose powder, I got a big pot, I often use this type of powder after my foundation (or BB cream) to avoid my skin from shining. This powder is very good (comparable to my loose powder Amazonian Clay from Tarte I currently use), it looks a little but chalky like that in the box but it is not, it is very light. I also received two brushes, one for the face and one for the eyes, the quality is good, but not exceptional, I already have a lot of makeup brushes including some excellent ones and I would say that they are somewhere in the middle, but it also depends on their lasting. The brushes for the eyes seems a bit rude, badly cut, I do not know if this is done on purpose but it leaves me a little dubious.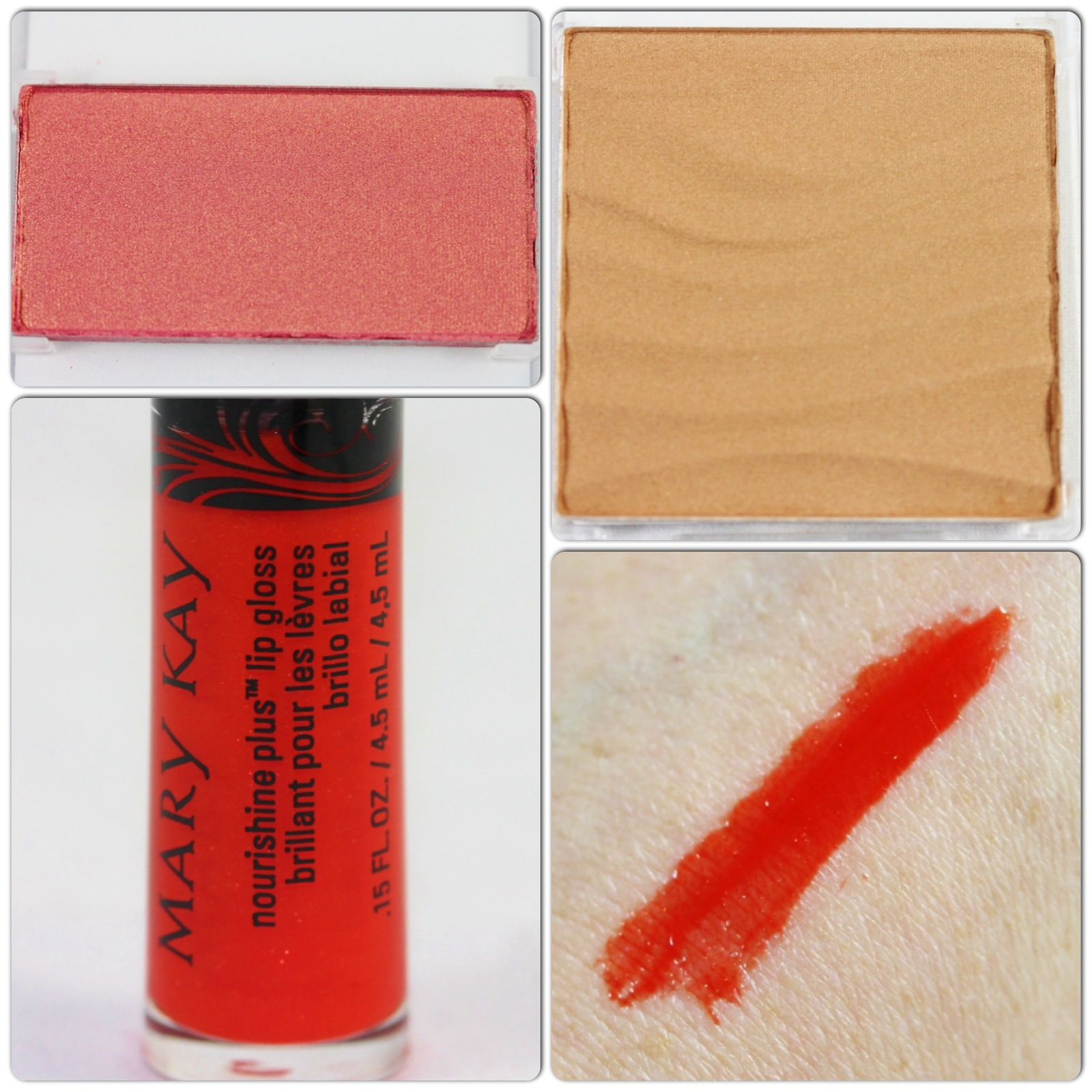 Mary Bay Mineral Cheek Color in Shy Blush ($12), Mary Kay Bronzing Powder in Light-Medium ($18) & Mary Kay Nourishine Plus Lip Gloss in Mango Tango ($14)
J'étais super excitée à l'idée de recevoir un de leur blush parce que j'avais vu 3 couleurs qui me tentaient beaucoup sur leur site, Shy Blush, Strawberry Cream et Citrus Bloom, et j'ai reçu Shy Blush. J'adore la couleur, et je suis quasiment sure que c'est un dupe de NARS Orgasm. La couleur est identique, c'est un rose pêche doré, juste parfait. Je voulais NARS Orgasm depuis longtemps, mais l'idée de dépenser $30 dans un blush me rebute un peu, et là je possède enfin cette magnifique couleur. La qualité est très bonne il tient bien au long de la journée, par contre je n'aime pas trop la packaging, c'est juste une petite boîte en plastique, le blush n'est même pas collé à l'intérieur j'ai faillit le faire tomber en ouvrant la bôite. Ceci dit je ne pense pas que ce soit le packaging dans lequel il est réellement vendu d'après les photos que j'ai vu sur leur site. Le bronzer a le même packaging, la couleur est parfaite pour mon teint, j'utilise beaucoup de bronzer l'été et celui-ci donne un effet très naturel, c'est parfait ! Et enfin le gloss... je n'aime pas les gloss, et le orange encore moins, j'étais sure de détester ce gloss ! Il n'est pas très pigmenté et il est un peu collant, mais au final je l'aime bien, d'abord parce qu'il n'est pas parfumé (ou vraiment très peu je n'ai pas fais de réaction allergique) comme 95% des gloss, et sa formule pas très pigmentée permet de le poser par-dessus d'autres couleurs pour jouer un peu. C'est parfait pour moi non seulement je ne porte pas beaucoup de gloss mais je ne porte jamais de gloss tout seul. Donc oui au final je l'aime bien.
I was super excited to receive one of their blush because I saw 3 interesting colors thattempted me a lot on their website, Shy Blush , Strawberry Cream and Citrus Bloom, and I got Shy Blush. I love the color, and I 'm pretty sure it's a dupe of NARS Orgasm. The color is the same, it is a golden peachy pink, just perfect. I wanted NARS Orgasm for a long time, but the idea of spending $ 30 in a blush repulses me a bit, and then I finally own this gorgeous color. The quality is very good, it holds well throughout the day, but I do not like the packaging, it's just a small plastic box, the blush is not even stuck inside I almost dropped it by opening the box. That said, I do not think this is the packaging in which it is actually sold from the pictures I saw on their website. The bronzer has the same packaging, the color is perfect for my skin, I use a lot of bronzer in the summer and it gives a very natural tan, it is perfect ! And finally the gloss... I do not like glosses, and even less orange, I was sure to hate this gloss ! It is not very pigmented and it is a little sticky, but in the end I like it, first because he is not scented (or very little I did not have any allergic reaction) as 95% of glosses, and doe snot have a very pigmented formula, you can wear it over other colors to play a little. It 's perfect for me not only because I do not wear a lot of gloss but I never wear lip gloss alone. So yes in the end I like it.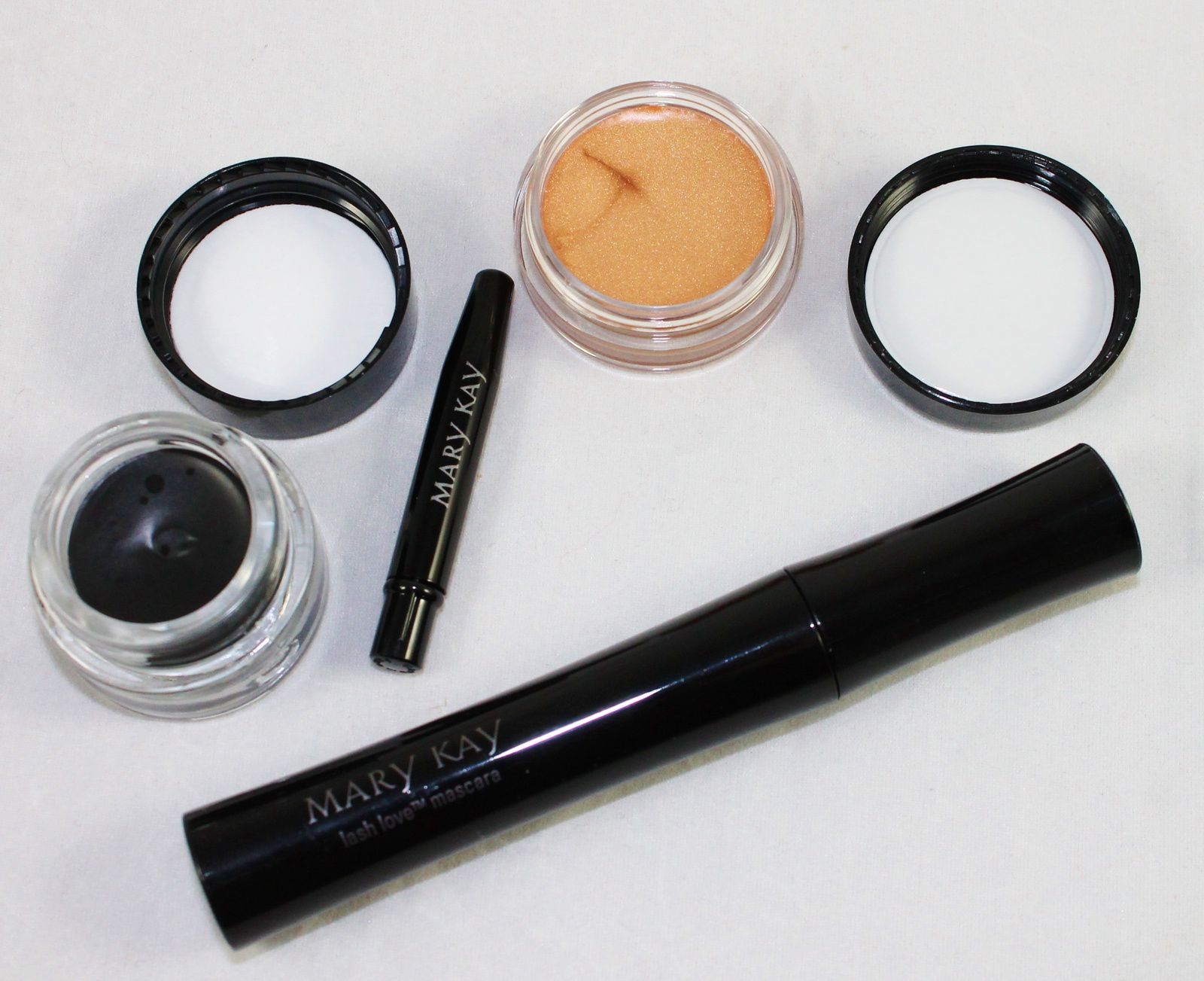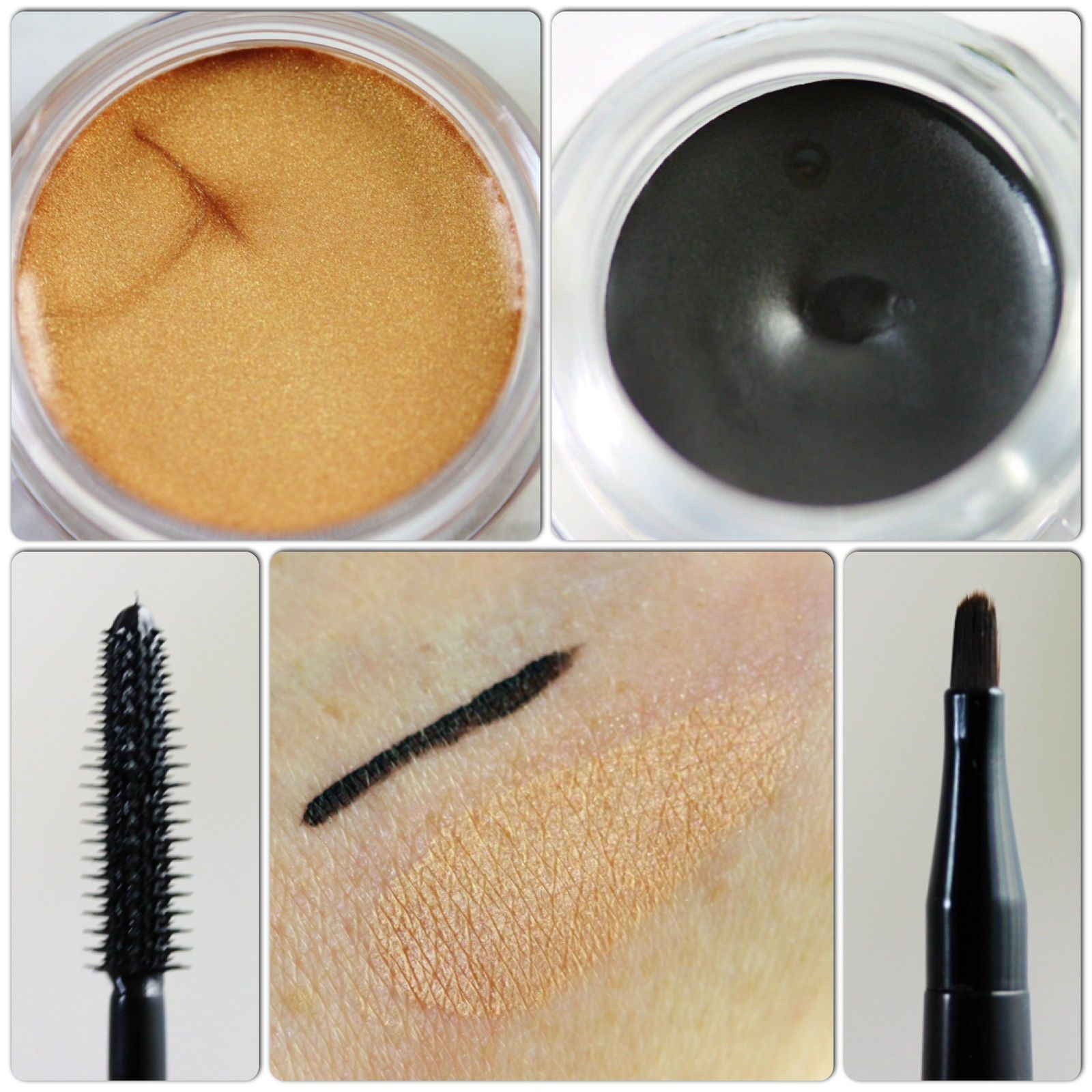 Mary Kay Cream Eye Color in Apricot Twist ($14), Mary Kay Gel Eyeliner with expandable Brush Applicatoir in Jet Black ($18), Mary Kay Lash Love Mascara in Black ($15)
Le fard à paupière en crème s'appelle Apricot Twist mais c'est plus un doré qu'une couleur abricot, il est léger mais bien pigmenté, je pense que je l'utiliserai surtout comme base et je l'associerai à d'autres couleurs, mais c'est plus le genre de couleur que je vais porter cet été quand je serais un peu bronzée car là je suis beaucoup trop pâle LOL. Le liner en gel, la formule est fantastique, je l'aime beaucoup. Je l'ai comparé à mon gel liner Mica Beauty que j'avais reçu dans un de mes box beauté, et celui-ci est tellement mieux que je me suis débarrassée du Mica Beauty pour ne garder que celui-ci. Il s'applique à la perfection, ne bave pas, sèche vite et tient toute la journée. Le gros problème c'est le pinceau applicateur qui est vendu avec, parce que là franchement il est horrible, beaucoup trop gros. Si vous aimez les traits de liner bien épais pas de soucis, mais si vous voulez quelque chose de fin et facile à travailler (surtout pour les coins des yeux) je vous conseille d'utiliser autre chose. Et pour finir le mascara, bonne formule, peu être un peu liquide du coup il faut faire attention à ne pas fermer les yeux trop vite sinon il bave, mais du coup il est assez facile à travailler et donne pas mal d'épaisseur aux cils en 2-3 couches sans faire de pâtés.
The cream eyeshadow is called Apricot Twist but it is more a golden color, it is light but well pigmented, I think I'll use it mainly as a base that I will associate with other colors, but it's the kind of color I 'll be wearing this summer when I will a little tanned because now I 'm too pale LOL . The gel liner formula is fantastic, I like it. I compared it my gel liner from Mica Beauty I received a beauty box, and it is so much better than I got rid of the Mica Beauty to keep only one. It applies to perfection, do not drool, dries quickly and lasts all day. The big problem is the applicator brush that comes with it, because frankly it is horrible, way too big . If you like thick lines of liner no worries, but if you want something thinner and easy to work with (especially for the corners of the eyes) I suggest you use something else. And finally the mascara has a good formula, a little bit liquid so you must be careful not to close your eyes too quickly otherwise it drool, but it is fairly easy to work and gives thick lashes with 2-3 layers without making blobs.
En résumé les produits Mary Kay sont intéressants, bonne qualité et jolie couleurs. Les produits que j'ai le moins aimé sont les pinceaux, et ceux que j'aime vraiment beaucoup sont le blush et le bronzer. Je vais surement acheter d'autres couleurs de Blush notamment Strawberry Cream et Citrus Bloom et essayer quelques uns de leur rouge à lèvres. Il ont de bon basiques comme leur poudre libre, le liner en gel et le mascara. Je vous ai mis le lien vers le site de Mary Kay et celui d'influenster si vous êtes interessés je peux vous envoyer une invitation (envoyez moi en email a destrucsdefilles@gmail.com).
In summary, Mary Kay products are great, good quality and pretty colors. The products I liked the least were the brushes, and the ones I really like are the blush and bronzer. I'll probably buy other colors including Strawberry Cream and Citrus Bloom, and try some of their lipstick. They have good basic such as their loose powder, gel liner and mascara. I've put the link to Mary Kay and influenster website, if you are interested I can send you an invitation (send me a email destrucsdefilles@gmail.com).
A trusted global name in skin care, makeup & body care. The latest beauty advice, makeup trends, virtual makeover & unparalleled business opportunity.
Influenster is an exclusive community for trendsetters to share news,products, and reviews with the opportunity to be rewarded by brands
I received these products complimentary from Influenster for testing purposes.