Aujourd'hui je vous montre le contenu de la Beauty Box du magazine Allure pour l'été 2014. Cette box est vendue tous les 3 mois, coûte $44.95 (sans les frais de port, $58.25 livraison et taxes incluses) est contient une tonne de produits de beauté et cosmétiques. J'étais curieuse mais je n'étais pas sure de vouloir débourser presque $50 dans une box, et puis j'avais cru comprendre que celle-ci se vendait très rapidement et qu'il était difficile de se la procurer. J'ai hésité jusqu'à la dernière minute, et puis dans le feu de l'action je l'ai commandé (et dieu sait qu'il y a eu énormément de soucis lors du lancement de cette box, le site a tout simplement crashé mais je ne vais pas m'étendre sur ce sujet). Bref j'étais hésitante car il y avait énormément de produits pour les cheveux (un peu trop à mon goût) et beaucoup de produits contenant des fragrances (auxquelles je suis allergiques). Mais il y avait aussi beaucoup de produits sympa que je peux utiliser (moi ou mon copain). Donc voici un petit récapitulatif de ce que j'ai reçu.
Today I will show you the contents of the Allure Beauty Box for summer 2014. This box is sold every 3 months, costs $44.95 (not including shipping, $58.25 shipping and taxes included) and contains tons of beauty products and cosmetics. I was curious but I was not sure that I wanted to pay almost $50 for this box, and moreover I understood that it usually sells out very quickly and it is difficult to get one. I hesitated until the last minute, and then in the heat of the moment I ordered it (and God knows there has been a lot of issues during the release of this box, the site simply crashed but I will not dwell on this subject). Anyway, I was hesitant because there was a lot of hair products (a bit too much for my taste) and many products containing fragrances (which I am allergic to). But there was also a lot of products that I can use (me or my boyfriend ). So here's a little summary of what I received.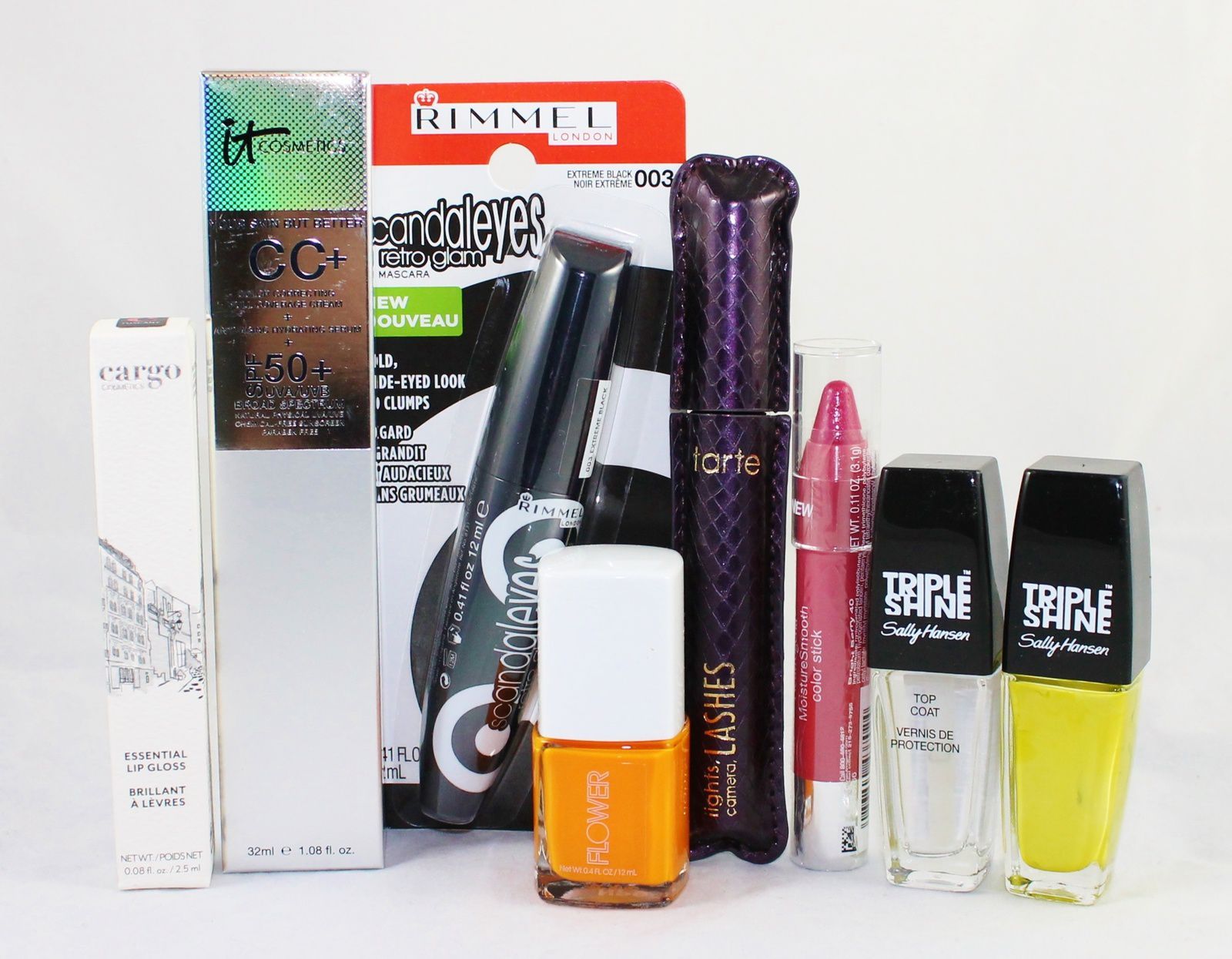 Cargo Cosmetics Lip Gloss, IT Cosmetics CC Cream SPF 50+, Rimmel Scandaleyes Retro Glam Mascara, Flower Nail Polish, Tarte Lights Camera lashes 4-in-1 Mascara, Neutrogena MoistureSmooth Color Stick, Sally Hansen Triple Shine Nail Polish & Top Coat
Je vais commencer par le maquillage, ce que j'ai le plus. J'adore les mascaras (j'en ai plein mais j'en veux toujours plus), le gloss (Nude) et le gros crayon à lèvres. Je vais définitivement faire bon usage de la CC cream cet été car elle est SPF 50+ et je suis un peu une parano quand il s'agit des effets du soleil sur le vieillissement de la peau. Je suis un peu déçue par les couleurs des vernis que j'ai reçu mais bon vous me connaissez là aussi je n'ai jamais trop de vernis.
I'll start with makeup, what I love the most. I love mascaras (I have plenty but I still want more), the gloss (Nude) and the jumbo lip pencil. I will definitely make good use of CC cream this summer because it is SPF 50 + and I'm kind of a paranoid when it comes to the againg effects of sun on skin. I am a little disappointed by the colors of the polish that I received but hey you know me, again I never have too many polish.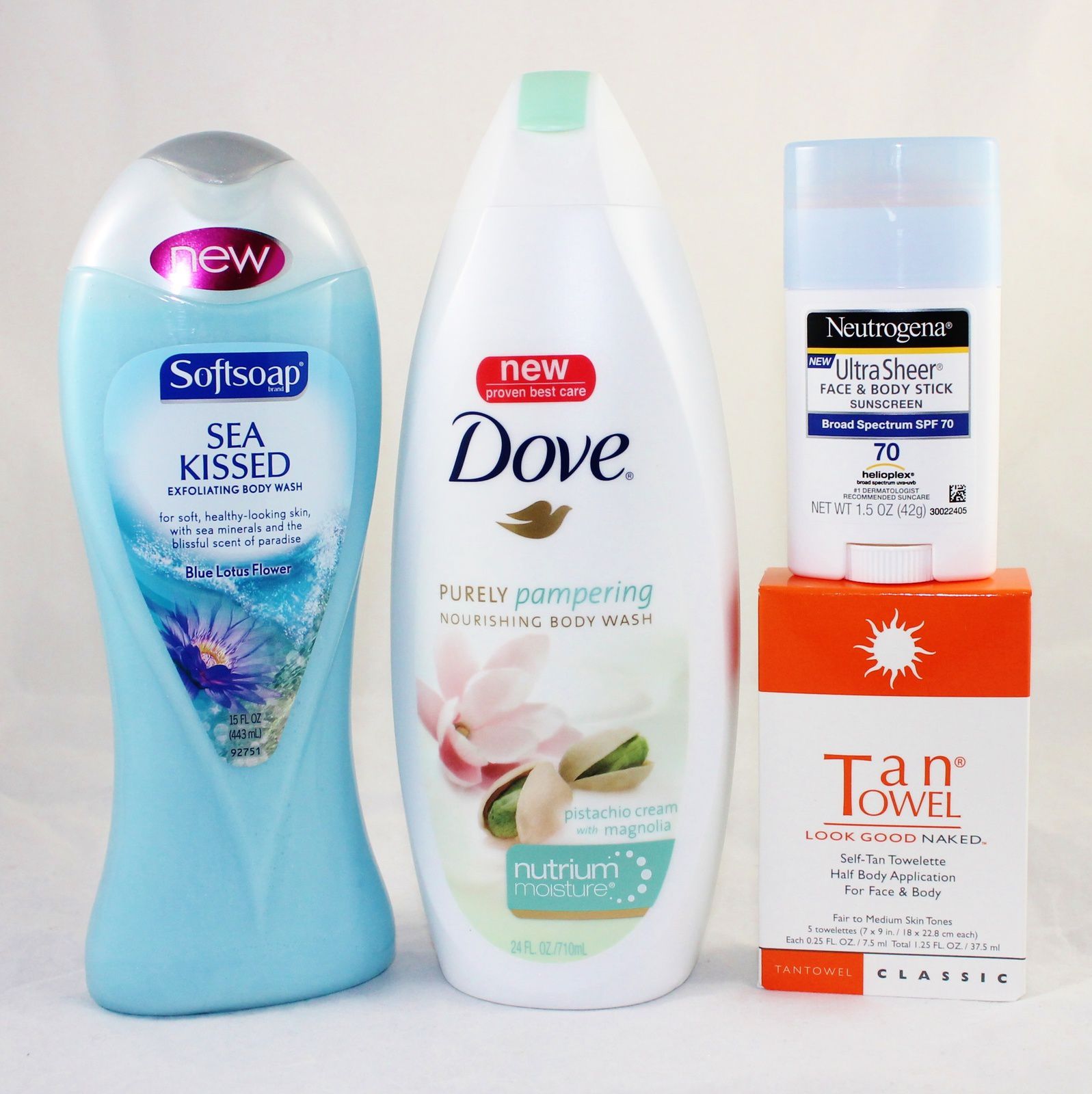 Softsoap Sea Kissed Exfoliating Body Wash, Dove Purely Pampering Body Wash, TanTowel Classic Self-tan towelettes & Neutrogena Ultra Sheer Face + Body Stick SPF 70
Les deux gels douche contiennent des fragrances donc je les utiliserai pas, mais mon copain adore ce genre de gels douche hyper odorants donc il les utilisera pour sur, pareil pour l'écran total en stick (et comme ça il ne pourra pas se plaindre d'attraper des coups de soleil quand il va jouer au beachvolley). Les lingettes autobronzantes je ne les utiliserai pas non plus car les autobronzants ont la fâcheuse tendance à rendre ma peau orange et c'est très moche, donc je vais surement les échanger sur edivv.
The two body washs contain fragrances so I will not use them, but my boyfriend loves this kind of super scented body wash so he will use them, the same for the sunscreen stick (and so he can not complain of catching sunburn when playing beachvolley). The tanning wipes I will not use them either because self-tanners have the tendency to make my skin orange and it is very ugly, so I'll probably trade them on edivv.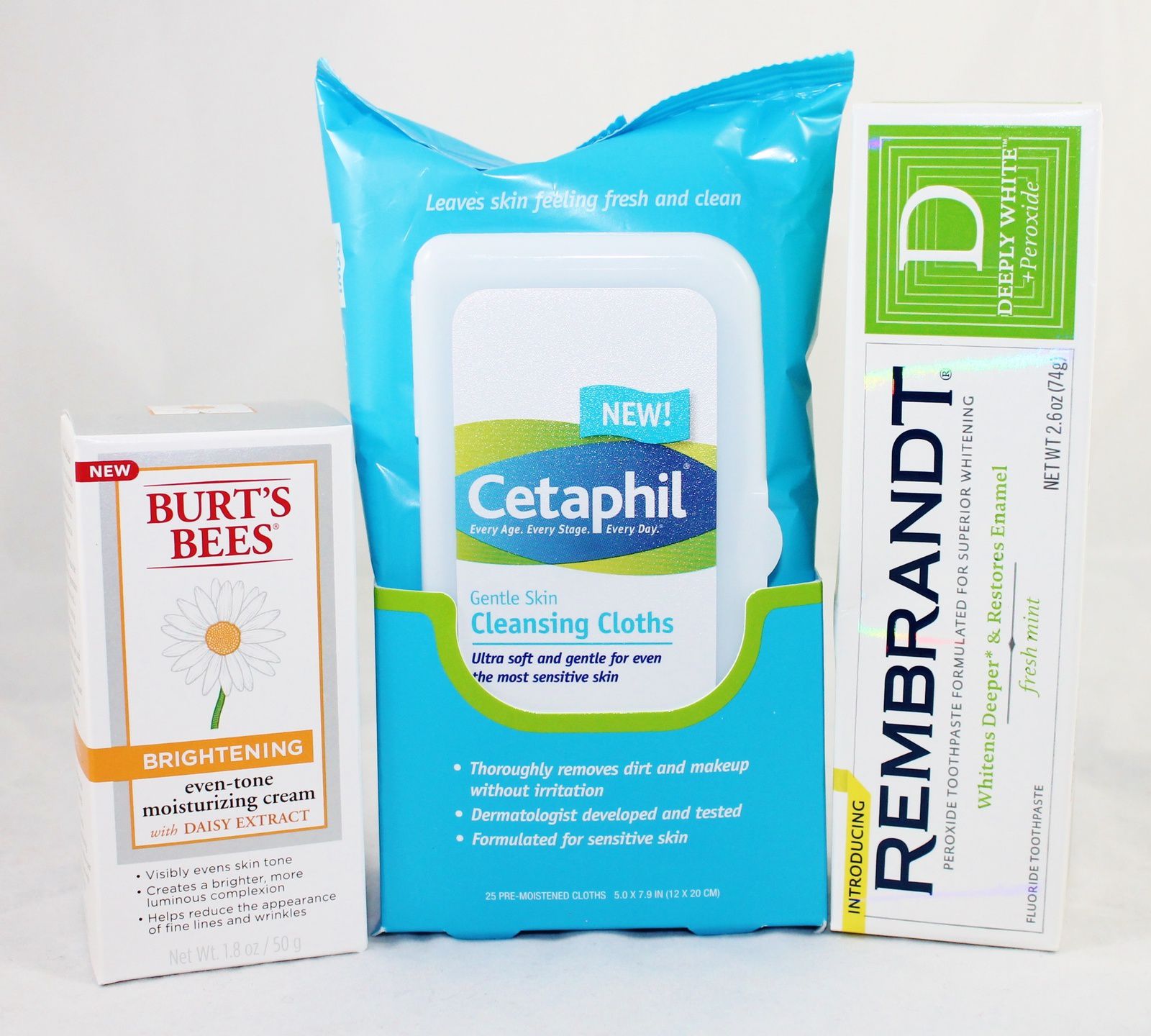 Burt's Bees Even-tone Moisturizing Cream, Cetaphil Gentle Skin Cleansing Cloths & Rembrandt Deeply White Toothpaste
J'adore la marque Burt's Bees et certains de leur produits sont fragrance-free, ce qui est le cas de cette crème pour la visage, j'ai hâte de l'essayer. J'aime aussi beaucoup les lingettes démaquillantes, c'est super pratique en voyage et celles-ci sont sans parfum donc je les utiliserai également. Et le dentifrice c'est toujours utile d'en avoir d'avance (je n'utilise pas cette marque habituellement mais ça sera l'occasion d'essayer).
I love the Burt's Bees brand and some of their products are fragrance-free, which is the case with this face cream, I can not wait to try it. I also really like the cleansing wipes, it is super handy when traveling and they are unscented so I will also use them. And atoothpaste it is always useful to have in advance (I do not usually use this brand but it will be an opportunity to try).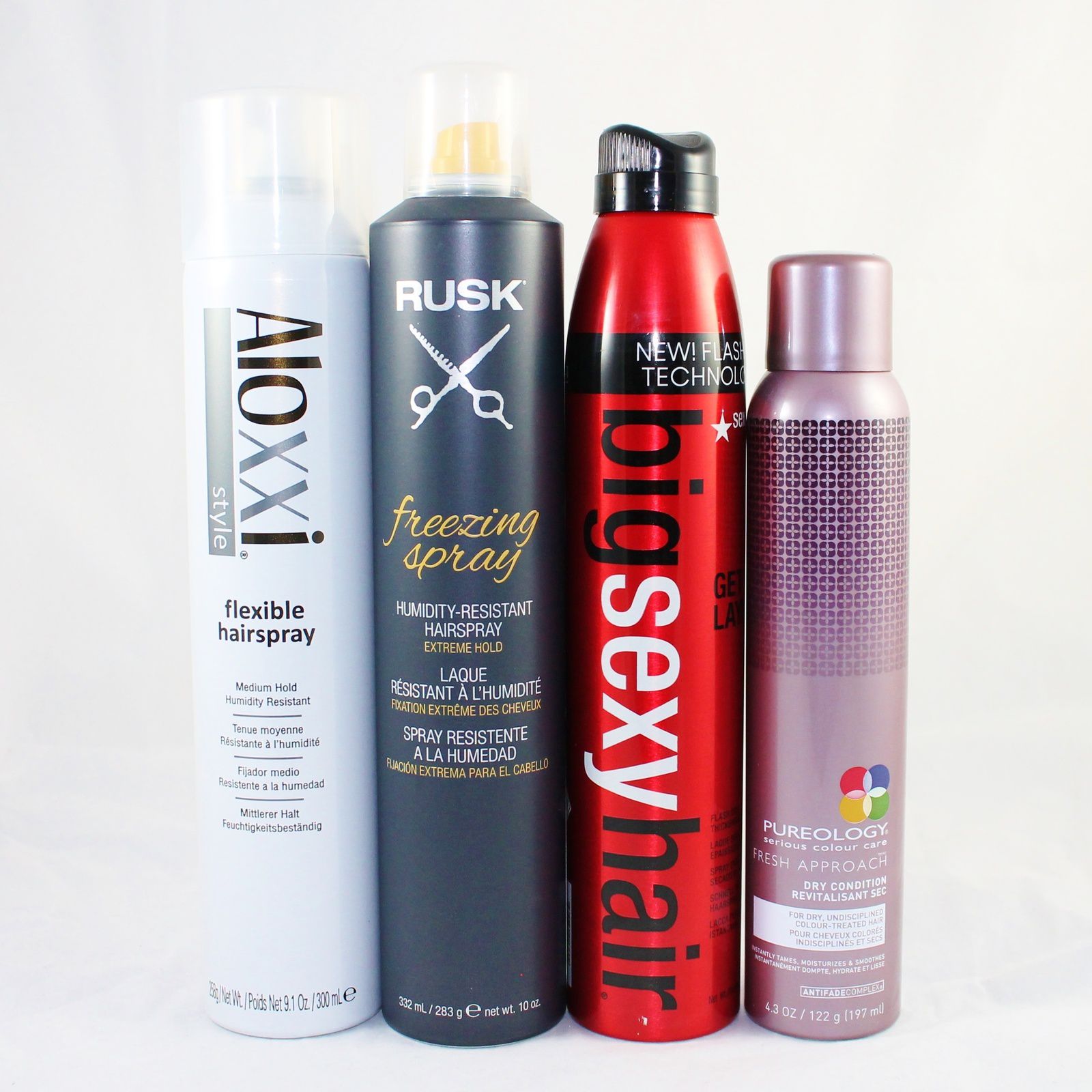 Aloxxi Flexible Hairspray, Rusk Freezing Spray, Big Sexy hair Get Layered Flash Dry Thickening Hairspray & Pureology Fresh Approch Dry Condition
Bon il y avait énormément de laques et sprays pour les cheveux dans cette box, je n'en utilise jamais et je n'utiliserai définitivement pas ceux là (ils contiennent du parfum) et donc je vais essayer de les échanger sur edivv ou de les donner.
So there also was a lot of hairsprays in this box, I never use hairspays and I will definitely not use those (they contain fragrance) so I will try to discuss edivv or give them away.
Redken Mess Around 10 Disrupting Cream-Paste, Developlus Anti-aging Hair Treatment System, Oscar Blandi Pronto Dry Heat Protect Spray, One'n Only Argan Oil Cream-to-Serum Styler, Not Your Mother's Intensive Hair Unit Renewal Treatment & GK Hair ThermalStyleHer
Encore des produits pour les cheveux. La crème coiffante ce n'est pas mon truc mais je suis sure que mon copain va adorer, par contre j'avais beaucoup d'espoir avec ce kit anti-âge pour cheveux car j'avais vérifié la composition en ligne avant de commandé la box et il n'y avait pas de parfum. Malheureusement j'ai re-vérifier une fois reçu sur le packaging et il y a du parfum, je suis déçue car ces produits avaient l'air vraiment bien mais je ne peux pas me permettre d'utiliser un shampoing avec du parfum. Le spray Oscar Blandi est pour protéger les cheveux de la chaleur pour les personnes qui utilisent les fers à friser ou à lisser, ce qui n'est pas mon cas, et en plus il contient du parfum. Bien que je ne puisse pas utiliser des produits avec parfum directement sur ma peau (ou mon cuir chevelu), je m'autorise à utiliser les après shampoing avec parfum en faisant bien attention à ne pas m'en mettre sur la peau (et je n'utilise jamais de spray c'est le meilleur moyen de s'en mettre partout), c'est pourquoi je vais définitivement tester ce sérum à l'argan pour cheveux et cet après shampoing réparateur Not Your Mother's. L'après shampoing GK Hair est activé par la chaleur, mais je ne me sèche jamais les cheveux au séchoir donc je ne pense pas l'utiliser (ou peut être quand je vais à la plage pour protéger mes cheveux).
Hair products again. The styling cream is not my thing but I 'm sure my boyfriend will love it, however I had high hopes with this anti-aging hair kit because I had checked the composition online before ordering the box and there were no fragrance listed in the ingredients. Unfortunately I re-check once I received the box, on the packaging and there is fragrance, I am disappointed as these looked really good but I can not afford to use a shampoo with fragrance. Oscar Blandi spray is to protect hair from the heat for people who use curling irons or straighteners, which is not my case, and in addition it contains fragrance. Although I can not use products with fragrance directly on my skin (or my scalp), I allow myself to use conditionners containing fragrance being careful not to put any on my skin (and I never use hairspray is the best way to put some product everywhere), so I 'll definitely try this argan serum and shampoo after this not Your Mother's repair contionner. The GK Hair conditonner is heat activated by I never use a blowdryer to dry ma hair so I do not think I will use it (or maybe when I go to the beach to protect my hair).
Donc voilà comme vous pouvez le voir il y a énormément de produits dans cette box, globalement je suis contente de l'avoir achetée car j'aime les produits que je peux utiliser et pas mal de produits que je ne peux pas utiliser ne seront pas perdus car ils seront utilisés à mon copain (ou échangés/donnés en ce qui concerne les lingettes autobronzantes, laques et autres sprays pour cheveux). La valeur totale de cette box est d'environ $360, ce qui n'est rien comparé aux $58.25 que j'ai payé. La prochaine box sera mise en vente en Août, je ne sais pas encore si je l'achèterai, cela dépendra des produits qui seront dedans (la liste des produits est relevée avant la mise en vente de la box).
So now as you can see there was a lot of products in this box, overall I'm glad I bought it because I love the products that I can use and a lot of products that I can not use will not go to waste because they will be used by my boyfriend (or traded/given away for the tanning wipes and other hairsprays). The total value of this box is approximately $360, which is nothing compared to the $58.25 I paid for it. The next box will go on sale in August, I do not know yet if I will buy it, it will depend on the products that will be in it (the list of products is released before the release of the box).