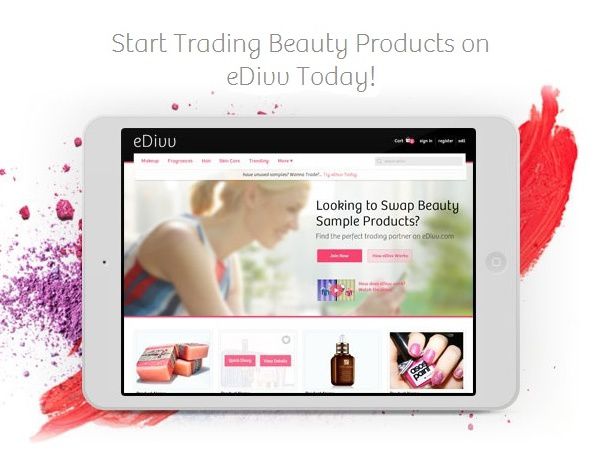 Comme vous avez pu le voir ces dernier jours, je suis de nouveau à fond dans les beauty box. J'avais résilié toutes mes box l'année dernière car je recevais trop de produits que je ne pouvais pas utiliser ou du maquillage avec des couleurs qui ne me plaisaient pas... Et puis récemment j'ai eu envie de recommencer pour plusieurs raisons, et l'un de ces raisons et que maintenant je sais quoi faire avec les produits que je n'utilise pas ! Au début je pensais les donner à des amies (mais j'ai principalement des amis de la gente masculine), les revendre sur ma blog sale (a combien, et est-ce que clairement vous achèteriez des échantillons vous?), ou à les changer sur des forums ou pages facebook dédiées (trop compliqué, trop de recherche active dans les publications d'autres personnes, échange d'emails, c'est long et fastidieux). Et puis j'ai découvert Edivv.com...
As you have seen these last few days, I am back in love with beauty boxes. I canceled all my suscriptions last year because I was getting too many products that I could not use or make-up with colors that I did not like... And lately I've been wanting to start again for several reasons and one of these reasons is that now I know what to do with the products I do not use! At first I thought I will give them to friends (but I mainly have male friends), sell on my blog sale (how much, and clearly would you buy samples?), Or swap them on forums or facebook pages dedicated to trades (too complicated, too much active research in posts, emails exchange, it's long and tedious). And then I discovered Edivv.com ...
Edivv c'est un site internet d'échange d'échantillons et produits de beauté, makeup, il y a aussi des bijoux et accessoires... Le principe est simple, il suffit de s'inscrire, compléter son profile, ajouter une photo et un petit descriptif des produits que vous avez à échanger. Vous pouvez échanger les échantillons de vos beauty box que vous ne voulez pas, ou même des produits que vous avez acheté et que vous n'utilisez pas. Par exemple j'ai acheté 2 blush Milani récemment, je les trouvais superbe, et une fois ouvert et swtaché j'ai réalisé que les couleurs de ces blush ne m'allait pas du tout au teint. Je n'allais pas les jeté je les avais à peine essayé ! Donc hop sur divvy.
Une fois vous produits enregistré sur votre page, vous pouvez naviguer sur le site en recherchant dans les produits proposés par d'autres personnes (par catégories, mots-clés...). Si vous trouvez un produit qui vous plait, il suffit de proposer un échange (ou divvy) contre un des produits que vous avez à échanger (ou plusieurs en fonction de la valeur des produits). La personne peut accepter le divvy, faire une contre offre (pour un autre de vos produit que celui que vous avez proposé) ou refuser. C'est simple, rapide, pas besoin d'échanger des tonnes d'emails, et en plus il y a un système de notation avec lequel vous pouvez noter votre partenaire une fois l'échange terminé, cela permet de savoir qui sont les bons "échangeurs" et ceux qu'il faut éviter.
Je suis inscrite sur le site depuis environ un mois, et j'ai déjà fait 16 échanges de produits pour lesquels je n'avais aucune utilité, contre des produits que j'aime. Non je n'entasse plus, je divvy ! (ce site est un site américain je ne pense pas qu'il fonctionne dans l'autres pays mais le site est en continuel développement donc on ne sait jamais)
Edivv is a website for trading samples, beauty products, makeup, there are also jewelry and accessories... The idea is simple, just register, complete your profile, add a picture and a little description of the products that you have to swap. You can trade samples from your beauty suscritptions that you do not want, or even products that you have purchased and you do not use. For example I bought 2 Milani blush recently, I found the so pretty, but once opened and swtached I realized that the colors did not suit me at all. I was not going to throw them away I barely tried them! So hop on divvy.
Once the products registered in your page, you can navigate the site by searching in products offered for swap by others (by categories, keywords...). If you find a product you like, simply propose an exchange (or divvy) for one of the products that you have to trade (or more than one depending on the product value). The person can accept the divvy, make a counter offer (for another of your product than the one you offeres) or decline. It's simple, quick, no need to exchange tons of emails, plus there is a rating system with which you can rate your exchange partner once the divvy is completed, it helps to know which persons are good traders and those to avoid.
I registered on the site about a month ago, and I 've already done 16 trades of products for which I had no use for products I actually love. No, I no longer hoard, I divvy ! (This site is a U.S. website I do not think it works in other countries but the site is in continuous development so you never know)
Join eDivv today!