Je pense que vous avez entendu parler des OPI Sheer Tints, ces top coats teintés super pratique pour réaliser des manucures originales. Je ne voulais pas acheter les full size mais je me suis offfert les minis comme vous avez pu le voir dans mon article sur mon shopping du mois de mars. Je mourrais d'envie d'essayé la technique du watercolor. J'ai juste posé une base presque blanche (Fresh Paint Coconut) et 'ai ajouté des touches de couleur comme expliqué dans le tutoriel à la fin de cet article (ce n'est pas mon tutoriel mais celui de Phoenix Beauty Lounge). C'est super simple, rapide, pas besoin d'être précise car le but c'est d'obtenir un effet complètement aléatoire. Comme ce sont des top coats ils sèchent vite, mais la formule est un peu bizarre, ils deviennent pâteux super vite et font des "fils" quand on repasse le pinceau et qu'ils commencent à sécher (un peu comme du fromage à fondue je ne sais pas si c'est très clair). Rien de bien méchant ceci-ci dit, et pour un résultat un peu scintillant j'ai ajouté une couche de top coat holographique Northern Lights.
I think you 've heard of OPI Sheer Tints, these tinted top coats super convenient to create original manicures. I did not buy the full size but I bought the minis as you can see in my article on my March shopping haul. I wanted to try the watercolor technique. I just put a almost white base (Coconut Fresh Paint) and I added touches of color as explained in the tutorial at the end of this article (this is not my tutorial but it is from Phoenix Beauty Lounge). It's super simple, quick, no need to be precise because the goal is to get a completely random effect. As these are top coats they dry quickly, but the formula is a little weird, they become thick super fast and make "threads" when you use the brush twice and they begin to dry (like cheese fondue I do not know if this is very clear). Nothing too bad anyway, and for a slightly sparkling result I added a layer of holographic Northern Lights top coat.
Essie Protein Base Coat / Fresh Paint Coconut / OPI Sheer Tints / Northern Lights Holographic Top Coat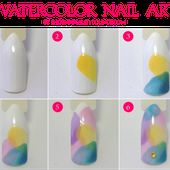 Easy Watercolor Nail Art using OPI Sheer Tints (plus swatches and review)
Hey everyone, Today i'm going to show you a quick and easy tutorial on how to create a Watercolor Nail Art using OPI Sheer Tints. This look is effortless and artsy, perfect for us girls who love ab...
http://blog.phoenixbeautylounge.com/2014/02/25/easy-watercolor-nail-art-using-opi-sheer-tints/