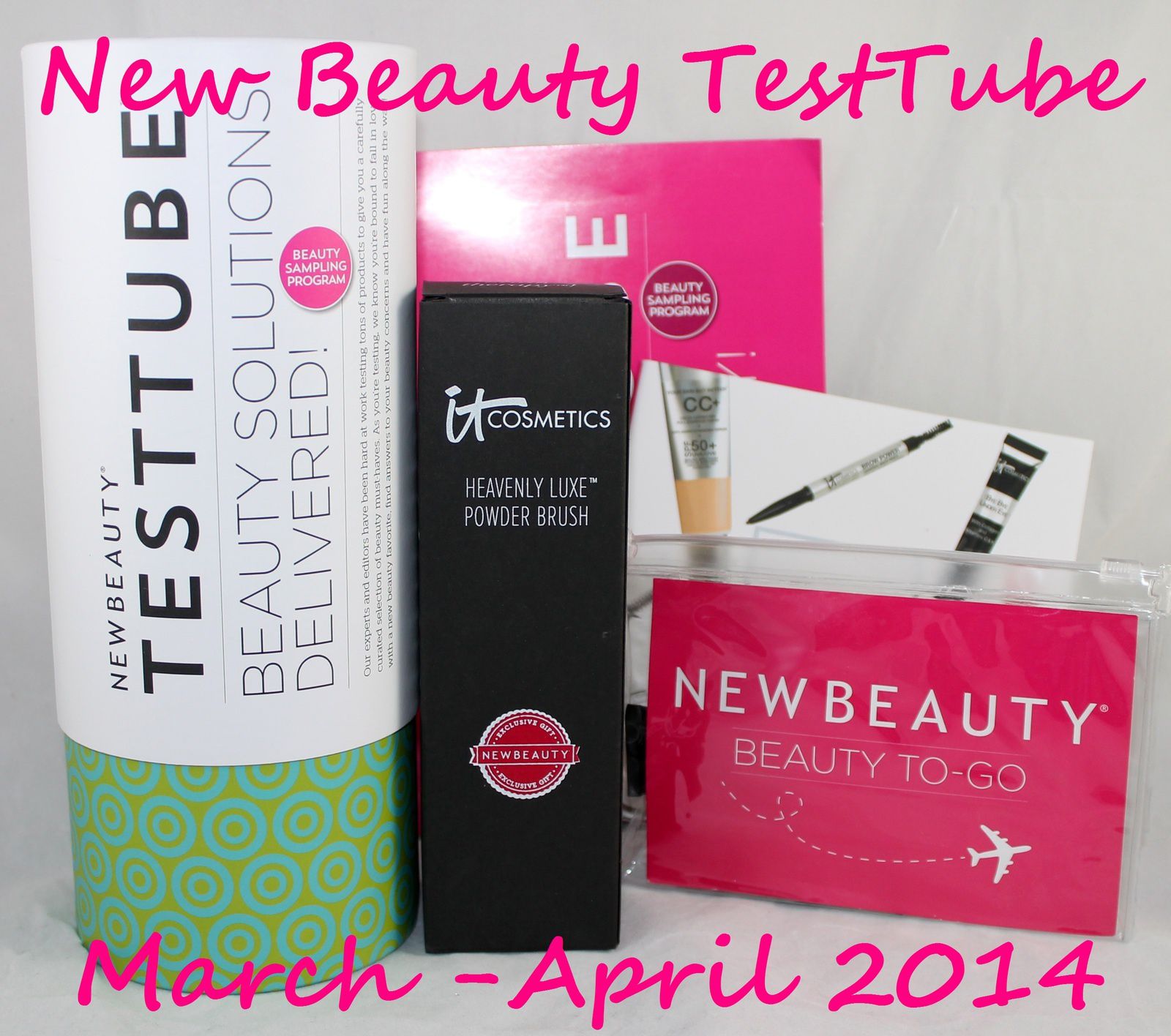 Le New Beauty TestTube est une box beauté bi-mensuelle. Tout les deux mois vous recevez un grand tube rempli échantillon taille voyage (ou dit deluxe) et un sample pack personnalisé avec de plus petits échantillons (et aussi un magazine beauté mais qui est livré séparément). Elle est un peu plus chère que les box habituelles (29,95$ plus 8,95$ de frais de port tous les deux mois), mais d'après ce que j'avais pu voir la valeur est généralement incroyable. C'est la première beauty box vendue sur le marché (bien avant Birchbox) et je voulais absolument la tester... et comment dire, je n'ai pas étais déçue du tout !
New Beauty Test Tube is a bi-monthly beauty box. Every other month you receive a tube full of deluxe and full size beauty samples and a bonus sample pack (and a Beauty Magazine but is ships separately). It's a little pricier than other beauty subscriptions ($29.95 a box plus $8.95 shipping every other month), but from what I saw the value is usually incredible. This was the first beauty box on the market (well before Birchbox) and I really wanted to test it ... and you know, I was not disappointed at all!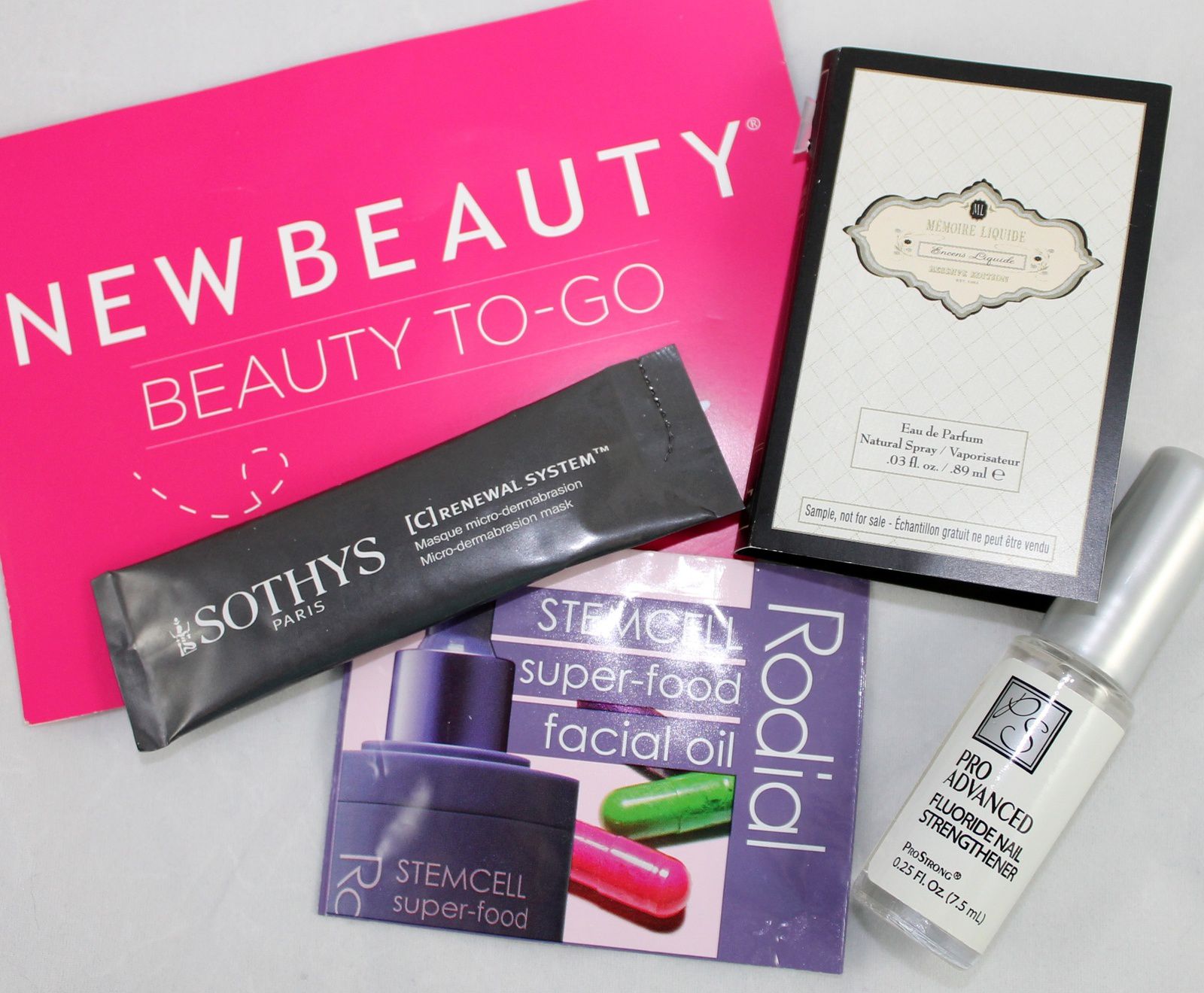 Bonus Sample Pack: Memoire Liquide Perfume, Sothys Micro-Dermabrasion Mask, StemCell Super Food Facial oil & Pro Advance Nail Strengthener
On commence avec les plus petites échantillons du Bonus Sample Pack. J'ai reçu un échantillon de parfum Memoire Liquide, un masque de micro-dermabrasion Sophys, de l'huile pour le visage StemCell et un fortifiant pour les ongles Pro Advance. A part le parfum qui n'est pas trop mon truc, les autres échantillons je vais les utiliser c'est sur, et je suis ravie d'avoir reçu un fortifiant pour les ongles, c'est une marque que je ne connais pas mais justement je vais découvrir !
Let me start with the smaller samples from the Bonus Sample Pack. I received a sample of Memoire Liquide Perfume, Sothys Micro-Dermabrasion Mask, StemCell Super Food Facial oil & Pro Advance Nail Strengthener. Apart from the perfume that is not really my thing, the other samples I will use them for sure, and I am delighted to have received a nail strengthener,it is from a brand that I do not know but I will discover!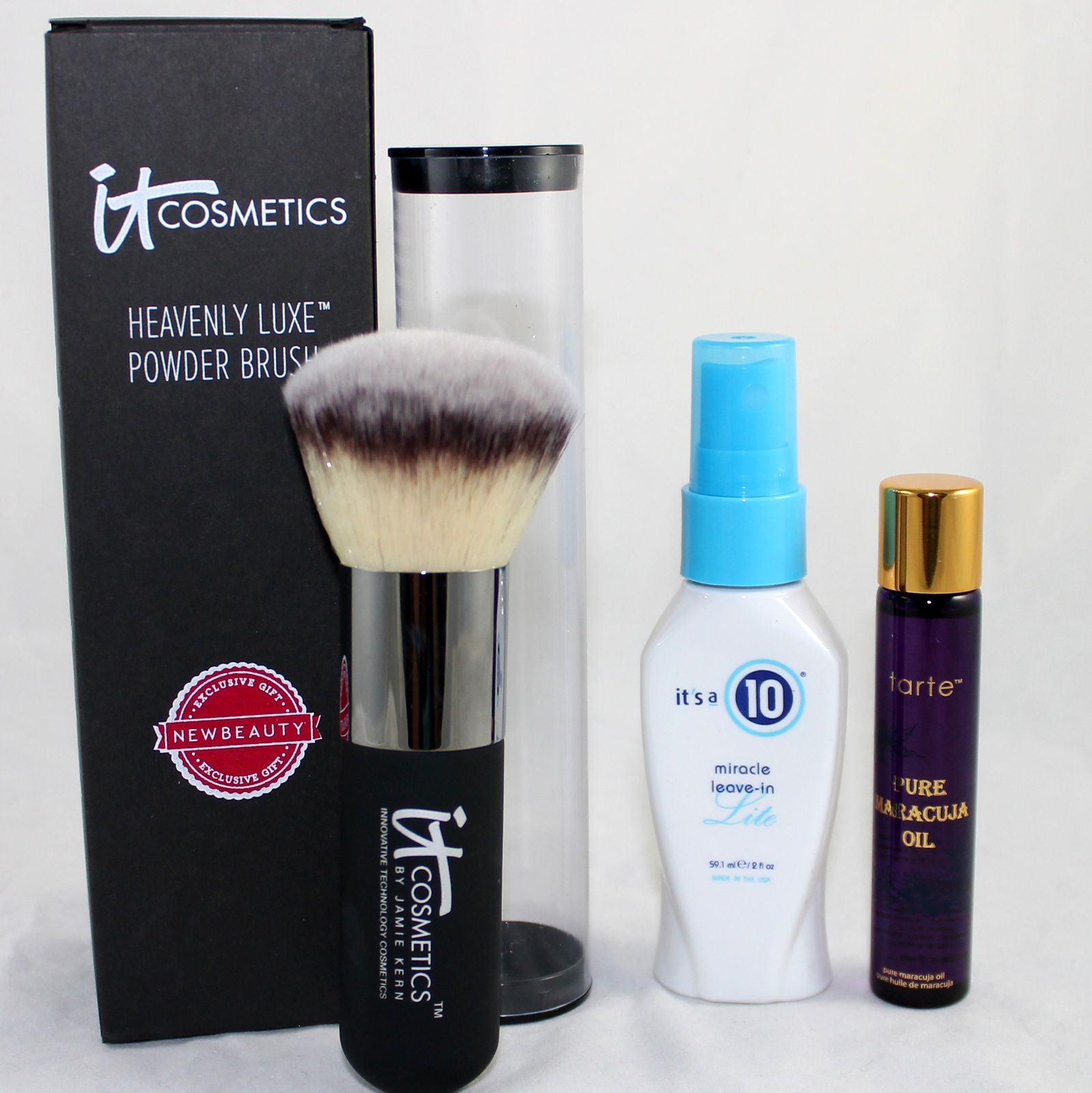 It Cosmetics Heavenly Luxe Powder Brush, It's a 10 Miracle Leave-in Lite & Tarte Cosmetics Pure Maracuja Oil Rollerball
On attaque ensuite avec du lourd, enfin je veux dire du produit qui envoie du rêve avec ce pinceau à poudre It Cosmetics, il est génial, tout doux, super qualité, un vrai bonheur. Je voulais depuis longtemps m'acheter un pinceau comme ça, j'avais plutôt en tête celui de Tarte Cosmetics mais celui-ci est top (et hyper cher, le prix de vente est de $48, il rentabilise le prix de la box à lui tout seul). Un autre produit génial de cette box c'est le soin capillaire It's a 10, j'adore les soin pour cheveux en spray, et celui-ci je l'ai testé un seule fois mais il est vraiment efficace. Ce n'est qu'en échantillon deluxe mais j'en ai définitivement pour plusieurs semaines. Le troisième produit pour lequel je suis super contente c'est ce roll-on d(huile de Maracuja de Tarte Cosmetics, je voulais essayer leur huile depuis des lustres, je suis en super grande fan de Tarte Cosmetics, je possède déjà pleins de leur produits et celui-ci manquait à ma collection. C'est une huile extraordinaire, et je pensais que le roll-on allait être petit mais il est gigantesque j'e ai pour des mois (c'est un full size qui coûte quand même $17).
Then the heavy stuff, well I mean the product blown my mind, including this powder brush from It Cosmetics, it is great, very soft, super quality, a real joy. I wanted to buy a brush like that for a while, I was thinking of buying the one from Tarte Cosmetics but this one is awesome (and super expensive, the retail price is $48, more than the cost of the box just for one product). Another great product in this box is the haire conditionner from It 's a 10, I love hair care especially in spray, and I tested this one just once but it is really effective. It is only a deluxe sample but it is big and I have enough for several weeks. The third product that I 'm really happy about this is roll-on of Maracuja oil by Tarte Cosmetics, I wanted to try this oil for ages, I'm super big fan of Tarte Cosmetics, I already have tons of their products but this one was missing in my collection. this is an extraordinary oil, and I thought the roll-on would be small but it is huge I have enough for months (it is a full size which costs $17) .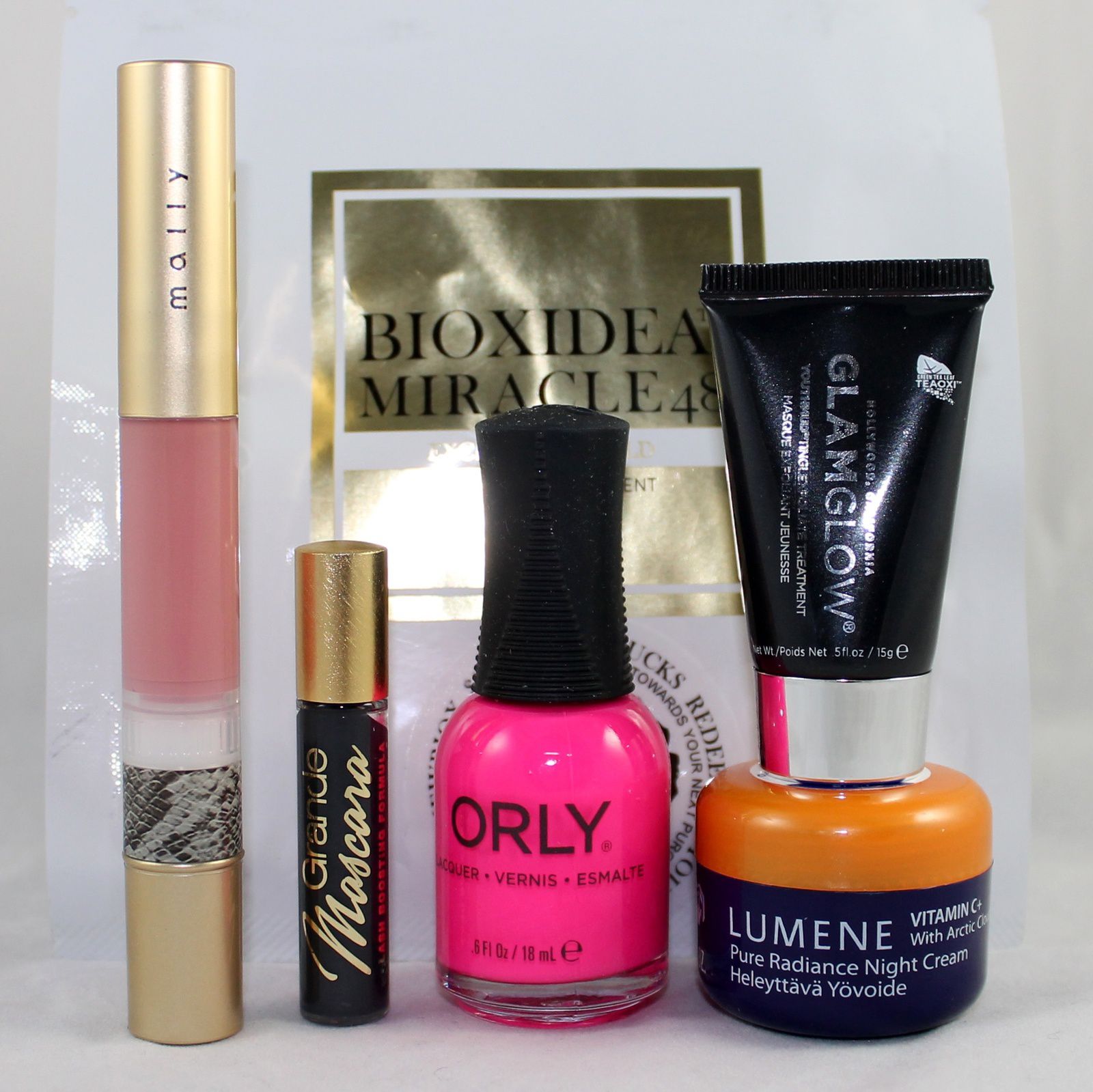 Mally High Shine Liquid Lipstick, Grandelash-MD Mascara, Orly Nail Polish (Beach Cruiser), Lumene Vitamin C + Pure Radiance Night Cream, Glamlow Youthmud Tinglexfoliate Treatment & Bioxidea Miracle 48 Ecxellence Diamond
Bien sur ça ne s'arrête pas là, j'ai également reçu un gloss Mally, la couleur est sympa, c'est un full size (prix de vente $20) et le packaging est trop chou. Il y a avait également un échantillon de mascara Grandelash-MD, un vernis Orly (rose fluo ça ne pouvait pas être mieux), une crème de nuit à la vitamine C, un masque GlamGlow et un autre masque pré-imbibé Bioxidea (le truc doré en fond qui coûte la peu du c***, $79 le pack de 3). Alors malheureusement la crème de nuit et le masque GlamGlow contiennent du parfum donc je ne pourrait pas les utiliser, mais même sans ça, la valeur de cette box est au moins de $150 (ceci est une approximation), avec majoritairement des produits que je peux et que je vais utiliser. Je suis ravie de cette box, je vais définitivement souscrire à l'année car je suis bluffée par la quantité et la qualité des produits que j'ai reçu !
Of course it does not stop there, I also received a Mally gloss, the color is nice, it is a full size (retail price $20) and the packaging is so cute. There was also a sample of mascara Grandelash-MD, a Orly nail polish (neon pink it could not be better), a night cream with vitamin C, a GlamGlow mask and another pre-soaked Bioxidea mask (the golden thing inbackground in which costs an arm, $79 the pack of 3). So unfortunately the night cream and the GlamGlow mask contain fragrance so I can not use them, but even without it, the value of this box is at least $150 (this is an approximation), with the majority of products that I can and will use. I am delighted with this box, I will definitely subscribe for a year as I am blown away by the quantity and quality of the products I received!